On surveillance footage shot from a camera atop a pole a block away, the pair of Molotov cocktails appear as two distant dots of light, first quivering, then slicing through the air and disappearing into a row of houses.
Video taken minutes later by arriving firefighters shows flames raging from every window of the house at 1233 Greenmount Avenue.
The firebombing of a three-story rowhouse in Baltimore's Johnston Square neighborhood around 5 a.m. on March 18 didn't make a lot of news outside the region. It wasn't like in 2002, when a drug dealer firebombed a house six blocks from here, killing a family of seven in order to silence a woman who had repeatedly stood up to local dealers; that made national headlines. This latest incident, which police say was retaliation for a shooting on the same block two nights earlier, killed two young men, 17 and 19. Among the six others who were injured: a 4-year-old girl, an 11-year-old boy, and a young woman, 20, who escaped the home by jumping from a third-floor window, sustaining life-threatening injuries.
Firebombings don't happen often in Baltimore, but in a city with nearly one murder a day and total shootings up 30 percent over the same period in a very bloody 2016, even horrifying incidents can lose their power to shock. The story of the house that burned on March 18, however, isn't just another account of one city's familiar struggles with violence and drug-related crime. Inside 1233 Greenmount there's another story, one that many cities face as they try to accomplish two goals that have proved difficult to do at the same time: housing the poor and offering them a safe place with good schools and job opportunities.
On scene in the 1200 blk of Greenmount Ave. where 2 occupants confirmed dead. pic.twitter.com/JO5qZTaMFA

— Baltimore Fire (@BaltimoreFire) March 18, 2017
For 50 years, the Housing Authority of Baltimore City has renovated rowhouses all over the city to provide public housing tenants an alternative to concentrated apartment projects. In 2009, as part of a plan to revitalize Johnston Square, HABC set aside funding received through President Barack Obama's stimulus package to renovate a row of houses—including 1233 Greenmount—to use as "scattered-site" public housing units. This wasn't the first time HABC had tried to save this block; it was part of a decades-long cycle of decay, abandonment, and reinvestment.
It begins as an urban renewal story. Like Detroit, Cleveland, and other industrial cities that shrank and declined during the second half of the 20th century, East Baltimore had wide swaths of abandoned properties by the 1970s. Johnston Square, originally settled by German immigrants in the late 19th century, was once a solidly middle-class neighborhood of tidy, well-built brick homes. The city felt it was worth saving and began cooking up plans to eliminate the blight, choosing which houses would get renovated and which would get the wrecking ball. A June 1977 city ordinance launched an "Urban Renewal Plan" just for Johnston Square listing 1225 to 1233 Greenmount as properties to be "acquired and disposed of for rehabilitation."
HABC records show that 1233 Greenmount, which capped an end of a five-unit block of three-story Italianate brick rowhouses, was occupied in October 1980. By the mid-1980s, this row of renovated homes, with their elaborate white cornices, stood out from the empty lots and shabby houses that urban renewal had left behind.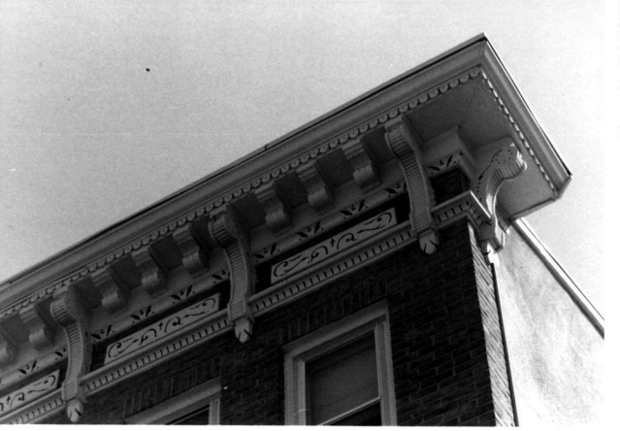 A detail of a carved wooden cornice atop the homes on the 1200 block of Greenmount, taken from a 1987 Maryland Historical Trust document for the Johnston Square Historic District.
Critics called this strategy of sprucing-up a handful of properties surrounded by blight "gilding the ghetto," and some began looking for an alternative strategy: Instead of concentrating on rehabilitating buildings in broken neighborhoods like Johnston Square, why not provide an escape route for vulnerable residents?
Since the late 1960s, fair housing advocates in metropolitan areas like Chicago and Dallas had been suing the U.S. Department of Housing and Urban Development and local governments and housing authorities, forcing them to create opportunities in the suburbs for public housing residents trapped in poor, segregated city neighborhoods. In the 1990s, a "mobility" movement advocated for the creation of public and subsidized housing where the streets were already safe and the schools were already good.
In 1995, several Baltimore public housing residents filed a federal lawsuit that portrayed Johnston Square as an example of abject urban horror. The suit introduced the neighborhood's scattered-site units—including the 1200 block of Greenmount Avenue—as evidence that HUD and Baltimore City deliberately confined public housing mostly to poor black areas. The plaintiffs claimed that when one white neighborhood boisterously opposed a small housing project in their midst, HABC chickened out and instead placed units in the 700 block of Preston Street, just steps from 1233 Greenmount.
"Maybe there's a way that people can recognize that we're all together in this region," the judge said. "But, if not, I'll do what I can to make sure that they do."
Just around the corner, at 1301 Homewood Avenue, a single mother named LaRaye Holcomb lived in an HABC house. She couldn't believe the city wanted to put even more public housing her block. "At night, people would be shooting and running down the alley right beside my windows," Holcomb said in a declaration for the lawsuit. "I would put my children on the floor in case bullets started flying into the house. One time I was coming home just as a man ran out of the alley firing away. I could see the flash right in my face."
Holcomb did not want her children living there or attending the local schools. When she asked HABC to move her in 1994, the agency wrote back, "We cannot assure you...that an area you choose may not present some of the problems you now experience."
The point of the lawsuit was exactly that: City public housing residents had too few options in safer parts of the region. The ACLU Foundation of Maryland, which was representing the plaintiffs, hoped for a remedy that would send city public housing residents to neighborhoods in the city and the suburbs that were majority white and had a much lower poverty rate—the kinds of places that had traditionally excluded them.
But Baltimore County, which surrounds most of the city, had no public housing authority. It also had a reputation for resisting subsidized housing. In 1994, county residents mustered a political movement against Moving to Opportunity, a HUD experiment that offered fewer than 300 city public housing families the option of moving to private market rentals in the suburbs.
Nonetheless, after months of combative negotiation, ACLU-Maryland inked a partial consent decree in June 1996 with the city, HUD, and surrounding counties that created special Section 8 certificates for black city public housing residents to use in predominantly white parts of the city and its suburbs. LaRaye Holcomb managed to move her children from Homewood Avenue out to suburban Howard County and got a job doing "mobility counseling" for the program.
By 2012, the twice-vacant houses on Greenmount Avenue had returned to their original splendor, the white trim around the windows gleaming.
While the partial consent decree allowed some public housing families to escape neighborhoods like Johnston Square for the suburbs, many more were left behind. Their choices were limited by the hundreds of scattered site units that had gone vacant.
By September 1998, HABC had declared two of the houses in the Greenmount row vacant and recommended the demolition of three. In March 2002, an email from HABC's "Director of Construction and Demolition" added the other two—including 1233 Greenmount—to a list of condemned buildings that he suggested the agency should inspect and decide whether to raze or rehabilitate.
Meanwhile, the federal public housing trial proceeded. In January 2005, judge Marvin J. Garbis ruled for the city's housing authority, saying that there were too few white neighborhoods and white public housing residents to effectively desegregate within the city's border. He even lauded the mayor for trying to renew neighborhoods like Johnston Square. Garbis ruled against HUD, however, for violating the Fair Housing Act by failing to create public housing opportunities in the counties. Scheduling a remedy phase for the trial, the judge said, "Maybe there's a way that people can recognize that we're all together in this region. But, if not, I'll do what I can to make sure that they do."
In 2012, just months after the city finished renovating 1233 Greenmount and its neighboring houses for the second time, a final settlement in that lawsuit created 2,600 more "opportunity" vouchers that could be used in the counties. By that time, the twice-vacant (and nearly demolished) houses on Greenmount Avenue had returned to their original splendor, the white trim around the windows gleaming among the plywood boards and graffiti of the vacant homes on either side of the row.
This was the third chance for the Greenmount houses; 1301 Homewood was gone by then, demolished by HABC in 1998. Wrecking balls and rehab crews could not keep the neighborhood's violence at bay, though. On September 5, 2016, 25-year-old Jawaun Pritchett, who lived in the 1200 block of Greenmount Avenue, was shot and killed in an alley street adjacent to the row of renovated homes. Three weeks later, someone shot eight people, including a three-year-old girl, nearby in the 700 block of Preston Street. On the night of Thursday, March 16, 2017, police say, a masked person jumped out of an alley and shot a teenager, who ran into 1233 Greenmount Avenue for safety.
Two days later, that house went up in flames, leaving two people dead and a row of four still-beautiful homes next to a charred reminder of the separate worlds the region's residents inhabit. It's not yet clear whether the property will be demolished, or whether HABC will attempt yet another rehabilitation for 1233. The fire also left a question about what would have been the best of two grim options: demolish a house that nobody lives in, or leave a family housed by the government at the mercy of a neighborhood where scores are settled with guns and Molotov cocktails.