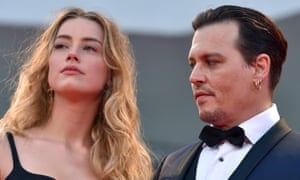 Amber Heard arrived at a courthouse with a bruise on her face and said Johnny Depp physically assaulted her repeatedly.
Photograph: Ettore Ferrari/EPA
A Los Angeles judge has granted a restraining order against Johnny Depp from his wife Amber Heard, who has accused him of domestic violence, court documents reveal.
The documents, filed by lawyers representing Heard, state that Depp "violently attacked" Heard on Saturday night in their penthouse apartment.
Photographs submitted to the court show Heard with a large bruise on her face, as well as broken bottles, picture frames and glasses.
On Monday, according to court records, Heard filed for divorce from Depp and is seeking spousal support from the Oscar-nominated actor, to whom she was married for just over a year.
Related: Amber Heard files for divorce from Johnny Depp
The document also alleges two other incidents of domestic violence by Depp in the past six months, including one incident in April on Heard's birthday, in which Depp threw a magnum-sized bottle of champagne at the wall and a wine glass at her, then grabbed her by the hair and shoved her to the floor.
In a deposition filed to the court on Friday, Heard said that "during the entirety of our relationship, Johnny has been verbally and physically abusive to me. I endured excessive emotional, verbal and physical abuse from Johnny, which has included angry, hostile, humiliating and threatening assaults to me whenever I questioned his authority or disagreed with him."
Documents also showed that the couple split a day before the divorce filing, and soon after the death on 20 May of Depp's mother, Betty Sue Palmer, after a long illness.
Depp and Heard recently made headlines for a dispute with Australian authorities, including the deputy prime minister and minister for agriculture Barnaby Joyce, after Heard brought the pair's dogs into the country without first quarantining them, breaking the country's strict biosecurity laws.
Heard admitted making a false customs declaration, in exchange for the charges against her of illegally importing animals - which carries a maximum penalty of 10 years in prison - being dropped.
As part of the case, Depp and Heard were forced to make an apology video.
The filing was first reported by the website TMZ, who also first reported the pair's split.