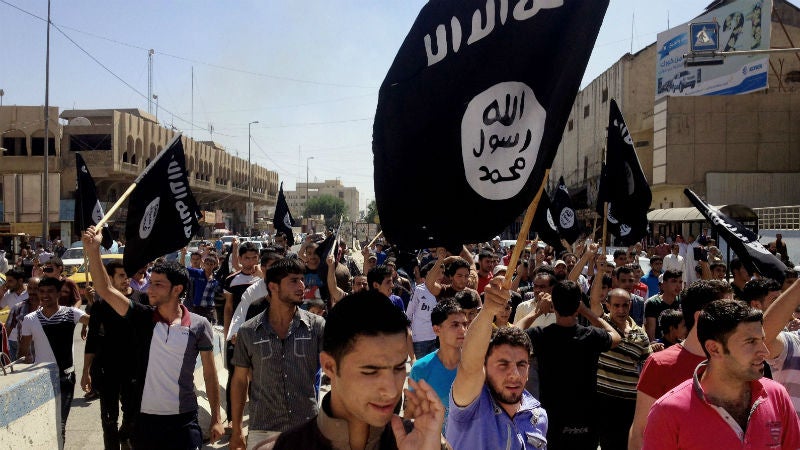 Everyone wants to fight ISIS. One member of Anonymous is doing it by hacking into their Twitter accounts and making them tweet porn.
WauchulaGhost, who for some strange reason did not want to give his real name, told the Washington Post that ISIS "doesn't like porn" and doesn't like women in general. (He's definitely right about the latter, given the reports of mass rape and keeping of sex slaves.)
The logic goes that therefore hacking accounts with porn helps to run them off the social network. "We just started using [pornbots] to poke fun at them and diminish their presence online," he adds. Another reason, he told Softpedia, is that the hacked accounts can be used to "monitor other accounts from the inside, as there are a lot of protected accounts that the public can't see."
Ghost has hacked about 160 accounts so far, which were compiled in a "jacked accounts" list, though Twitter has suspended most of them already. The hacked accounts have tweeted provocative photos ("nothing X-rated, just simple sexy photos") instead of encouraging people to join their group, or have had their avatars changed to say "I [heart] porn." Ghost been doing this for a couple of months, though the hacking has picked up after the Orlando shooting at a gay club this past weekend, which the murderer dedicated to ISIS.
Understandably, Ghost doesn't want kids logging on to see beheading videos. But not everyone thinks that porn is the best way to fight ISIS, and several experts told WaPo that it's likely many who don't want to see beheading videos might not want to see "simple sexy photos" either. While the images are meant to offend ISIS, known for preaching modesty, they might also offend people who have no affiliation with the group whatsoever.
At any rate, this isn't the first anti-ISIS activism on the part of Anonymous. The group swore payback for ISIS after the Paris attacks last year and have been trying to troll the group by posting mocking photos and using the #Daeshbags hashtag. (Daesh is the Arabic transliteration of ISIS.) It's had scuffles with Twitter too, after a disgruntled Anonymous member complained that the company was suspending Anonymous profiles that reported ISIS accounts too often. (Twitter, for its part, says it's shut down 125,000 terrorist accounts since May of last year.)
People have come up with plenty of internet-based ways to fight ISIS, whether it's tracking traffic spikes on a particular video to predict attacks or "dropping cyberbombs." But Ghost has taken it to another level. He thinks we're here for a purpose, and he's found his: "waking up in the morning and see messages from Daesh, telling me they're going to kill me or cut my head off."