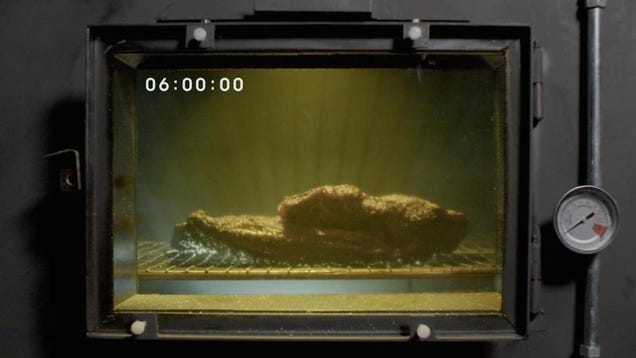 S
Arby's, who have been on the up and up as the new cool brand to watch, are pulling another publicity stunt that only residents of Duluth, Minnesota will get to enjoy. For thirteen hours, starting at 1pm today, the cooked meat shill will air one single commercial on local network My9. The storyline is magical.
Until 2am tomorrow morning, My9 will be home to a commercial that shows the long, "authentic" process of smoking Arby's brisket with hickory wood in a Texas smokehouse. The commercial is a promotional stunt for the return of the smokehouse brisket sandwich, Arby's most "successful new product in the company's 50-year history."
As Jeff Baker, senior director for brand experience, told the Duluth News Tribune, "The focus of this was really around the authenticity of the sandwich."
The door of a smoker will open, the brisket will be placed inside, smoke will flow in, and for just short of 13 hours, the viewer will watch it smoke through a window. A small logo in the corner of the screen identifies Arby's.

Just before 2 a.m., viewers will see the door open, the brisket come out and Arby's executive chef Neville Craw prepare the sandwich. Craw's face won't be seen so the focus will remain on the sandwich, Baker said.
The commercial will go on for thirteen straight hours, breaking the record for longest commercial ever made, previously held by Nivea, who aired a one-hour commercial in 2011.
A still of the marathon meat smoking is above. Residents of Duluth, please report back.
[Image via Arby's]