On Monday 24 January, shortly after 3pm, the regular din of children turning out of the Capital Academy secondary school in north-west London was interrupted by a sudden hush. "All the kids were running around like usual," said one neighbour. "But then it just went quiet. I got up to draw the curtains and saw kids running away, screaming."
Quamari Barnes, a 15-year-old student, had been stabbed several times. He fell just yards from the school gate. A woman cradled him in her arms as paramedics rushed to the scene before whisking Quamari away to hospital.
By most accounts, Quamari danced to the beat of his own drum. As a precocious child, he held court in conversations with adults from an early age; by his teens, he could cook a full Sunday roast on his own. When he was younger, he had no problem being the only boy in his dance class; as a teenager, while his friends were into grime and rap, he went old-school - Bob Marley, Dennis Brown and Aswad.
After the attack, his family had been confident that Quamari would pull through. He had been talking to his mother in the ambulance, and the school sent out an email alerting parents to the tragedy, which said that he was expected to survive. But he didn't make it. One tribute from a fellow pupil, left at the school gate along with flowers, balloons, candles and a Jamaican flag, said: "I can see you laughing at my art and craft skills. It was only yesterday you told me how proud you were that I chose drama. You made me think I was beautiful and confident ... You stood up for me when no one else did."
A 15-year-old boy, who cannot be named for legal reasons, has been charged with Quamari's murder.
One day later, at the Old Bailey, another 15-year-old boy was sentenced to 13 years in prison for fatally stabbing Folajimi Orebiyi, 17, in the neck and the back near Portobello Road in west London last July. Fola, as he was known, ran into a group of boys - one of whom had been involved in a longstanding feud with one of Fola's friends. Invited to a spot off the main road to settle the dispute, Fola assumed he was heading for a fist fight. But the presence of a knife "took this incident to a whole different league of trouble", the prosecutor told the jury. "It turned out that this wasn't so much a fight as an ambush. Within seconds, Fola was singled out and stabbed to death."
Fola's mother, Yinka Bankole, described her son as "a vibrant and intelligent young man" who planned to go to university to study maths and accounting. "I was in labour for 23 hours with him, yet it took less than four minutes to stab him to death," she said. "What are the government doing about this knife crime that seems to have taken over the streets of London? How many more of our children have to die before the government act?"
It's a good question. Sadly, despite the nation's episodic fixation with the issue, it is unlikely to receive a satisfactory answer.
A week before Quamari was killed and Fola's killer was sentenced, the government's quarterly crime-statistics bulletin reported that knife crime in England and Wales had increased 11% on the previous year, while National Health Service data showed a 13% rise in hospital admissions for knife wounds. The report concludes that this increase reflects both an improvement in record-keeping and "an actual rise in knife crime". "The warning lights are flashing," said the previous Metropolitan police commissioner, Sir Bernard Hogan-Howe.
A Metropolitan police report released last month indicated that between 2014 and 2016 the number of children carrying knives in London schools rose by almost 50%, while the number of knife offences in London schools rose by 26%. The Liberal Democrat leader, Tim Farron, called it a "wake-up call".
Scotland appears to have bucked this trend. In 2014/15, recorded crimes of handling an offensive weapon (which includes knives) fell to their lowest in 31 years, while the number of young people under the age of 19 convicted of carrying an offensive weapon fell 82% between 2006/7 and 2014/15.
In October, the Sentencing Council published draft guidelines for stiffer sentences for people carrying knives. Chief Constable Alf Hitchcock, who leads the National Police Chiefs Council taskforce on knife crime, told the London Evening Standard in early March that the "peak age" for carrying knives is "getting younger", and is currently between 13 and 17. "You've got a group of people probably being influenced by their siblings, by their peer group, and carrying, which is not a good trend," he said. In Manchester, parents of a 14-year-old were ordered to pay £1,000 to a boy their son stabbed several times outside school. During a month-long amnesty in Surrey, police collected 237 knives, which will be used, along with knives collected by police across the country, in a 27ft sculpture called Knife Angel, which may yet adorn the empty fourth plinth in Trafalgar Square.
When politicians and officials seek to pre-empt public indignation by making statements about wake-up calls and warning lights, it is a sign that something unacceptable is unfolding, which they lack either the will or the ability to address.
The answer to Fola's mother's question - "How many more of our children have to die before the government act?" - is both damning and complex. Many more children will die from knife-related violence; indeed, four more have been stabbed to death since she posed it. But it is not because the government and related agencies are not acting. Pretty much every week, somewhere in the country, there is some kind of initiative to tackle "knife crime"' - an amnesty, a new charity in the name of the fallen, an appeal from police, a mayoral statement.
The trouble is that these efforts seem to have little effect. That might be because efforts to make a positive intervention are dwarfed by all the things the government is doing that are making the situation worse. These deaths occur at a moment when the country has made a conscious decision to defund and under-resource its young. When you slash youth services, underfund child mental health services and make swingeing cuts to education and policing, there will be an effect. The most vulnerable will suffer. Austerity didn't invent knife crime, but it is certainly contributing to the conditions in which it can thrive.
Quamari was the fifth young person to be killed by a knife this year. The third, Leonne Weeks, 16, died a week earlier. Her body was found on a muddy piece of wasteland in Dinnington, South Yorkshire. Dinnington is a short drive from Rotherham, Sheffield and Worksop, and a series of irregular buses connect this former mining town with the wider world, but it has no train station of its own. The pit used to look after everyone, says James McIver, 77, a former assistant pit supervisor, including "the sick, the lame and the lazy". When it shut in 1992, everybody suffered. With more than half the children in the town now living in poverty, Dinnington serves as a commuter base for the surrounding towns.
A trainee beautician, Leonne posted dozens of selfies on her Facebook page, mostly with friends, and all with the same lip-smacking pout. Her body was found between two fly-tipping grounds in the centre of town. An abundance of floral tributes, balloons and hand-drawn pictures of Leonne were surrounded by broken refrigerators, remnants of old televisions and discarded soft furnishings.
Leonne's death attracted considerable attention: in the print editions of national newspapers, 27 stories appeared about her killing. Quamari's death was on the front page of the London Evening Standard, but there were only three stories in national newspapers. Coverage of the knife deaths of children and teens in the national press varies widely. There were 68 stories in national newspapers about Katie Rough, a seven-year-old girl who was stabbed in York this January; at the other end of the spectrum, one fatality has not been reported at all.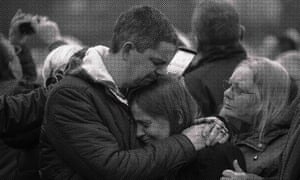 Katie Rough's parents, Paul and Alison. The couple were joined by hundreds of people in Westfield Park in York in January 2017 to release balloons on what would have been Katie's eighth birthday. Photograph: Rex Features
"The media's response to the murder of young people is inconsistent," says Patrick Green, the manager of the Ben Kinsella Trust in London, which is named after a 16-year-old boy who was stabbed to death in Islington in 2008 after a night out celebrating the end of his GCSEs. "Some of these tragic deaths get little or no coverage. These stories are often lost because it's a busy news day or because they consider the young person to be an unworthy victim. The media are more likely to report on the murder when a bright, educated young person from a privileged background is killed, and we all think: 'How did this happen to them?' But we don't hear about or ask the same questions about the murders of young people from more vulnerable backgrounds."
Ben Kinsella, for example, was the brother of Brooke Kinsella, who played Kelly Taylor in EastEnders, which made his death high-profile. The attack was also caught on CCTV, which kept it in the public eye. "Media interest in knife crime goes in cycles," explains Green. "We go through phases when suddenly they'll be all over it, and I'll get lots of calls from media outlets asking me to comment on a recent murder, and it is front-page news. And just when I think we are making headway, getting the message out there that this is a big and growing problem, there will be another couple of murders and I'll hear nothing or see nothing in the papers or TV. Absolutely nothing - or if I do, the victim won't get more than a couple of lines."
Over time, these inconsistencies have become glaring. Crimes committed with knives are nothing new - Shakespeare's plays are full of them. "Knife crime" as a phenomenon, however, is relatively recent. A survey of the national press and the London Evening Standard in 2000 revealed just one mention of the term; three years later, it was up to 24. Coverage peaked in 2008 - with 2,602 mentions that year - before trending precipitously downwards. What is significant about these statistics is that they bear only the vaguest correlation to the frequency of knife crime - which peaked in 2011, by which time the media had begun to lose interest. Last year, even as the number of such crimes rose, the number of mentions of them fell.
The media did not invent "knife crime" either. But, with considerable help from the politicians, it has certainly shaped - or rather distorted - our understanding of it.
These distortions are, in no small part, made possible by the paucity of accessible facts. National data on the number of children and teens killed by knives in any given year is not publicly available. Contact the Home Office and it will tell you that individual police forces collect that information; for the best available data, it suggests that you try the Office for National Statistics. Contact the ONS and it informs you that all the deaths in England and Wales are collated in the Homicide Index, which is maintained by the Home Office. Send a freedom of information request to the Home Office and it refuses on the grounds that it would "be likely to prejudice the prevention or detection of crime or the apprehension or prosecution of offenders". It also notes that the release of the names of victims could endanger the safety, or physical or mental health of their families.
So, while knife crime, particularly as it affects young people, has been the subject of national debate for a decade, our awareness of its true scale is limited, our grasp of its trajectory is only approximate, and coverage of it is erratic. In short, as a nation we are conscious that there is something out there known as "knife crime", but as yet we lack any coherent or enduring national response.
Without accessible official data, or well-informed discussion, our understanding of the problem is cobbled together from a mixture of personal assumptions, media representation and political projection. "Our opinions cover a bigger space, a longer reach of time, a greater number of things, than we can directly observe," wrote Walter Lippmann in his landmark book Public Opinion. "They have, therefore, to be pieced together out of what others have reported." But what others report when it comes to knife crime is neither neutral nor consistent.
The absence of information is just one of the reasons that the Guardian is launching a new project, Beyond the Blade, which will track the death of every child or teen killed by a knife this year. For the rest of the year, whenever access and legal restrictions permit, we also plan to give each of these victims as full a profile as we can. Wherever possible, and only when welcome, we will go to their funerals, vigils and fundraisers and learn about them from those who knew them best - parents, family, teachers and friends. And via a series of freedom of information requests, we also plan to gather as much data as we possibly can in order to better understand the phenomenon.
We know how these young people died. But we would like to know how they lived: who they were, what they wanted to be, what made them laugh. All too often, young fatalities are given little more than cameo parts in a morality play of someone else's creation. Those who die are endowed with ambition and gentle character; those who kill have in the past been described as "savages" and "feral". In humanising rather than caricaturing those involved, we hope to gain a more honest, possibly more complex, picture of what is happening. Trawl the internet for hours and you will find little about Fola Orebiyi beyond that he "was a lovely boy" who wanted to study accounting, and that maths was his favourite subject. I'm sure that's true; I'm also sure there was much more to him than that.
Since we began tracking at the beginning of this year, nine children or young people, aged 19 and under, have been killed by knives. They fell everywhere from rural idylls to city centres, and were found in places ranging from a kitchen bin to an alleyway. They don't even remotely conform to the stereotype of what constitutes knife crime. The youngest, a baby girl named only as "Infant Tunstill", was just a few days old when she died of multiple stab wounds in Burnley in January. Rachel Tunstill, 26, her mother, has been charged with murder.
In his 2010 book Knife Crime: The Law of the Blade, the former Mirror associate editor John McShane compiles a sensationalist catalogue of the most high-profile knife murders in recent British history. Describing the 1995 murder of Philip Lawrence, a headmaster who was stabbed outside his school in west London, McShane declares that it marked "the dawn of an age when the response to a confrontation was no longer verbal or even rough physicality. Instead it was the quick, uncaring thrust of a blade from a feral youth lacking compassion or morality, thinking only of himself and nothing of the havoc caused to those in his way or their loved ones."
"Knife crime" is a construct. It does not simply mean, as one might reasonably expect, crimes committed with knives. It denotes a certain type of crime committed by a certain type of criminal in a certain kind of context, all of which are illustrated by McShane's descriptions.
As it relates to young people, this construct comprises several elements. It is a crime committed by evil kids - not kids who do evil things, but kids who are quite simply evil. Elsewhere in the book McShane describes perpetrators as "naturally violent", "monsters" and "teenage thugs" who populate a section of society that is "feral, callous and bloodthirsty". The idea of knife crime also carries heavy racial connotations. In 2007, then prime minister Tony Blair told an audience in Cardiff: "The black community - the vast majority of whom in these communities are decent, law-abiding people horrified at what is happening - need to be mobilised in denunciation of this gang culture that is killing innocent young black kids. But we won't stop this by pretending it isn't young black kids doing it."
A year earlier, David Cameron, then the opposition leader, suggested in a speech that hip-hop was partly responsible for youth violence. "I would say to Radio 1, do you realise that some of the stuff you play on Saturday nights encourages people to carry guns and knives?" he said.
This assumption isn't limited to politicians making speeches. Every time a young person is killed by a knife, look on social media, and you will see how the response is shaped by the race of the victim alone.
When white kids are killed, people opine about the state of youth today, the demise of the town in which they died, or the world in general. When black kids are killed, usually the assumption is that their race had something to do with it.
A few days after Quamari was killed, one person posted a story about his death with a comment directed at Sadiq Khan referring to a police practice that disproportionately targets young black men: "What do you get if you curtail Stop and Search Mayor of London @mayoroflondon?" Just a few days before Quamari died, Djodjo Nsaka, 19, was fatally stabbed just three miles away from Quamari's school in the shadow of Wembley Stadium. According to his friends, Djodjo, a business-studies student at Middlesex University, planned to open his own business selling baseball caps with his own designs, and dreamed of one day becoming a millionaire.
He worked two jobs (JD Sports during the week and Tesco at weekends) in order to support his family, including his two-year-old daughter, and to pay his tuition fees. Just a month before, he had bought Christmas dinner for his mother, father and five sisters.
And yet a few days after his death, a Conservative councillor in Dover, Bob Frost, posted a news story about Djodjo's murder on Twitter with the message "#BlackKnivesMatter. The carnage continues into 2017. Any protest from the 'community'? Thought not."
"Knife crime" is also understood to be primarily urban, the product of deprived, inner-city areas, particularly in London. Indeed, this is one issue for which the accusation of "London bias" does not conform to the notion that the capital is a cocoon for metropolitan privilege. Finally, it's gendered. As Jill Leovy writes in Ghettoside, an in-depth account of one murder investigation in Los Angeles, which works as well for knife violence in Britain as it does for gun violence in the US, "the killings typically arise from arguments. A large share of them can be described in two words: men fighting."
Some of these preconceptions bear some relationship to reality - it really is primarily young men who are involved. According to the 2005 Offending, Crime and Justice Survey, "Men aged 10 to 25 are almost twice as likely to have been the victim of an assault without injury than females of the same age ... A quarter of all murders are of men aged between 17 and 32. A male's chance of being murdered doubles between the age of 10 and 14, doubles again between 14 and 15, 15 and 16, 16 and 19, and then does not halve until the age of 46." Stabbings are also more likely to occur in urban areas, with London by far the most lethal, followed by Greater Manchester, the West Midlands and West Yorkshire. The three police-force areas where knife crime is least likely to occur are Surrey, Norfolk and Dyfed-Powys.
Other preconceptions are very misleading. A study titled Young People and Street Crime, commissioned by the Youth Justice Board across 32 London boroughs, illustrated that when other relevant social and economic factors were taken into account, race and ethnicity had no significance at all. Crime is more prevalent in poor areas, and since black people are disproportionately poor, they are disproportionately affected - as perpetrators and victims. It's class - not race or culture - that is the defining issue. "When we took everything else into account, ethnicity dropped out of the model altogether," says Marian Fitzgerald, a visiting professor of criminology at the University of Kent.
Similarly, the claim that young people are becoming more feral is a slur on a generation that fails to square with the reality. According to the Centre for Public Safety, it is true that in the capital, the number of victims of youth violence and knife crime injuries have been on a steady if fairly gradual upward trend, and are now back to where they were five years ago. But it is also true, according to the Ministry of Justice, that the number of young people entering the criminal justice system for the first time nationwide is at the lowest rate for a decade. The proportion of children who say they have tried drugs halved between 2001 and 2014, and those between the age of 11 and 15 who had tried alcohol is now at its lowest since the National Health Service started asking in 1988. The Metropolitan police last year revealed that the overwhelming majority of children and young people who carry knives are not gang members. Many are just scared and carry them for protection.
Take the construct as a whole and you have the ingredients for a tabloid-induced moral panic, in which young black men, who reside outside our basic moral norms, roam crime-infested, hostile cities in pursuit of hapless victims. Understood as the product of a collapse in values perpetrated by evil youth, each death is experienced as its own senseless pathology, which can only be reined in by tougher policing, longer sentences and better parenting. In the absence of a cure (you can't fix evil), there is no hope; only fear. "Those unknown footsteps heard approaching from behind," McShane writes, "might be innocent, or they might be something more deadly."
But when you look at the reality of this year's cases, it becomes clear how misinformed the construct is. Of the nine young people who have died this year, just two were in London, while three were in Yorkshire; three died in small towns or villages of 10,000 people or less; five are white, two black and one Asian (we don't know the race of Infant Tunstill); three were aged seven or under; three are female.
The only stories in which the term "knife crime" was used in the national press, including in this newspaper, were related to Quamari and Djodjo - the only two black men, and the only two Londoners.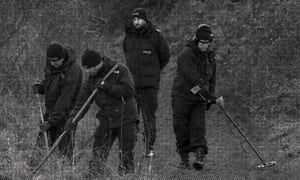 Police search for the body of seven-year-old Katie Rough. Photograph: Rex Features
It is still early in the year, and we are still early in our reporting. But it could be that one of the reasons Britain is having such a hard time finding a solution to knife crime is that we have such a narrow and distorted understanding of the problem.
In a chilly basement at King's College London's medical school, Gareth Davies, the medical director for London's Air Ambulance, is teaching students how to slice a cadaver halfway down the ribcage, cut through the bone and then prise the ribs open like a clamshell.
"You have to access the patient's heart within about a minute, a minute-and-a-half," says Davies, a pioneer of the lifesaving technique. "These patients have technically died in many ways, so you've got a very small window of opportunity to reanimate them. So being accurate, but also being quick, is really important."
Surgeons are getting increasingly adept at saving the lives of people who have been stabbed - particularly in London, where a trauma network formed by four major hospitals in 2010 offers a round-the-clock service. Duncan Bew, the clinical lead for trauma and emergency surgery at King's, wonders whether these advances have the effect of downplaying just how bad knife crime in the capital has become.
"My team sees more people with stab wounds than it does people with appendicitis - 25% of trauma wounds that come through are stabbings," he says. "But the fatality is the catalyst for it getting into the news. We see injuries all the time that never get in the news, you never hear about it, and they are happening all the time."
To get a comprehensive understanding of the impact of violent crime involving knives, one would have to look at more than knife deaths. Fatalities might represent the most tragic and sensational aspect of the phenomenon, but most people who are stabbed don't die and, thanks to the kind of advances in surgery mentioned above, some who might previously have died can now be saved. The fact that many of these trauma centres are based in London might account for why relatively fewer deaths have occurred in the capital this year compared to elsewhere in the country.
Our project, with its focus on young people killed by knives, will necessarily be more narrow in its scope. It provides a very particular - albeit macabre - lens through which to view Britain's youngsters. But while these deaths provide a starting point, it is by no means the end point. By finding out who these young people are, how we are failing to protect them and what we might do to prevent more tragedies of this nature, we hope to emerge with a vivid picture of British youth that goes beyond the horror of their deaths and the sensationalist headlines or silence that follows them.
A few weeks after Quamari's death, I went to the Avenues Youth Project in north-west London. It is a modern building at the end of a block of neat, Victorian terraced houses in the borough of Westminster, where Quamari went to use the centre's impressive array of DJing and mixing equipment the Thursday before he died. He took part in their "Live cotch" programme, in which young people interview each other about their musical influences. Quamari, a quieter, more playful less braggadocious presence than his peers, was a selector - he played music at parties and compered from the mic - was looking forward to a soundclash with another DJ the week before he was killed.
"We've seen a number of our kids die," the executive director, Fabian Sharp, told me. "In one case, in the arms of our youth worker - not here; she lives locally. Last year, a 17-year-old who been stabbed in the neck and had a severed artery stumbled in here while we were delivering a youth session, with blood spurting out of his neck. Our youth workers saved his life. Those are sort of grim flashes in among what is otherwise, for us, a really joyful and wonderful experience of being able to offer kids an alternative."
Sharp says that witnessing such violence, and even just being in the proximity of such tragedy, takes a huge toll on how young people see their place in the world. "They don't go around talking about it all the time, but it is there. And that could be expressed through a memorial service for somebody who passed away and is a victim. And we've had, in the past, to organise events for young people to come and offload their anxieties around the loss of a friend. I don't think you can witness some of the things that these kids have witnessed and not carry around some of this baggage.
"But they're not coming in here and crying and demanding mental-health services, if you know what I mean. They're kids. They come here, they want to play. Or have fun. But you notice it in a kind of swagger. There's a kind of facade being put on. The knife thing is a symptom of something much deeper. Kids are scared and they don't necessarily feel there is anyone out there to protect them."
At the gates of the Capital Academy the day after Quamari died, children trooped out in twos and threes to pay their respects, leave flowers and tributes. Girls in hijab lay their heads on the uncovered shoulders of their classmates and wept while boys stood in silence and shock. "This shit is fucked up, man," said one.
The Avenues Youth Project is just about to see all its local council funding disappear, leaving the organisation reliant on a range of disparate grants while it seeks out other revenue streams. "We're fortunate that we have a building that we can probably exploit better than we did in the past, in terms of rental income and so on," Sharp told me. "But all of that energy takes away from the work that we need to do with the young people, which is urgent. A lot of clubs are closing. They simply cannot make ends meet."
These young deaths do not take place in a vacuum. We live in a moment when inequality is rising, while cuts are biting in a range of sectors that disproportionately affect young people.
According to a recent Unison report, between 2010 and 2016 £387m was slashed from youth services; between 2012 and 2016 a total of 603 youth clubs were closed. A recent report by Sian Berry, a Green member of the London Assembly, revealed that in the last five years £28m has been slashed from council youth service budgets in the capital, resulting in the closure of 36 youth centres and a 48% cut in council youth service employment. "It's really hard to prove a direct link between youth crime and youth services," Berry told me. "But there has to be a link between young people having nowhere to go and young people being left to hang out in unsafe spaces and interract with each other in ways that are not constructive and also feel alienated from society."
In January, Theresa May pledged to make mental health provision for young people a priority. But research by Young Minds, a charity advocating for mental health services for young people, revealed that in 2016/17 roughly half the clinical commissioning groups in England, which allocate funds for mental health services, will spend the extra money earmarked for child and adolescent mental health to plug shortfalls elsewhere. Last year, research by the thinktank CentreForum revealed that these mental health services turn away, on average, 23% of the children referred to them for treatment by GPs, teachers and others.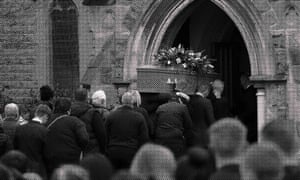 The funeral of 16-year-old Leonne Weeks at St Leonard church in Dinnington. Photograph: Rex Features
In Dinnington, where Leonne Weeks was killed, an online petition calling to reopen the local police station has more than 700 signatories. "It's like an insurance policy for the community," Tim Wells, who set up the petition, told the Rotherham Advertiser. "Hopefully people won't have to use the police, but I think it gives the public confidence and reassurance that the police are there if they need them."
During a vigil for Quamari outside his school a little more than a week after he was killed, several speakers mentioned a collapse of the kind of community cohesion that allows everyone to look out for each other, and elders to tell children where they are going wrong. "Parents need to know where their children are, who their friends are, and not leave them to be raised by computers and phones," said one.
Cheryl Phoenix, who grew up with Quamari's mother in Wembley, north-west London, started a voluntary youth club of her own in the borough of Brent, after seeing services for her sons disappear. She believes parents definitely have a role to play, but that there is a limit to what they can provide. "We all know children are lovely, we all love them," she told me, "but we also know that they drive you bloody potty. So we need a break, and at the same time, they also need an outlet: a break away from the home, away from your parents, somewhere to just let loose and burn off some steam and energy. But right now, children are confined to the home, or their friends come and knock for them, and parents don't want them all in the house, so they're outside, they're just standing around congregating ... So if there's no facilities there, like youth clubs or anything going on, then how are we surprised by the increase in violence on our streets?"
This brings us back once again to Fola's mother who, like many parents bereaved or not, wants to know what the government is doing about knife crime. But the question remains: what would they have the government do?
Unlike guns in the US - a product designed to kill, which serves no other real purpose apart from hunting - knives are everyday objects. Every house has at least one. There have been knife amnesties and guidelines issued about who shops should sell them to. But, given the widespread access everyone has to sharp implements, there are clearly limits to what "knife control" can achieve by itself.
Earlier this month, Chief Constable Alf Hitchcock told the Evening Standard that he plans to focus on a list of "the top 50 people who are habitual knife-carriers" in London, which accounted for 15% of the national increase in the year ending September 2016. Using what he termed the "Al Capone" approach - named after the notorious Chicago gangster who was eventually put away for tax evasion - he gave a green light for the police to target this group and find any plausible reason to take them off the streets.
Whatever one thinks of the ethics of that, there are doubts about how effective a more punitive approach could be. Most criminologists argue that education and a public-health approach will make the greatest impact. "Homicide, like most other violent crime and predatory property crime, is strongly associated with poverty and social inequality," concluded a report commissioned by the Home Office in 2003. "This suggests that preventive strategies focused upon particular offences should be complemented by, and complementary to, broader long-term initiatives against poverty and social exclusion."
Six weeks after Quamari was killed, there was standing room only at the Sacred Heart Church in Camden, where his funeral was held. Many latecomers had to gather outside. Quamari's jet-black coffin was carried in to a round of applause, followed by Bob Marley's Don't Worry. On top of the coffin, mourners placed, among other things, the flags of Uganda and Jamaica - the home countries of his mother and father's families - a framed poster of Bob Marley, sunglasses, dominoes and three airline tickets from a family holiday to Jamaica, home of his father's ancestors, where he visited Marley's mausoleum.
"It's not true to say he was in the wrong place at the wrong time," said Father Terry Murray, who presided over the funeral service. "He was doing what every pupil every day should do. Waiting at a bus stop after school, when dark events happened."
As the service, which overran by more than an hour, concluded, Father Terry Murray had a special message for the young people in the pews. "Please don't allow anyone to bring us back to a place like this again under these circumstances," he pleaded as the assembled clapped.
The next morning, several hundred people arrived at the Gospel Tabernacle Assembly church in Tulse Hill, south London, for Djodjo's funeral. Women wearing green wraps around their waists, one wailing, accompanied his plain wooden coffin to the altar, where a chant went up in Congolese. Owing to a weak microphone and frequent teary interludes, the testimony from family members was difficult to decipher. As mourners trooped past the closed casket, women waved tissues and wept. Many wore T-shirts with Djodjo's face on the front and "Father, Son, Brother, Friend" on the back. As a brass band complete with two sousaphones played, mourners accompanied the coffin outside, waving flags with his face on them.
That evening in the small village of Rettendon, near Chelmsford in Essex, a woman heard screams of distress shortly before midnight. The next morning the neighbour woke up to discover that Denis Petkov, a 19-year-old Bulgarian, who had been in the country just a couple of months, had been stabbed to death in the flat where he lived after a night out with his friends. This is the first time his name has appeared in a national newspaper.
Additional reporting by Damien Gayle and Caelainn Barr
• Follow the Long Read on Twitter at @gdnlongread, or sign up to the long read weekly email here.