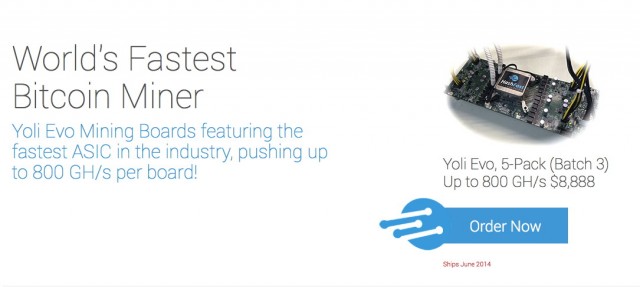 HashFast's already terrible situation just got a lot worse.
The Bitcoin miner manufacturer-turned-chipmaker never fulfilled a $6 million deal with Bitcoin mining firm Liquidbits, which filed a slew of new documents in federal bankruptcy court in San Francisco on Wednesday.
The judge in the case agreed to hold an emergency hearing on Friday to appoint a Chapter 7 bankruptcy trustee. If granted, the trustee's primary job would be to immediately liquidate HashFast's remaining assets.
"Absent the immediate appointment of a trustee to realize the value of the [Bitcoin mining] chips, there may be nothing left in the estate to liquidate by the time an order for relief is entered," Liquidbits argues in one of its filings.
Liquidbits' CEO Gregory Bachrach alleges that HashFast is currently attempting to sell off its remaining inventory of Bitcoin mining chips to a foreign company—despite a binding arbitration order that forbids it from doing so. Neither HashFast nor its attorneys responded to Ars' repeated requests for comment.
10 days ago, a different group of five customers filed an involuntary bankruptcy petition against the fledgling San Francisco startup. That was the first step in an attempt to recover over $330,000 in payments that were apparently never fulfilled. The new filings tack onto that existing involuntary bankruptcy case.
The involuntary bankruptcy filing came days after HashFast's CEO told Ars that his company was "as poor as church mice." Prior to that, the company fired half of its staff and declared "we're not scammers."
In early May 2014, Ars profiled the San Francisco startup and chronicled the numerous arbitration cases and lawsuits that the company has pending against it. Many customers have accused the firm of outright fraud, and some are upset that when the company failed to fulfill its orders, it would not refund the amount in bitcoins as it had previously promised.
"HashFast was not in a position to refund the money"
In a declaration to the court, Liquidbits CEO Gregory Bachrach writes that that his company had placed a $6 million order with HashFast as of October 3, 2013 to acquire Bitcoin hardware constituting a total of three petahashes per second.
The 10-page contract also states that Liquidbits will pay HashFast "payments calculated based on the gross revenues of Liquidbits and its Affiliates related to the use of the units, whether from trade contracts, Bitcoin mining, resale, or otherwise."
This massive order appears to be the same one that CEO Eduardo deCastro mentioned to Ars recently. Because HashFast could not fulfill it, Liquidbits backed out of the deal, depriving the company of much-needed income.
Bachrach states in his declaration that by March 2014, "HashFast had delivered to Liquidbits only a small portion of the equipment it agreed to deliver in the original agreement."
The companies later negotiated to convert the 2,500 Sierra mining units ordered into 30,000 Golden Nonce chips, the hardware core of the mining box. However, Bachrach states that HashFast made no delivers in March 2014 and delivered only 2,000 chips in April 2014.
"Since the [memorandum of understanding] was executed, I have engaged in efforts to obtain for Liquidbits the remaining 28,000 chips," he states. "I have also repeatedly asked HashFast for a refund of the amounts paid for the undelivered chips. Each time I was told by HashFast personnel that HashFast was not in a position to refund the money."
Bankruptcy court
Liquidbits then began arbitration—a private process to adjudicate legal disputes outside of the court system—on April 14, 2014. On May 9, 2014, an emergency arbitrator forbade HashFast from "selling or otherwise transferring ownership of" the 28,000 chips that it owes Liquidbits.
That same day, five claimants—Koi Systems of Hong Kong is the single largest one, claiming a loss of over $280,000—submitted their involuntary bankruptcy filings against HashFast. On May 12, 2014, the arbitration was stayed, or put on hold, until the bankruptcy issue was resolved.
In a separate court filing, Willem van Rooye, the managing director of DigiMex, another Bitcoin mining pool, told the court that he had had an in-person conversation with HashFast CTO Simon Barber at a Bitcoin conference in Amsterdam on May 17.
In that document, van Rooyen, alleges that Barber then "proposed a 'joint venture' between DigiMex and HashFast, "which would transfer "all or substantially all of the assets of HashFast (in the form of its entire inventory of hardware) to a new entity."
He added: "While not explicitly stated, based on the operations proposed and the nature of the involvement of DigiMex which operate in outside the United States, I understood this to mean that these assets would be transferred out of the United States."
Were such an agreement between HashFast and DigiMex to be executed, it would contravene the arbitrator's order, and would effectively prevent any of the creditors from getting their money back.
The bankruptcy hearing, which is open to the public, is scheduled for 2pm on Friday May 23, at the United States Federal Courthouse in San Francisco, in Courtroom 22.