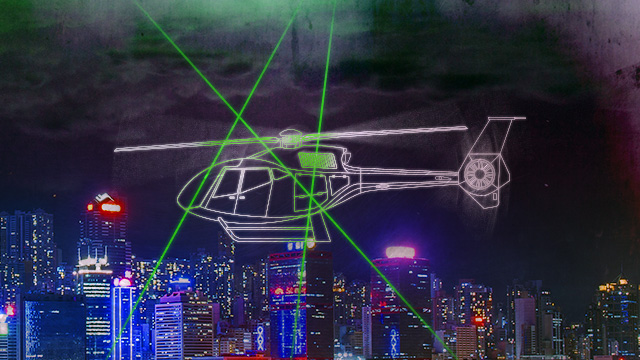 FRESNO, CA—On a warm summer evening in late August 2012, Sergio Rodriguez took a green laser pointer and fired it at a passing helicopter from outside of his front door. His apartment complex sat just about a half mile north of the west end of the Fresno Yosemite International Airport in one of the Central Valley's largest cities.
Unknowingly, the then-24-year-old struck not just any helicopter, but "Air George," an emergency transport ambulance helicopter of the Children's Hospital of Central California. The helicopter was flying from Bakersfield to Fresno with a young patient, two crew members, and a pilot on board.
It may seem like a silly thing, but laser strikes against planes, helicopters, and other aerial vehicles have become an increasing epidemic nationwide. Since the FBI began keeping track in 2005, there have been more than 17,000 laser strikes in total—more than a fifth (3,960) in 2013 alone. During the first three months of 2014, the FBI reported an average of 9.5 documented incidents every single day. It's not even just the US; Canada has seen a similar rise. Its incidents rose from 108 laser strikes in 2009 to 443 in 2013, according to Maryse Durette, a spokeswoman for Transport Canada.
"In 2005, there were 311 and in and 2013 we had approximately 4,000 incidents. There was a significant uptick," John Kitzinger, the head of the Violent Crime Unit at the FBI, told Ars. "We believe that [it's] because these lasers are easily obtained, they're inexpensive, from the Internet. And a big part of the problem here is that a lot of times subjects that are engaging in this type of behavior are not aware of how serious it is."
According to Rodriguez' March 2013 criminal complaint, the pilot informed the airport's air traffic control, which then relayed it to a nearby Fresno police helicopter on routine patrol. As the helicopter, officially called Air-1, moved to the location of the incident just north of the airport, it was struck seven times as it circled overhead.
Air-1 next radioed down to the neighboring town of Clovis, which sent its own patrol cars to an apartment complex. Using Air-1's spotlight, Fresno's pilots guided Clovis officers to the north side of the apartment complex so they would not be observed. One Clovis policeman, Officer Peters, jumped over a wall and began walking around the area. Peters was quickly informed by a fellow resident that the person "in Apartment #117 is doing it, I saw him."
Peters recognized Rodriguez from his prior encounters with local law enforcement (including a domestic disturbance) and knew that he was out on probation. The officer also saw a "dark cylindrical object in his right hand." Rodriguez turned and ran toward his apartment, but Peters caught up to him. After searching him, Peters found the green laser pointer. Meanwhile, another Clovis cop, Officer Cleaver, arrived and began to arrest Rodriguez.
Rodriguez' girlfriend, Jennifer Coleman, then interrupted and said that she was the one that fired the laser. However, Coleman denied intentionally firing at the helicopter. Both of the two were booked at Fresno County Jail and later released.
After being interviewed by an FBI agent about a month later, Coleman said that she even let her young children play with the laser but required that they only aim it at the sky and not at anyone's home. She said she didn't think that the laser would reach the helicopter; then Coleman apologized and admitted it was a "stupid thing to do."
The following day in a second FBI interview, Rodriguez admitted that he struck the helicopter four times and gave it to Coleman so she could try as well.
Federal criminal charges were brought against both of them in March 2013, with a three-day trial concluding in December 2013. Despite his lawyer's best efforts, in March 2014, Rodriguez was sentenced to 14 years in prison. His punishment is believed to be the harshest such sentence for firing a laser at an aircraft anywhere in the United States, possibly even the world.