The flying car has never been more real. Kitty Hawk, the company backed by Google co-founder Larry Page, showed off its battery-powered recreational vehicle last week. Uber Technologies Inc. held a recent conference on flying cars. Boeing Co. is making working prototypes of flying taxis. There are more than a dozen serious efforts to realize the dream of the flying car.
Another vision of flying futurism—the jetpack—is falling behind. Boeing just revealed the results of GoFly, its contest for inventors of personal aircraft that seemed to reinvigorate the decades-old hope of a contraption that could propel its wearer through the air. But none of the 10 winning designs announced Thursday strap onto someone's back. These are simply not the jetpacks we've been waiting for.
All of the entrants in GoFly's contest are VTOLs, aerospace jargon for aircraft that can take off and land vertically. One proposal, from a startup in Moscow, shows a rider straddling a vehicle that looks like a motorcycle powered by 16 fan-like propellors. Another motorcycle-inspired design features a single enormous propellor. A team led by a professor at Texas A&M designed a craft that looks like a flying lectern, with two propellors whirring at foot level. 
Each winner gets $20,000 to help build its design before a second phase of the competition, which is open even to those who didn't win the first round, and then four finalists will be granted an additional $50,000 each. GoFly plans to issue invitations next March to an actual fly-off with a $1 million top prize, as well as separate prizes for the quietest and most compact designs. It's anyone's guess when these flying machines will be produced. 
GoFly Chief Executive Officer Gwen Lighter compares the contest to those organized in the 2000s by the Defense Advanced Research Projects Agency to jump-start development of self-driving cars. Fourteen years later, autonomous taxis run by Waymo, a corporate cousin to Google, are picking up passengers in an Arizona pilot program ahead of a commercial debut later this year. Automakers, tech companies and startups are all racing to launch businesses with autonomous vehicles. 
Whether there's a business case for personal aircraft remains an open question. But a handful of overlapping tech trends are combining to force the issue. The smartphone industry led to rapid improvements in sensors such as accelerometers and gyroscopes—which, in turn, helped with the design of more stable drones and allowed for larger VTOL aircraft. Advances in electric battery technology are opening up new possibilities for flight, and 3D printing is speeding up the process of prototyping. 
"There has been a convergence of breakthrough technologies," said Lighter. "We're at a legitimate shift in the way we travel from one place to another."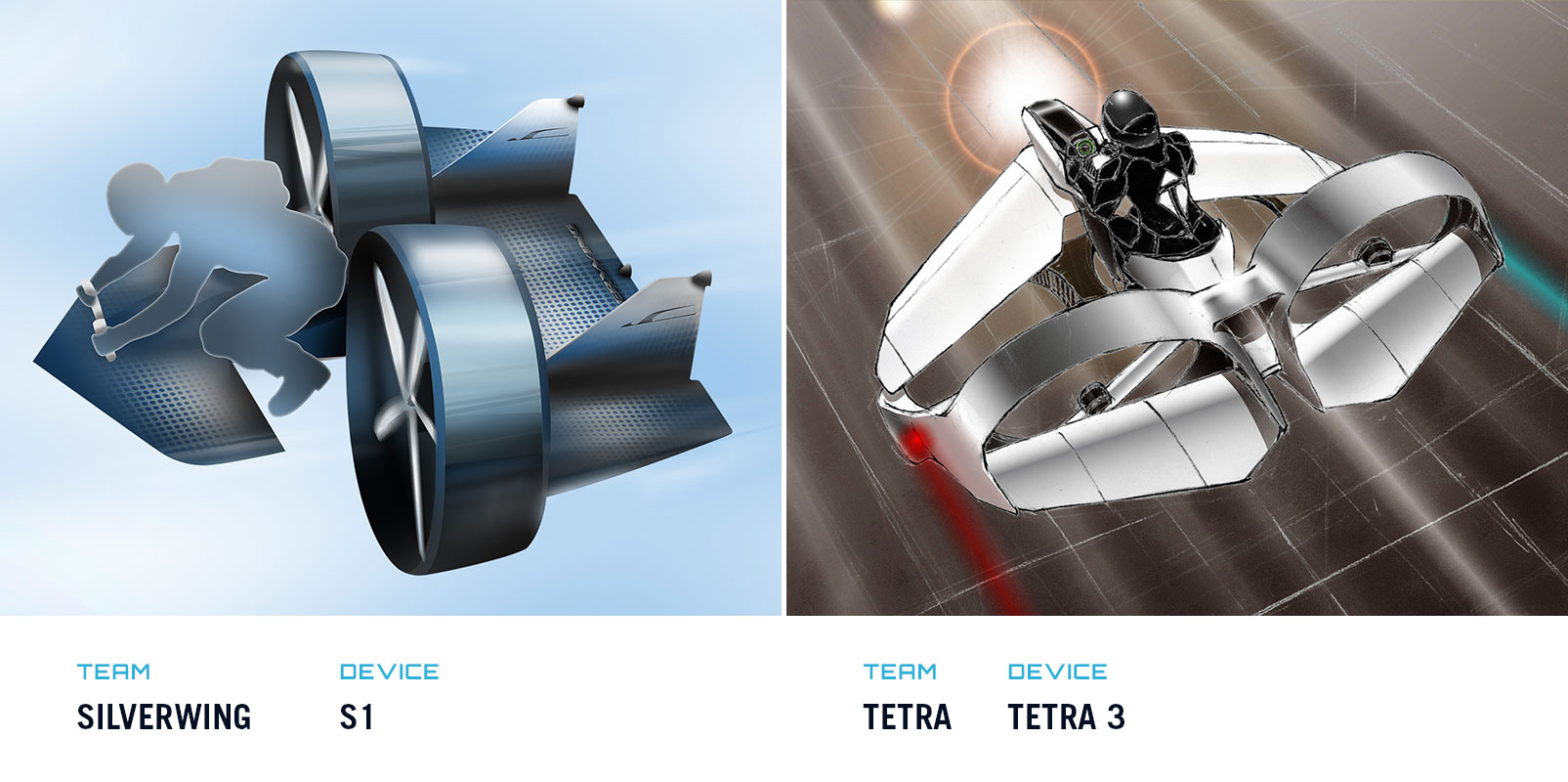 Two of the 10 winning designs from Boeing's GoFly contest.
This doesn't mean that the technical hurdles have been solved, especially for the specific flavor of airborne mobility that interests GoFly. While Kitty Hawk and Uber are focused on flying cars, GoFly wants single-person vehicles that are both smaller and quieter than anything in existence today. The vehicles must measure fewer than 8.5 feet in any direction and travel 20 miles while carrying a single person, but that's hardly the trickiest part. Boeing's contest also requires that devices run quieter than 87 decibels, as measured by sensors 50 feet away. That sort of noise would almost blend into city traffic.
When it comes to aircraft, however, there's a trade-off between size and noise—and smaller means louder. Engines produce thrust by moving air through a nozzle or propellors. The two primary factors impacting power are the size of the blades and the speed of the air; the smaller the diameter of the blade, the faster it has to move air through. An aircraft that uses a five-foot propellor to lift a 200-pound person would be significantly louder than one using a 10-foot propellor. 
"The GoFly prize is impossible," said Michael Hirschberg, executive director of the Vertical Flight Society, a technical society for people working on vertical takeoff and landing flight. "There is no way—based on conventional thinking—that someone can make a device that can meet the low noise, small size and long endurance requirements that it requires." 
Hirschberg is hoping to be proven wrong. He hadn't yet seen the winning GoFly designs, and at this stage it remains difficult to tell whether anyone can achieve the minimum contest requirements. 
One takeaway from the contest submissions is that air motorcycles may be more sensible than jetpacks. But that doesn't mean jetpacks don't exist. David Mayman is the founder of Jetpack Aviation Corp., and has a functional vehicle he shows off at airshows and other events. But Mayman said his vehicle would also be far too loud for GoFly's purposes. His company's jetpacks are powered by kerosene, adding even more noise. Mayman said he's skeptical that electric batteries, which run silently in cars, will be powerful enough to prove functional for jetbacks in the near future. 
Google X, the tech giant's research and development arm devoted to so-called moonshots, told the Wall Street Journal in 2016 that it had abandoned work on jetpacks and gyrocopters because the prototypes burned too much fuel and were uncomfortably loud. The gyrocopter, a kind of backpack-worn helicopter, "was louder than a Harley," said Google X boss Astro Teller.
Then there's the lingering question of what these things will be good for. Martin Aircraft Co., a jetpack company that went public on the Australian Securities Exchange in 2015, told investors in December that its devices weren't yet reliable enough to sell to first responders or other potential users. The company said it would focus on doing demonstrations for Chinese customers. Martin later pulled its stock from the exchange, saying it couldn't afford the administrative costs. 
Jetpack Aviation continues to probe for the correct use for its very loud jetpacks. The company has a research agreement with the United States Special Operations Command to assess the feasibility of its product for military applications. A spokeswoman for the military said it was still trying to determine a use for them, and declined to discuss specifics. Mayman said Jetpack Aviation also plans this fall to open an amusement park of sorts, where people will be able to fly in a jetpack tethered to 200-foot cable.
Greg Hyslop, Boeing's chief technology officer, sees the GoFly contest as a way to engage with potential recruits at a time when startups are luring away top talent. He's not yet persuaded that personal aircraft will develop into a viable market for his company, and he doesn't pretend to know what they'll look like.
"I think there's a future for smaller aircrafts," Hyslop said. "It could be a 10-person autonomous aircraft, it could be drones that carry cargo 50 miles." Last year, Boeing acquired Aurora Flight Sciences, one of the companies working with Uber to develop a flying taxi.
Left to be resolved are questions about how such vehicles will fit into the airspace above cities. Boeing has deep experience dealing with governments, but navigating the emerging landscape of urban flight would be a new challenge for it. "We're going to start opening those cans of worms," said Hyslop.