'What economic crisis? Business is good," Bijan winks as he flashes his big, gap-toothed smile.
Bijan is a cook and dealer of sheesheh – crystal meth – which has exploded on the Iranian drug market and, for the first time, overtaken heroin to become the country's second most popular drug (opium still tops the list). Meth production in the country has been expanding at an astonishing rate. According to a 2013 study by the United Nations Office on Drugs and Crime, the Iranian government first reported manufacture of the drug just six years ago, when four production facilities were seized. By 2012, though, Iran was the world's fourth highest importer of pseudoephedrine, the main precursor chemical used in the production of crystal meth. Research carried out by the Centre for Preventative Welfare shows that over half a million Tehranis between the ages of 15 and 45 have used it at least once.
The country's drug problem is not new; Iran has one of the highest rates of addiction in the world and the interior minister, Abdolreza Rahmani Fazli, announced recently that some six million Iranians are affected by problems related to drug addiction.
In Tehran, drugs are everywhere. At one popular spot north of the city, queues of cars pull up to be served under a motorway flyover. Dealers trade on a layby with lookouts and security dotted around them. The peak time is 2am and all are catered for. Cocaine has become a regular feature at parties among Tehran's richer residents; young people throughout the city smoke marijuana and pop ecstasy pills; opium – viewed as an older person's drug – is still widely considered to be culturally acceptable. In seedy corners of south Tehran, addicts gather to inject heroin, as they always have done. But when crystal meth hit the streets it managed to transcend social divides, and could be found everywhere in the city.
In a graffiti-daubed side street in the centre of Tehran, a teenager with an emo haircut and a leather jacket pulled over a grey hoodie stands in a doorway, his pockets stuffed with small plastic bags of crystal meth. Peyvand sells a gram for the equivalent of about $5. He has been caught countless times by the police but has always paid his way out of prison.
"Everyone buys it. Most of my customers are regular kids like me, students, or they've got office jobs. But rich kids use it too – I either deliver it to their houses, or they turn up in their flash cars," he says. "It's more expensive than heroin, and young people see it almost as a luxury drug; it's become a chic thing to do."
One of Peyvand's friends, who is also a regular customer, smokes sheesheh once every couple of days. "I love it. It's much stronger than heroin, much more intense. And it's safer; there's no risk of overdosing. Sheesheh is just a great high."
Peyvand says he sells crystal meth at his local gym to bodybuilders and athletes who use it to give them energy while they train, and to a growing number of young women who buy it to lose weight.
A few miles north of where Peyvand deals, a queue of women sit on white plastic chairs in a beauty salon set up in a marble-clad apartment block. Drawn by the salon's reputation as a purveyor of the finest Hollywood bikini waxes, they flick through hairstyle magazines and a few outdated copies of Hello! There are housewives, students, a women with her black chador hanging open around her shoulders and a group in their mid-20s with Botox-smooth foreheads clutching Louis Vuitton handbags. The place fizzes with gossip. A fortune-teller works her way up the line, dispensing advice with the flick of a card and extracting generous tips. Also a hit with some of these women are the under-the-counter methamphetamine pills. A couple of years ago, meth was widely available at beauty salons, until a member of parliament called for a clampdown. Even though many places stopped stocking it, demand is still high.
"The pills are cheaper than liposuction, and I think it's a lot safer," says Roya, a 26-year-old secretary. "When it's in pill form, it's a slimming aid. It's not like smoking bags of it, which is bad for you. For me, it's like medicine, it's not for enjoyment."
Bijan, who is from a family of gangsters, ditched selling more conventional drugs like heroin and opium in favour of crystal meth three years ago. "It's a cheap and easy drug to make. And unlike heroin, you don't have to deal with Afghanistan and all the middle-men along the way, so there's less chance of being caught and fewer people to deal with," he says.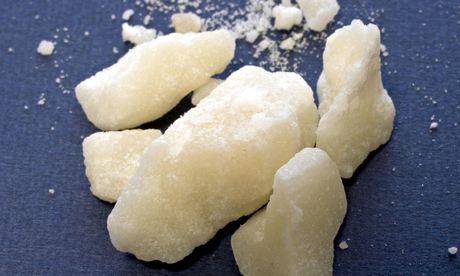 Crystal meth … slowly becoming taboo. Photograph: Alamy
He runs his operation out of a ragged, industrial town just outside the capital. It is a poor, forgotten place surrounded by factories. Here grocery stores still sell blocks of pungent black opium alongside staples such as milk and slabs of white ewe's cheese. Most of the residents are either unemployed or work as day labourers and in recent years it has become home to many paperless Afghan migrants. Even though this is not Bijan's patch – he only sells to dealers in Tehran – the changing face of drug use in the town is emblematic of what is happening in the rest of the country. Ironically, the rapid growth in sheesheh is partly due to the falsely held belief that it is less addictive than heroin.
While the country's economy is flailing in the wake of stricter sanctions and the damage wreaked by the populist policies of the former president Mahmoud Ahmadinejad that sent the Rial tumbling and the inflation rate soaring, the illegal drugs trade is booming. Iran has long been one of the busiest transit countries for drugs traffickers moving heroin from Afghanistan to the West and it has the highest rate of opium and heroin seizures in the world. Since the Islamic Revolution in 1979, nearly 4,000 Iranian police officers and soldiers have been killed in a neverending and costly war; Iran spends around $1bn a year on anti-drug operations and on securing its 900km border with Afghanistan. Punishments for people caught are severe. Fazli, the interior minister, has said that 80% of all those who are killed by the state are executed on charges relating to drugs trafficking.
There have been extensive public awareness campaigns, with adverts on the television and radio warning of the dangers of crystal meth. These appear to have had some impact, as unlike opium, sheesheh use is becoming increasingly taboo, especially in the more affluent parts of the city.
The government, predictably, says it is stemming the surge in crystal meth production, with Fazli announcing the seizure of 3,500kg of crystal meth last year and that 375 meth labs had been discovered – more than double the number in 2012.
"It's not like the early days when they didn't have a clue what sheesheh was. They are definitely putting more resources into fighting it. But for every meth lab they destroy, another lot spring up," says Bjijan.
To keep one step ahead of the authorities, Bijan says he bribes police officers. In return for a small cut of his profits and "hush" money, the policemen tip him off about raids and investigations that may involve him, and they promise to destroy any files on him, should they materialise.
"This country's all about connections. As long as you know a few powerful heavyweights, you'll be fine. It's one rule for the rich and one rule for everyone else. I'm lucky in that I've got money and I know people. That way, you stay out of the noose," he says, dragging on a cigarette as he makes a hanging gesture with his free hand.
In south Tehran there seems to be little indication that the crystal meth craze is abating. Outside a charity for sex workers, two women are slumped on the pavement, their faces scratched and covered in sores and their eyes sunken; the tell-tale signs of crystal meth addiction. One of the women cries as she explains that she is now hooked on sheesheh as well as heroin. Outreach workers here say that the area's most vulnerable and severe addicts have little access to services and are unaware of public campaigns; they complain bitterly that sanctions have halted funding for their rehabilitation programmes.
Bijan does not live far from the community of sex workers who are struggling to feed their habits. He has no moral conscience about what he does and blames the selling and buying of drugs on being forced to live in a repressive country. But he prides himself on making pure, safe crystal meth and he is now considering expanding his operation to Malaysia and Thailand, where he says associates are making even more money – the average price of meth pills in Malaysia is at least five times that in Iran.
"People need an outlet. And for those of us who sell it, well, there are no jobs, and if you're not from a rich family, you will never have opportunities in this country. At least making crystal meth has given me the chance to look after my family."
Some names have been changed.