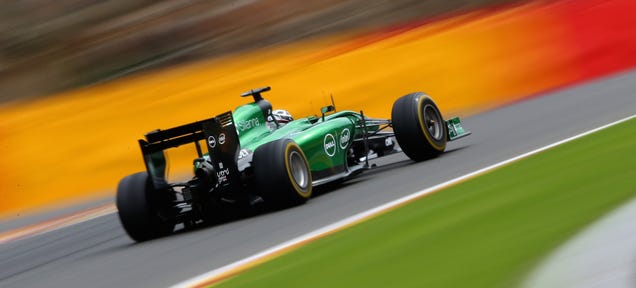 The Caterham F1 team office has reportedly been raided by police, according to F1 reporter Tom Wilkinson. It's unclear as to what exactly triggered the law enforcement action, but the team has been in extremely dire financial straits.
#F1 Breaking, workers at Caterham Leafield have been asked to shut down servers & systems. It is believed police & bailiffs are on site.

— Tom Wilkinson (@TomWilkinsonF1) October 1, 2014
The Caterham team has had an absolute mess of a season so far, and not just in the standings. The perennially-poor team had its owner make a quick announcement a few months ago to sell the team to a mysterious group of investors, and since then not only did the team boss resign last month "to spend more time with his family," but then Pirelli threatened to leave the race cars up on blocks after the team started missing payments for tires.
Last I checked, tires are an important component of cars.
Just two days ago, the team said it was "fully committed" to the 2015 season. The team has yet to issue an official statement, so at the moment we're not entirely sure if the team is even committed to the remainder of the 2014 season.
More as we have it.
Photo credit: Getty Images