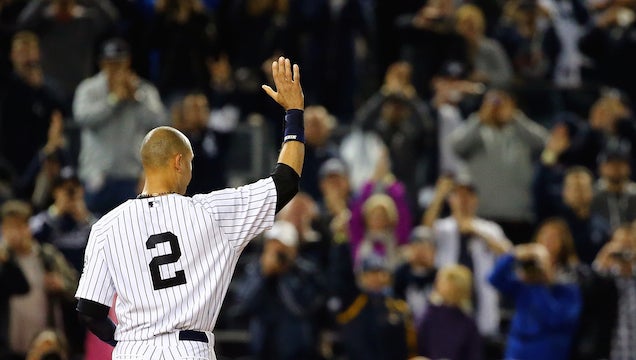 I want you to just listen to the crowd as it watches the outcome of Derek Jeter's final at-bat at Yankee Stadium. It rises to pure white noise as the ball gets through the right side, sounding about as loud as a ballpark could possibly get. And then Antoan Richardson scores, and it gets louder.
That's not sentimental applause befitting the valedictory last night was supposed to be. That's the intense, primal roar of a crowd totally absorbed by the action, joyous over the hit and the win. It sounds like a playoff crowd, baseball fans going nuts over baseball things. Derek Jeter Night in the Bronx struck a perfect balance, celebrating the memories of the last 20 years, and creating a new memory that'll stand up with the best of them.
It felt like all the best of Jeter's prime years distilled into one game: a couple of hits, a big RBI, and—yes—an error in the field, and—especially yes—something weird and good and unlikely (J.J. Hardy throwing Jeter's would-be double play grounder into right field) for which you probably shouldn't credit Jeter, but which you could, because it's the sort of thing that always seems to happen around him.
The entire thing was unlikely. Joe Girardi should have taken Jeter out in the ninth, as most expected him to, to guarantee the same isolated standing ovation that Mariano Rivera received last year. ("I was almost thinking, 'Get me out of here before I do something that costs us the game,'" Jeter joked.) Instead, Jeter earned that moment on his own, and it was all the better for being organic and leaving no space for anticlimax.
David Robertson should have closed things out. "As much as I wished I wouldn't have created it," he said of the opportunity for drama his blown save provided, "I'm glad it happened."
Buck Showalter should have intentionally walked Jeter in the ninth to set up the double play, and Evan Meek shouldn't have started Jeter off with an 86 mph cut fastball up and out over the plate, the exact pitch Jeter made his living fisting off into right. Set up? Grooved? I don't particularly care. We went through this same thing at the All-Star Game, and I said then what I believe now: the moment still happened, and the memory will still feel just as good even if it was goosed a bit. "I could be upset about it," Meek said, "but you're better off just understanding how important a day it was for baseball, for him."
I'm a Yankee fan, and a Derek Jeter fan, and neither has been particularly easy this year. This was the first season Jeter really felt old, and even worse, consumed by his own hype. Blame that on Steiner Sports and Gatorade and lazy sportswriters, if you like, but Jeter's always been a cipher, and this year, for the first time, he seemed completed subsumed into the Jeter legend.
Even in New York, it felt like too much in a way it hadn't before. (It has surely felt like this for a long time in the rest of the country. Inside this bubble, Jeter's treated like a hometown hero because that's what he is; nationally, he was forced as a hometown hero on fans who already had their own. The Jeter backlash has always been against the selling of Derek Jeter.)
So I expected to go into last night with mixed emotions. I was willing to entertain my cynical side in a way I didn't for Mariano Rivera's farewell. It didn't work out that way. Jeter, despite being used as an unwitting champion for the basest causes, has always had a way of pushing me toward the earnest. That's the purest sort of fandom, I think.
Jeter, too, failed to take the night in stride.
"You try to trick yourself that you're not feeling those feelings," Jeter said, "and I've always been able to do it. But then people say things to you and you almost lose it."
I justified my unexpected sincerity by recognizing that tonight was never going to be about Jeter as much as it would be about recalling how Jeter and I have grown old, if not together, then at the same time. I had just started middle school when he came up as a skinny little shortstop for a promising team that hadn't been good in my lifetime. A Yankee dynasty rose and fell and the World Trade Center did too, and I moved away and got tattooed with the Yankees' logo and came back, and I finished school and fell in love and attempted to share my Yankee fandom with my love and saw her genuinely excited when they won another trophy. I've gotten jobs and lost them, I've made a home and a career, and I've turned 30, and just this summer I watched my father, the man who gave me my baseball fandom and took me to watch a rookie named Derek Jeter, die many years before he should have died. New York has changed irrevocably since 1995, and I have too, but Jeter has always worn pinstripes.
Everyone has their player like that; Jeter just happens to be mine. But he isn't mine alone. There are millions of people with 20 years worth of memories that came to the surface last night, and these are some of mine:
I was in the building for the home opener in 1996, in the snow, the first chance to see the new franchise shortstop on a team that was going to win championships in four out of the next five season, two facts no one knew at the time but don't affect the memory in the least. I was in the building in 2003, when he doubled off Pedro Martinez in the eighth inning of Game 7, kicking off a rally and making possible what would eventually be the single most delirious moment of my life. I was in the building in 2004, when he dove into the stands to make a catch in a bananas extra-inning game against Boston. The fans around him immediately stood up, blocking my line of sight, and the only way I knew he came up clutching the ball was by the sound of fans who could see, the same sort of I-can't-believe-he-did-it roar that follow Jeter's walk-off single last night.
That roar last night will be my memory of this, I think.
Jeter was very good for a very long time on a team that was almost unprecedentedly successful, for a franchise that is unmatched at emphasizing its history. It was inevitable that Jeter would go down as one of the all-time greats, even if he wasn't. But my memories of Jeter are of childhood and of a stretch of sports fandom that was just about as perfect as anyone's ever had, and no one can pick that apart. I could not in good conscience have asked for any more memories out of Derek Jeter; then he gave me one more anyway.