Floodwaters surge through Ellicott City, Maryland, on Sunday, May 27 Todd Marks/via Reuters
Floods like the one that devastated Ellicott City on Sunday are not "natural" disasters outside our control—we can reduce the impacts and risks if we resolve to.
Last Sunday, Main Street in Ellicott City, Maryland turned into a raging waterway. During a torrential rain storm, its historic buildings started to fill with water, and people hurriedly evacuated to higher floors. Damage to homes, businesses, cars, and infrastructure was widespread. In total, 300 people were rescued, and one person, Sergeant Eddison Hermond of the Maryland Army National Guard, was killed.
As videos of the flooding appeared online, people voiced confusion because it looked just like the footage they had viewed nearly two years earlier. In July 2016, Ellicott City flooded during a rainstorm that brought six inches of rain in two hours. Dozens of businesses and homes suffered significant damage, roadways and other public infrastructure were destroyed, and two people lost their lives.
After a flood—once victims have been rescued, waters have receded, and damage has been assessed—most people assume the disaster is over. What comes next, however, is frequently described by survivors as a "second disaster." They face months or years of turmoil as they navigate the complicated process of disaster recovery.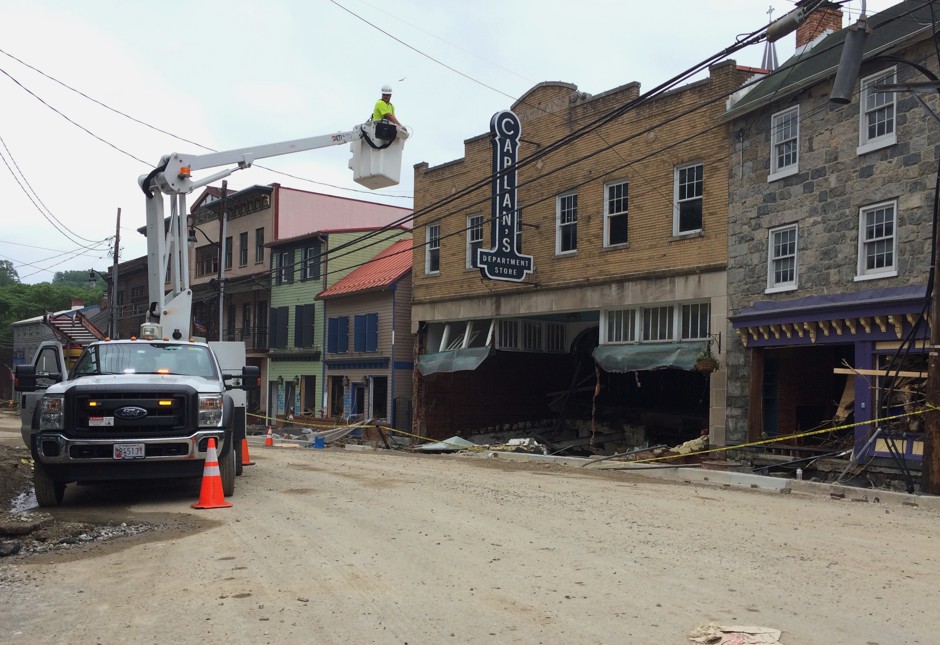 Utility workers check the power lines on Ellicott City's Main Street after the May 27 flood, the street's shops now gutted. (Courtney Columbus/AP)
Following the 2016 flood, Ellicott City did what is expected of communities post-disaster. Local politicians proclaimed they were resilient and would rebuild. Volunteers showed up to help. Survivors reached out to friends and family. Residents who had insurance filed claims; businesses took out loans; and the Federal Emergency Management Agency (FEMA) provided funds to fix public infrastructure and to homeowners who needed aid. In combination, these resources were enough to help some recover, but not everyone.
Whether a disaster is on the scale of the 2016 Ellicott City flood, with 97 residences impacted, or Hurricane Harvey, with more than 200,000 in Harris County, Texas, alone, we hear the same refrain every time—the community is going to "build back better."
It's a good goal. The community must rebuild anyway; shouldn't it be better than it was? Aside from the complicated questions that raises (who decides what "better" means, and who will pay for it?), there are often necessary discussions about mitigation. Shouldn't we reduce or eliminate future risks so the same thing doesn't happen again?
But as slow and complicated as the recovery process is, the mitigation process can be even worse.
In the months after the 2016 flood, officials in Howard County, Maryland, where Ellicott City is located, held public meetings to develop projects to make the town more resilient. They looked for ways to work with state, federal, and non-governmental partners. They established a recovery advisory committee, created a hub for businesses to find resources, and commissioned studies on how to prevent future floods.
On the surface, Howard County seems to have been doing a lot right. Research has suggested that community engagement, leadership, and the availability of assistance from state and federal officials improve the likelihood of a community mitigating disaster risks. But the limited success of the county's efforts illustrates how difficult disaster mitigation can be and the many barriers that communities face.
Once a community has developed a mitigation plan and gained public support, it still faces an uphill battle.
Howard County tried to put in place mitigation measures using existing systems, specifically seeking to redirect future rainfall. Earlier this month, FEMA approved just over $1 million for improvements to Ellicott City's flood infrastructure, with county officials contributing another $400,000. These improvements alone are insufficient to manage the town's flood risk, but they represent an important starting point. After a two-year effort to secure funding, the projects had finally begun—when the town flooded again.
Once a community has developed a mitigation plan and gained public support, it still faces an uphill battle. East Texas, including Houston, has experienced four floods in three years. One of the impacted towns, Wharton, has had a plan to build a levee for 10 years, but the U.S. Congress, which approved it, has not funded it. Saco, Maine has been seeking federal funding for 30 years to manage coastal flooding. Fargo has a stalled plan for a river diversion to prevent flooding, with a hefty $2 billion price tag. The list goes on.
Something needs to change.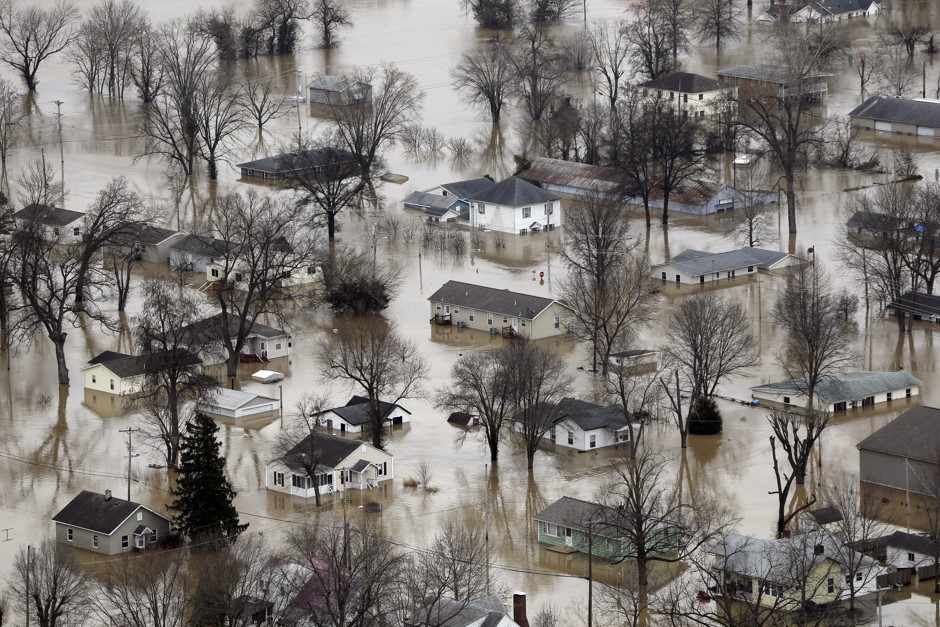 Floodwaters surround homes and businesses in Pacific, Missouri, in December 2015. (Jeff Roberson/AP)
An important place to start is for Americans to have a more nuanced understanding of what causes disaster. Rather than being a "natural" disaster or an act of God, Ellicott City's flooding was caused by a combination of torrential rainfall, a vulnerable location, development that did not account for a changing flood risk, and other policy decisions. The role that climate change may have played is complicated, but according to the most recent National Climate Assessment, heavy precipitation has increased the most in the Northeast (including Maryland).
Mitigation efforts must be based on an accurate understanding of how these factors interact with each other. We cannot rely on the historical record to determine our future flood risk—climate change and the physical changes we've made to our communities can reshape that risk, so must be factored into our plans.
We have historically taken a reactive approach to disaster management, waiting until after a disaster happens to respond. Going forward, we must take a proactive approach, working on mitigation in our communities before disaster strikes.
Emergency management agencies—local, state, and federal—are on the front lines of managing the consequences of climate change. They should help (and often, already do) coordinate efforts to adapt to increased flooding, wildfires, and drought. When communities undertake mitigation projects, agencies must allocate them funding with fewer delays—and the agencies themselves ought to be funded better. Local officials must conduct more accurate hazard and vulnerability assessments and update them more regularly.
A 2018 report by the National Institute of Building Sciences found that for every dollar spent on federal disaster mitigation, $6 is saved in recovery. FEMA recently released a strategic plan that cites risk reduction as one of the agency's chief goals, a step in the right direction. Climate change is, however, conspicuously absent from this document.
Across the United States, destruction from flooding is increasing. From Texas to Maryland and beyond, the same combination of factors is at the root of this pattern: failure to mitigate risks; development decisions that don't account for those risks; and a changing climate.
This is a situation we've gotten ourselves into. If we value the safety of our families, friends, and neighbors, addressing it needs to be an urgent national priority.