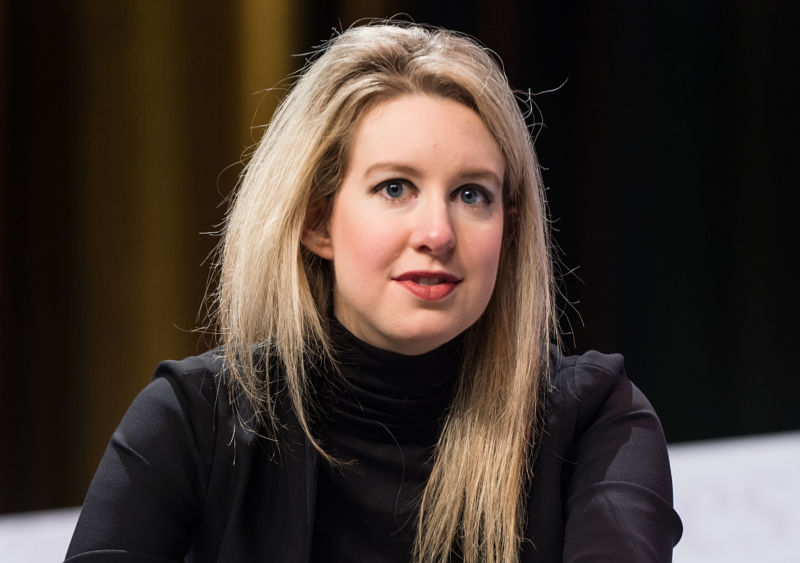 Enlarge
/
Founder & CEO of Theranos, Elizabeth Holmes.
Federal prosecutors have indicted Theranos founder Elizabeth Holmes and the company's former president Ramesh "Sunny" Balwani with nine counts of wire fraud and two counts of conspiracy to commit wire fraud. Prosecutors claim that the pair defrauded investors, doctors, and patients while promoting and running their now disgraced blood-testing startup.
In the new court filing—submitted Thursday, June 14 in federal court in San Jose, and unsealed on Friday—prosecutors allege that Holmes and Balwani engaged in a scheme to mislead investors about the state and capabilities of the company's blood-testing technology and defrauded them out of more than $100 million. The prosecutors also allege that the pair defrauded doctors and patients by knowingly misleading them with false advertising and marketing that stated that their company could provide accurate and reliable health tests on just drops of blood from a finger-prick with their proprietary technology.
Later investigations, sparked by reporting by the Wall Street Journal, revealed that Theranos' blood testing tech was flawed and faulty. The findings led to a dizzying downward spiral of lawsuits, regulatory sanctions, and tens of thousands of blood tests results being corrected or voided.
"The conduct alleged in these charges erodes public trust in the safety and effectiveness of medical products, including diagnostics. The FDA would like to extend our thanks to our federal law enforcement partners for sending a strong message to Theranos executives and others that these types of actions will not be tolerated," Catherine Hermsen, Acting Director of the FDA Office of Criminal Investigations, said today in a statement released by the Department of Justice.
In March, the Securities and Exchange Commission filed civil charges against Holmes, Balwani, and Theranos, alleging that they had committed "massive fraud." The SEC accused them of obtaining $700 million in investments by orchestrating an "elaborate, years-long fraud in which they exaggerated or made false statements about the company's technology, business, and financial performance."
Holmes and Theranos settled with the SEC, while Balwani will face the SEC in courts. As part of the settlement arrangement, Holmes will pay a $500,000 fine and be barred from serving as serving as a director or officer of a public company for 10 years. In settling, Holmes did not admit or deny wrongdoing.
Just before the criminal charges were filed, Theranos announced that Holmes would be stepping down as the company's CEO. She will remain as the founder and a board member. David Taylor, the company's general counsel, will take her place according to various media reports. Theranos is reportedly nearing bankruptcy and down to two dozen or fewer employees after brutal layoffs.
Meanwhile, WSJ reporter John Carreyrou recently revealed that Holmes was seeking Silicon Valley investors for a new start-up. She very well may have good luck, given that some of her previous investors still support her work.
The two defendants, who appeared in court on Friday, pleaded not guilty.
In a statement, Balwani's lawyer, Jeffrey Coopersmith, defended his client, noting that Balwani had worked tirelessly on the company and lost millions in the process. "If the federal government is going to start treating business failures as fraud cases, it will stifle the innovation that is the lifeblood the US needs to stay globally competitive," Coopersmith wrote.
All Mr. Balwani did was put his heart and soul, and millions of dollars of his money, toward changing the face of healthcare by giving people access to cost-effective blood tests so they could take charge of their own health and monitor changes for signs of disease. Mr. Balwani believed so much in Theranos that over the years his own mother and other family members used the company's lab to enable them to make informed decisions about important health care matters.

Mr. Balwani looks forward to trial because he did not defraud anyone, and it will be an honor to defend him vigorously.