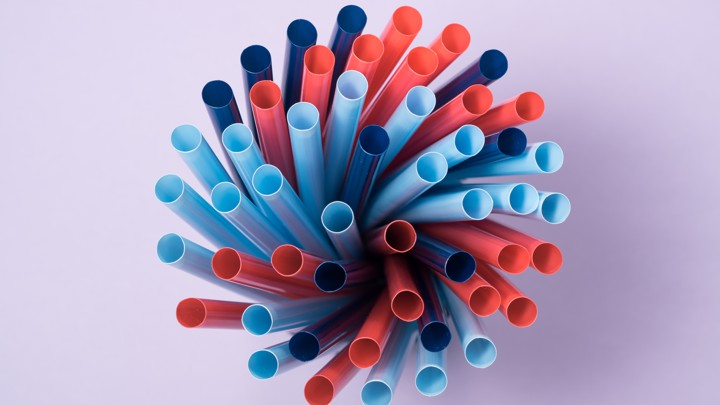 MirageC / Getty
A straw is a simple thing. It's a tube, a conveyance mechanism for liquid. The defining characteristic of the straw is the emptiness inside it. This is the stuff of tragedy, and America.
Over the last several months, plastic straws have come under fire from environmental activists who rightly point out that disposable plastics have created a swirling, centuries-long ecological disaster that is brutally difficult to clean up. Bags were first against the wall, but municipalities from Oakland (yup) to Surfside, Florida (huh!) have started to restrict the use of plastic straws. Of course, now there is a movement afoot among conservatives to keep those plastics flowing for freedom. Meanwhile, disability advocates have pointed out that plastic straws, in particular, are important for people with physical limitations. "To me, it's just lame liberal activism that in the end is nothing," one activist told the Toronto Star. "We're really kind of vilifying people who need straws." Other environmentalists aren't sure that banning straws is gonna do much, and point out that banning straws is not an entirely rigorous approach to global systems change, considering that a widely cited estimate for the magnitude of the problem was, umm, created by a smart nine-year-old.
All this to say: The straw is officially part of the culture wars, and you might be thinking: "Gah, these contentious times we live in!" But the straw has always been dragged along by the currents of history, soaking up the era, shaping not its direction, but its texture.
The invention of American industrialism, the creation of urban life, changing gender relations, public health reform, suburbia and its hamburger-loving teens, better living through plastics, and the financialization of the economy: The straw was there for all these things — rolled out of extrusion machines, dispensed, pushed through lids, bent, dropped into the abyss.
You can learn a lot about this country, and the dilemmas of contemporary capitalism, by taking a straw-eyed view.
* * *
People have probably been drinking things through cylindrical tubes for as long as Homo sapiens has been around, and maybe before. Scientists observed orangutans demonstrating a preference for a straw-like tool over similar, less functional things. Ancient versions existed, too.
But in 19th-century America, straws were straw, rye stalks, cut and dried. An alternative did not present itself widely until 1888. That year, Marvin Stone, a Washington, D.C. gentleman, filed a patent for an "artificial straw" — "a cheap, durable, and unobjectionable" substitute for  natural straws, Stone wrote, "commonly used for the administration of medicines, beverages, &c."
Workmen created these early artificial straws by winding paper around a thin cylindrical form, then covering them in paraffin. Often, they were "colored in imitation of the natural straw." Within a decade, these straws appeared often in newspaper items and advertisements across the country.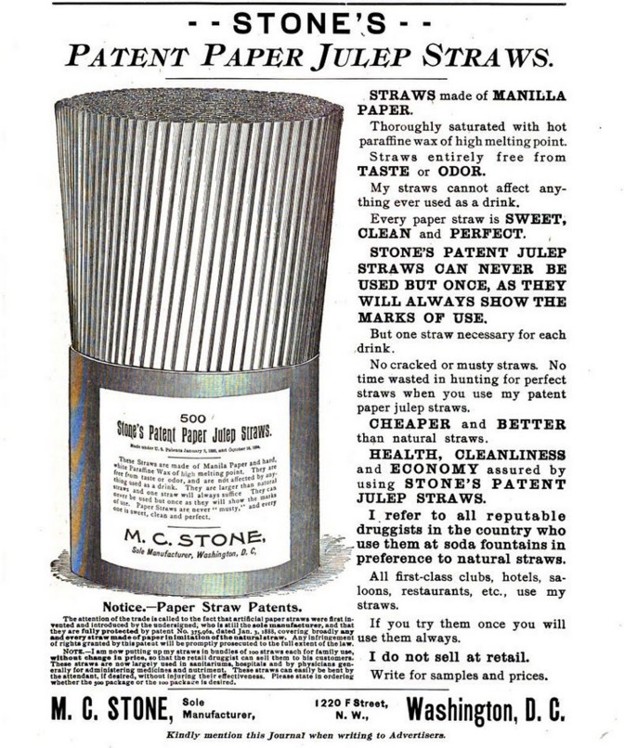 A typical Stone straw ad from a newspaper in 1899 (Google Books).
Advertising for the Stone straw describes its virtues and emphasizes the faults of the natural straw. Stone's straws were free from TASTE and ODOR (natural straws were not). Stone's straws were SWEET, CLEAN, and PERFECT (natural straws could be cracked or musty). You only had to use one Stone straw per drink (not always the case with natural straws).
They worked. They were cheap. They were very popular and spawned many imitators because once an artificial straw had been conceived, it just wasn't that hard to make them, tinkering with the process just enough to route around Stone's patent. This could be read as a story of individual genius. America likes this kind of story.
But in 1850, long before Stone, Abijah Fessenden patented a drinking tube with a filter attached to a vessel shaped like a spyglass. Disabled people were using drinking tubes in the mid-19th century, as attested to by a patent from 1870. These were artificial, high-value straws; rye was natural and disposable. But it wasn't until the late 1880s that someone thought to create the disposable, artificial straw.
Why?
Americans were primarily a rural people in the early 19th century. Cities had few restaurants until the 1830s and 1840s. Most that did exist were for very rich people. It took the emergence of a new urban life to spark the creation of the kind of eating and drinking establishment that would enshrine the straw in American culture: the soda fountain.
Carbon dioxide had been isolated decades before, and soda water created with predictably palate-pleasing results, but the equipment to make it was expensive and unwieldy. It wasn't until the the gas was readily available and cheap that the soda fountain became prevalent. In the 1870s, their technical refinement met a growing market of people who wanted a cold, sweet treat in the city.
At the same time, the Civil War had intensified American industrialization. More and more people lived in cities and worked outside the home. Cities had saloons, but they were gendered spaces. As urban women fought for greater independence, they, too, wanted places to go. Soda fountains provided a key alternative. Given the female leadership of the late-19th-century Temperance movement, the soda fountains were drafted onto the side of the growing Temperance movement. Sodas were safe and clean. They were soft drinks.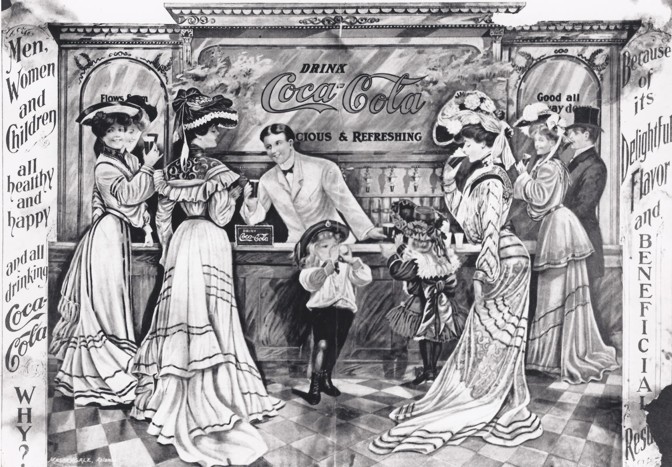 From a Food and Drug Administration history.
By 1911, an industry book proclaimed the soda fountain the very height of democratic propriety. "Today everybody, men, women, and children, natives and foreigners, patronize the fountain" said The Practical Soda Fountain Guide.
Temperance and public health grew up together in the disease-ridden cities of America, where despite the modern conveniences and excitements, mortality rates were higher than in the countryside. Straws became a key part of maintaining good hygiene and public health. They became, specifically, part of the answer to the scourge of unclean drinking glasses. Cities begin requiring the use of straws in the late 1890s. A Wisconsin paper noted in 1896 that already in many cities "ordinances have been passed making the use of wrapped paper straws essential in public eating places."
But the laws that regulated health went further. A Kansas doctor campaigned against the widespread use of the "common cup," which was... a cup, that many people drank from. Bans began in Kansas and spread.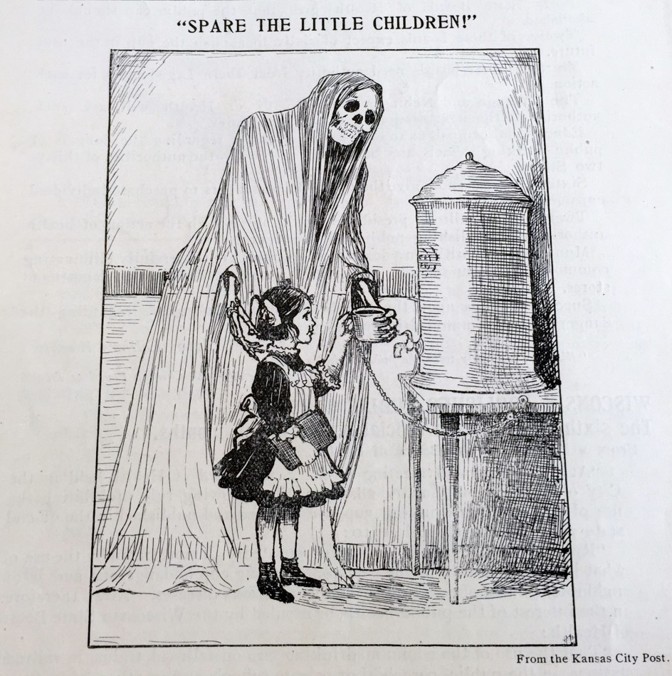 From The Cup Campaigner as cited in "Disposable America".
In many cases, this cup was eventually replaced by the water fountain (or paper cups). But some factories kept the common cup, but purchased straw dispensers that allowed all to partake individually. "The spectacle of groups of able-bodied men standing around drinking water through straws and out of a common ordinary drinking cup, prompted no end of facetious comment," read an item in the Shelbina Democrat of October 11, 1911.
Cup and straw both had to be clean to assure no germs would assail the children (or the able-bodied men). So even the method by which straws were dispensed became an important hygienic indicator. "In some stores, customers are permitted to choose their own straws, and this system would work very well if customers would not finger the straws," the Practical Soda Fountain Guide laments.
That led to the development of the straw dispenser, which has a deep lineage. Already, in 1911, the thing existed where you individually pop a straw into reach. That's it, right below, with the rationale written in: "Protects straws from flies, dust and microbes."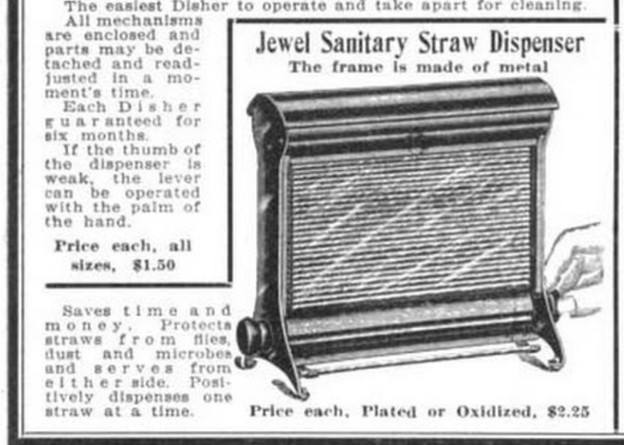 From The Practical Soda Fountain Guide.
To people living through the early 20th century, the straw was a creation of the new public health regime. "Due to the 'Yankee mania for sanitation,' the America output of artificial straws has increased from 165,000,000 in 1901 to 4,000,000,000 a year at present," Battle Creek Enquirer wrote in May 1924. "A manufacturer pointed out yesterday that, laid end to end, these straws would build an ant's subway sixteen times around the world at the equator."
4 billion straws! There were only 114 million Americans at the time, so that's 36 straws per capita (though some were exported).
Of course, strawmaking was improving through all these decades—mechanizing, scaling up, but the straw itself basically stayed the same. According to Sidney Graham — who founded the National Soda Straw Company in 1931, and who competed against Stone and other early straw manufacturers — in a 1988 history of the straw:
"Straws were uniform up until the 1930s. They were tan in color, thin and exactly 8 1/2 inches long. Then someone in the soda-bottling business started marketing 8-ounce bottles, and straws grew to 10 1/2 inches. Various soda fountains began mixing malted milks, and the old straws were too thin. So we started making them thicker. Still, they were all tan in color, like the original straws."
In the interwar years, however, major changes came to straws. In 1937, for example, Joseph Friedman invented the bendy straw at his brother's soda shop in San Francisco, leading to the design that's prevalent today.
But what happened to the straw industry is far more interesting than its (limited) technical advances. Three of the biggest names in the industry —Friedman's Flexi-Straw Company, the Lily-Tulip Cup Company, which made popular white straws, and Maryland Cup Company —have bumped around the last 80 years like corporate Forrest Gumps.
As it turns out, all three companies histories intersect with each other, as well as with structural changes to the American economy. But first, we have to talk about McDonald's.
* * *
Let's start with Ray Kroc, who built the McDonald's empire. For 17 years, beginning in 1922, he sold cups for the Lily-Tulip Cup Company, rising to lead sales across the Midwest. "I don't know what appealed to me so much about paper cups. Perhaps it was mostly because they were so innovative and upbeat," Kroc recalled in his memoir, Grinding It Out. "But I sensed from the outset that paper cups were part of the way America was headed."
At first, selling cups was a tough job. Straws were cheap—you could get 100 for 9 cents in the 1930s—but cups were many times more expensive. And besides, people could just wash glasses. Why would they need a paper cup? But America was tilting towards speed and disposability. And throwaway products were the future ("innovative and upbeat"). Soda fountains and their fast food descendants were continuing to grow, spurring more sales of cups and straws. In the end, he called the years between 1927 and 1937 "a decade of destiny for the paper cup industry."
Selling all those cups brought Kroc into contact with soda fountains, and eventually he went into business selling milkshake mixers. This led him to southern California, where he saw the first McDonald's in operation. He bought his way into the small company and deposed of the original owners. With Kroc growing the brand, McDonald's added 90 franchises between 1955 and 1959. By 1961, Kroc was fully in control of the company, and by 1968, there were 1,000 McDonald's restaurants.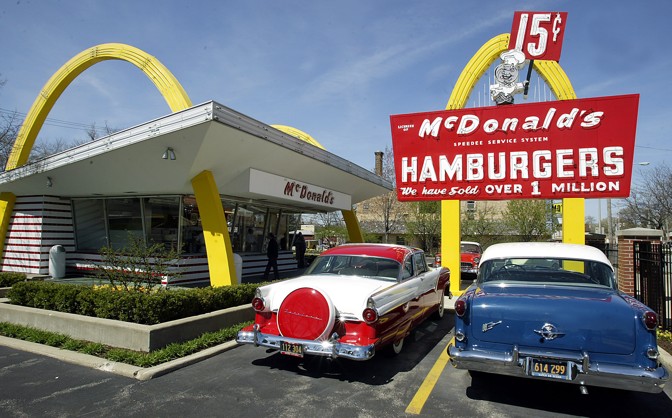 The first McDonald's that Ray Kroc opened in DesPlains, Illinois is now a museum dedicated to the burger chain (Reuters/Frank Polich)
The restaurant chain became a key customer for  Maryland Cup, which  began as an ice cream cone bakery in Boston. Its first non-food product launched under a brand that became nationally famous, Sweetheart. That product? The straw. The name derived from the original packaging, which showed "two children sharing a milkshake, each drinking from a straw and their heads forming the two curved arcs of a heart."
After the war, the company went into cups, and later other kinds of packaging for the growing fast food industry. It developed new products for McDonald's, like those old foam clamshell packages that hamburgers used to come in. It also snatched up Friedman's Flexi-Straw Company—along with all its patents and rights—in 1969. Things were going great. The founder's son-in-law was CEO in Baltimore; one nephew of the founder ran the McDonald's relationship; the other ran the plastics division.
Because the future, at that point, had become plastics! In 1950, the world produced 1.5 million tons of plastic. By the late 1960s, that production had grown more than tenfold. Every product was being tried as a plastic thing, and so naturally, the straw became a plastic thing, too. It didn't happen overnight. It took years for paper straws to lose their cultural salience.
While functionally, paper and plastic straws might have seemed the same, to the keen observer who is the narrator of Nicholson Baker's dazzling 1988 novel, The Mezzanine, the plastic and paper straw were not interchangeable. Paper did not float. Plastic did: "How could the straw engineers have made so elementary a mistake, designing a straw that weighed less than the sugar-water in which it was intended to stand? Madness!"
Baker's narrator wonders why the big fast food chains like McDonald's didn't pressure the straw engineers into fixing this weighting mistake. "[The chains] must have had whole departments dedicated to exacting concessions from Sweetheart and Marcal," Baker writes.
But there was a problem: lids, which had come into vogue. Plastic straws could push through the little + slits in the cap. Paper ones could not. The restaurant chains committed fully to plastic straws.
Baker goes on to imagine the ramifications, painting a miniature portrait of the process of path-dependent technological choice, which has helped shape everything from the width of railroad tracks to the layout of your keyboard. The power players went plastic, so everyone had to go plastic. "Suddenly the paper-goods distributor was offering the small restaurants floating plastic straws and only floating plastic straws, and was saying that this was the way all the big chains were going," Baker writes. Sometimes it all works. Other times, a small pleasure is lost, or a tiny headache is created: "In this way the quality of life, through nobody's fault, went down an eighth of a notch."
I can't prove that this was the precise series of events that took hold among straw engineers, cup distributors, and McDonald's. Most corporate decision-making of this kind simply doesn't stick in the nets of history. Yet these differences influence the texture of life every single day, and ever more so, as the owners of corporations become ever farther removed from the products they sell. Let's just say that the logic Baker describes, the way he imagines the development and consequences of these forgettable technologies, squares with the histories that we do know. The very straw engineers that Baker describes might very well have been working in the plastics division of the Maryland Cup Corporation, owners of the Sweetheart brand.
* * *
Baker was writing in the 1980s, when straws of all kinds had begun to proliferate, and the American economic system entered a period of intense consolidation and financialization. A key component of this new form of capitalism was the "leveraged buyout," in which private equity firms descended on old companies, sliced them up, took out huge amounts of debt, and sold off the various components, "unlocking value" for their investors. You might remember this was how Mitt Romney made his fortune. Matt Taibbi described the model in acerbic but not inaccurate terms: "A man makes a $250 million fortune loading up companies with debt and then extracting million-dollar fees from those same companies, in exchange for the generous service of telling them who needs to be fired in order to finance the debt payments he saddled them with in the first place."
Global competition and offshoring enabled by containerized trade was responsible for some of the trouble American manufacturing encountered in the 1970s and 1980s. But the wholesale restructuring of the economy by private equity firms to narrow the beneficiaries of business operations contributed mightily to the resentments still resounding through the country today. The straw, like everything else, was swept along for the ride.
In the early 1980s, Maryland Cup's family-linked executives were on the glide path to retirement. 80 family members held about half the company's stock. In 1983, the company had $656 million in revenue, $32 million in profits, and 10,000 employees. It was the biggest disposable food product manufacturer in the world, an empire built on cups, straws, and plastic silverware. The family was ready to cash out.
The big paper and food companies circled Maryland Cup, but it was eventually sold for $534 million to Fort Howard, a paper company which had gone public in the early 70s, and began to aggressively expand beyond its Wisconsin base.
The sale was a boon for Maryland Cup's shareholders, but the company did not fare well under the new management. Following the transaction, the Baltimore Sun relates, Maryland Cup executives flew to dinner with Fort Howard's hardcharging CEO, Paul Schierl. He brought out a flipchart, on which he'd written the company's "old" values—"Service, quality, responding to customers." He turned the page to show the company's "new" values—"Profit, profit, profit." It's like a scene out of Tommy Boy, or a socialist's fever dream.
Fort Howard forced deep cuts on the company. Some long-time managers quit. The trappings of the family company went out the window. No more executives dressing up as Santa Claus or local charitable contributions. And while Fort Howard was cutting people, it invested in expanding the company's factories. This was just business. Schierl literally appeared at a sales meeting in a devil's mask.
Maryland Cup's struggles intensified after the wave of departures that followed the acquisition. It needed customer volume to keep its new, bigger plants running, so Fort Howard snatched up the Lily-Tulip Cup Company in 1986 for another $332 million. Surely there would be synergies. More layoffs came.
Two years later, the private equity guys struck. Morgan Stanley, which had helped broker Fort Howard's deals, swept in and snatched the company for $3.9 billion in one of those famed leveraged buyouts. The whole enterprise was swept off the public markets and into their hands.
One of their moves was to spin out the cup business as Sweetheart Holdings — along with a boatload of debt jettisoned out of Fort Howard. Just eight years inside Fort Howard and a turn through the private equity ringer had turned a profitable company into one that still made money on operations in 1991, but was $95 million in the red because it was so loaded up with debt.
The company made layoffs across the country. Retirement health care benefits were cut, leaving older employees so livid they filed a class action lawsuit. A huge Wilmington factory closed after McDonald's got rid of its plastic clamshell packaging for hamburgers, citing environmental concerns over plastic.
In 1993, the company was sold again to a different investment group, American Industrial Partners. Eventually, it was sold yet again to the Solo Cup Company, makers of one-third of the materials necessary for beer pong. And finally, in 2004, Solo was itself sold to Dart Container, a family-owned packaging company that sells a vast array of straws under the Solo brand.
Fort Howard continued on, going back public in 1995, then merging with another paper company, James River, in 1997, to become Fort James. Just three years later, an even bigger paper company, Georgia Pacific, snatched up the combined entity.  In 2005, Koch Industries bought the shares of all the companies, taking the company back private. They still make straws.
* * *
While bulk capitalism pushes hundreds of millions of plain plastic straws through the American food system, there are also thousands of variations on the straw now, from the "krazy" whirling neon kind to a new natural straw made from rye stalks advertised on Kickstarter (the entrepreneur calls them "Straw Straws"). There are old-school paper straws and newfangled compostable plastic straws. Stone Straw, founded by the inventor of the artificial straw, even survives in some form as the straw-distributing subsidiary of a Canadian manufacturing concern. Basically, there's never been a better time to be a straw consumer.
Meanwhile, the country has shed manufacturing jobs for decades, straws contribute their share to a dire global environmental disaster, the economy continues to concentrate wealth among the very richest, and the sodas that pass through the nation's straws are contributing to an obesity epidemic that threatens to erase many of the public health gains that were won in the 20th century. Local governments may legislate the use of the plastic straw, but they can't do a thing about the vast system that's attached to the straw, which created first disposable products, then companies, and finally people.
The straw is the opposite of special. History has flowed around and through it, like thousands of other bits of material culture. What's happened to the straw might not even be worth comment, and certainly not essay. But if it's not clear by now, straws, in this story, are us, inevitable vessels of the times in which we live.