Editor's Note: Be advised, some might find the following photographs disturbing.
---
On August 27, documentary photographer Kieran Kesner boarded Delta airlines flight 2608 for his first ever international assignment for the Wall Street Journal. Four layovers later, he arrived in Liberia, where he was now tasked with documenting the Ebola outbreak in all its unspeakable horror.
In addition to the WSJ, he wanted to share this experience and the photos he took with us and our readers (he numbers among them) so that more people might understand the conditions that he, other journalists and healthcare workers had to work in, and just maybe people would be encouraged to help.
He describes what it was like to arrive in Liberia in a short blurb about the trip that he sent our way:
Upon exiting passengers were met with an army of people rushing to take our temperature with thermometers shaped like guns aimed at our heads. I would soon come to realize these thermometers might as well be real guns pointed to our heads…

Over the next week I would come face to face with Ebola; photographing the sick, dead and every stage of the virus in between. Realizing the severity of this epidemic that sets a country back after steadily making gains from the destruction caused by civil war from 1989-2003.
Here are some of the images he returned with: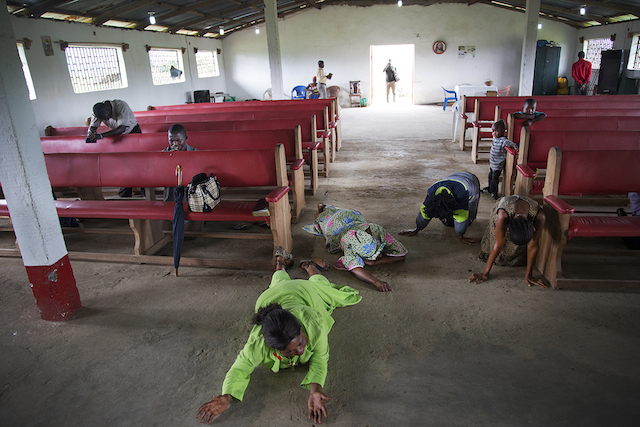 Since the outbreak swept through the country in March, over 1,200 people have lost their lives, and questions like the one in the title of this post are becoming tragically commonplace.
There images, writes Kesner, "should be a testament to the severity of the disease." But more than that, he hopes that they will be, "a call to all those capable of lending a hand to do so."
To see more of the photographs he brought back from his assignment, click here. And if you'd like to browse through more of his portfolio or follow along as he continues to document some of the most difficult and dangerous places on Earth, be sure to visit his website and give him a follow on Instagram.
---
Image credits: Photographs by Kieran Kesner and used with permission