While online retailers have transformed the landscape of American commerce, the largest three dollar-store chains are prospering offline, opening more than 1,800 stores last year.
The cost of a trip can be so negligible - the average customer drops $29 a month - and dollar stores have grown so ubiquitous, that it's hard to countenance what economists confirm: visitors to dollar stores are often paying more than well-off consumers who shop elsewhere.
"If you're budget-constrained, then you make choices that are not optimal," said Professor John Strong, a dollar-store expert at the College of William & Mary.
The bags of flour at a Dollar Store just south of San Francisco cost only $1, but they also only weigh two pounds. Most bags in the supermarket are five pounds, and can be scored for less than $2.50 at cavernous retailers like Walmart or Costco - though these require time and, often, a car to access. The dollar-store shopper would pay an equivalent of $5 for this much flour.
Dollar store raisins are only 4.5 ounces. At a big box store, however, 72 ounces of raisins cost $10.50 - meaning dollar store customers are paying 52% more.
Cartons of milk at a dollar store are only 16 ounces - which prorates to $8 per gallon, more than what you would pay for even top-of-the line milk at Whole Foods.
Deep-discount retailers have flourished in recent decades, popping up like mushrooms in the depressed locales big-box stores economically eviscerated in the decades before.
The Family Dollar chain opened up some 1,500 new stores between 2010 and 2013 alone - well more than one a day. Dollar Tree picked up Family Dollar several years ago, and its most recent annual report notes it has 14,334 locations across the United States and Canada. It is now a $20.7bn-a-year behemoth.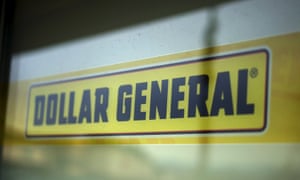 A Dollar General store in Westminster, Colorado. Photograph: Rick Wilking/Reuters
"We saw an opportunity," Dollar Tree's co-founder Macon Brock wrote in his 2017 book One Buck at a Time. "When a customer walked into our store, she could shut off her brain. She didn't have to think, didn't have to calculate how much she was spending. All she had to do was count - 'One, two, three, four, five, six. I have six items and I have six dollars. I can buy this.'"
Some items are indeed more economical at dollar stores: toys, greeting cards, hangers.
And their allure is clear at the store near San Francisco, where Bruce Barringer is 57, retired, living on a pension and in an aisle stocked with medical products.
He doesn't want to go into too many details, but it's clear Barringer's life has taken a turn of late. He recently relocated from Sacramento to the Bay Area and says he is going through a "transition". He has "downsized". He doesn't need a lot of things. "But I'm on a fixed income," he says, "so I really do need to shop at Dollar Tree."
Seen one way, dollar stores, like a layaway plan or payday loan, are yet another manifestation of people of limited means getting around an unaffordable cost-of-entry by paying more to get less.
Strong, however, points out that dollar stores are often well-received in the neighborhoods they move into, which were economically strangled by the big-box stores on the city's periphery. Yes, someone with the cash on hand to buy in bulk would do better to do so, but Strong adds that dollar stores are still cheaper for locals than the liquor shops and convenience stores they compete with. They are the least bad option. And, with vegetables, milk, eggs and meat, they're often what passes for an oasis in the food desert.
"We have so many people who are pretty close to the line in trying to get by," says the economist. "Until incomes are raised for the bottom third of the population, dollar stores will be part of the landscape."