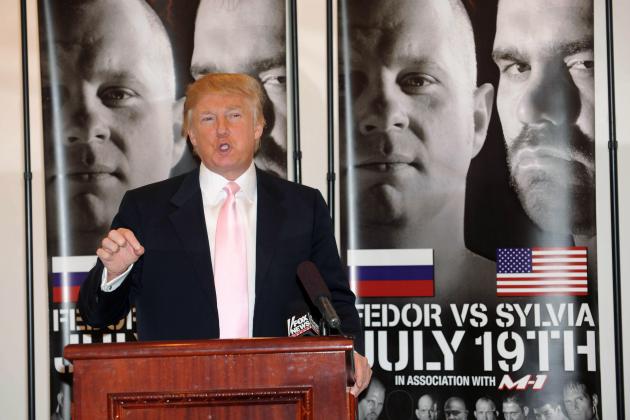 Brad Barket/Getty Images
Donald Trump speaks at a 2008 news conference for Affliction Entertainment.
By now, most people recognize the key pages in the Donald Trump playbook. An ambitious effort starts with a bang but ends with the rumor of a whimper tucked deep into classified legal briefs, well clear of the camera's eye.
The sports world has not gone unscathed. Trump's ill-fated involvement with the United States Football League ended in a pungent stew of red tape and bad feelings and is the stuff of sports-business infamy.
Speaking to Esquire about the debacle, Charley Steiner, radio voice of the USFL's Trump-owned New Jersey Generals and current play-by-play man for the Los Angeles Dodgers, said of Trump, "You can cut and paste the USFL and the GOP and it's the same damn story. It's all about him and the brand and moving on to the next thing if it doesn't work out."
The USFL is the splashiest sports example, but it is not, to coin a phrase, the Trumpiest. For that, you have to go to the sport of mixed martial arts, where he and his organization's intimate, aggressive involvement wove a very recognizable pattern. Crack open that nesting doll and you'll find Trump's dealings with Affliction Entertainment. Although it holds a lower profile than the USFL example, it is still the best sports illustration of Trump's modus operandi.
But let's back up a few years. In point of fact, Trump does have deep roots in the MMA community. In MMA's earlier days, his backing may have staved off the sport's demise.
In 2001, when UFC 1 was only eight years old, MMA was in the eyes of many a novelty or worse. The UFC had been sold to Zuffa, a company owned by Las Vegas casino heirs Frank and Lorenzo Fertitta and their friend Dana White. At that point, many major markets and media had turned their collective back to the UFC, forcing the promotion to stage untelevised cards in third-tier civic centers.
Trump broke with that custom, however, and welcomed the UFC with open arms. He offered Trump Taj Mahal in Atlantic City, New Jersey—a major step up in location and prestige—as a potential host location. The new owners took him up on his offer, and the Trump Taj hosted UFC 30 and UFC 31 that year. (That venue also hosted UFC 28, the final event staged by previous UFC owners SEG.)
White never forgot the gesture and reciprocated with unconditional loyalty, culminating with his bellowed endorsement of Trump on prime-time TV at July's Republican National Convention:
Arenas around the world refused to host our events. Nobody took us seriously. Nobody. Except Donald Trump. Donald was the first guy that recognized the potential that we saw in the UFC, and encouraged us to build our business. He hosted our first two events at his venue, he dealt with us personally, he got in the trenches with us, and he made a deal that worked for everyone. On top of that, he showed up for the fight on Saturday night and sat in the front row! … Donald championed the UFC before it was popular, before it grew into a successful business, and I will always be so grateful to him for standing with us in those early days, so tonight I stand with Donald Trump.
Clearly, the relationship held special meaning for White. That context only makes it more interesting to recall that Trump's deepest dive into MMA came with a company that was, at the time, hell-bent on taking down the UFC.
In 2008, Affliction Clothing, a manufacturer of MMA apparel based in Seal Beach, California, decided to stage a rare and brazen challenge to the UFC's dominance. Affliction Entertainment was formed as a separate company to stage pay-per views with the ambition of cutting into the UFC's revenue pie.
Seeking the biggest possible splash, Affliction execs threw a mountain of money and every other shiny thing they could find at Russian heavyweight great Fedor Emelianenko—long a UFC white whale—and ex-UFC champ Tim Sylvia. According to MMAjunkie, the former reportedly received $300,000 per bout, while the latter received $800,000—even eight years later, extremely handsome sums for MMA fighters.
But Affliction's biggest flourish arguably came from a little deal it struck with a man called Donald Trump. Just ask Trump himself. There was something tremendous in the air.
"It's really something that I'm doing because I enjoy doing it," Trump told reporters during a Trump Tower news conference for Affliction Entertainment. "If we make money, that's great. I think we will. I think it will be successful. What I do is usually successful."
In the same news conference, Trump flashed the same brand of media awareness that has characterized his political career.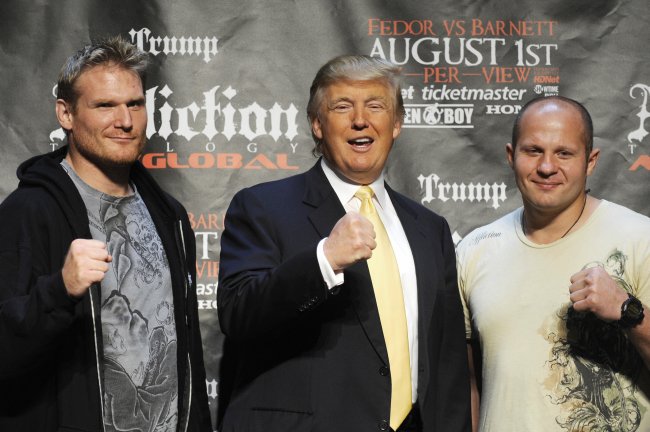 EMMANUEL DUNAND/Getty Images

"I seem to get a lot of attention," he noted. "For instance, if I wasn't here today, you might have maybe one writer. And now the place is packed."
According to some people, the partnership was purely cosmetic—Trump simply lent his face and name to a photo op and press release.
"They brought in Donald Trump for name value," said Josh Gross, who covered the story while with SI.com and is now a contributor to Bleacher Report MMA. "They used his name for publicity, which happens a lot with Trump."
But if you're in the dicey business of reading Trump's tea leaves, it could have been more than window dressing.
Trump declared he had bought a significant stake in the company, which would allow the upstart promotion to pursue and retain roster talent.
"But it's not a very big deal for me," he said. "When you build a billion-dollar building like I'm doing in Dubai and lots of other places, that's a much bigger financial commitment."
Maybe not a very big deal for Trump, but whatever it was, it seems to have come with a catch.
"People for Trump said they were running it," Gross said.
There was one very direct, concrete connection between Affliction Entertainment and Team Trump. That came when Affliction announced Michael Cohen, executive vice president in The Trump Organization and special counsel to Trump himself, as the venture's new chief operating officer.
"I can assure everyone," Cohen said at the time in a statement, "fans watching on pay-per-view and those in attendance from all over the world, that our upcoming pay-per-view show will be the greatest MMA night ever."
Trump's son, Donald Jr., speaking with Men's Fitness magazine (h/t Politico), seemed to support the notion that his father didn't just lend out his name but his capital as well.
"If we have to put in more, we'll put in more," he said. (Politico added in its report that a source "familiar with the deal" believed Trump didn't invest any money, but instead only licensed his name.)

Trump capped the lead-up to Affliction's first event—code-named "Banned"—by taking center stage at the weigh-ins (note: NSFW language in video). He introduced Lindsay Clubine, then best known as Briefcase Model No. 26 on Deal or No Deal, confirming that she'd be covering the event for Extra.
"Can you believe this is what a reporter looks like?" he said.
Fight night was July 19, 2008. Fedor vs. Sylvia topped the Affliction: Banned card, and Emelianenko dismantled Sylvia with a 36-second submission. The event also included knockout wins from Andrei Arlovski (against Ben Rothwell) and Josh Barnett (against Pedro Rizzo).
Nevertheless, Affliction: Banned was only a mild success, garnering about 100,000 buys, according to Wrestling Observer Newsletter (via MMAPayout.com)—far below UFC averages. That might have had something to do with the UFC's cable TV counterprogramming, which featured Anderson Silva's light heavyweight debut in an unspoken game of "My GOAT vs. Your GOAT."
During the event, Clubine got the opportunity to interview Trump and asked him if he thought Affliction would end up taking over the UFC. He said: "It probably will. … All the fighters want to be with us, and I think it probably will take over."
The second event, Affliction: Day of Reckoning, featured Emelianenko's thrilling come-from-behind knockout of Arlovski but failed to reach the modest bar set by the first event. A third card, headlined by Emelianenko against Barnett, was scheduled for August 2009 but never came to fruition after Barnett failed a drug test for steroids.
Just days after canceling its third event, Affliction Entertainment—hemorrhaging cash and unable to gain the pay-per-view traction needed for a profit—folded as suddenly as it had popped up and returned to the UFC as a sponsor.
You don't see Donald Trump in a lot of Affliction pictures during this late era. Ditto Cohen, who is now back with the Trump family.
"They weren't looking to create a viable, sustainable system," Gross said. "It was a response to the UFC. They weren't looking to create a lasting league."
Good thing for Team Trump they didn't appear to be on the hook for the fallout.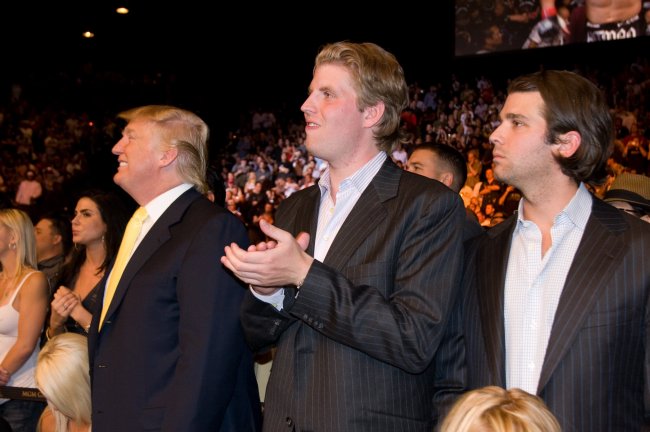 Josh Hedges/Zuffa LLC/Getty Images

Donald Trump and sons taking in an Affliction event.
Not long after Affliction threw in the towel, the company was embroiled in a lawsuit with Emelianenko and his manager, Vadim Finkelstein, who ran the M-1 Global organization that co-promoted Affliction Entertainment shows.
In the suit, Emelianenko and Finkelstein claimed Affliction execs did not do enough to salvage the third event, in part because they had had enough of the fight promotion game and were attempting to mend fences with the UFC.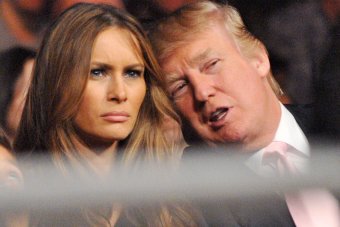 Jon P. Kopaloff/Getty Images

Neither Trump nor Cohen was named in the suit, which was settled out of court in 2011.
A spokesperson for Affliction declined to comment for this story.
"Affliction was a flash in the pan," Gross said. "They definitely put more money in fighters' pockets than they otherwise would have gotten. They tried to compete with the UFC in the pay-per-view space, but it didn't really work. The numbers just weren't there. They probably bit off more than they could chew."
Was that true of the guys then running the T-shirt company that started this? Probably. But to its credit, Affliction, with fight promoting firmly in its rearview mirror, continues to kick along as a popular MMA-affiliated apparel company.
The same can't be said for Trump, who hasn't been heard from in the sport since. Perhaps not surprising, given the familiar contours of the Trump enterprise. At this point, most people are able to recognize the telltale signs, from beginning to end.
"I've got a lot of money," Trump said back at that first Affliction presser. "That helps, right?"
Scott Harris covers MMA for Bleacher Report. For more, follow Scott on Twitter.