The truth business is becoming more dangerous for many American journalists.
Two Sundays ago, the Portland Mercury reporter Kelly Kenoyer, 24, went downtown to cover a violent street protest. It was the first such protest she had worked as a journalist - Kenoyer didn't begin her career until after the election of Donald Trump.
Within minutes, she was being shoved and manhandled by a masked man aligned with the rightwing Patriot Prayer group.
"I got close to record the argument he was having with [a] counter-protester and he stuck his middle finger up in front of the camera," Kenoyer says, "then shoved me sideways with the same arm."
A bystander intervened on Kenoyer's behalf, and he in turn was threatened by another Patriot Prayer protester. Then "someone shoved him into me and I fell backwards", Kenoyer says.
Kenoyer was shaken by the incident, but after a few minutes she steeled herself to continue her coverage.
Soon after, she narrowly dodged a rock during an exchange of missiles on Portland's waterfront. Both sides - rightwing activists and leftwing counter-protesters - were hurling stones and bottles, but the rock that hurtled by her came from where the rightwing group was.
Kenoyer's encounters were part of a long afternoon of violent brawling in the streets of downtown Portland. Each side of the protest was mostly concerned with the other, but reporters were frequently caught in the crossfire or even, like Kenoyer, specifically targeted.
Other journalists were seen with tears streaming down their faces from pepper spray, or narrowly dodging fists and flying objects. For the most part, they were not beat specialists, but local reporters. In Portland, contentious and violent street protests have become standard fare on local news.
A man raises his hands as police clash with demonstrators as they try to clear 'Antifa' members and anti-Trump protesters on 4 June 2017 in Portland, Oregon. Photograph: Scott Olson/Getty Images
This reflects a broader trend during the Trump era: rightwing groups stage incursions into liberal bastions like Portland, Berkeley and Charlottesville, and anti-fascist groups respond. The ensuing confrontations have resulted in violence, injury and, in Charlottesville, death.
These situations are dangerous for everyone, including reporters. Last year, the Committee to Protect Journalists (CPJ) recorded 44 physical attacks on journalists in North America. Alexandra Ellerbeck, the CPJ's North America Program Coordinator, says that "the vast majority" of these attacks occurred during protests.
Ellerbeck sees it as part of a sea change in the relationship between political activists and the press in the digital media era.
Journalists can be seen as a threat to protesters' ability to control narratives

Alexandra Ellerbeck
"You used to be seen as neutral. You used to be seen as useful, because protesters were trying to get their message out. You used to be given some protection," Ellerbeck says. "Now people can get their own message out through their own platforms. There's less of an incentive to befriend the media. Journalists can be seen as a threat to protesters' ability to control narratives," she says.
Ellerbeck also cites the "trickle-down effect" of rhetorical attacks on the media by politicians including Trump. She says that when CPJ counted Trump's Twitter attacks on the media, they found more than 1,000 between his campaign announcement and January 2018.
"There's been a constant barrage of conspiracy-mongering and hate-mongering towards the press" by the president, Ellerbeck says. She says that harassment of journalists stepped up during Trump's campaign, peaking just before the election, and has returned in waves ever since.
Other politicians have been even more brazen - Republican congressman Greg Gianforte physically assaulted Guardian reporter Ben Jacobs in May of last year.
Doxxing and death threats
Last year, Kenoyer was also targeted by far-right threats on social media.
In her first job at the Eugene Weekly, Kenoyer wrote a feature on antifascist activism in Oregon's main college town. She sought to understand the impact of antifascist doxxing tactics on rightwing activists - in which private information is published online as part of an intimidation campaign - and tried to speak with a local far-right activist, Jacob Laskey.
Laskey was imprisoned in 2007 after attacking a Eugene synagogue and planning violence against witnesses. He was released in 2015, bearing some fresh tattoos. In January 2018 he was jailed again, after an alleged stabbing for which he is now awaiting trial.
In his brief time out, he was a prolific social media presence, tweeting, creating YouTube videos featuring far-right themes and billing himself as an "anti-Antifa supremacist". Anti-fascist groups in Oregon monitored and exposed his activities, including burgeoning connections with other far-right figures and alleged organizing on behalf of the neo-Nazi group American Front.
After an abortive interview with Kenoyer last October, Laskey dedicated a number of YouTube videos to attacking her and Eugene Weekly. In one, after ranting about antifa, Laskey says "Fuck Eugene Weekly, Kelly Kenoyers wrote this article". A subsequent video showed copies of Eugene Weekly being burned by men who Laskey called "patriots".
Eugene Weekly beefed up its security arrangements in the wake of Laskey's incoherent, but menacing, response. But the singling out of Kenoyer appears to be representative of an increasing tendency on the far right to mobilize online against any critical coverage.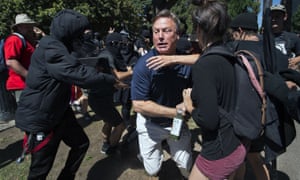 KCRA television reporter Mike Luery runs away from members of Antifa Sacramento, who staged a counter-protest against the Traditionalist Worker party and the Golden State Skinheads, in Sacramento, California on 26 June 2016. Photograph: Paul Kitagaki Jr./AP
Recently, a significant part of the HuffPost newsroom had their private details released by far-right trolls.
This came in the wake of a story by the HuffPost beat reporter Luke O'Brien about a hyperactive Twitter account, @AmyMek, which offers its 231,000 followers a steady diet of anti-Islamic invective and conspiracy theories. The piece says that @AmyMek had been retweeted and promoted by a range of rightwing luminaries, including Trump.
O'Brien's story detailed @AmyMek's promotion of Islamophobic memes and conspiracy theories. It also exposed the identity of the person behind the account, Amy Mekelburg. In seeking to confirm his story, O'Brien contacted the WWE, the then employer of Mekelburg's husband, Salvatore Siino. WWE fired Siino before O'Brien's story was published.
Before O'Brien's story dropped, Mekelburg asked followers to contact HuffPost, which she accused of "viciously harassing" her and "endangering me and my family". The first tweet in her thread pre-empting the HuffPost story was retweeted 16,000 times.
Various rightwingers online felt that O'Brien had "doxxed" Mekelburg by revealing her as @amymek's author. What followed was a concerted harassment campaign against O'Brien and his colleagues, where he and other journalists were actually doxxed, with their addresses and phone numbers published for the use of far-right trolls.
O'Brien's and others' details were disseminated on 4chan, Twitter and a neo-Nazi podcast. HuffPost journalists received threats, including death threats, on social media. O'Brien's Twitter account was itself reported for abusive behavior, and he was briefly suspended.
Some tweets were explicit - one of hundreds sent to O'Brien read: "You take my job, I'll take your life." Other users tweeted marginally more oblique messages, like images of the Islamic State's execution of US journalist James Foley.
Several HuffPo reporters also got threats over the phone. A voice message instructed a reporter to "kill yourself" before the callers could find them. Another threatened to send people to a reporter's house so they could be "gang raped or gang murdered".
Meanwhile, writers with connections to mainstream conservatism also appeared to promote the campaign against O'Brien and HuffPost.
On the anti-Islam website Jihad Watch, Robert Spencer wrote a column inviting O'Brien to compare his actions to those of Nazi brownshirts, who were part of a movement known for attacking and shutting down what they called the "lying press".
In Spencer's comments, readers made veiled threats. One wrote, "His victims, perhaps, are better people than he is, but I feel confident that there is someone out there with O'Brien in his sights."
Though previously banned from entering Britain, Spencer is a bestselling author, a regular commentator in conservative media, and last year he delivered a speech at Stanford University.
'Day of the brick'
The response to O'Brien's story ballooned into a more generalized campaign of threats against journalists. The so-called "day of the brick" campaign, which ran for about a week from 2 June, mobilised far-right resentment at O'Brien's reporting, and encouraged people to scale up the threats. First promoted on a rightwing podcast, which foreshadowed O'Brien's doxxing, the meme was inspired by the racist novel The Turner Diaries, a key text of the far-right movement.
The book, which inspired domestic terrorists including Timothy McVeigh, envisages a "day of the rope" where "race traitors", including journalists, are publicly hanged from lampposts in American cities. On social media and rightwing forums, posts with the #dayofthebrick hashtag depicted shootings and other forms of violence.
As part of that campaign, a number of journalists received emails reading "all journalists will be hanged on the day of the rope", accompanied by an identikit sketch of the Unabomber, Ted Kaczynski, altered with a half-face skull mask. The mask is the same kind favored by neo-Nazi groups like Atomwaffen Division. That group is associated with a range of violent crimes, including several murders.
One of the reporters who received such an email was Kenoyer. It came just a day after her tangle with the protester in a Portland park. After she tweeted out a screenshot of the email, she says that other reporters got in touch about having received the same email, some from the same email account.
As Kenoyer's experience suggests, the vitriol and threats from the far right are disproportionately targeted at women, and anyone else whose identity departs from the alt-right's ideal type - white men.
Ellerbeck, the CPJ coordinator, says that gender identity, ethnicity and sexual orientation are all factors that affect a reporter's "risk profile" for attacks.
'Bullies choose particular targets'
David Neiwert has covered the far right since the 1990s, beginning at newspapers in the Pacific north-west, and continuing now with the Southern Poverty Law Center. He chronicled the long history of the radical right in a recent book.
He says that in the rightwing upsurge of the 1990s, threats tended to be more isolated, and rightwing activists then were not staging confrontational protests in urban areas.
"It was never like this in the 1990s," Neiwert says, adding that protests like those in Portland are a more recent innovation. "A lot of the ethos of the current far right is taken from the Tea Party movement, who tried to disrupt anything they saw as a liberal proceeding."
The new willingness to engage in street protests is related to the changing demography of the radical right, Neiwert says.
This movement is very much geared towards young men, and the anger that comes with youth

David Neiwert
"In the 1990s they were not recruiting young men, they were mostly going after middle-aged guys. This movement is very much geared towards young men, and the anger that comes with youth."
And young men, he says, are better at using the internet to further their goals and attack their enemies. "The big difference is social media," Neiwert says. "It's a tool for harassing people with, and they use it."
Neiwert says that the far right "are bullies, and bullies choose particular targets". He adds that while he has had equipment interfered with by leftwing protesters in the heat of protests, nothing on the left corresponds with the right's targeted harassment.
He says that ameliorating the heightened danger for journalists might require the profession's "lone wolves", like beat journalists and freelance reporters accustomed to working alone, to find ways to ensure one another's safety.
At protests, he says, "it would be helpful for journalists to cooperate to make sure we have each other's backs".
Kenoyer, meanwhile, says she will continue to cover protests. In the wake of her experience in Portland, her main questions are professional and ethical.
"How do I write about being attacked without becoming part of the story?"