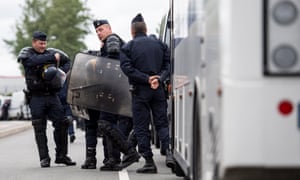 French police reportedly stopped a bus in Cannes carrying Russian supporters to Lille.
Photograph: Rex/Shutterstock
French police have started the process of deporting almost 50 Russian soccer fans following violent clashes with England supporters that marred the opening days of Euro 2016.
Related: Euro 2016: notorious far-right activist at tournament with Russian FA delegation
Alexander Shprygin, the notorious far right head of a Russian supporters' group said French riot police had stopped a bus carrying fans in Cannes who were on their way to Lille.
Shprygin told Reuters: "They want to deport almost 50 people including women who did not take part in anything. The police are making up for their mistakes three days ago. We are in a bus in Cannes and we have been blocked in by riot police."
From the bus, Shprygin sent a series of tweets, saying: "They've pulled our bus over, demanding we all get out, searching for weapons and drugs and checking documents."
He said those who had left the bus had been informed they were being deported: "They're deporting two women who had nothing to do with anything. We've called the consul and are refusing to get out of the bus." The Russian consul subsequently arrived on the scene, and Shprygin added the mayor of Cannes was in attendance to observe the operation.
In later tweets, Shprygin added: "We are the OFFICIAL GROUP OF RUSSIAN SUPPORTERS! This is a circus! There are the heads of fan clubs on our bus! Everyone is being deported! Not one person who took part in teh [sic] Marseille violence has been apprehended but instead they're deporting the whole Russian supporters union in three days.
"We're not getting off the bus. A complete farce. They're not giving us water, they won't let us put the aircon in the bus on, it's really hot. Two people are ill. They're not letting us go to the toilet."
On Sunday night Shprygin claimed in a tweet that the Russian supporters union's hotel had been raided and that 40 armed French police had stormed their rooms, taken their passport details and photographed everyone.
Shprygin has been travelling with the official Russian FA delegation at Euro 2016 but is considered by the Fare network, which provides official observers at matches for Uefa and Fifa, to be a leading light in Russia's network of extreme-right ultra fan groups. Piara Powar, the network's executive director, said that the presence of Shprygin within the official party raised wider concerns about "the apparent nexus of high-level politicians, far-right leaders and extreme nationalism" in Russian football ahead of the 2018 World Cup that will be hosted in the country.
There was no immediate comment from French authorities, who have said around 150 hardcore Russian fans took part in the clashes around Saturday's match in Marseille. Uefa has threatened to expel Russia and England from the tournament if the violence persists.