U.S. Citizenship and Immigration Services has received at least 85,000 applications for H-1B visas, meeting the cap for 2018 in the first four days of the lottery.
Congress allocates 65,000 visas for high-skilled immigration workers — with an additional 20,000 for workers with advanced degrees — that are in high demand in the tech industry. This is the fifth consecutive year in which the visa cap was reached in a few days. Last year, USCIS received 236,000 applications .
Why it matters: Demand is still very high for these visas even as the the Trump administration took a few steps this week to try to cut down on fraud and abuse of the program and encourage employers to hire Americans first.
Alphabet's self-driving car unit is attempting to halt Uber's own efforts with a preliminary injunction, claiming it stole its technology, but the ride-hailing company is pushing back. It's argument: Its cars currently on the road are using LiDAR tech from vendors, namely Velodyne—not sensors built in-house.
Not the same: Uber also provided a detailed description of the custom LiDAR design it has been working on, including how it differs from Waymo's. Uber also noted that it has been developing LiDAR designs since before its acquisition of Otto, the startup founded by former Waymo employees, and provided a description of that technology as well.
Remaining questions: It's still unclear why Levandowski, who has pleaded the Fifth to avoid self-incrimination, downloaded 14,000 files and attempted to hide that fact. The court also still has to decide whether to move the lawsuit to private arbitration, as Uber has requested, citing the arbitration clause in Levandowski's employment contract.
House Republicans were excited yesterday about the new "risk-sharing" program they're adding to Trumpcare, but Bloomberg reports that an actuarial analysis revealed it would require some things Republicans don't usually like.
The analysis, released today by Milliman, shows that the program would only work if:
It spent a lot more than the $15 billion Republicans want to spend, and:
If it uses government-set payment rates for doctors and hospitals.
If it doesn't do either of those things, it wouldn't reduce health insurance premiums, which is the whole point of the program.
Why it matters: It's a sign of how quickly the idea was rushed out to show progress in the Trumpcare talks. The GOP sponsors talked up the analysis yesterday as proof that their idea would work, but it's now clear that the study didn't really give them the endorsement they wanted.
Just a day after filing a lawsuit against the U.S. government to protect the identity of an anti-Trump user account, Twitter is withdrawing it as the federal information request has been dropped.
At the center of the lawsuit was a user account, @ALT_USCIS, which has been tweeting critically of Trump and his immigration policies. Twitter argued that the account was protected by free speech so it shouldn't have to turn over information that would reveal the account holder's identity. Twitter also said that the Dept. of Homeland Security and Customs and Border Protection agencies misused a law directed at illegal merchandise imports, which was not applicable in this case.
Sean Spicer gave an off-camera briefing on Syria from Palm Beach Friday. Spicer said the U.S. missile strike was "very decisive" and a proportional response to the Assad regime's chemical weapons attack. "It sent a strong signal not just to Syria, but throughout the world."
Leading up to strike: Spicer said Trump gave the "OK" for the strike at 4 pm Thursday. The Tomahawks were launched at 7.40 pm and all 59 missiles hit their target. At 8:30 pm the first impact was reported, and the "initial results were extremely positive."
Informing Xi: Spicer said he isn't exactly clear of the timeline, but said he believes Trump told President Xi about the strike once all of the missiles had hit their targets. President Xi was informed on the way back to his hotel after dinner.
Contact with Russia: Spicer said Russia was made aware of the operation, but beyond that, "no political contact was made" with Moscow.
Should Assad step down? "At a minimum," he must abide by the international agreement not to use chemical weapons, said Spicer, adding that "there is a mutual level of human decency that I think we can expect out of everybody."
Tim Cook says getting more American women into technical careers is imperative for the future of the industry.
"I think the U.S. will lose its leadership in technology if this doesn't change," the Apple CEO said in an interview with The Plainsman, the college newspaper of Auburn University, his alma mater. "Women are such an important part of the workforce. If STEM-related fields continue to have this low representation of women, then there just will not be enough innovation in the United States. That's just the simple fact of it."
Cook discussed other diversity issues in the interview, including a few thoughts on the movement for LGBTQ civil rights.
"The impatient side says we're not moving fast enough," Cook said. "Everyone deserves the same human rights. I don't hear anybody asking for special rights - just the same rights. I think that's true not only in the gay community but many other communities as well."
In a first, Microsoft's Surface owners are more satisfied than those with an iPad, at least according to the latest J.D. Power survey.
With a score of 855 out of 900, the Surface narrowly edged out the iPad's 849. Samsung finished third at 847, ahead of the average of 841. The other firms included, Amazon, LG, Asus and Acer all had below-average satisfaction numbers.
Why it matters: Though not a serious ding on the iPad, the numbers reflect an improvement for Microsoft's Windows 10 effort. The initial Surface won praise for its design, but many early customers found Windows 8 and the availability of compatible apps too limited.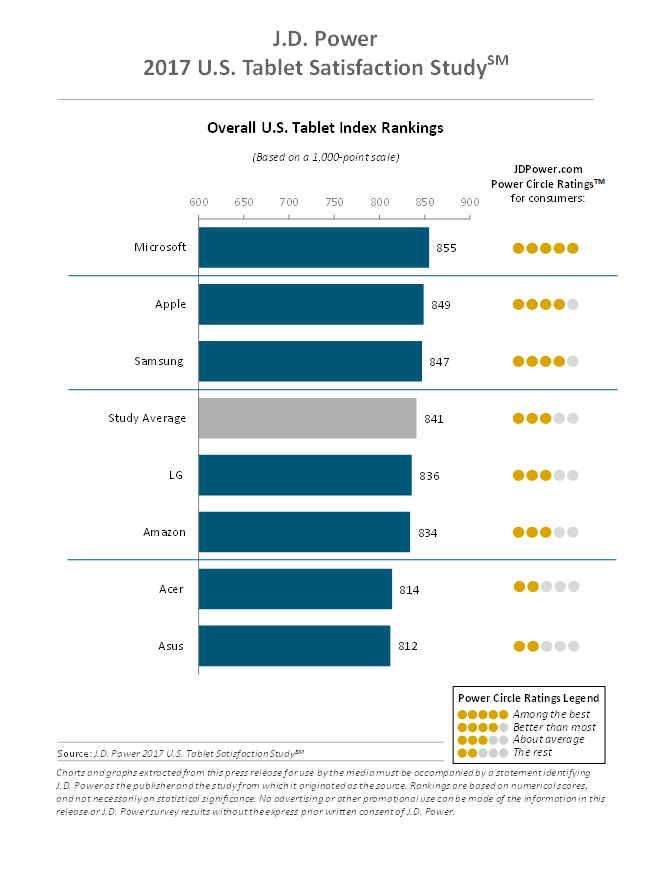 President Trump stated that the U.S. and China have made "tremendous progress" during a bilateral meeting with Chinese President Xi Jinping in Mar-a-Lago Friday. He also noted that the two leaders have developed "an outstanding" relationship.
Note: Trump and Xi did not discuss the U.S. missile strike in Syria, and Trump reportedly "ignored" questions about potential action in North Korea.