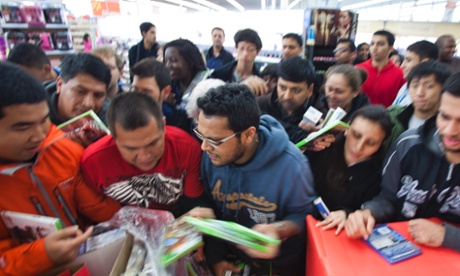 The rest of the year never looks like the excited scrum of Black Friday. Consumers have less money to spend. Photograph: Jim Lo Scalzo/EPA
What has happened to that great American archetype, the penny-pinching bargain shopper?
She is becoming an endangered species. Family Dollar, another chain of discount stores, today agreed to sell itself to Dollar General for $9.2bn.
Americans were once known to love a good deal; this is the country that invented ending every price with "$.99" Add to that the US economy has been less than robust for the past six years, marked by a recession leading into a rocky, dissatisfying recovery that includes a weak housing market and 10 million people out of work.
Combine these two trends - cheapskate Americans and a weak recovery - and it seems like the perfect business strategy: discount stores.
Yet this has been the worst few years for discount stores in memory.
Ninety-four-year-old fashion discounter Loehmann's filed for bankruptcy; Filene's Basement and Syms also went under; Daffy's closed all 19 stores; JC Penney's flirtation with lower prices destroyed morale, drove away customers and nearly put the company out of business.
It's not just fashion: Walmart's mammoth size allows it to sell products more cheaply than others, but its same-store sales in America have declined every quarter for over a year.
Family Dollar and the end of towels

The merger between Dollar Tree and Family Dollar is not one from strength, but one from weakness: it was all stage-managed by Carl Icahn, a savvy billionaire who bought a stake in Family Dollar in June and promptly told the company's CEO, Howard Levine, to look for a buyer "immediately".
Icahn's impatience was driven by Family Dollar's struggling operations: the company, while lowering prices and shuttering stores, has not been able to sell much outside of food. The rest of the store, including household goods, has largely gone ignored by consumers.
"Family Dollar nearly got rid of their towel section," says Brian Sozzi, CEO of Belus Capital Advisors. "That's basic stuff their customers can't [afford to] buy."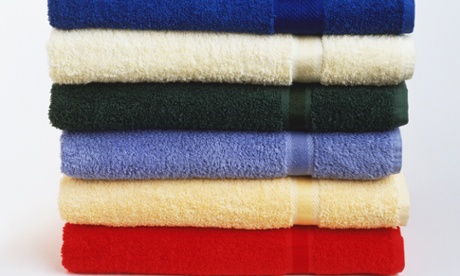 Towels: largely abandoned by US bargain shoppers. Photograph: Tim Ridley/Getty Images/Dorling Kindersley
It makes sense: towels can wait. Food can't. So if you don't have much money, which would you buy?
Family Dollar is far from alone. There's just not enough money deployed by American families to keep all the discount chains in business.
The problem is that the US economy has been less than robust for the past six years, marked by a recession leading into a rocky, unsatisfying recovery that includes a weak housing market and 10 million people out of work.
At the same time, discount stores have been proliferating to the tune of 25,000 stores dotting the country. Even Walmart is getting in on the game, planning to open 300 new stores under the names of Walmart Express and Walmart Neighborhood Market for consumers who make "fill-in" trips to the store between the larger shopping trips to the company's superstores.
As a result, there are too many discount stores chasing the shrinking dollars of cash-strapped consumers. The sweet spot of many discount stores is the family living on $25,000 to $35,000 a year. That's a portion of the US population whose income is stagnant - and has been for several years. The 2008-09 recession lowered family incomes, the Bureau of Labor Statistics found.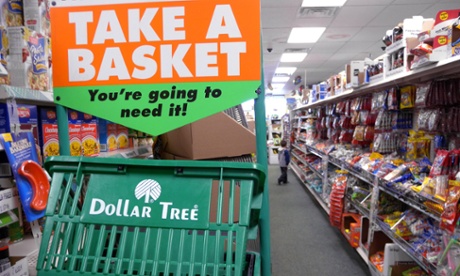 Dollar Tree and Family Dollar combined will have 13,000 stores – but they need customers with money. Photograph: Richard Levine/Demotix/Corbis
"They are flocking to the stores, but they're not buying as much," said Sozzi of US consumers. "Prices have gone up while their paychecks have not gone anywhere, so they're not shopping as many parts of the store as you think."
Why is Dollar Tree different?

Dollar Tree is a darling of retail analysts at several banks, including RBC and Deutsche Bank, who commend the company's ability to increase sales.
So if the discount-store model is under threat, why has Dollar Tree avoided most of the wounds of Walmart, Family Dollar and Dollar General?
Every analyst has a theory: Dollar Tree's scale, its aggressive negotiations with suppliers to keep prices low, its successful line of products with its own brand, and its willingness to sell a variety of merchandise with higher prices. The most convincing reason however, is that its customer skews towards a higher income. "Dollar Tree ... has less exposure to lower-income consumers," wrote MKM Partners' analyst Patrick McKeever in a research report earlier this year.
That helps when Walmart is so dependent on food-stamp recipients that the company mentioned cuts in food stamp funding as a risk factor to its business.
"Walmart's customer, pulling in $25,000 a year, haven't really participated in the economic recovery," said Sozzi.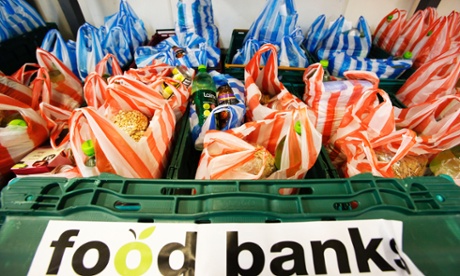 Low incomes are sending more middle-class families to food banks and to use food stamps. Discount stores are fighting for fewer dollars. Photograph: Murdo MacLeod
The unevenness of the US economy has been a major issue this year: fast-food workers and others have successfully fought for a higher minimum wage in many cities and states.
Corporations have largely been unsympathetic, however, preferring to dish out their profits to shareholders instead of employees. Corporate profit margins have remained high in part because wages have been low, Goldman Sachs has pointed out.
Companies have not yet felt the full impact of the boomerang effect of stagnant incomes for employees: lower wages all over the economy also mean lower spending, which in turn mean lower corporate profits.
It seems obvious: a cash-strapped consumer can't keep buying forever, no matter how low prices go. It's a lesson many discount retailers - and many American companies - have yet to learn.