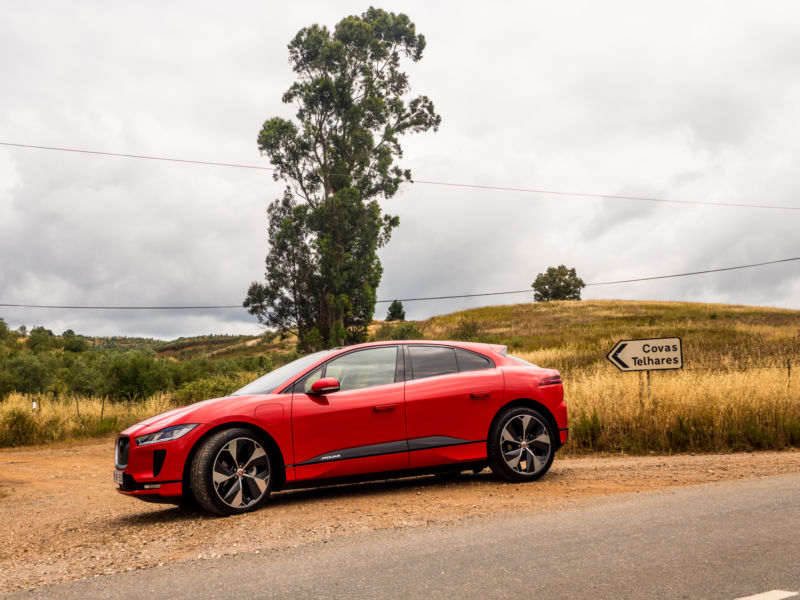 Because Jaguar is only offering I-Pace drives in Portugal, we elected to accept a paid flight and 3 nights in a hotel (two in Portugal and then one at CDG because we had to wait for our return flight) in order to attend this event, rather than having to wait several more months to drive the vehicle.
The Jaguar I-Pace might just be the most significant new car we'll drive this year. It's an all-new, all-electric vehicle from the British automaker, the first installment of its ambitious plan to electrify the entire model range over the next few years. We first saw the I-Pace as a concept at the 2016 LA Auto Show. Now, less than two years later, the production version is ready, almost unchanged.
And this week, we've driven it—on the road, off-road, and even on track. It's not perfect (no car is), but make no mistake: it is very, very good. So good that Waymo—Google's self-driving program—has ordered 20,000 I-Paces to put into service as robocabs in the next couple of years.
Nine months ago, Jaguar Land Rover announced it was planning to phase out internal combustion engines, along with offering electrified versions of all its models by 2020. But the I-Pace—its first battery electric vehicle—predates all of that. Apart from the Chevrolet Bolt EV, it's the only EV on sale that can compete with Tesla on range thanks to a whopping 90kWh battery pack. And unlike the Bolt (which remains a rather no-frills affair), the I-Pace is most assuredly a luxury car. Its exterior and interior seem leagues ahead of anything the Internet's favorite car company has given us so far.
Like any battery EV, this remains a vehicle that's not right for everyone. If your needs include being able to drive across the country in single day in as short a time as possible, you might want to look elsewhere. Ditto if you need to carry five or six passengers. And the I-Pace is not particularly cheap—prices start at $69,500 in the US before any federal or local incentives are taken into account. But it's better looking and better made than any other BEV on sale today, with a good warranty and plenty of gadgets. With 295kW (394hp) and 694Nm (512ft-lbs), it's also got plenty of performance and doesn't take up that much space. Its footprint is about the same as Jaguar's petite E-Pace SUV even though there's tons of room regardless of whether you're sitting in the front or back.
Let's get under the hood (and behind the wheel) to better understand why I was so impressed.
The red First Edition I-Pace was good, but the slightly cheaper white HSE version was a lot better, as it rides on smaller wheels.

I don't think I'd track my I-Pace regularly, but it was good to explore the handling.

Jaguar's drive route took us off the usual twisty roads onto more challenging terrain

I was told Jaguar brought about sixty I-Paces in total to Portugal for the drive program. And plenty of 50kW chargers to top them all up.

The I-Pace cockpit. The white cars were fitted with very comfortable bucket seats.

A look at the lithium-ion pouch cells

That's the 7kW on-board charger, sitting atop the front motor's inverter.

The front suspension comes from the Jaguar F-Type

The aluminum chassis is extremely rigid.

Designer Wayne Burgess explaining some of the car's design features

I'm not sure I ever truly captured the car's best angle.

The rear screen needs no wiper; airflow over the roof takes car of that once you're moving.

You can definitely see hints of the stillborn Jaguar C-X75 supercar in the design
Design and engineering
We've actually delved into the design aspects of the I-Pace on several occasions in the past; with Jaguar Design Chief Ian Callum about the original concept, then more recently with his right-hand man Wayne Burgess and Jaguar Technical Director Wolfgang Ziebart. Per Ziebart, the choice of making the I-Pace an SUV wasn't really a choice at all—the packaging requirements of the car's battery cells dictated that. But the I-Pace's shape was a conscious effort, the goal being to make it as aerodynamically efficient as possible. Consequently it has a drag coefficient (Cd) of 0.29, which Burgess told us was the lowest of any Jaguar SUV to date. We still don't know the car's CdA (the drag coefficient multiplied by the frontal area), which is arguably the more important statistic, but we don't know the CdAs for any of the other BEVs on sale right now, either. Bench racing will have to wait for another day.
As with every other EV we've tested, the I-Pace keeps its battery pack between the axles and underneath the passenger compartment, which keeps the center of gravity nice and low and reduces polar moments of inertia. Simon Patel, the car's senior program manager, told Ars that this is the stiffest Jaguar body ever at 36kN per degree. The monocoque chassis is made from aluminum to keep the weight down, but all told the I-Pace tips the scales at 4,702lbs (2,133kg).
On either side of the battery pack is a synchronous permanent magnet electric motor. It's a compact design that sees the driveshaft run through the middle of the motor, and it is bespoke to Jaguar. In large part, that's because the I-Pace was greenlit quite a while back. "This means that the supplier infrastructure wasn't interested in this type of car, so many of the components were done in-house; today you'd be tempted to do it with a supplier," Ziebart told me. Likewise, the battery and software were also done internally by Jaguar. "This led to a lot of know-how accruing in our company," Ziebart said.
Each motor is rated at 147kW (197hp) and 350Nm (258ft-lbs), but as with other dual-motor EVs maximum power and torque outputs are a little lower: 295kW and 694Nm in this case. The 90kWh lithium-ion battery pack is made from pouch cells with 432 of them in all. They use a nickel manganese cobalt chemistry that is the best available, according to Patel, although he would not be drawn on the company's supplier. (However, the prominent Panasonic branding on the Jaguar Formula E car might be a good giveaway…)
Heat management was a key concern, and there are actually three separate cooling systems: one for the cabin, one for the battery, and a third just for the control electronics. The batteries are happiest at between 30C and 40C according to Patel, and on track they can feed the motors up to 1000A, accepting up to 450A under regenerative braking. The I-Pace will accept either 100kW or 50kW DC Fast charging, using the CCS plug format. The former will take you from 0-80 percent in 40 minutes, the latter takes 85 minutes to achieve the same. And for home use, the onboard 7kW charger will do the 0-80 percent top-up in 10 hours.
Under the European WLTP cycle, the I-Pace has been rated at 400km of range. The more accurate EPA test the US uses hasn't been completed yet, but Jaguar says you should get at least 240 miles from a full charge. I have no reason to doubt this, but I am waiting to get some data from Jaguar about the actual energy consumption I and my fellow journalists experienced in the cars.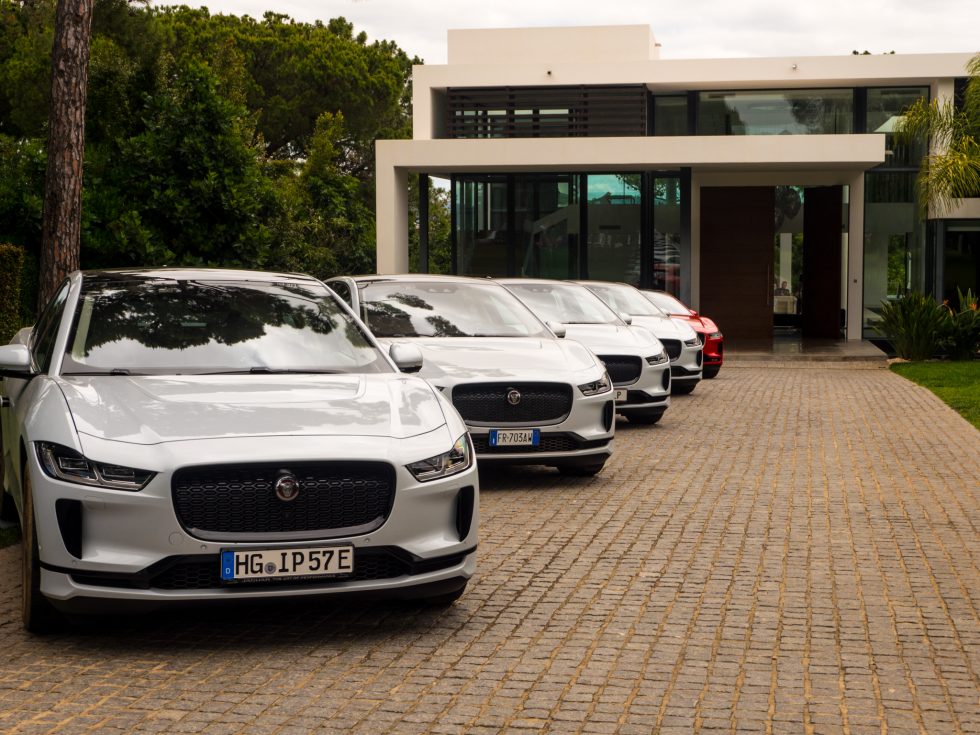 Enlarge
/
Ready to drive to the airport
The best EV to drive yet?
I'll be honest with you: after my first half-hour stint behind the wheel of the I-Pace, I was less than impressed. We set off on day one in a bright red $85,900 First Edition model, a fully loaded I-Pace equipped with massive 22-inch wheels. After a stretch of Portuguese highway, our route took us down a sinuous but narrow route that was barely wider than the car (84.2 inches or 2,139mm, in case you were curious.) Down such a narrow road, I'd have been far happier in Bolt, or something much smaller and lighter like my dear departed Ford Ka (sold when I moved to the US back in 2002).
But later on as we headed to the racetrack at Portimao, the road opened up to the point that a dashed white line was painted down the middle and things began to gel. The power delivery, as with any EV, is instantaneous, and I have no reason to doubt the quoted 4.5 second 0-60mph time. Top speed is 124mph (200km/h), which we didn't get near on the road but did approach on track later on.
Day two saw us switch cars, this time driving slightly cheaper ($80,500) HSE versions. These wore smaller wheels—if you can describe 20-inch rims as such—and were much more suited to the I-Pace. Much of the tire roar was eliminated, and there was a noticeable improvement in ride quality and steering feel. Take it from me: the 22s might look cooler, but if you're speccing an I-Pace you really want the smaller ones.
As with every other EV we've tested, you can change the I-Pace's regenerative braking setting between high and low. Set to high, you can really drive it with just the accelerator pedal, as it will decelerate with a vigor when you lift your foot (up to 0.4G in fact). By contrast, the Nissan Leaf will regen at up to 0.2G, which is more than any other EV we'd tried to date. Like the Leaf, the Jaguar will come to a complete stop if you take your foot off the throttle, and the brake lights illuminate once you begin slowing at more than 0.12G, which ought to prevent you from getting rear-ended by a tailgater.
But as any EV driver will tell you, high regen is best-suited for low-speed urban driving; at highway speeds you want to be able to coast rather than constantly keeping your foot on the throttle. This exposed my biggest complaint about the I-Pace: switching between the two modes was nowhere near as easy as it should be. A Bolt, Volt, or Leaf all give you a physical control to toggle between these modes—using a gear selector in the case of the GM cars and a button in the case of the Nissan. In fact, originally the I-Pace also used a physical button according to Patel.
But at some point the decision was made to bury the setting underneath several layers of menus, accessed via the infotainment screen. That's not something you want to do when you're driving, and it's not even the simplest task for a co-driver truth be told. Patel told Ars that the production car UI will make it much easier to access this setting. But if you're reading this, Jaguar, you need to make it as simple as possible please. A physical button might not work at this point, but it should be a setting on the home screen.
This one slightly less so.

At one point the road was replaced by this stream. No one was electrocuted.

When you're driving off road, the car will help out by bounding the sides of the track.

You can see the aftermath of the off-road excursion on the tires

An I-Pace negotiating one of the Portimao circuit's turns.

The gen-2 Formula E car. This one is just for display, underneath the body panels it's a steel frame not a carbon fiber tub.

The red cars waiting for us to get done at the track

The regenerative braking settings. If I had my way this would be a physical button or switch on the steering wheel or by the transmission buttons.
As you will have gathered from the photos above, our time with the I-Pace involved a little more than the usual first drives we go on. At several points on the route, Jaguar had us detour onto less conventional terrain. On day two, there were several miles on unpaved roads, which the all-wheel drive I-Pace took in its stride. With so much power and more than enough torque, it was very tempting to drive the Jag sideways through each corner, but respect for my passenger meant I kept things somewhat sensible.
The day before was a much more extreme test, requiring us to leave the road behind altogether, including negotiating some extremely steep grades plus ford a stream. The real off-road stuff happened on day one in the red cars, and despite those low profile summer tires the electric cat behaved like a true feline, doing all that we asked of it and more. The odds of any I-Pace owner ever actually driving up a 1-in-2 grade dirt track seem very remote, but should the need ever arise, it's reassuring to know this SUV should be able to cope.
I'll admit it, I'm not really a fan of off-roading, but the race track really is my happy place. Which made me glad that our next stop was the Autódromo Internacional do Algarve circuit in Portimao. Fans of The Grand Tour will know this as the place that Clarkson, May, and Hammond thrashed those hypercars, and having now lapped it myself I have a newfound respect for that episode. It's a technical and tricky 4.2km loop, with plenty of elevation change and blind crests that require some commitment.
Driving a car on track lets you explore the limits of its handling in ways that just aren't safe or responsible on public roads. After a couple of sighting laps in an F-Type, we swapped over to the I-Pace, which once more acquitted itself with aplomb. Braking performance on track was admirable for such a heavy car, and round the track's final long right-hand sweeper I was able to push past the car's grip and provoke a little bit of a four-wheel drift. I'm the first to admit I'm no driving god, but I feel comfortable saying the I-Pace has a very neutral chassis balance, that turns to mild understeer at the very limit.
---
Page 2
After several decades of neglect under British Leyland, Ford, and as an independent, Jaguar's past few years under Tata's ownership has seen the brand return to its old position as one of the more technology-focused automakers. The I-Pace is probably the foremost example of this.
Obviously there's the powertrain, which we've already discussed. On top of that, there's its infotainment system, Touch Pro Duo, which is an evolution of the two-screen setup we previously encountered in the Range Rover Velar. It's not the best infotainment OS on the market—I'd rank Audi, Volvo, and BMW as the class leaders here—but it's certainly less objectionable than many other OEM platforms. I was also happy to see a bevy of USB ports—four up front and another two in the back, which are in addition to several 12V DC outlets.
Over the course of a couple of weeks, owners can expect their I-Pace to learn their routines and preferences. And the navigation system takes into account things like temperature, topography, traffic, and so on to calculate your expected energy consumption along your route as well as highlighting convenient chargers along the way.
As we detailed earlier this year, the I-Pace is the first Jaguar to benefit from over-the-air updates. "It was key for us," explained Hanno Kirner, Executive Director of Corporate and Strategy at Jaguar Land Rover. "As a company it gives you some interesting challenges, because once you're connected, you have to connect it to something. Suddenly we need a back end, which you need to make sure is incredibly secure because you can't have anyone get into it, so it's a really exciting journey to do."
The Touch Duo Pro infotainment system.

There are a lot of storage cubbies in the car. You can fit two wine bottles in the one between the front seats!

There is 35.0in (890mm) of rear leg room. I spent some time in the back seat while my 6'3″ co-driver was at the wheel and it was more than spacious.

There is a lot of room in the trunk—25.3 cubic feet (716L) with the seats up, 51 cubic feet (1,444L)with them flat.

The rear seats are heated. And there's two 5V USB ports and a 12V DC port in the back

These seats weren't bad, it's just that the buckets were great.

This dial controls the AC as well as the heated/cooled seats. It's one of the better bits of the car's UX

This app tells you how the car's features are affecting range

These buttons change the drive mode, turn off traction control, activate hill descent, and raise and lower the car

The massive glass roof makes the cabin very airy. It's quite tinted so you don't really bake inside.

Active noise cancellation, or active noise generation. Some people think it's a gimmick, I really liked it.

Page three of the infotainment screen

Page four of the infotainment screen.

You can precondition the interior temperature to prepare for your drive

The I-Pace will accept 50kW or 100kW DC charging, or lower power AC charging at 7kW.

Range should be at least 240 miles under the EPA test cycle.
While we're sure many of our readers will hate the idea, the I-Pace is highly connected. There's a remote app for your phone, which lets you monitor the car's status as well as do things like preconditioning the climate control and so on. If using your phone is too much of a hassle, the I-Pace also has Alexa integration, so you can simply ask Amazon's personal assistant to do the same things for you. (Alexa isn't present in the car as of now, so you don't have to worry about it spying on you there… yet.)
Touch Pro Duo doesn't support CarPlay or Android Auto, but a whole range of individual smartphone apps can be cast to the infotainment system. Jaguar Land Rover calls this InControl, which we're pretty sure leverages Bosch's MyLink technology. According to Matthew Waller, who works on the I-Pace's connected technologies, a new InControl feature is the homelink app which allows you to interface your I-Pace with your smart home to control Hue bulbs, Nest thermostats, and so on.
One of the more interesting features of the I-Pace is the noise it makes, at least as far as the car's occupants are concerned. An EV is unencumbered by an engine, which means you get to hear all the sounds that are normally drowned out by air rushing into intakes and out of exhausts, plus the mechanical sounds of pistons, valves, and timing gear all doing their mechanical thing. From inside, the sound of every other EV I've driven has been a mix of whine from the transmission plus a whoosh from the motor(s) mixed with some tire roar and wind noise.
The I-Pace has those last two in spades; you can mitigate the tire roar by opting for the smaller wheels, but at highway speeds there's no getting away from the sound of air moving past the wing mirrors. But here the car has another trick up its sleeve, something called Active Sound Design. Set to Calm, the car's speakers will, in addition to playing music or the radio, add some active noise cancellation to increase the serenity of your journey. But you can also go a different route by setting the slider to Dynamic. This augments those normal EV sounds with a bit more oomph as you floor it. I'm hard pressed to describe the sound, which falls somewhere between a turbine and a growl. Sure, it's artificial, but it's also kind of awesome, and if anything I'd maybe want it a coupe of decibels louder.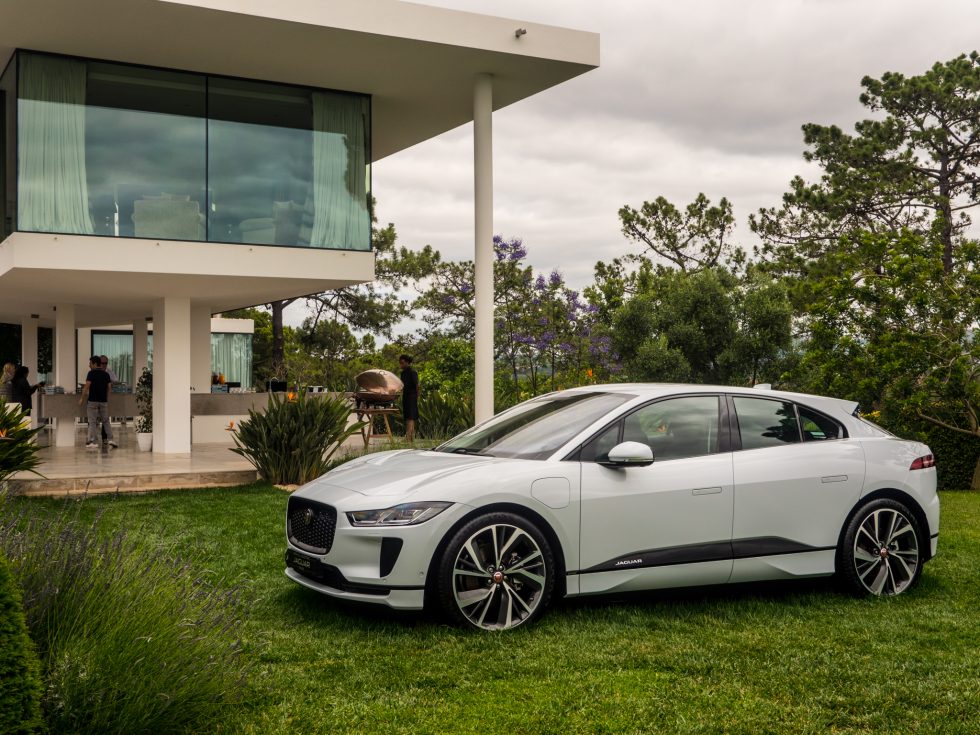 Enlarge
/
This Vasco Vieira-designed house was a good place to end the two-day drive.
The elephant in the garage
If all this sounds rather effusive, that's because the I-Pace really is a damn fine vehicle. In fact, I'd go as far as to say it's the best SUV from Jaguar to date, regardless of propulsion. (I'd also pick one over the forthcoming Range Rover plug-in hybrids.) As I explained up top, it's not going to suit everyone. And yes, there are certainly areas where a similarly priced Tesla has an advantage—notably the startup's high-speed Supercharger network. If range anxiety and the need to road trip an EV is your utmost concern, then stick to Elon's Muskmobiles.
But for most other considerations, I have to give the edge to the I-Pace. Exterior styling is subjective, but as far as I'm concerned it's a stunner. The interior design and quality is so far beyond anything I've found in several Model Ss and a Model X that's barely even the same sport, let alone the same ballpark. And it's far more engaging to drive than any Tesla we've driven, all of which are held back by highly restrictive traction and stability control that prevent you having any fun other than straight line acceleration. And thanks to that partnership with Waymo, you'll be able to ride in a self-driving I-Pace long before Tesla gets its tech sorted.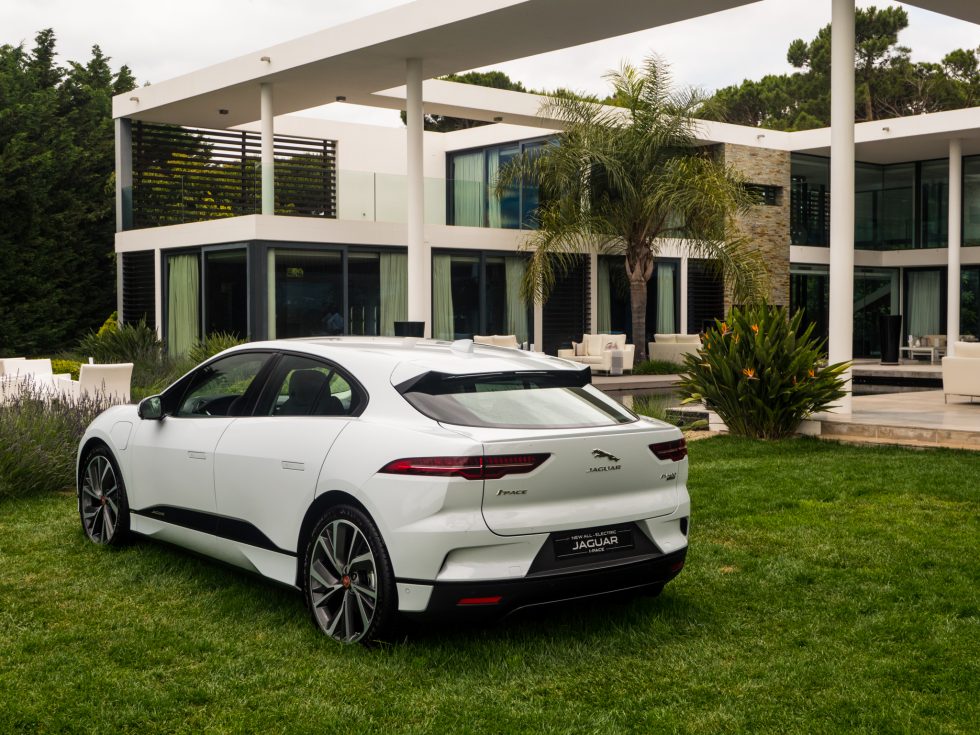 Enlarge
/
Yulong White was my favorite color for the car.
But not every I-Pace buying is going to cross-shop with a Tesla, and Jaguar is bullish about drawing customers away from other powerful, pricey SUVs like the Porsche Macan or Volvo XC60 T8. Like those two, the I-Pace has about four hundred horses under your right foot, and it drives much more like the German crossover than the Swedish one, but with better environmental credentials than either. The premium electric market is soon to get more crowded as Audi and Mercedes both prepare their challengers, but based on my experience over the past couple of days, I have to say that Jaguar has set the bar pretty high.