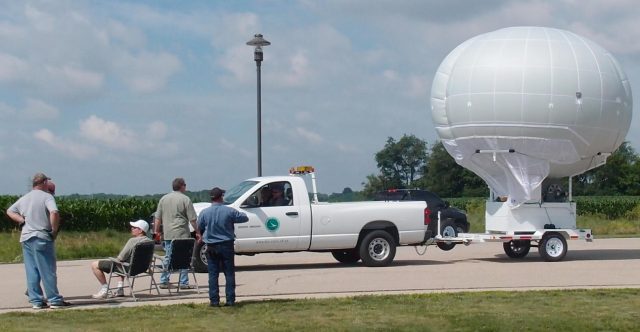 Patrolling the skies these days is hard. There's so many options to choose from: traditional helicopters, new wide-angle surveillance planes, and even the more cutting-edge drones.
Each of these options has its drawbacks. Beyond the initial purchase price, well-tested helicopters typically cost at least hundreds of dollars per hour to send up. One-off surveillance planes are also not cheap, coming in at around $1,000 per hour. Drones, while very cheap, are problematic. Law enforcement needs a blanket Certificates of Authorization (COA) from the Federal Aviation Administration (FAA) and possibly a specific Notice to Airmen (NOTAM) each time a drone is used above 400 feet.
Enter a small Florida company now attempting to make snooping from the air both cheap and administratively easy. The Drone Aviation Holding Corporation (DAHC) recently announced that it had sold its second-ever "Blimp in a Box" for local law enforcement purposes.
The Ohio Department of Transportation (DOT), which spent for $180,000 on the blimp, did not immediately respond to Ars' request for comment.
These tethered blimps—formally known as aerostats—don't move on their own. They're allowed by the FAA as a "moored balloon" if they stay below 500 feet and meet other minor restrictions. The company said that similar tethered drones (which would require FAA approval) are also on their way.
The Blimp in a Box has a "days-duration flight time," an infrared sensor, and video cameras, according to the company's marketing materials. The device is designed to aid with surveillance, enhance situational awareness, and help with "communications research." For years, this type of inflatable spy technology has been sold to the military for ISR (intelligence gathering, surveillance and reconnaissance) missions, but only more recently has it come home to roost.
"We feel that we have a distinct advantage and that they're able to be operated under FAA guidelines legally," Dan Erdberg, the company's chief operating officer, told Ars. "Whereas right now you can't operate any free flying drones in the country. We're trying to find this niche and we wanted to come up with something unique and that wasn't a big aerostat. We came up with that concept and we started procuring sales 2 to 2.5 years ago."
"It's safe, it's not free flying," he added. "It's not going to present any danger to society. It's used in a controlled environment. It's not being driven around neighborhoods."
As a blimp, could the product be easily shot down? Erdberg said no. "Helium doesn't bleed out very fast, these things can stay up for hours even with a bunch of rounds through them."
Former Blimp maker: "We have a history of losses"
Curiously, DAHC was incorporated in late April 2014 as part of a reverse merger with MacroSolve, a publicly-traded penny stock. MacroSolve was a patent troll outfit that was famously crushed in a landmark legal case by online retailer Newegg just weeks earlier. By June 2014, DAHC acquired the company behind Blimp in a Box, Lighter Than Air Systems, a subsidiary of another firm known as the World Surveillance Group.
It's been slow going so far: in the first quarter of 2014, DAHC's own financial records show that it sustained a net loss of about $225,000. Similarly, in its most recent annual report, World Surveillance Group stated its own version of DAHC's argument:
We believe a large and increasing market exists for aerostats like the [Blimp in a Box, or BiB], which is smaller and more mobile than many of the large tethered aerostats on the market currently and which is specifically designed for quick deployment, maneuverability and superior weather handling. The BiB in its deflated, crated form can be transported in standard sized military or commercial vehicles and can be quickly inflated and launched to the mission applicable altitude by two operators within minutes where it can either remain stationary or be towed for mobile operations. The BiB system can be outfitted with various payloads depending on the application or mission. Finally the BiB can be deflated by the same small crew within minutes and either left inflated for near-term redeployment without the need for any further helium or repackaged in its crate for longer-term redeployment. We believe the capabilities of the BiB system including its relatively low cost, its ability to be prepackaged and integrated into a standard vehicle for easy transport to remote locations, the ability to deploy the system within minutes by a small crew without large infrastructure or resources, its ability to hover providing a semi-persistent security capability or its mobile capabilities providing situational awareness to on-the-move forces, and its extremely durable body that is able to handle adverse weather more effectively make it advantageous for use in a wide variety of military, quasi-military and civilian applications.
That same report stated that World Surveillance Group was nearly $17 million in debt at the end of 2013, which may explain why it was willing to spin off one of its main subsidiaries.
"We have a history of losses from operations and we anticipate that for the foreseeable future, we will continue to experience losses from operations," the company continued. "Those losses have resulted principally from costs incurred from general and administrative costs associated with our business and in research and development efforts. We had a net loss from operations of $2,733,084 the year ended December 31, 2013 and $4,541,587 during 2012. Our accumulated deficit at December 31, 2013 was $152,412,557. We expect to continue to incur net losses from operations for at least the next several quarters as we continue to develop and seek to commercialize our products."
But even when such blimp purchases are funded entirely through federal grants, they don't have a great track record.
The Metropolitan Nashville Police Department purchased the first non-military police-related Blimp in a Box in 2008 through a Department Homeland Security Buffer Zone Grant grant, but has only used it "three to four times," according to spokeswoman Kristin Mumford.
She noted that no arrests, much less prosecutions, have been made as a result of the blimp. So why bother?
"It does increase our surveillance platform and if we should ever have an elevated threat, like if there was a transportation threat, the balloon is there," Mumford told Ars, noting that they don't send the balloon up in bad weather.
"There is frequent, almost inevitable, mission creep with these technologies."
Privacy advocates have long been wary of repurposing this type of military technology for the civilian market.
"There is a gung-ho attitude towards information technologies for law enforcement and security uses," Fred Cate, a law professor at Indiana University, told Ars. "That optimism that technology will help is not always well-founded (think of the millions spent on 'puffer' machines for security in airports), and it is often fueled by the availability of federal money to acquire technologies, whether or not useful. There is frequent, almost inevitable, mission creep with these technologies. Deployed for some seemingly innocuous purpose, for example, traffic monitoring, they often end up being used for other purposes, such as intrusive surveillance to support law enforcement."
Jay Stanley, a policy analyst with the American Civil Liberties Union, was similarly skeptical that this is a good use of taxpayer dollars.
"I have followed the technology of blimps and they have been pretty much used by the military—this is the next step in the green-to-blue pipeline in which technology gets funneled from the military to local police departments," he said.
"The number of surveillance technologies that have been financed by the Department of Homeland Security is stunning. It's as if we have our government pushing surveillance technology on our local communities like a drug pusher. I think terrorists are very few and far between so police departments ends up getting dressed up with nowhere to go. As we've seen, programs and technology that are sold against terrorists end up being used against peace activists."
But Erdberg, a veteran of the aerial surveillance industry, remains wholly committed to his product.
"Free flying drones are dangerous, and they can crash," he said. "That's not a solution. We feel that this is the only solution out there. If we can save a life, like we're trying to do with soldiers in hostile environments, then it's worth it. We don't sell to individuals, they're only sold to qualified allies. We put all the faith in the end user that they're going to be using them for good use and if we can help over a disaster area or provide communications to areas that don't have it, that's the goal. It's not being developed to monitor people's backyards. So far every use that we've been involved in has been safe and humanitarian."