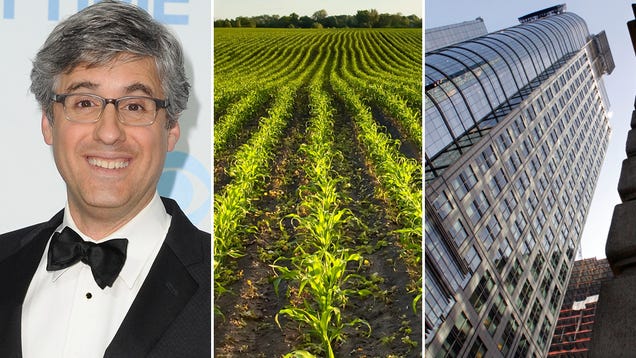 Genetically modified agribusiness and pesticide conglomerate Monsanto has a reputation (rightly or wrongly) as one of the most evil companies in America. Here's one way they're working on their PR: by enlisting the help of Conde Nast, and Mo Rocca, and some desperate charities.
Monsanto, which has been a target of environmental and human rights activists for decades now, is well aware of the constant need to burnish its own reputation. Today we obtained the following email, which Conde Nast business representatives are circulating to various big-name, respected charity groups, trying to get them to agree to be featured in a piece of celebrity-studded Monsanto propaganda in exchange for money. It is, in essence, a plea for a respected nongovernmental organization to sell its reputation to Monsanto for PR purposes. Here is the email that went out from a Conde business rep:
Subject: Potential Opportunity for [Charity group] with Conde Nast

Dear [Redacted],

I'm writing on behalf of the Strategic Alliances group within Conde Nast Media Group. We are currently producing an exciting video series being promoted on our brand websites ( i.e: Self, Epicurious, Bon Appetite, GQ & Details) and living on a custom YouTube channel. The topics center around food, food chains and sustainability, and there is great interest to have Lori Silverbush as part of the panel.

Shoot dates are August 11th & 12th in Bedford, NY, and the panel is hosted/moderated by Mo Rocca. We are contacting you to see if there might be a person at [charity group] who could speak to one or two of the episode subjects (see attached document). We would only need this person to participate on one day (two episodes are shot each day). Compensation, or donation to [charity group] will be provided, along with travel two/from the shoot location.

As these dates are fast approaching, we'd love to connect with you today, or at your earliest convenience to discuss further. I am also attaching an overview outlining the episodes, usage and sponsor.

Please let me know a good time to connect.

Best,

Marcella

(See attached file: A SEAT AT THE TABLE- GUEST OVERVIEW.pdf)
And here is the document that was attached to the email, detailing the extent of what Conde's brand specialists have in store for this feel-good piece of Monsanto propaganda: a four-episode film series on food, with a celebrity host and noteworthy guests, which will run for six months on various Conde media properties, as well as on a dedicated YouTube channel.
Ominously, "Each episode will be stylishly arranged in a controlled environment, to create an authoritative and journalistic forum."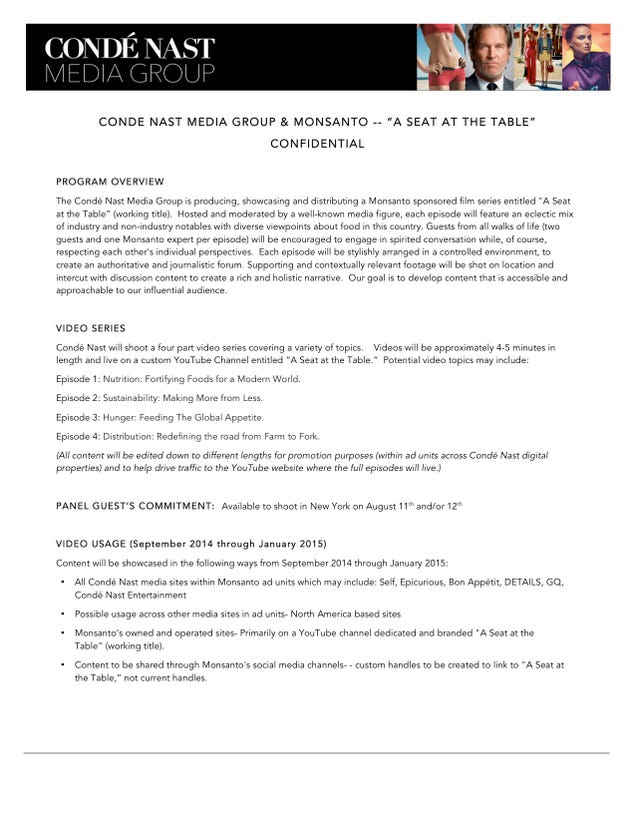 We're all so proud of you, Mo Rocca.
[Photos via Getty, Shutterstock, AP]