Trump: angry Republicans should 'get over it'
Updated
at 9.01pm EDT
Trump's first endorsee loses primary

Ben Jacobs
The first congressional candidate to be endorsed by Donald Trump lost her primary in a landslide on Tuesday night, writes Guardian politics reporter Ben Jacobs:
North Carolina congresswoman Renee Ellmers lost her primary to fellow incumbent George Holding by an almost 2-to-1 margin. With 57% of precincts reporting, Holding had 53% to Ellmers' 24%.
Ellmers was one of the first members of Congress to endorse Trump and the presumptive nominee returned the favor, recording a robocall on her behalf. Trump's support proved insufficient as Holding, backed by a number of conservative groups including Club for Growth, romped to victory.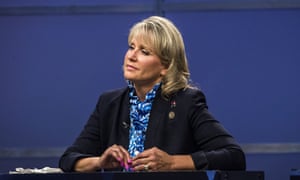 Ellmers in a primary debate. Photograph: Travis Long/AP
The rare incumbent-on-incumbent primary was prompted by court-ordered redistricting which threw the two Republicans into the same district.
Ellmers had long been controversial among some conservatives for her support for immigration reform and relative moderation on abortion. She had been considered a leadership ally on Capitol Hill. In contrast, Holding, a former Jesse Helms staffer, had a solidly conservative record.
Holding's win suggests that Trump still doesn't have coattails down ballot and that he has a ways to go to consolidate his support within the GOP.
Updated
at 8.49pm EDT
Trump to address supporters