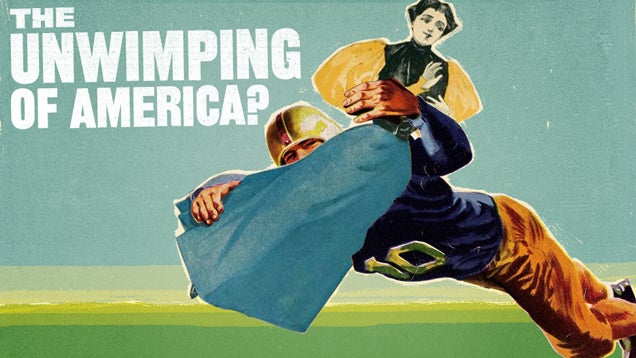 The tide has turned against the marginalization and "sissification" of the rich American white boy. Or, at least, intramural tackle football is back at the Lawrenceville School.
Alumni of Lawrenceville, an old-brick-and-older-money boarding school located outside Princeton, N.J., have been invited to Parents Weekend to take part in an Oct. 18 celebration of the comeback of so-called House football. That's a dorm league made up of teams from each residence located on the Circle, a portion of the 700-acre campus that was designed about a century-and-a-half ago by Frederick Law Olmsted, the same guy who laid out New York's Central Park.
"We're grateful for all the efforts the Administration made to restore this special tradition," read the invitation, which went out earlier this month and was signed by Hy Bunn (Class of '74). Along with being an heir to the Bunn-o-Matic coffeemaker fortune, he's a co-chairman of Lawrenceville's ad hoc committee on House football.
Bunn's memo betrayed no hint of the ugliness of the past year, during which the school went without the House league for the first time in more than a century. A group of old guys, some with ties to Lawrenceville, others just named Rush Limbaugh, saw something deep and dark in its disappearance, and spent the hiatus hankering not just for the return of a sport, but also of a bygone era. The committee Bunn chairs, in fact, was formed solely to quell the football-incited rebellion.
Lawrenceville, or L'ville to insiders, was founded in 1810. Its football confederation dates back to 1889, and has long been billed as the oldest such league in the world. Headmaster Elizabeth A. Duffy didn't mention the league's longevity or historic standing as she emailed parents and alums on Sept. 16, 2013, to tell them she'd dropped House football. She explained that the school's equally ancient intermural varsity football program would go on with the administration's blessing. But because of what Duffy described as a "dwindling" willingness of students to spill blue blood for their dorm, there would be no House football that autumn. She also referenced society's heightened worries about the dangers of the gridiron while rationalizing her decision.
"Declining numbers and uneven physicality have made the league increasingly non-competitive and the coaches increasingly uncomfortable in their roles," read Duffy's email. (Coaches are a mix of adults—the tennis coach moonlights as a House football coach, for instance—and students.)
The school had switched the league from standard 11-man football to eight-man football years ago to address the human-resources issues. But, as Duffy pointed out in her statement, there still weren't enough players suiting up even for the downsized version, leading to forfeits that marred the 2012 season. She told the school newspaper, The Lawrence, that two different dorms could find only eight able or willing players per game for the 2013 season, adding to the safety concerns already circling around all youth football these days.
"People are voting with their feet," Duffy said.
Most alums took the news with a ho-hum. "I honestly don't know anybody from my class who gave a shit," one 1981 grad tells me. "But apparently some people did."
Those who cared, really cared. If the current students had voted with their feet that the game had to go, a few elder Lawrentians took to the school's website to tell Duffy they'd let their wallets make some noise. Among them: Michael Chan, class of 2009, who wrote, "We will certainly be speaking through our donations" if Duffy didn't restore House football.
The squabble quickly became about more than just the fate of an intramural sport.
Lawrenceville's always been more about brains than brawn. A New York Times story from 2001 described L'ville as a pipeline to the Ivy League: 145 Lawrentians had enrolled in Princeton or Harvard over the previous decade—not bad for a school with an enrollment hovering around 800. It's also renowned for its cost. The school is usually identified as a member of the Group of Seven, a sort of axis of affluence made up of preps along the Eastern Seaboard that also includes Andover, Choate, Deerfield, Exeter, Hotchkiss, and St. Paul's. A Business Insider survey in 2013 found Lawrenceville to be the most expensive boarding school not just in that ritzy clique, but in the whole country. Tuition and fees are now $54,590 for boarders.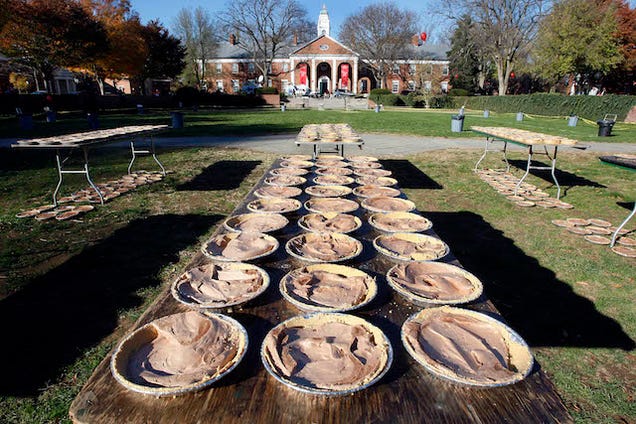 Lawrenceville School in 2010, shortly before a charity pie fight. Photo by Mel Evans/AP.
---
Given its age, Lawrenceville has an awfully short roster of notable athletes of any stripe. Take away Joakim Noah, in fact, and you've likely never heard of any Lawrenceville jocks, unless you're big into 19th-century Ivy League football. There's Knowlton Lyman Ames, pride of the class of 1886, who went by "Snake" while at Princeton, where in 1889 he was named to the first consensus All-American football team. Ames scored 730 points at Princeton, including 60 in a single game against Rutgers, and is believed to hold the career scoring record for all of college football. Ames also gets credit for executing the first-ever fake punt. Then there's Alexander Spinning Lilley, an 1888 Lawrenceville grad, who would become the first football coach of the Ohio State Buckeyes. The biggest football star of recent vintage is probably Clint Frank, class of 1934, who would later play for Yale and win the Heisman Trophy in 1937.
Duffy's decision to kill off the tackle league triggered something deep in a small, vocal cadre of older alums. Maurice Hakim, class of '66, was among those who saw it as something much bigger than football.
"It awoke a lot of alumni who weren't aware of what was going on in the school," Hakim says, "and it precipitated a great response."
Hakim attempted to articulate what was behind the dissent in a lengthy letter published by the school newspaper. A representative passage:
Many of Lawrenceville's great traditions continue to crumble since it went co-ed. This is just another tragic piece of fallout from the PC ethos that has permeated our culture since the late 1980's and, I dare say, contributed to the emasculation of our young men. Call it what you will; but when I see long held traditions thrown into the dust bin of history, it makes me puke. I recognize that some policy changes have been necessary but I am fed up with the many changes made by the Lawrenceville administration that … have cow-towed to political correctness and, in general, to the 'sissification' of its young men.
Outside agitators latched on to the big-picture and sissification arguments. The Daily Caller headlined its story about the end of House football as "The Wimping of America." Rush Limbaugh ranted similarly on his radio show just days after Duffy's decision. He tagged L'ville as "elitist"—"Jay Carney went to this place," he huffed—before observing that the death of the House league was, just like the increased concern over concussions, evidence of the "slow creep" of America's war on football. (Carney, class of '83, was President Obama's press secretary from 2011 until June. He played for Kennedy House during his time at Lawrenceville.)
The headmaster surely didn't expect the right wing's biggest blowhard to weigh in when she cut one intramural sport. But she should have known there'd be blowback. Change has never been embraced at L'ville, on or off the gridiron.
The school's varsity football program, for example, relied on a single-wing offense for about half a century after the rest of the gridiron world had dropped the scheme, a run-intensive precursor to the "wildcat" where the ball is snapped to a tailback, not the quarterback. (In 2004, longtime L'ville head coach Ken Keuffel even authored a book, Winning Single Wing Football, still espousing a strategy that began losing favor before World War II.)
Cultural advances arrived with equal tardiness: Lawrenceville was all white and all male for most of its existence. The first black student arrived in 1964, and females couldn't enroll until 1987. Both those changes came only after lengthy in-house battles. The Lawrenceville board of directors, in fact, voted down propositions that would have allowed co-eds five times in the 17 years before the idea was approved.
The demise of intramural football came amid a flurry of what some alumni surely took as in-your-face signals that this wasn't their great-great-great-grandfather's Lawrenceville.
Just as Duffy's axe was falling on the House league, in fact, Lawrenceville was in the midst of settling an 11-year-old sexual-preference discrimination lawsuit that brought the school titillating and tabloidy coverage. The case was filed in Mercer County Superior Court by Ronald Savoie, a former L'ville teacher. According to the court transcript, Savoie was terminated in 2003 after maintenance men reported to then-headmaster Michael Scott Cary that they'd found "leather chairs hanging from the ceiling, adult diapers, latex gloves, sex toys, and a stash of pornographic videos" in the teacher's on-campus house. Cary then "concluded that 'fisting,' which he understood to be a homosexual practice, and group sex were occurring in plaintiff's basement." He immediately forced Savoie out of his teaching gig, and the teacher sued shortly thereafter. The case wasn't settled until May 2014. Terms of the settlement were not disclosed. "Mr. Savoie is extremely pleased with the settlement," attorney Alan Schorr says. "That's all that I'm allowed to say." One local who followed the case estimated that the school spent well over $1 million in attorney's fees on the Savoie litigation. "They should have settled this long ago," says the observer, who requested anonymity. "They thought they were just too good to lose, just the snootiest bunch you can imagine."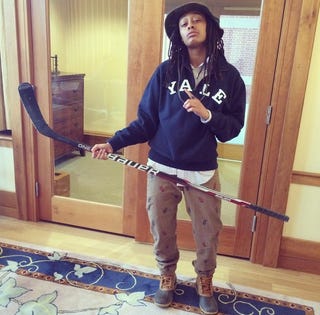 Lawrenceville also got unflattering national attention when Maya Peterson, an openly gay co-ed and the first female president of the student body in L'Ville's history, was forced to resign from the position after posting a photo on social media showing her decked out in a Yale University sweatshirt and carrying a hockey stick. The shot was captioned "Lawrenceville boi" with hashtags #confederate, #peakedinhighschool" and #romney2016. Despite her claims that it was done as a prank, Peterson, who is black, could not overcome accusations that her post poked an egregious amount of fun at the school's white boys. Peterson's brief reign as the face of Lawrenceville was highlighted by a push from students to install unisex bathrooms. It failed.
The ugliest chapter came in April, just as Peterson was getting bounced. A group calling itself the Concerned Lawrenceville Alumni (CLA), which was formed after Duffy's cancellation of House football, emailed an unsigned, nearly 3,000-word screed to the L'ville community that reads like something out of a John Birch Society pamphlet circa 1963.
The memo railed against what was called "an engineered change in the demographics of the student body."
"Multiculturalism, globalization, and diversity are the hallmark standards of the Admissions Office today," it read. "In the year 2003-04, Lawrenceville's student body was primarily Caucasian American (70%) with 13% Asian and 8% International; in the current year those numbers are 55% Caucasian American, 21% Asian and 14% International."
Duffy also took heat for her acceptance of non-heterosexuals. "This administration has openly promoted and advocated the benefits of alternative life styles throughout the entire student body community," read the CLA document, "including [students] ages 14 and 15 years old."
Her push for diversity was described as "increasingly distracting" to the Lawrenceville community, and was blamed for the "relatively small" Lawrenceville endowment of "$338 million."
As the CLA's memo wound down, its authors railed against Duffy's termination of House football, and blamed the league's demise on all of L'ville's non-male, non-American, non-hetero newcomers: "The tragic difficulties experienced by the Circle House sporting traditions has to be credited to the objectives of the administration and the applicant demographics which the School is seeking for admission."
At this point, even the portion of the Lawrenceville community that hadn't given a shit about House football decided to pipe up. At an April 14 assembly at the school featuring scholar and author Henry Louis "Skip" Gates, alum and board trustee emeritus Glenn Hutchins took the stage to address the hate. He blasted the CLA's anonymous memo as cowardly and false. He told the student body that the Lawrenceville of today is a better school now than when he attended, no matter what some grouchy alums were saying.
"The changes which you embrace readily as youth can be bewildering to those of us who graduated from here 40 to 50 years ago," Hutchins said, according to a transcript released by the school. "We were all boys, were almost all Protestants, could be guaranteed admission if we came from the right family and had very few if any black classmates. You go to a co-educated school and live in a society which is globalized, multi-cultural and intensely competitive with no guarantees—other than from the benefits of intelligence and hard work. In my day, most all of the school's staff, teachers and Trustees were men. Today, the Lawrenceville community looks like America and is led by our first female headmaster.
"You also have to help us to continue to make wise decisions to change, such as our actions over the years to open Lawrenceville's doors to Jews, Blacks, women, Muslims, Asians and Latinos," he continued. "For all of you in the audience, we don't care what your preferences or background are. We value—in fact we cherish—each and every one of you as a member of this community."
During the spring semester, the ad hoc committee filed its report on House football. It recommended giving intramural tackle football another try in the 2014-2015 school year. The caveats: The game will return as six-man football, a version generally found only in teensy towns in Western and Southwestern states; and supporters would have to find at least "10-12 boys per House" willing to play full contact, or else the league would permanently become a flag-football operation. As Bunn told the Lawrenceville community in his invitation to next month's Parents Weekend: "We're pleased to report that enough boys signed up in each House this fall for the boys to play six-man tackle football."
So, the House league is back, at least for now. But there is little joy in L'ville.
Bunn did not return calls for comment on the return of House football. Jennifer Szwalek, spokesperson for Lawrenceville, declined an interview request, saying that the celebration invitation "speaks for itself."
But that document lacked any reference to the strife that preceded the comeback. It made no mention of Duffy, either. While House football is returning, Duffy is not. She'd announced in the middle of the fight that she'd be quitting as headmaster after this school year. She told The Lawrence, "I'm not certain what I will do after I leave Lawrenceville."
Image by Jim Cooke