On 21 March 2014, a 64-year-old teacher named William James Vahey checked into a cheap hotel in the tiny Minnesota town of Luverne. Vahey had spent the previous four decades teaching at international schools, from Saudi Arabia to Indonesia, but he had decided to spend his final moments near his elderly mother and his brother, Chris, who both lived in Luverne.
The reservation was a decoy. At 5.20pm, Vahey crossed the road and checked in at a second hotel, a Quality Inn. He paid in cash for his room, telling the receptionist he didn't have a credit card because he had just filed for bankruptcy. Upstairs in room 201, he undressed to his boxer shorts, folded his clothes neatly on to the coffee table and lowered himself into the bath tub, tucking a pillow behind his back.
A thousand miles south, special agents at the FBI office in Houston were waiting for a search warrant that would allow them to open a 16 gigabyte flashdrive that had recently arrived from the US embassy in Nicaragua. For the previous seven months, Vahey had been teaching history at the American Nicaraguan School, one of 193 schools around the world supported by the US government to promote US-style education. On 11 March, his housekeeper had shown up at the school gates, and handed the flashdrive in. It was part of a haul of computer kit that she had allegedly stolen from Vahey's villa a few months earlier.
It later transpired that the drive contained photographs of at least 90 unconscious adolescent boys, naked and partially dressed. The images of abuse, which dated from 2008 to 2013, were neatly arranged into digital folders with titles such as "Panama Trip", "Costa Rica Trip" and "Basketball Trip". Vahey had led these field excursions while teaching at two other private international schools in Caracas and London.
The head of the American Nicaraguan School, Dr Gloria Doll, immediately confronted Vahey with the cache of images. He confessed that he had spent a lifetime drugging his pupils and abusing them. "I was molested as a boy, that is why I do this," he told Doll, according to an FBI affidavit. "I have been doing this my whole life." The full scale of his crimes would only emerge in the coming months: four decades of abuse at 10 international schools in eight countries from Saudi Arabia to Indonesia, and from Venezuela to the UK. The FBI declared him one of the most prolific paedophiles it has ever seen. It seemed inexplicable that nothing had been done to stop him.
Now a five-month investigation by this newspaper has revealed that red flags were, in fact, repeatedly raised about Vahey. Colleagues, parents and superiors all came across evidence that, if properly explored, would have pointed towards him drugging and abusing children. Yet almost nothing was done to stop him. More than two years since Vahey was first exposed, teachers and administrators who worked with him are only now opening up about what they knew.
Vahey was not arrested after his confession in Nicaragua. Instead, Doll fired him and reported the crime to the US authorities, via the embassy in Managua, the Nicaraguan capital. The next day, Vahey boarded American Airlines flight 344 to Miami. The FBI had an agent ready to speak to him when he transferred through Miami to Atlanta - but again Vahey was not detained. It was not yet clear whether the material on the flashdrive had been created by Vahey or simply obtained from the internet. "There was no arrest warrant or search warrant for his residence because these cases take a while," FBI special agent Carlos Barrón told a reporter from Univision, a Spanish-language TV station based in the US.
Related: What should we do about paedophiles? | Sophie Elmhirst
From Atlanta, Vahey could have gone to the family beach house at Hilton Head Island, a picturesque stretch of Atlantic coastline in South Carolina. Vahey shared the house with his wife Jean, with whom he had two children, and who was at that time working in London as the head of the European Council of International Schools. Instead, he headed north to Minnesota, where his mother was staying in a nursing home.
The morning after Vahey had checked in, the front-desk manager at the Quality Inn could get no response from Vahey's room. He went to the door and opened it with a master key. Vahey lay dead in the bath, stiff from rigor mortis, his torso smeared with blood. On the floor lay an eight-inch kitchen knife. Bottles of medicine were scattered across the room, along with a suicide note to his family.
The Rock County deputy coroner, Dr Richard Morgan, recorded that there was no sign of struggle. Morgan pushed his finger easily into a deep wound in Vahey's chest and concluded: "cause of death: self-inflicted knife wound to the chest". Vahey's short torment since being exposed was over. That of his victims, their families, his colleagues and superiors around the globe, was about to begin.
The Southbank International school in central London is located a few doors down from the Chinese embassy on Portland Place. The school, which has about 350 students, aged 11 to 18, caters to the children of the rich and the super-rich. When Vahey arrived there as a teacher in September 2009, parents included a billionaire hedge fund manager, Russian oil executives, a top football manager and diplomats at the US, Kuwaiti and Oman embassies. "If you were a lawyer, you were among the poorest," one parent told me. "Southbank gave you a different understanding of wealth." Pupils would pay for their £5 canteen lunches with £50 notes. The goody bags given out at one birthday party contained new iPods.
Southbank is owned by Cognita, a private company that owns a further 67 schools across Europe, Latin America and south-east Asia. But it remains part of a much larger global community of international schools, defined by internationally recognised curriculums, taught in English, to cosmopolitan student bodies. It was a familiar world for Vahey, the son of a US air force pilot, who as a child attended international schools and US Defense Department schools in England and Japan.
Related: William Vahey pupil: 'I was out of it. He took me to my room'
Vahey taught at Southbank until 2013, and was so admired by parents that they voted him the second-most-popular teacher in a school survey. In fact, Vahey had abused at least 54 of their children, aged 11 to 16, on long-distance school trips. When Vahey's death was announced, news of his crimes had not become public. (At the time, the school said Vahey had died of a heart attack.) In London, staff cried and opened a condolences book. In Jakarta, where Vahey had taught for a decade, the headmaster Tim Carr urged staff to remember a "vivacious community member".
Three weeks later, on 22 April 2014, the FBI made a shocking announcement. They were launching an "international sex crimes investigation" into Vahey's 42-year teaching career in Nicaragua, the UK, Venezuela, Indonesia, Saudi Arabia, Greece, Iran, Spain and Lebanon. "I have never seen another case where an individual may have molested this many children over such a long period of time," special agent Patrick Fransen told the media.
The news swept through the international school network and was broadcast on TV channels across the world. "I was in bed and my son came running into my room with a laptop with Vahey's face on it," one Southbank parent told me. "He was shouting, 'I knew he was a paedo, but nobody believed me.'" Parents dropping off children at Southbank the next morning were bewildered. "Every teenage kid who went on those trips is asking: 'Was it me?'" said one mother.
In a letter inviting parents to an emergency meeting, the school's executive principal, Graham Lacey, wrote that when he heard about the FBI investigation, he "felt, as some of you will be feeling now, physically sick". The evidence suggested that Vahey had abused hundreds of children across the world.
Vahey claimed he "never hurt any of the boys", according to an FBI affadavit. "They did not know what had happened to them," he said. "They were completely asleep." That was not entirely true - in the morning, some woke with suspicions about what had happened to them. But it is true that the majority of Vahey's victims did not know they had been attacked. Parents now found themselves wrestling with an awful dilemma: would finding out if their child was in Vahey's photo files trigger trauma where there was none before?
At Southbank International, mourning turned to rage. Pupils trashed Vahey's classroom, ripping posters off the walls, tipping the chairs upside down and smashing CDs, a source said. Meanwhile, former colleagues around the world frantically asked themselves if they had done enough to act on clues that Vahey was abusing the children in their care.
Wherever Vahey taught, he immediately marked out his territory. He could be prickly and bullying with colleagues, clashing over how the curriculum should be taught and refusing to budge over timetable disputes. Some colleagues found him vain and preening, and his teaching mediocre. Many simply learned to stay out of his way.
But Vahey fostered a sense of fun, mainly with the boys. "He built a culture that in this classroom we do things differently and we will keep that in the classroom - wink, wink," said a colleague at Southbank. "He would say to the kids, 'The other teachers may think you're difficult but I think you're wonderful.'"
Vahey would always take care to charm superiors and parents. In Venezuela, he won a reputation as a generous and trustworthy figure, running Saturday-morning basketball sessions for parents, staff and children. In Indonesia, he would worship at parents' churches, in what former colleagues now believe was an attempt to ingratiate himself with them. When chatting, he would often drop in little references to his wife's prominent role on the international school circuit.
With his status established, Vahey would set up a travel club, if one did not exist already. Even if there were 36 children to care for on a given trip, he would persuade superiors that he needed only one other teacher to come with him. He told anyone who objected that he would have the help of local guides, too. He would choose the teacher who would assist him, holding out the prospect of another trip if they behaved to his satisfaction.
To ensure he was not caught, Vahey sometimes drugged his fellow teachers too
As the trip approached, Vahey would take charge of accommodation, working out exactly where everyone would sleep. He would take all the room keys, then in the evening he would drug the boys he wanted to abuse. When his targets became sleepy or "felt ill", Vahey would put it down to food poisoning or dehydration and either take them to his room or offer to look after them in their own bed. According to an official review of his activities in London by UK child protection experts, Vahey would target the most vulnerable - children with learning difficulties, language difficulties or family problems.
One colleague who had accompanied him on a trip told me that Vahey had a personal camera he insisted others on the trip should not touch, no doubt to photograph the children as he molested them. To ensure he was not caught, Vahey sometimes drugged his fellow teachers too. "Bill came to my tent with a camping mug," recalled one teacher who accompanied Vahey on a hiking trip with 30 children. "I took a mouthful and immediately knew there was something in it. Bill insisted that I drink the whole mug saying the guides needed the mugs for dinner. I drank the whole thing and then I don't recall until waking up the next morning. I am assuming I was drugged to get me out of the picture."
Incredibly, as Vahey moved from school to school during his four-decade career, it never came to light that he was already a convicted paedophile. In 1969, while working as a teacher's aide in Long Beach, California, he had been charged with "lewd and lascivious behaviour" for fondling the penises of boys as young as seven while teaching them to swim.
He pleaded guilty, told his probation officer he was "repelled and humiliated" by his actions and admitted he had started touching boys when he was 14. The officer predicted that the plans of this "mentally disordered sex offender" for a career in education had "probably been shattered by his conviction". Far from it.
In 1970, aged 20, Vahey walked free from a California jail after serving a 90-day sentence for child molestation. He was placed on the sex offenders register, which required him to tell authorities when he changed address. However, it seems that he did not do so, and the authorities failed to keep tabs on him. (According to the Canadian newspaper, the National Post, when the California state register was put online in 2004, Vahey's name wasn't included because he was no longer living in the state.)
He took a BA in political science from California State University and in 1972, after two years of probation, he travelled to Iran to teach at the American School in Tehran, followed by short stints at US schools in Beirut, Madrid and Athens. In 1980, he moved to Dhahran, Saudi Arabia to teach the children of US workers at the giant oil company Saudi Aramco. By now, Vahey was married to Jean, and in 1981 the couple had a son, who was joined by a brother, two years later.
In 1992, the Vaheys moved to Jakarta International School (JIS) in Indonesia, which is overseen, in part, by the embassies of Australia, the United Kingdom and US. Within three years, Jean had been promoted to deputy head and Vahey was teaching world history to students in middle school.
After a while, his affinity with the boys he was teaching began to seem odd to a number of colleagues. Senior teachers at JIS have told the Guardian they received multiple suspicious reports: Vahey sleeping with boys in tents on hiking trips; taking boys who had fallen ill on excursion into his room overnight; his demands to lead an all-boy group on an outward-bound adventure.
In May 1996, Vahey took charge of a trip for around 90 pupils aged around 14: five days of hiking, rock climbing, rafting, near the Jatiluhur dam in a tropical region 70km east of Jakarta. When they arrived, Vahey divided the pupils into groups of around a dozen girls and boys. Vahey insisted on sleeping in the same tent as his group, even though teachers were provided with their own tents.
After the trip had finished, a teacher who had overheard boys talking about it being "weird" having to share a tent with Vahey, said he reported his concerns to Bruce Leiper, the middle school principal, and his vice principal, Geoff Smith. Doing so was not an easy decision. "Jean Vahey held a senior position not only in the JIS community but also the international school circuit," the teacher said. "I was concerned my actions might impact my employment and promotional opportunities in the future."
Contacted by the Guardian, Leiper and Smith said they did not recall anyone raising the issue of Vahey sharing tents with students on that trip. However, Leiper did say that at some point around 1998 he had confronted Vahey after it had emerged that two boys had fallen ill on a school trip and that Vahey had them spend the night in his room, in Leiper's words, "to recover". "We had a long conversation with him and I made it clear that under no circumstances was this to happen again and that it was dangerous," Leiper said. "We had no suspicion that Bill was up to anything, but knew this could be a problem."
During their time in Indonesia, the Vaheys lived at Countrywoods, an expat gated community in south Jakarta with open grounds for their two boys to play. The Vaheys regularly invited their sons' friends to sleepovers at their home, which had a pool table, the best video games and the latest movies. Vahey used these sleepovers as an opportunity to target young boys.
Vahey insisted on sleeping in the same tent as his group, even though teachers were provided with their own tents
One of the adolescent guests, whom we will call John, has agreed to speak out for the first time about what happened. He is now an adult. One night, when he was about 14, he and several friends settled down to watch a movie in Vahey's lounge, but found themselves suddenly feeling sleepy and nodding off. John was the first to wake the next day and remembered feeling dazed. Looking around the room he noticed he was wearing a different pair of shorts, while his friend was wearing his shorts. Then his friend realised his underwear was missing too.
"Over the next couple of months, we pieced together unusual incidents on prior sleepovers," said John. "We strongly suspected Bill was drugging us." At bedtime, Vahey would hand out Oreo cookies and glasses of water and propose an eating race to see who would get first choice of the mattresses laid out on the floor. Vahey would even inspect the boys' mouths to make sure they had swallowed everything.
Despite their suspicions, John said that the boys did not feel confident about making accusations against Vahey. The community was close-knit and they could not easily avoid going to the house for sleepovers.
Related: Jakarta school missed chance to stop paedophile William Vahey
Then, one night a few months later, the Vaheys were looking after John when his parents had to go away for a weekend. "Bill pulled me aside into the kitchen, handed me a cookie and said maybe you and I could have an Oreo eating competition," John said. "I felt helpless because I knew what he was doing but my parents were out of town and uncontactable. I was also facing up to an adult who was supposed to be taking care of me. In panic, I ate the Oreo. I could taste bitter stuff in the back of my teeth. I couldn't leave his house, because I don't know how that would have gone down. I went into the bathroom and found crushed up blue pill in my molars. I picked out what was left but I had swallowed most of it. Within 10 minutes I was out cold and only woke up the next day."
When John's parents flew home, he told them what had happened, and about the previous times. "We didn't ever doubt that he was telling the truth but it took us time to process it and decide what we thought would be the best course of action," John's mother said by phone. "My husband and I wanted to go over to Bill's house and beat the shit out of him, but we chose not to. Ultimately I made the decision to speak to the head of school and the middle school principal."
John's mother recalled that in the meeting, the headmaster, Niall Nelson, "seemed sceptical" about the incident. She was also worried about pitting her son against Bill, knowing that his wife Jean was the deputy head of the school, and that it would be their word against that of one child. She said that she told Nelson she didn't want any action taken unless there was another report, in which case she would "happily stand up".
Geoff Smith, who by this point had been promoted to middle school principal, recalled that it had seemed "a really bizarre story" and admitted that it was hard to believe that Vahey was lacing cookies, especially as there was no physical evidence. He nevertheless felt he "was holding a pretty critical piece of information".
He said that he met Nelson to discuss what steps to take. "The most concrete thing that we did was ask all chaperones on travel club trips, and specifically Vahey, that if there was anything unusual about kids getting ill on trips or unusual sleeping arrangements, I wanted to know about it," said Smith. "I was pretty direct about that with him."
But Nelson, now semi-retired and living in England, denied that John's mother had told him about the cookie incident. "There was no specific discovery of any drugs or Oreo cookies that was presented to me," said Nelson in emails. "The parent who spoke to me indicated that their son had awoken feeling drowsy and with his clothes in disarray. She said she was not voicing a formal complaint and did not wish to make allegations, to involve their son, or to pursue the matter further."
Without hard evidence, he felt there was nothing more he could do. He also said that Smith had said nothing to him about drugs or cookies and that he received no other reports of suspicious behaviour by Vahey. Smith's strengthening of field trip arrangements was "part of a review process and not in response to any concerns I was made aware of".
Nelson, who now provides occasional consulting to a firm advising international schools, said he was "deeply dismayed and angry at the harm and pain it is now clear Bill Vahey caused to so many boys and their families".
It is nothing compared to Vahey's victims, but many of his former colleagues, including Smith, have felt considerable personal anguish about the case. "I feel that on some level I and others failed," Smith said. "We have to figure out how to have those conversations when all we have is a notion, even if we don't have concrete evidence." (JIS has had three heads of school since Nelson left. The head since 2010, Tim Carr, said that under his leadership the school has strengthened protocols to "ensure maximum protection of our students".)
"I feel like a lot of people probably knew and didn't do a thing about it," said John. "It wouldn't have taken much. All they had to do was put in a call to the US embassy. He was a convicted paedophile." The FBI has since confirmed that had any employer required Vahey to obtain a criminal records check from the US, it would have disclosed that he was a convicted child molester.
There is no evidence to suggest that Jean knew about her husband's crimes, and the investigation by the Metropolitan police in London concluded her husband was acting alone. She did not respond to a request for an interview for this piece, and the majority of Vahey's crimes appear to have been committed on school trips where Jean was not present. But teachers, parents and victims wonder whether, without her knowledge, Vahey exploited Jean's prominence as a leader on the international schools circuit as cover for his crimes.
"People didn't want to cross her - not just because of her power, but because of her charisma," said a source at JIS. The official review by child protection experts cited one occasion when, following a critical appraisal, Vahey threatened to use Jean's influence to put a "concrete ceiling" on his head of department's career. "You knew who his wife was all of the time," said Geoff Smith. "Without hard, concrete evidence, it felt like he was bulletproof."
In 2009, after having served as head of the Escuela Campo Alegre in Caracas for seven years, Jean moved to London to become chief executive of the European Council of International Schools. Vahey was keen to join her and wrote to Southbank International School for a job, mentioning Jean's position. He boasted that his spring break trips provided experiences "far outside a typical family vacation" and of his "special appreciation for the middle school age group".
The job was not advertised and the interview was carried out alone by the principal, Terry Hedger. Background checks were conducted, but they were inadequate. The Venezuelan authorities confirmed to Southbank International administrators that Vahey had no convictions from the seven years he worked there. But, according to a report by Hugh Davies QC - a lawyer who reviewed Southbank's recruitment of Vahey for Cognita after his death - the school did not look into other jurisdictions where Vahey had worked. Davies discovered that the only way Southbank International could have obtained Vahey's US criminal record would have been to get him to ask for it himself. The school did that, but did not follow up when it was not received.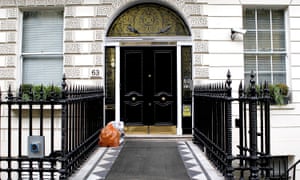 Southbank International School in central London, where William Vahey taught between 2009 and 2013. Photograph: Mary Turner/Getty Images
An inquiry by UK child protection experts discovered an "informal approach to recruitment" in the wider international school community and found that few schools of any kind would approach all previous countries where a teacher has worked for criminal records checks. Even today it remains difficult to ascertain whether a new teacher at an international school has a criminal past, as the law enforcement systems of many countries are simply not geared up for such checks.
Not a scintilla of concern about Vahey appeared on the references Southbank received from his previous schools. An administrator at the school in Venezuela, where Jean had been in charge a few months earlier, said: "Bill takes large groups each year on trips and if there had been a problem at any time, it would have surfaced." The reference given by Nelson, the headmaster of JIS while Vahey was there, declared him "a consummate professional", a judgment he said was made in good faith.
When Vahey arrived at Southbank International in late summer 2009, the school was undergoing a period of turmoil, as parents grew increasingly unhappy with the way it was being run. Staff were not subject to appraisal, and there were no consequences for those who came in late or missed meetings, one teacher told me. By 2011, a campaign group set up by four parents circulated a letter voicing frustration that the new private owner, the Cognita group, was guilty of "aggressive milking of the school" for profits.
Into this turbulence stepped Vahey, who some staff members thought of as an oddball. "It was like he had a travelling suitcase of lesson plans and his travel group," said one staff member. "Whatever school he came to, he would not deviate from that."
Over the next four years, Vahey led 11 trips, including to Nepal and Jordan. After the trips, he would host slideshows for parents, pupils and the headmaster. "We couldn't believe what we were seeing," said a parent who attended one of these slideshows. "On the screen were pictures of boys in their trunks, a 15-year-old girl in her bikini. He gave a 13-year old boy a 'babe magnet award'. It was so uncomfortable."
We now know that while Vahey was at Southbank, teachers reported his suspicious behaviour on four different trips, either to the school principal, the teacher in charge of child protection or the head of pastoral care. On two trips, teachers reported him for taking ill pupils to his room. On another, he was reported for insisting on being alone with a boy who was ill, and on another he was reported for discussing pornography with pupils. There was "a clear pattern of intrinsically inappropriate conduct" sufficient for Vahey to have been stopped, said Hugh Davies QC in his report to parents.
On one rare occasion when Vahey was disciplined for his behaviour - a parent had objected to an inappropriate comment Vahey had made to students - he complained to Terry Hedger, the principal. The decision by the school to pull him off the next trip had, he said in an email to Hedger, "really impacted my self-concept". He complained that this decision would "undermine my reputation and standing in the community".
Related: Correspondence between William Vahey and Southbank International
Hedger reassured him: "Don't worry, your self-concept should not be affected. The problem is that some vindictive parents have found a way to put unfair pressure on the teachers." Hedger told investigators: "I am not able to give a justification or explanation to these comments." He later told the Guardian that if he knew then what he knows now, he "would have done a lot of things differently".
Southbank International says there has been "a profound culture shift" under new leadership. There are now mandatory criminal record checks for new hires in every country in which they have lived or worked as adults. "Since we became aware of Vahey's abuse, we have relentlessly worked to strengthen every aspect of safeguarding at Southbank," a Cognita spokeswoman said.
Scotland Yard detectives eventually established that 53 boys, aged 11 to 16, from Southbank International school appeared unconscious in the digital photo archive that was discovered in Nicaragua. They contacted the families of all the boys who had been on Vahey's trips and posed an awful question: do you want to know if your child was among the victims?
Parents were told they could meet with a detective and a social worker assigned to their case in their homes, in a police station or in the social workers' offices. "My husband didn't think our son should go, on the basis that you can't put the genie back in the bottle, and not knowing the severity of what is in the photographs - whether it was full sexual assault, touching or nudity," one mother told me. "I went on my own and had to decide whether to share what I was told with my husband and son. I had to ask myself, however awful it is, can I live with that?"
Many decided not to find out. "There is such a feeling of wanting to sweep it under the carpet," a source close to the school community said. "Some want to embrace it openly, while others don't want to talk about it ever again."
Finally, in summer 2013, Vahey was headed for retirement. His last posting was to be at the American School in Nicaragua. When he arrived alone in the country in August, Vahey installed himself in a fully furnished three-bedroom villa, seven minutes' walk from the school.
At first, everything seemed to go smoothly. "The school has me all organised to coach a boys' basketball team and have me down to go to Mexico City for a conference in October where Jean will be presenting, so they are taking very good care of me," he said in an email to former colleagues in London. "The temperature here gets up to almost 90 every day and I am loving it!" Vahey was "charming, really popular," a student later told the local newspaper.
Then, in late November 2013, came the theft of his computer equipment. Suddenly, a mountain of digital evidence detailing his many abuses was out of his hands.
A few days later, when he didn't Skype with Jean in London as planned, she called the school to check his whereabouts. The next morning, a school representative who went to check on Vahey found him unconscious on his bed at home. There seemed to be no sign of life. At 10.03am, the principal, Gloria Doll, emailed teachers and parents to say "it is with great regret that we inform you that Bill Vahey, our 9th Grade social studies teacher has passed away this weekend ... He will be greatly missed, as he was truly an integral part of our community".
But - according to Confidencial, the local newspaper - as Vahey's office was filling with flowers and photographs from mourning colleagues, forensic officers at the scene noticed faint signs of life. Vahey was rushed to hospital and began to recover. Doll quickly circulated another note: "This is wonderful and miraculous news. We think this is the most marvellous Thanksgiving Day that we could ever imagine!"
"It is with a sense of awe, wonder and joy that I find myself writing to you," Vahey told colleagues by email on 2 December. "This last week has been quite the adventure, and I am fortunate to say I am doing much better. At times like this, one can't help but reflect on life."
He said he was flying to Atlanta for tests and would be back in January. When Vahey returned, he told people he had been bitten by a venomous spider. It now seems likely he had tried to kill himself. Four months later, in room 201 of the Quality Inn in Luverne, he was finally successful.
In late March 2014, with Vahey dead and the FBI poring over the evidence it had received from Nicaragua, Jean Vahey circulated an invitation to colleagues and friends around the world to attend a "celebration" of her husband's life at their home in South Carolina. "Bill's passing has left us all heartbroken," she wrote. "Yet the love and support we have received from the family, friends and the students he taught, mentored and led on adventures has proven how much of an impact he had in the amazing life he led."
The news of Vahey's crimes would not become public for another few weeks. Donations, Jean said, should go to the Children of Haiti project, which teaches and feeds children in one of the world's poorest countries.
"We fully expect everyone coming to bring their bourbon and diet coke, wild travel story and favourite 'Vahey joke'," Jean added. By the Atlantic shore, they would "toast a man that lived a life that made a difference".
• Follow the Long Read on Twitter at @gdnlongread, or sign up to the long read weekly email here.