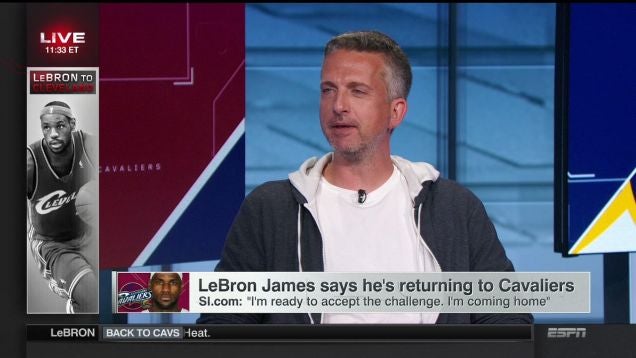 ESPN dropped a three-week suspension TV personality and Grantland honcho Bill Simmons last night, somehow working that large stick even deeper into its collective anus. How does Simmons's punishment compare with other notable suspensions handed down by the ever-suspension-happy ESPN in the past?
Steve Phillips: suspended indefinitely and eventually fired after admitting to an affair with an ESPN production assistant. If you'd like to know all the sordid details of that affair, we've got you covered.
Mike Tirico: suspended three months for reportedly sexually harassing multiple female colleagues.
Max Bretos: suspended 30 days for using the phrase "chink in the armor" on air while discussing the weaknesses in Jeremy Lin's game. (A copy editor who used the same phrase in an ESPN.com headline was fired.)
Teddy Atlas: suspended one month for getting into an altercation with an ESPN2 production crewman.
Bill Simmons: suspended three weeks for criticizing Roger Goodell during one of his podcasts.
Tony Kornheiser: suspended two weeks for making inappropriate remarks about colleague Hannah Storm's wardrobe. (He'd also made a Chris Berman crack that probably factored into the suspension.)
Bill Simmons: suspended from Twitter for two weeks for getting into a Twitter beef with WEEI.
Keith Olbermann: suspended two weeks for going on The Daily Show and calling Bristol, Conn., a "Godforsaken place."
Jemele Hill: suspended one week for a Hitler reference in a column.
Dana Jacobson: suspended one week for having a public and drunken meltdown at the Mike and Mike roast.
Max Kellerman: suspended one week for discussing his personal history with domestic violence on the air.
Stephen A. Smith: suspended one week for going on First Take and talking about the role women play in provoking their own beatings.
Sean Salisbury: suspended one week for showing a group of female colleagues a picture of his dick.
Tony Kornheiser: suspended one week for making critical remarks about ESPN management on his radio show.
Eric Schoenfeld: suspended one week for physically threatening Tony Kornheiser's radio producers.
Michael Irvin: suspended one week for failing to tell ESPN that he had recently been arrested for possession of drug paraphernalia.
Bob Griese: suspended one week for joking about NASCAR driver Pablo Montoya eating tacos.
Jay Mariotti: suspended one week and eventually fired for his involvement in a domestic-violence dispute.
Brian Kinchen: suspended one week for making a gay joke while calling a college football game. He'd said that wide receivers need to "caress" the ball and be "tender" with it, before saying, "That's kind of gay, but hey …"
Bucky Waters: suspended from play-by-play duty for one game after his riff about UConn guard Jerome Dyson's nine steals. "I bet there weren't any hubcaps left in the parking lot," he'd said. "[Dyson] just stole everything—fillings, hubcaps, the works."
Dan Le Batard: suspended two days for trolling LeBron James with a billboard.
Bill Simmons: suspended from Twitter for two days after tweeting criticism about First Take.
Bruce Feldman: "not suspended" for one day after writing a book with former Texas Tech head coach Mike Leach, who was suing ESPN at the time of the book's publication. It was first reported that Feldman had been suspended indefinitely by ESPN, even though he'd gotten permission from them to write the book. ESPN immediately claimed that Feldman wasn't suspended at all, but Feldman went on the radio a month later and made it pretty clear that he had been suspended.
Eric Kuselias: suspended for an unknown period of time after allegedly harassing a female colleague.
Scott Van Pelt: suspended for an unknown period of time for talking shit about Bud Selig on his radio show.
If we've missed any, let us know in the discussion section.