Late Monday night, Spotify published a playlist called "This is XXXtentacion." It's 32 songs long, and runs for one hour and 21 minutes, spanning the short career of the musician Jahseh Dwayne Onfroy, better known as XXXtentacion. It's not uncommon for the service to capitalize on an artist in the news with such a playlist, particularly when, like Onfroy, they've recently passed. The 20 year old was reportedly shot and killed Monday in Broward County, Florida in an apparent robbery.
Advertisement – Continue Reading Below
What's strange about this marketing push is that just a month ago, Spotify had attempted to remove his music, along with R. Kelly's, from the platform altogether under their hate content and hateful conduct policy. After a backlash, including some from some high profile artists, the decision was shortly reversed.
The back-and-forth here isn't simply the whims of the streaming apparatus and industry marketing forces at work—although it's certainly that—it also speaks as a metaphor for the sped-up time frame of the life and career of an artist like Onfroy, one that's become all too common: a swift rise from obscurity, and an even swifter, often violent demise. Moreover, it resurfaces a nagging question that we have yet to adequately answer as a culture at large: How do we mourn the passing of morally questionable or downright terrible celebrities?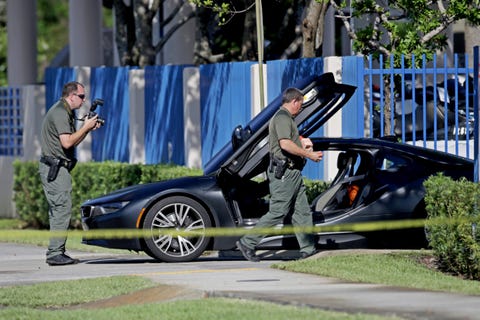 Advertisement – Continue Reading Below
The occasion of a celebrity death has become an ethically dubious, often exploitative affair in the age of social media, with the barely cold bodies serving as bountiful grist for the Takes Industrial Complex. It's exceedingly rare, as in the case of Anthony Bourdain, that any sort of positive consensus is agreed upon. Even with the passing of David Bowie, amidst the millions of bereft fans, there came a consistent undercurrent pushing back against the praise: He did, let's not forget so quickly, have some shameful interactions with young women in his day.
Michael Jackson's death seems so far removed from this digital era of mourning that it's from another time altogether, but the way we continue to speak about him is demonstrative of our collective confusion. You could, in one breath, praise him as one of the most influential and beloved artists of all time, then in the next, dismiss him as a truly fucked up creep. The impending death of Bill Cosby, probably not in the too distant future, will give us another trial run at getting it right.
Even with the passing of David Bowie, there came a consistent undercurrent pushing back against the praise.
Politics further confounds things. George H. W. Bush's eventual death will be treated by many in the commentary class as a biographical reset. Never mind his dreadful record on any number of issues, politicians who would ratfuck him in life will fall in line to praise the passing of an honorable man. About as much happened with Antonin Scalia, a villain whose death only makes me wish that hell actually existed if only because I know he'd be there now. Likewise John McCain's looming death will reset this calculus, death having a way of overshadowing the things someone actually did in life. Should we come together in a chorus of eulogizing ret-conning of a person's life, simply because they're dead?
Onfroy was "troubled," in the parlance of the type of hagiographic headlines you see after a celebrity death. "One of the most successful—and controversial—new rappers in the industry," Billboard called him at the time of his signing to a $6 million deal with Capitol Music Group last year. But that "troubled" and "controversial" designation was always a bit of an understatement. He was, by all accounts, according to police reports, and often by his own admission, a truly shitty person with a rap sheet almost as long as his musical accolades. He was a member of the prestigious XXL freshman class in 2017, yes, but he was also awaiting trial at the time of his death for brutally beating his then pregnant girlfriend, including strangling, stomping, and punching her on multiple occasions. In court documents Geneva Ayala reported, among other things, he once threatened to rape her with a long fork or a wire barbecue brush, saying the choice was hers.
Advertisement – Continue Reading Below
Advertisement – Continue Reading Below
His latest album "?" debuted at number one on the Billboard charts, with single "Sad!" spending fifteen weeks on the Hot 100, to be sure, but then again he was also sentenced to six years probation for an armed home invasion, including charges of robbery and aggravated battery with a firearm.
He indeed spoke clearly to his legions of young fans, telling them that their lives were worth something, but he also once relaid a story about the time he beat a cellmate near to death because he thought he was gay.
And yet, despite that, and likely in part because of that, he maintained a loyal, and growing fanbase, particularly among young people who heard something of their own troubled nature in his words.
Death was a constant presence in Onfroy's thinking. His own and others. He once tweeted that "nobody ever gives a fuck till youre dead." He was close on that one. People definitely gave a fuck, they just do more so now, death having a way of laundering the sins of our past in the popular imagination.
Advertisement – Continue Reading Below
Among the more high profile mourners who shared fond remembrances of Onfroy were a who's who of the music world. "rest in peace 🙏🙏🙏 I never told you how much you inspired me when you were here thank you for existing," tweeted Kanye West. "The two leaders of this entire wave of hip hop are dead now . If you really want to revil in their deaths I will block you. No time for negativity," said Diplo. "I'm at a loss for words… speechless #RIPXXXTentacion Loved collaborating with you. You were a true artist, one of the most fucking talented of our time 💔💔💔," added Travis Barker.
Miley Cyrus tweeted a picture tribute, before quickly deleting it, perhaps thinking better of the message that mourning the loss of an abusive man like this would send to her fans.
What's different in Onfroy's passing is that, aside from the tributes, it's also served as a moment of a kind of catharsis for others who weren't so charmed by his words and weren't so quick to overlook his crimes.
Somehow this turned into do rapists deserve to die and the answer is yes.

— Kay (@KaylarWill) June 18, 2018
Advertisement – Continue Reading Below
Advertisement – Continue Reading Below
Where were all of these "y'all gotta show some empathy" tweets when he said he beat a gay guy half to death for looking at him?? Where was the "pray for her" tweets for the girlfriend he assaulted? Y'all are fucked up hypebeasts

— elexus jionde. (@Lexual__) June 18, 2018
In regard to the conversation we've been having in the wake of the #metoo movement, Onfroy's death raises another familiar question: Are we to flush the entire body of work of problematic, indeed even the criminally violent from memory? Are we to applaud the deaths of the Bad Men? You could very easily convince me that's a fair assessment. Others haven't been quite so sure.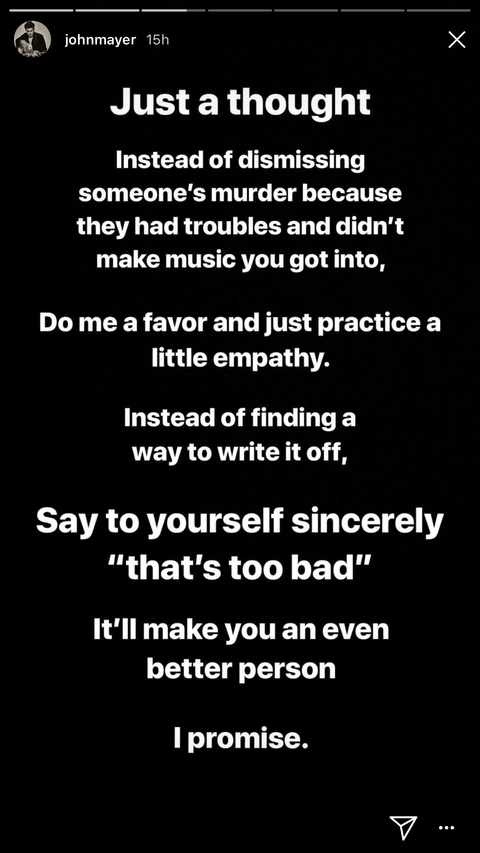 InstagramJohn Mayer
"Let me hit you with a thought experiment," John Mayer posted in an Instagram story last night in the midst of just such a discussion with his fans. "What if xxx had been tried in courts for his actions and was given the death penalty? Would that have seemed extreme to you? You sure?"
Kreayshawn shared a similarly introspective take.
"I was down to see X trialed and serve time," she tweeted. "Honestly the jokes about his death are disheartening. I'm an avid fighter against abuse and have done my fair share of defacing of his album advertising in the past but, all in all death is not an answer to a cycle homophobia and abuse."
There's a video being passed around right now, taken by a passerby seemingly from the scene of his murder taken. The camera moves up close to the car, taking in his lifeless body. They open the door for a better close up. This is probably going to be worth something, the person firmly likely thought. This is going to do numbers.
He's got a blue and white jacket on in the video. He's wearing shorts. His head is tilted back and to the left and a crowd has started to gather to deal with the end of his life. Some, like the police, appear to moving with purpose. Others don't know what to do.
Your reaction to any given celebrity's death will no doubt be graded on the curve of how closely you identified with their art or politics. This is fine, human beings are fallible and complicated after all. A terrible person can be responsible for transcendent art as we've been made painfully aware of in recent years. What we cannot continue to let death do is wash away that uncomfortable contradiction. It has to be wrestled with, by the individual in question, and by his fans. Sanitizing a person's biography posthumously isn't just a willful misreading, it's a way of pretending like the human being never existed at all.
Advertisement – Continue Reading Below