This story appears in ESPN The Magazine's June 27 Muhammad Ali issue. Subscribe today.
There really is no way in hell I can understand what Dan Gilbert is talking about. It's a little after 1 in the morning, we're on his private jet flying from Cleveland to a small airstrip in Pontiac, Michigan, and he's trying to explain quantum physics to me.
We're on the smaller of the two private planes that Gilbert, the billionaire owner of the Cavaliers, uses to arrange for his friends and family to commute from their homes in suburban Detroit to Cleveland for Cavs games. "You ever heard of entanglement?" he asks. "There's these particles that are entangled. And you can separate them, by a foot, by a mile, by a million miles, by a billion miles. But when you turn one of them clockwise, simultaneously, the other particle will go the opposite direction.
"It's proven science. Einstein called it 'spooky action at a distance.'"
Gilbert laughs. It's fun to use "spooky action at a distance" as a real scientific term!
If it sounds absurd, that's how this whole night has been. A few hours ago, Gilbert and I were talking after the Cavs' 108-89 win over the Raptors in Game 2 of the Eastern Conference finals. I was asking him what he believes in, about business and politics and decision-making, and he kept saying I needed to visit his hometown of Detroit if I wanted to understand what he's about. But not just sometime. Right now. Let's go! Detroit, he said, is where he's making his mark on the world by buying up abandoned buildings and rehabilitating them.
So I agreed to go. And so now we're on the plane and he's unintentionally come up with the perfect metaphor, based in quantum physics of all things, to describe his relationship with LeBron James. This is how he rolls.
"Go read about it," Gilbert says. "If the Big Bang is true, that means everything that came out of it, all of the particles, all of us, there is a scientific force that connects it all that we don't really know about."
The Big Bang between Gilbert and LeBron came in 2010, when LeBron announced he was leaving Cleveland to play for the Heat and Gilbert responded with that infamous scorched-earth, Comic Sans-fonted letter in which he cursed LeBron and turned himself into an irascible caricature.
"Everyone in Ohio thought it was great. Everyone in our country thought it was insane," says Gilbert, 54. "That's one of those things you write that you shouldn't hit the send button until you read it [again] the next morning."
---
UNTIL ABOUT FOUR days earlier, Gilbert and I really didn't know each other. But again, this is how Dan Gilbert rolls. And that yes-first, worry-about-fallout-later style is a key reason Cleveland is about to become the center of the known universe for the next six weeks as it hosts both the NBA Finals and what promises to be one of the most watched Republican National Conventions in history from July 18 to 21.
In 2014, in his zeal to promote Rust Belt renewal, Gilbert offered his Quicken Loans Arena — with LeBron's home court and locker room inner sanctum at its core — to be rearranged for what is now Donald Trump's coronation. Moving all those walls, repainting, laying all that new cable … it normally takes six weeks. But the GOP doesn't have that much time this year because of the NBA Finals. Which means that the instant LeBron and his teammates either do or don't win a title, they'll need to pack up their stuff and clear out to make way for the Trump party.
It's a confluence of events and excitement that almost never happens in Cleveland. For the past six decades or so, the civic narrative has been one of decline and disappointment. Businesses left, jobs dried up, sports teams kept losing in ever more excruciating ways. But this is one of those rare moments when the city dares to imagine things working out.
The potential for another sporting heartbreak remains, of course. The Cavaliers have lost the first two games of the Finals by a combined 48 points. The potential for chaos this summer is obvious.
And Gilbert and LeBron, two of the men who will play large roles in determining how this ends for Cleveland this time around, remain entangled in their own sort of spooky action at a distance.
---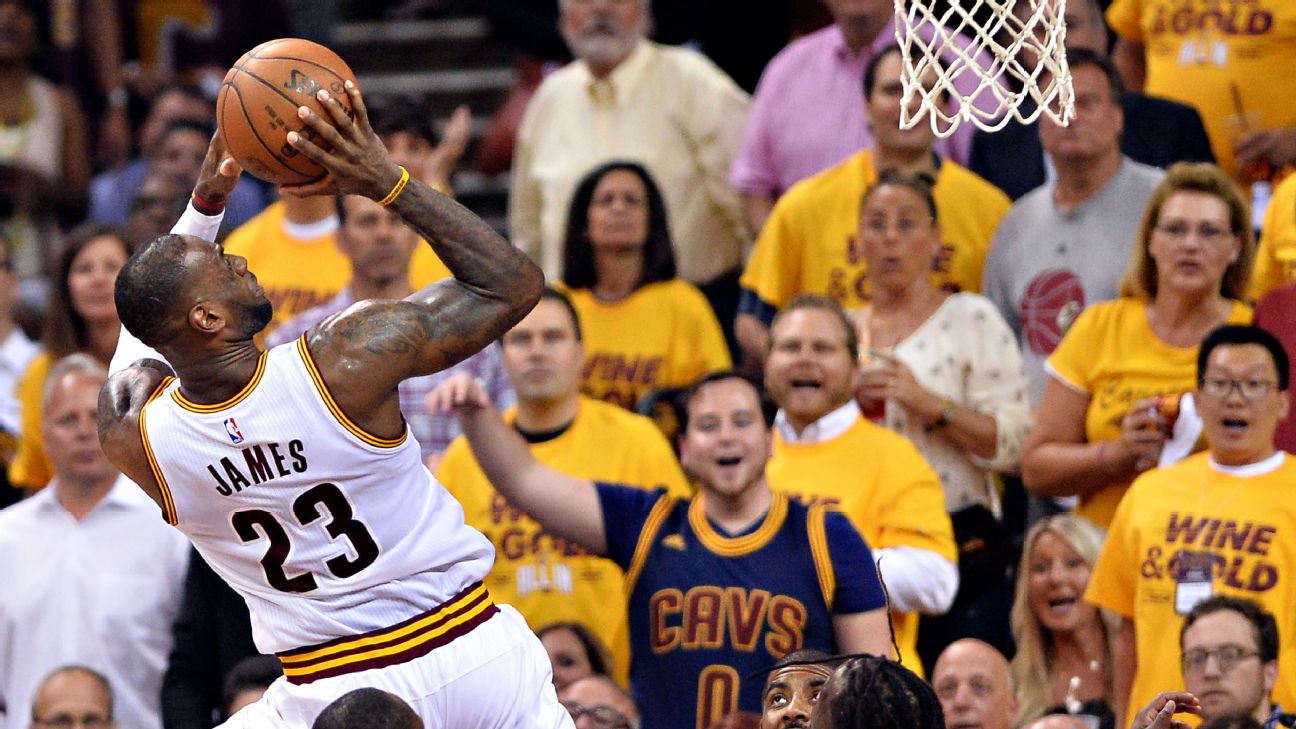 THEY ARE NOT at all alike, these two men. LeBron is a 6-foot-8, 250-pound athletic phenomenon. Gilbert is 5-6ish with a Napoleon complex. LeBron is nonconfrontational and famously passive-aggressive. And "I'm just aggressive-aggressive," Gilbert says with a laugh.
Since LeBron returned to the Cavaliers in 2014, he and Gilbert have learned to coexist. But their alliance seems circumstantial. They'll exchange pleasantries when they see each other and occasional text messages. Mostly they move in their own orbits.
Asked to describe the state of their relationship before Game 2 of these NBA Finals, LeBron says, "I think it's been very good. At the end of the day, we have the same goal, and that is to bring a championship to Cleveland. That's all that matters."
If he had stopped there, that would've been that. But LeBron has rarely backed away from a moment to remind people of his past with Gilbert. "I think he's the owner of the team," LeBron continues. "I'm just one of the players. One of the 15 guys. I'm one of the lower guys on the totem pole, so I just do my job. I'm just here to work."
It was the kind of cryptic statement LeBron usually saves for a subtweet. A way of suggesting something without it sticking. In this case, the suggestion seems to be that Gilbert will always see LeBron as an employee. Someone who works for him. Certainly not a self-made one-percenter in his own right, someone who can get Warren Buffett on the phone just as quickly as Gilbert can.
---
IT ALL GOES back to The Letter. For Gilbert, it was "one bad night," he now says, a "short fuse type of thing." In business, you get over it and move on. Grudges aren't productive. "If something goes wrong, are you going to hate [someone] forever?" Gilbert says. "That's not a great way to live. Nobody's perfect, right?"
For LeBron, though, the letter will always matter. It's hard to describe its vitriol without quoting it: "This shocking act of disloyalty from our home grown 'chosen one' sends the exact opposite lesson of what we would want our children to learn," Gilbert wrote in 2010. "But the good news is that this heartless and callous action can only serve as the antidote to the so-called 'curse' on Cleveland, Ohio."
"At the end of the day, we have the same goal, and that is to bring a championship to Cleveland. That's all that matters."
– LeBron James
Gilbert cringes when he hears his words now. He says he regretted publishing it when he woke up and read it the next morning, but by then he'd gotten thousands of notes and emails from people in Ohio who thanked him for sticking up for them. "Surgeons from the Cleveland Clinic, street sweepers, cops, 90-year-old ladies," he says. "The old ladies always handwrote their letters. I still have them."
The Letter was still up on the Cavaliers' website on Sunday, July 6, 2014, when Gilbert secretly flew to Miami to see whether he and James could find a way to work together again. Each man apologized for his role in the fallout. And while neither would forget what he'd said and done to the other in 2010, coexisting and working toward the same ends seemed like a bar they could clear. Afterward, James flew to Las Vegas to host his annual Nike camp while Gilbert headed home and then to the Allen & Company media finance conference in Sun Valley, Idaho.
On Tuesday, July 8, came a bombshell: The Republican National Committee announced that Cleveland had beaten out Dallas to host the 2016 convention. It was a validation for the city and potentially a windfall. The 2012 Republican convention in Tampa, Florida, had generated an estimated $400 million in economic impact.
In the months leading up to the RNC's decision, Gilbert had played a key role in Cleveland's bid by offering up Quicken Loans Arena as the host site and agreeing to the condition that the building could be ready to host by the end of June. The two major parties typically hold their nominating conventions much later in the summer. But the RNC wanted to move things up in 2016 for strategic reasons. Federal election rules hold that individuals can contribute up to $2,700 to a candidate during the primary campaign and $2,700 during the general election campaign. The sooner the convention, the sooner campaigns can dip into general election contributions. The other finalist, Dallas, had both an NHL and NBA tenant and wouldn't commit to the June date, lest one of its teams was still competing. That was less of a concern in Cleveland, with the Cavs coming off four straight losing seasons. Gilbert told Cleveland's committee organizers that he would do whatever it took to get Quicken Loans Arena ready in time.
"It was less about the actual plan itself and more about the fact that Dan was willing to do it," says Matt Borges, the head of Ohio's Republican Party. "These other cities were making it seem to the RNC like, 'Yeah, we'll take you. Just figure out what you want to do, and then let us know,' and Cleveland was like, 'What do we need to do to make it happen here?'"
There was just one little problem no one saw coming.
---