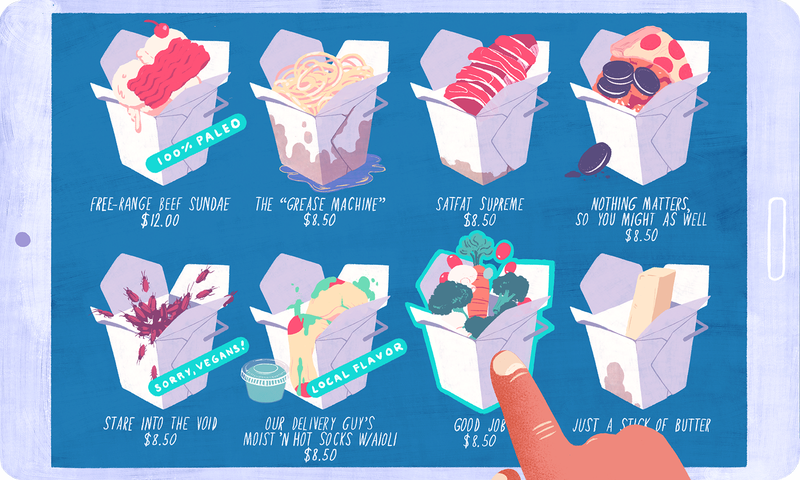 Illustration by Angelica Alzona
Sometimes, after a long, soul-crushing day at work (or when you're staring down an impossible hangover), the last thing you want to do is cook. You'd much rather fire up Seamless and order from your favorite local restaurant, where someone else will prepare the greasy food you think will make you feel better. Then it will be delivered directly to your door, so you can retreat to your couch and scroll through Netflix in sweatpants. This is heaven. This is the dream.
But occasionally diet guilt creeps into the equation. Your gut screams: God, pulled pork nachos sound good. So does an entire pizza! But should I? The answer is yes, yes you should. Well, okay, maybe only sometimes. You can't always have pizza and 'chos—life is about balance. While one glorious meal of sesame chicken and fried rice isn't really going to tip the scales, you can probably do a better job of ordering somewhat healthier takeout—especially if you're the type to do it more than once a week.
No, that doesn't mean ordering from the bougie organic place with $17 avocado toast. Cravings need to be catered to—that's why you're ordering delivery to begin with—but getting at what most of those cravings come from is key. What you're usually looking for when you scroll Seamless are certain flavor profiles or textures—you may want something fatty and hot, or crunchy and salty, or spicy and rich. Or just doused in a sauce of some kind. You should have those things. However, there's value in knowing what to order and what to avoid—what we're looking for is the delivery that you won't regret eating immediately after it's all done.
Indian
Saag paneer translated is "spinach cheese," and is easily mistaken as healthy because, well, it has spinach in it. Saag paneer is not a bowl of spinach. It's a bowl of cheese and cream with a couple handfuls of spinach for good measure. It's obviously delicious, but heavy cream isn't exactly a dietary staple—and some of the more popular traditional Indian foods that have made the crossover to delivery staples are loaded with it. (That's why they're so good.) The key to navigating your Indian delivery menu is steering clear of those cream-based dishes and curries—like chicken tikka masala—that have such a strong cream or oil base that you can see the layer of fat floating on top of the bowl.
What You're Having: Instead of the daal makhani or saag paneer try the chickpea chole or chana masala (tomato-based without the cream). Since India caters to a lot of vegetarians, most of the bean dishes are packed with the same flavor, but are a little healthier. You don't have to go crazy either. Straight up regular daal—the savory stewed lentil staple—will hit all your favorite delivery notes: it's salty, has a touch of spice, and a consists of a flavor profile you definitely can't replicate at home. Oh, and ask for the dry tikka masala or tandoori chicken—the same exact flavors you know and love in the meat curries, just via a dry rub instead of wallowing in a pool of refined butter.
Thai
With a focus on fresh vegetables and lean proteins, Thai is arguably the most health-friendly takeout. But there are still a few caloric land mines to watch out for. Remember: A large, deep fried spring roll will be loaded with calories and fat, where summer rolls offer the same packaging and are typically fresh veggies in a rice paper wrapper. You probably have a crunchy hippie friend who swears by the health benefits of coconut oil and coconut milk, but it's ridiculously high in saturated fat—and a lot of Thai curries use coconut milk as a base. So if you're splitting with a friend, just get one coconut-based curry.
What You're Having: Summer rolls, a papaya salad, and grilled chicken satay are good starters—or even a meal when combined. As far as entrees go: shrimp is a good bet since it's lightly sautéed instead of tofu, which soaks up all the oil it's being cooked in. A cashew chicken dish is a great way to get healthy fats in, and feel full after eating a reasonable amount. You might be dying for some fried rice or hefty noodles, but the Thai versions are swimming in oil just like other takeout fried rice—opt for steamed rice noodles instead of stir-fried.
Chinese
Chinese restaurants are the kings of takeout comfort food. Sesame chicken! Egg rolls! General Tso's! Crispy duck! Every time I order Chinese food I want to order everything on the menu. They have mastered the art of frying all the foods, from fiery tofu to sweet and sour pork.
What You're Having: This gets tough. You're ordering Chinese food because you want that salty, MSG-laden flavor that pairs so well with ice cold shitty American beer. Balance things out by ordering a boatload of sautéed vegetables and brown rice instead of your favorite fried variety. Chinese broccoli with garlic is one of my staples that makes me feel better about the three egg rolls I inhaled first. Eggplant or Bok Choy in spicy garlic sauce has the same flavor profile as your favorite fried Szechuan snacks. And you can always go the weight lifter bro route and swoop on some steamed veggies. Otherwise, a wonton soup delivers dumplings, has a relatively low number of calories, and is filling enough that you might not even want more than a couple of bites of something else.
As far as proteins go, you can mention that you're looking for a lightly fried version of their main dishes. Shrimp, chicken with veggies, and the go-to beef and broccoli will satisfy your need for meat, without being overbearingly fatty or sodium-heavy.
Mexican
Some people will tell you that Mexican food does not travel well. They're wrong. Guacamole? Never disappoints. Queso? Unless there's a snowstorm (in which case: tip well), it arrives molten hot, and that layer of rubber skin on the top stirs away quickly. Tacos? They might not be as perfect as they are piping hot at the taqueria, but that Al Pastor will be equally satisfying in the comfort of your own home.
What You're Having: It fills me with pain to say this, but: no nachos. Ceviche—which is a medley of fresh vegetables, shrimp/fish, and citrus—is a great substitute for a full plate of chips and toppings. Also, try to skip the sour cream. (Use Greek yogurt if you have it in the fridge.) A salad that isn't smothered in some sort of southwestern ranch (and served in a fried tortilla), is a good side.
Scope out the proper traditional Mexican spot in your neighborhood and stay away from the queso smothered Tex Mex emporiums. One serving of cotija—the crumbly, salty Mexican cheese—has about the same amount of calories as cheddar (apx. 100 calories) but double the sodium, so don't be fooled. Queso should be saved for times that you've actually earned it.
And under no circumstances are you ordering a ground beef chimichanga. Stick to tacos that aren't heavily pre-sauced or loaded with sodium (al pastor, carne asada, or any sort of skirt steak fajita situation) and shrimp or fish (so long as it's not deep fried). Corn tortillas are always better than flour tortillas, even in taste.
Diners and Delis
Whether it's diner food or a quick deli sandwich with a bag of chips, you can load up on a day's worth of calories and a week's worth of fat in one sitting. Italian heroes that are piled with four kinds of meat, club sandwiches stacked so high they tip over, and an ice cream scoop of coleslaw are what make this country great. But you can get all of the pleasure of a classic sandwich, without the meat sweats. No, you don't just have to order a sorry diner salad—iceberg and limp, out-of-season tomatoes covered in Thousand Island dressing has no nutritional value anyway.
What You're Having: Sandwiches with lean proteins (fresh turkey or tuna) that aren't slathered in mayo. Skip the ciabatta roll or hero and opt for rye, whole wheat, or whole wheat sourdough if they have it. If you're familiar with the place and know they douse their sandwiches in chipotle ranch, ask for it on the side. Remember, sandwich artists will LOAD UP bread with enough meat for an entire picnic. Either ask them to go light on the meat or do as an anonymous Deadspin editor does, and peel off some of that meat you paid for and save that shit for later! If you're feeling crazy you could swap out the meat for eggplant or avocado.
Here's another idea—order a salad as a meal. I know this is not ideal, and I know that salads can easily be assembled at home. But you're lazy, and this is why we are here to begin with. Get a salad. Make sure it's spinach or mixed greens, not romaine—and load it up with healthy proteins like hard-boiled eggs, chickpeas, beans, or tuna. I love deli meats and bodega sandwiches, but be weary of defaulting to a sandwich every time: those processed cold cuts—ham, turkey, salami, all of 'em—are packed with sodium and nearly as much sugar as a bowl of cereal.
Pizza
Ah, yes, pizza. A cuisine that all adore, and many Baby Millennials (those born after 1989) rely on to define their entire lifestyle. Liking pizza isn't notable. No one cares. You know why? Pizza is awesome. Everyone likes it.
What You're Having: Go for thin crusts: a New York style pizza, or those super thin wood-fired pizzas that are not nearly as doughy or buttery as deep dish or thick crust. The reason that pizza is great is because almost any pizza is still good—as long as you've got the combination of bread, cheese, and sauce, there's no getting this wrong. Be an adult and order a salad with your pizza instead of cheesy breadsticks or garlic knots to get some nutrition. You'll enjoy the contrast it brings.
And while you're at it, chill on the meats? No need to get the bacon, pepperoni, sausage, pancetta, speck, prosciutto Cardiac Arrest Pie. Vegetables are good on pizza. Give it a try, you might actually like it.
Bill Bradley is a writer and reporter living in Brooklyn. His work has appeared in GQ, Men's Fitness, Runner's World, Vanity Fair, and many others. Follow him on Twitter @billbradley3.