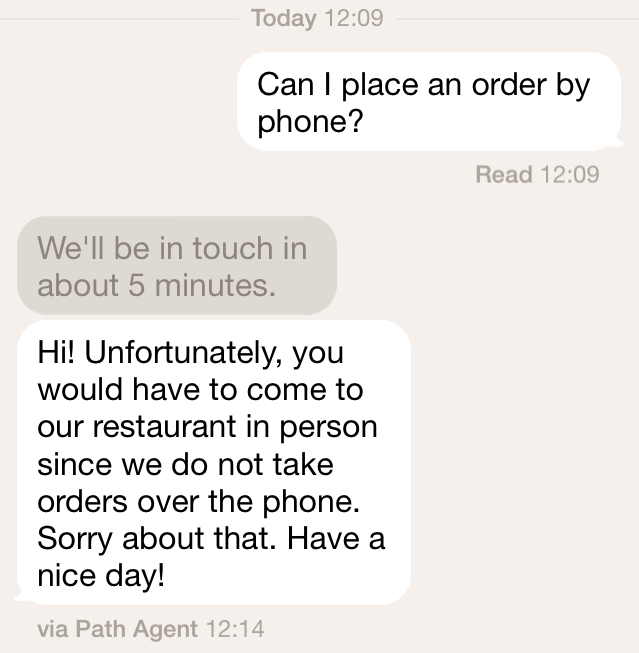 This week, I downloaded a new iPhone app, Path Talk, and I texted actual questions to local businesses near where I live in Oakland, California. In some cases I got answers back within minutes, but most took longer, even over an hour. Nevertheless, it was almost like magic.
Without interrupting my work day, I learned some crucial information about my favorite East Oakland taco truck (Tacos Sinaloa): "Can I place an order by phone?"
"Hi! Unfortunately, you would have to come to our restaurant in person since we do not take orders over the phone. Sorry about that. Have a nice day!"
Although it's my job to regularly be on the phone as journalist, it's no secret that I prefer to be reached by e-mail. In fact, my voicemail tells my friends, family and professional contacts alike that it's often faster to reach me by e-mail. And it's true! Like a lot of people, my smartphone is within arm's reach nearly all the time, and while I can't always take a phone call, I can frequently e-mail—and when I can't e-mail, I can at least text.
Secret Path Agent Man
Part of why we all hate phone calls, particularly to businesses of all sizes, is that often times we have to face those dreaded phone trees and god awful hold music—especially when all we need to know is something really simple: when do you close? Do you still have this special beer in stock? Can you set it aside for me? Do you deliver?
Enter Path Talk, a messaging service for Path users—think Facebook Messenger or whatever your preferred chat app of choice is. Path Talk now allows you to send a text message (not an SMS per se) within the app that gives you the illusion that you're texting with your favorite coffee shop or bar across town. So while you need a free Path account to use Path Talk, you don't actually have to use it—eg, like me. Just select the "Places" button in the lower right part of the app and you'll be off to the races.
You type out a message, just as you would in any messaging app, but you can ask a direct question. Here are actual questions that I asked in recent days: "Can I place an order by phone? When does the new airport connector open? Are you showing the A's playoff game tonight?" The app, and all queries, are free.
Path, for the uninitiated, is a social network that by definition is limited to 150 people. It gained some limited infamy back in 2012 after a user in Singapore discovered that the company was automatically taking users address books and uploading them to their servers. Eventually, the company changed its practice and settled for $800,000 with the Federal Trade Commission.
The San Francisco-based startup employs actual humans (dubbed "agents") who call these businesses on your behalf, and then text you back a response. It's pretty much as magical as it sounds, particularly when answers come back within minutes. But sometimes agents either forget or get overwhelmed, and you have to remind them what's going on.
"One moment please."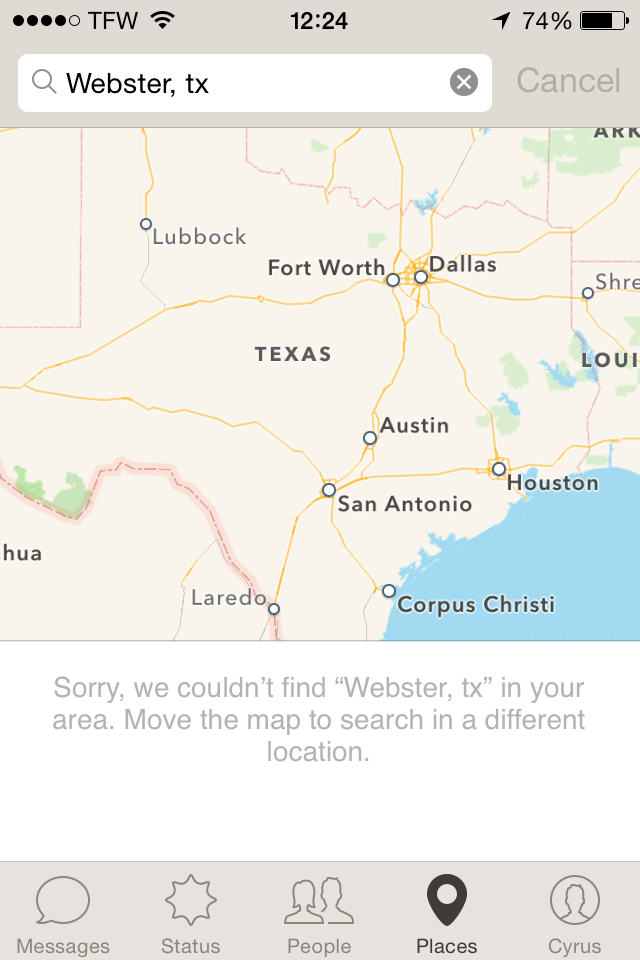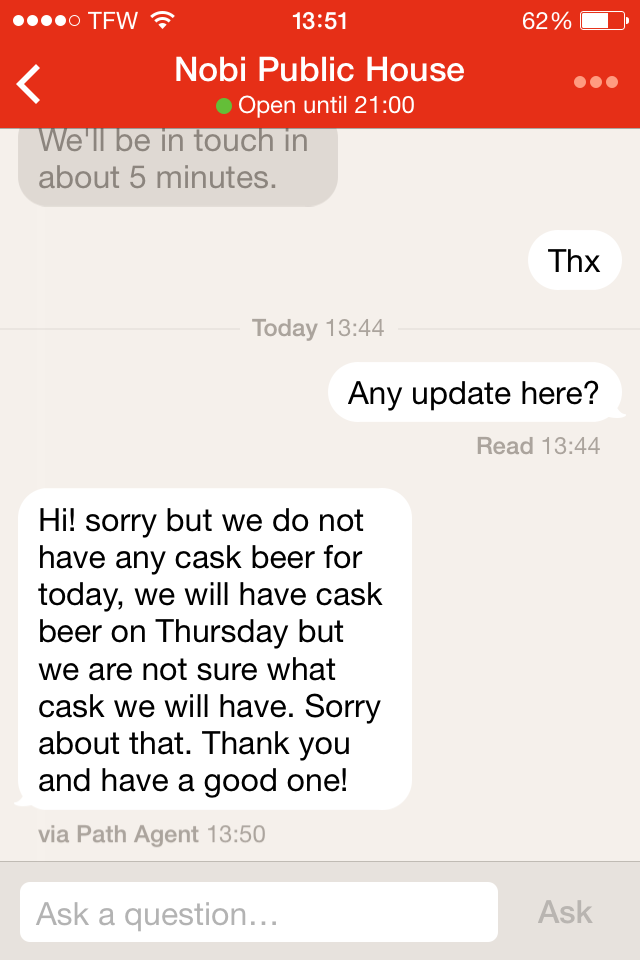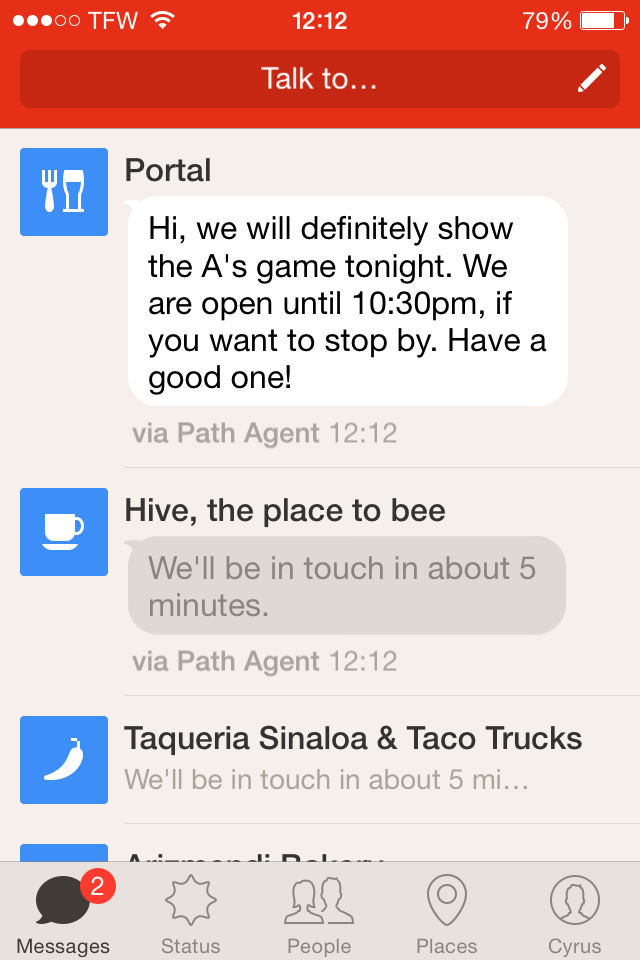 After texting the taco truck, I tried a well-known Oakland pizza place, Arizmendi, which famously only has one type of pizza per day.
"How long is the line and what is the pizza today?"
I got no response from Path. I tried again 10 minutes later: "Any update?"
A response came back nearly instantly: "Hello! What update you want to ask for Arizmendi Bakery?"
I repeated my query: "How long is the line and what is the pizza today?"
Just a moment later: "One moment please." And about five minutes later, I got this back:
"Hello! We don't see anyone in the line right now, however, varies from minute to minute. Our pizza for today is composed of roman tomato, provolone cheese, roasted garlic, mozzarella cheese and garlic olive oil for $21.80. If you wish to drop by, we are open until 7:00 pm today. See you and have a great day!"
Ars IT Editor Lee Hutchinson asked me to try something more obscure, and outside of the Bay Area, a beer bar in Webster, Texas called Nobi Public House.
At first Path Talk claimed that that this business didn't exist. Then I added "Webster, TX" at the end of my search. Nothing. I even searched for Webster, TX, which Path Talk also couldn't find. I was confused. Was this really only limited to locations near me? Or in the Bay Area?
It took me a few minutes to realize that Path Talk appear to limit its database search to a geographic region that you have pulled up in the map within the app. That's probably going to be an area near you, if you have your GPS turned on. But, you can scroll the map to wherever you want. Once I moved the map directly over the Houston area, and I searched again, it found Nobi in its list with no problem.
"What cask beer is on tonight?"
"We'll be in touch in about 5 minutes."
An hour went by and I heard nothing.
"Any update here?"
"Hi! Sorry but we do not have any cask beer for today, we will have cask beer on Thursday but we are not sure what cask we will have. Sorry about that. Thank you and have a good one!"
We were sold: Lee, who had planned on going to the bar on Wednesday, changed his plans to Thursday as a result.
After playing around with the app for a bit, it seems that only businesses in the US and Canada are supported for the time being.
But Cynthia Samanian, a Path product manager, told Ars that the company aims "to expand internationally down the road." She also said that "on average you can get an answer in 5 minutes"—but that wasn't my experience.
As a last resort, I even tried asking one of the Path Talk agents if I could interview them, leaving my name, number and email—they never responded. This app's a keeper.