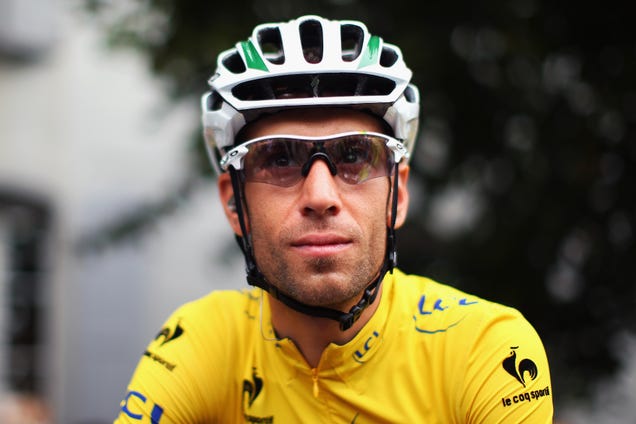 In a Tour De France marred by crashes, hostile weather, and high-profile abandonments, Vincenzo Nibali never fell off his bike. Most riders tend to hit the deck at least once, given the distance and variability involved. The Tour spanned 3,653 kilometers across four countries and dozens of different riding surfaces including cobbles, and Nibali stayed upright the whole time.
The race can only be won in a few key places like time trials or summit finishes, but it can be lost anywhere. All the other pre-race favorites lost it somewhere. Contador fell on a descent, Froome got bumped into too many times, Andrew Talansky took a poor line on a sprint, and all were forced to abandon. But Nibali didn't just not lose the race. He took it to the field, biting out large chunks every day until he consumed all challengers and won by 7:37, the largest winning margin since a Texan won the 1999 Tour by the same time difference.
The margin wouldn't be so gaudy had Contador and Froome stuck around, but Nibali didn't simply inherit this Tour. He raced the everliving shit out of it, and almost carried the yellow jersey wire-to-wire. On Stage 2, when everyone was still around, Nibali went clear with a brilliant solo attack in the last two kilometers and time trialled his way into yellow. It was a stage full of short, stabby climbs, not the steady ascents the Tour typically favors. The time Nibali picked up was trivial, but it was clear from the second day that the Italian was here to race, not bide his time. When they crossed the pond back to the continent, he balled out on the cobbled stage, gapping rivals and specialists both. Neither type of stage typically stokes attacks from contenders. It's easy to find yourself on an island if you attack haphazardly while rivals have support. Also, the yellow jersey's team is typically responsible for playing defense and chasing down moves from the peloton and you don't want that elastic to break. Nibali and Astana inverted the dynamic and forced any challengers to track his movements. Nobody could. He raced the early Tour mercilessly and with aggression.
It was the tactical opposite of the dour, controlled racing we've seen from Team Sky as they've dominated the past two Tours. As a fan, aggressive racing is a lot more fun to watch, the same way attacking soccer is more fun. Winning a bike race requires patience and reliance on teammates. Sprinters spend the whole race tucked away in the peloton behind their lead out, only to show their heels in the last 300 meters. Chris Froome won last year's Tour by staring at his bike computer and doing what it told him. Cycling is already boring as it is, and when the inevitability of Nibali's victory became clear early on, many feared another processional affair.
But Nibali kept on attacking, even when he didn't have to. He took his opportunity to win the Tour and stomped out one of the most dominant races of the modern era. Stage 9 saw a massive breakaway allowed to dangle off the peloton and finish ahead of the contenders. Astana were vocal about wanting to relinquish the yellow jersey for a bit, so they could let someone else deal with policing attacks. Frenchman Tony Gallopin finished in the Stage 9 break and took a 1:34 lead into Bastille Day. Nibali was cool with letting the jersey, which he'd held since Day 2, go. But instead of sticking to the script and resting up for the Alps and Pyrenees, he stormed away from the field and won the next day's stage, taking the maillot jaune and never giving it back.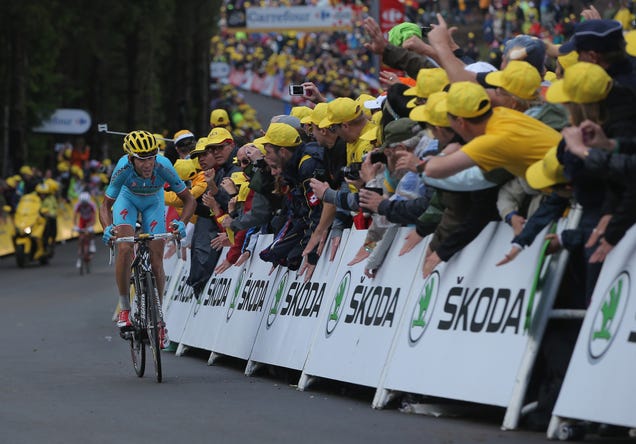 Nibali went on to win two more mountain stages, and finished ahead of his rivals on every single summit finish. Nobody could touch him and he didn't give anyone the chance. He became the first Tour winner to win four road stages since Eddy Merckx won seven in 1974. There was no narrative intrigue as to who would win or one signature performance to point at as the moment he won the race. He was there every day, not falling or falling behind, not ever loosening his grip. Nibali didn't ever really seem to be racing with or against anyone. He would run the same course as every rider, but he did it so much better than all opponents. Where others fought their machines and struggled with the inhuman demands of the Tour, Nibali floated through, unbothered and unblemished. His win made him the sixth cyclist of all time, and second of the modern era, to win all three grand tours.
Where Nibali was infallible, the race for other top 10 places was brutal and intriguing. A succession of riders challenged him only to end up crumpled. With Nibali off inventing new colors, the racing turned inward and the best of the mortals fought amongst themselves for podium spots. Because many top riders avoided this Tour so they wouldn't have to tangle with Froome, Nibali, and Contador, the field was missing a few A-listers. But French riders don't skip the Tour. There hasn't been a Frenchman on the podium since 1997. France has won a World Cup more recently than they've put a rider on the podium of their home race. There have been near misses, most recently Thomas Voeckler's heroic 2011 fourth place, but the French have been impatiently waiting for the heir to Bernard Hinault for two decades. The lack of genuine competition for Nibali made way for French riders to fill the gaps.
Nibali's Italy has also had plenty of anxieties about national cycling success in the recent past. The Giro D'Italia used to be an Italian showcase, but the race started to become a bigger deal and more top riders challenged for the best trophy in sports. Michele Scarponi and Danilo Di Luca looked to carry the banner for Italian cycling through the 2010's, but both broke down quicker than expected. Nibali's ascendance and Fabio Aru's podium at the Giro are signs that Italians could reach the heights of the Pantani and Simoni again soon.
While not of the same magnitude, Jean-Christophe Peraud and Thibaut Pinot getting on the podium has a redemptive value for French cycling. Americans and Spaniards have dominated the Tour for three decades and the host country has felt more like backdrop rather than participant. Pinot and Romain Bardet both looked poised and aggressive this race, and will get to captain good French teams for the next few years. Peraud is a shock at second place. He was an Olympic mountain biker and part-time civil engineer who raced and won the 2009 French national time trial championships on a whim. He turned that result into a pro contract and churned out a few years of solid results, including a top 10 at his first Tour. AG2R La Mondiale brought him to this year's race as a lieutenant for Bardet and Christophe Riblon, but Bardet was ground down in the Pyrenees while Peraud resisted, despite never scouting the climbs as other competitors did.
The race missed its stars, but in the rubble of Contador and Froome leaving, Italy and France found varying degrees of long-awaited redemption. Every Tour is different. The last few editions have been about stars battling it out or the field trying to collectively crack one superstar from the jump. This race was a smaller version of both those things, somehow more quaint and more sinister than any other this decade. The first Contador vs. Froome vs. Nibali Tour fell through, but instead we got to witness one of the most dominant Tours ever and the French finally succeeding at cycling. And it doesn't really stop here. Froome and Talansky will both likely head to the Vuelta A Espana looking for late-season success. They will join Colombian stars Nairo Quintana, Rigoberto Uran Uran, and Carlos Betancur for the weirdest of the Grand Tours. It looks a race between eras of cycling and continents, but as this Tour went out of its way to show, it'll probably turn into something nobody expects.
---
Patrick Redford lives and writes in Oakland, Calif. Bug him on Twitter @patrickredford.
Photos via Getty