The storm packing 145-mph winds had already killed at least three people, caused cruise ships to change course and prompted the governors of Florida and North Carolina to declare states of emergency.
At 2 a.m. ET Monday, the Category 4 hurricane was plodding along at about 8 mph and was about 60 miles south of Tiburon and 165 miles away from Port-au-Prince, Haiti's capital and largest city, the US National Hurricane Center said.
Ferocious rain and wind already had begun to thrash Haiti. Haiti's Civil Protection Agency reported the coastal towns of Anse-d'Hainault and Tiburon had partially flooded. Up to 40 inches of rain could be dumped on the impoverished nation — one still recovering from a devastating earthquake that struck six years ago.
"This rainfall will likely produce life-threatening flash floods and mudslides," the hurricane center said. "Preparations to protect life and property should be rushed to completion."
As Matthew started to drench Haiti with dozens of inches of rain, Cuba, the Bahamas and the United States took steps to prepare for the storm's arrival in the coming days.
Death toll rising
Three people have died because of Hurricane Matthew within the past week, authorities said.
In Haiti, Guillaume Albert Moleon, director of communications for the Interior Ministry, said one fisherman died on Sunday. A second fisherman is presumed dead, but his body has not been recovered.
In St. Vincent and the Grenadines, a teenage boy died in a landslide as he was cleaning a drain behind his house, according to Michelle Forbes, deputy director for the National Emergency Management Office. The boy died Wednesday after storms from Matthew passed over the island.
The hurricane could cause further devastation for Haiti as much of the country's infrastructure
remains weak
after the 2010 earthquake that killed more than 200,000 people.
John Hasse, the humanitarian aid agency World Vision's national director in Haiti, said 400 workers were there ready to help rural residents whose poorly constructed houses could be leveled by the storm.
The number of people who have sought refuge in shelters in the southern and west parts of Haiti now stands at more than 6,400, Civil Protection tweeted.
After the storm clears Haiti, standing water would likely continue to plague the nation, Hasse said. Haiti continues to recover from a post-quake
cholera outbreak
that killed another 10,000.
"That means a potential spike in cholera cases," Hasse said. "Other mosquito-borne diseases that have been more or less controlled are going to rear their heads."
Collision course for Cuba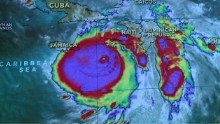 After passing through Haiti, forecasters expect Matthew to churn toward eastern Cuba, where it is expected to make landfall Tuesday afternoon. The storm could dump up to 20 inches of rain in some isolated parts of the country.
The United States, taking no chances, this weekend began to airlift 700 family members of military personnel stationed at Guantanamo Bay to Florida. Essential military personnel along with 61 detainees, who the United States is holding prisoner as alleged enemy combatants, will not be evacuated, officials added.
The US government followed with a travel advisory warning Americans in Cuba to find immediate shelter if they haven't already made travel plans.
From there, Matthew would take a "prolonged trip" toward the Bahamas that's expected to last through Thursday afternoon, Ward said. It would then turn toward the US while losing some of its strength, dropping down to a Category 3 with 120 mph winds.
Coming to America
Over the weekend, meteorologists had predicted Matthew would largely miss the US. But the latest extended forecast now shows that the hurricane has made a westward turn toward the US East Coast.
Florida Gov. Rick Scott has declared a state of emergency for the entire state. CNN forecasters predict the storm could hit parts of Florida starting Thursday night.
"If Hurricane Matthew directly impacts Florida, there could be massive destruction which we haven't seen since Hurricane Andrew devastated Miami-Dade County in 1992," Scott
said
in a statement. "That is why we cannot delay and must prepare for direct impact now."
Taking advanced precautions, North Carolina Gov. Pat McCrory also declared a state of emergency for more than half of the state's counties.
Forecasters cautioned it was too early to predict how hard the hurricane would strike the United States.
But the potential threat was enough for Rick Knabb, director of the hurricane center, to fire off a warning to Americans.
"U. S. East Coast: find out today if you live in an evacuation zone," Knabb
tweeted
. "If so, decide where you'd go, how you'd get there if told to go."
CNN's Ralph Ellis, Radina Gigova, Faith Karimi, Joe Sterling, Joe Sutton, Patrick Oppmann, Salim Essaid, Michael Holmes, Lindy Royce and Eliott C. McLaughlin contributed to this report.