Pre-ramble: It's often pointed out how staggeringly unlikely it is for any particular one of us to have come about. This is commonly used as a reminder that we should make the most of our limited time as conscious beings. For my purposes here, I would like to point out that the chances of you're having been born a man/woman* are half that again. Your sex is a genetic accident and could just as easily have been different.

Male readers especially, please bear that in mind.
This 2700+ word article was provoked by an off-the-cuff sexist remark made by a total stranger on Facebook, who probably doesn't even believe what he said (though the real problem is not belief, but the attitutdes that these "jokes" perpetuate). From there, I go on to highlight some the problems facing women in science today, both in the real world and online. There is some swearing (there's a note about that right at the end, too). There are also some fabulous sciency nails.
With that said, on with the rage:
I fucking hate sexism in science.
Pardon my French… but the title of this article is not just an ineloquent expression of frustration at the "casual" mysogyny which seems to permeate our society, including the supposedly enlightened field of science, even today. It is also appropriate to my topic.
Now, I don't generally write very politically on this website**. By and large, I try to remain constructive, informative and – hopefully – entertaining from time to time.
However, I saw something online just now that has made me snap. There is a page on Facebook called "I fucking love science" (IFLS). In their own words, IFLS is
A community built for the posting and sharing of scientific updates, quotes, cartoons, jokes and photographs.
I really enjoy having my news feed broken up by what are usually beautiful pictures, insightful quotes, clever jokes and staggering discoveries about the natural world. It helps keep my jealousy of my friends' travel photos in check, and dilutes the volume of slacktivism and armchair politics I otherwise have to deal with/ ignore.
I don't usually need to click on the posts themselves, as they turn up in high-enough resolution on my news feed in the first place. However, I had to click to enlarge the picture below in order to see the detail in the nail painting. The beautiful artwork shows a right-angled triangle, along with Pythagoras' theorem (on the index) and the basic "soh-cah-toa" rules of trigonometry (ways to calculate a triangle's angles and sides). I was sad to see the comment made a couple of minutes beforehand. I have highlighted the comment and provided a helpful summary of my reaction.
Dedicates time and effort to express love of mathematics… gets sexist abuse.
This was by no means the only mysogynist comment in the thread, but it was the one I happened to come across at the time, and the worst in terms of being so explicit about women's alleged stupidity. Others suggested the artist might be trying to cheat on a test – to which yet others responded by wondering why a cheat would go to the effort of drawing in lines. I think saying "ha, creative way to cheat" is an OK level of joke, which people pointing out the lines just didn't get. That's just my opinion though, and it can be very hard to tell in these environments.
(Still others scoffed at the apparently wasted effort, sniggering at the use of "sen" on the middle finger. Other commenters came to the rescue by pointing out that "sen" is the Spanish/Italian/Portuguese/probablyafewothers for "sin", but let's not get started on the linguistics of international science!)
All this, when the header photo of the IFLS page looks like this:
With the accompanying post:
As you might have guessed from our new cover photo, this week we are having a 'Women In Science' feature. Every day, we'll be giving you info, history and quotes on some amazing women throughout history who have had their work neglected, or perhaps not received the recognition they deserved.

If you don't recognize any of the amazing women in our cover image – don't worry, we fully plan on fixing that before this week this over!
I'm ashamed to admit I only reocgnised 2 of them (care to guess which?). At least the other two names rang a bell, although I couldn't say what theyse women did, despite the background. There's probably something to be said for knowing (not just female) scientists' names because of their ideas, rather than what they looked like, but I'm not sure that quite holds here.
The irony is unfortunate, but even without IFLS' focus on women in science this week, it would still be shamfeul for such a comment to be made, even as a joke. I'm not usually one to engage in Internet arguments with strangers, but it's exactly that kind of attitude which enables sloppy thinking to go unchecked, further perpetuating the problem.
So, I felt compelled to write a response. This is what I wrote:
Click to enlarge and feel my diplomatic wrath.
If you can't see that picture properly, my comment says:
@ Stephen Gilchrist (three comments above at the time of writing, might be more by the time I hit enter): that's not particularly funny.

I would like to think that someone with the patience and dexterity to do something this intricate and dedicated for the love of mathematics would also be able to remember their trig for exams.

Meanwhile, your throwaway comment is sexist and perpetuates the myth that women are less clever than men, which helps no-one and has no place in modern society, let alone on a page about having passion for knowledge. One has to question the rationale behind such a comment – are you pleased that you think what you said? Or do you not actually think it? In which case, why say so? It's not a joke, it's just bullying.

I'm sick of this "casual" prejudice which goes unchecked so often.
Happily, this has had 9 "likes" at the time of writing (about an hour since I made the comment). I don't expect that number to rise much more, however, as the comment gets buried in the thread oer time – IFLS is a very busy page.
I could have left it there, but you know what? This stuff makes me mad.
Being a white European male, it's not often that I am the victim of prejudice. When I am, it's usually xenophobia. Indeed, I got called a putain de sale con d'étranger the other day by a grumpy local. However, the mild, immediate annoyance to me of being called that was more than compensated for when I replied in full-speed, accent-free, idiomatic, slang-ridden French that
I am deeply, truly sorry for having disturbed you and I will try very particularly hard not to do so again, but perhaps my being foreign has rather little to do with my having bumped into him ever so slightly.
I stopped short of pointing out quite how much the international community attracted to CERN likely contributes to the local economy. Also, I don't really consider myself terribly foreign in France, even outside of Alsace, so it was water off a duck's back to me.
So, you could question why I am getting upset at sexism directed at women. Surely I have enough problems to deal with? Well, I think I can safely quote Martin Niemöller here, without risking Godwin's Law kicking in too strongly:
First they came for the communists,

and I didn't speak out because I wasn't a communist.

Then they came for the socialists,

and I didn't speak out because I wasn't a socialist.

Then they came for the trade unionists,

and I didn't speak out because I wasn't a trade unionist.

Then they came for me,

and there was no one left to speak for me.
The fact is, sexism does affect me, because of its effects on both science and society***. If women (or, indeed, people) in STEM (or, indeed, anywhere) don't feel accepted for who they are, they're hardly going to want to stay, let alone be attracted there in the first place. Whether they like to paint their nails, have short hair, wear dresses, skip joyfully down the corridor, all or none of the above, should have no bearing on how their ideas are judged by the rest of the community. Indeed, if I feel like wearing a kilt, I don't see why people should assume I eat deep-fried Mars bars, nor what that would have to do with anything. This is the level of ridiculousness we're dealing with here.
There seems to be a particularly poor situation online, with prominent atheist/skeptic blogger Jen McCreight recently quitting the scene, citing sexist bullying on a terrifying scale.
I wake up every morning to abusive comments, tweets, and emails about how I'm a slut, prude, ugly, fat, feminazi, retard, bitch, and cunt (just to name a few).
This is not an isolated event. With critical thinking at the forefront of these groups minds, one would have thought there would be considerably less bulllying in these communities. But it turns out that where some people compartmentalise their minds to make their religion/delusion/conspiracy fit with their otherwise perfectly well-functioning intellects, some do so with their attitudes to women. To be frank, I'd prefer someone were a creationist who respects women (let's not get into that particular Venn diagram here) than an evolutionist who hates them.
We can't afford this kind of thing to go on.
Science, technology, engineering and mathematics (STEM) subjects are notoriously bad at both recruiting and retaining women in their career structures. Take psychology for instance, where undergraduate intake is strongly dominated by women, but whose senior academic staff are almost all men. The situation is even worse in physics and maths. STEM advocates worldwide are scratching their heads over this stuff, but it's hardly surprising given the prevalence of sexism generally.
It's not all about Marie Curie. Click for the rest of the comic at xkcd.
Women being put off studying/careers in STEM is bad, for several reasons****. It's bad for the women not getting into the careers, because these can be rewarding on many levels. It's bad for STEM, because we lose diversity. Worst of all, I think, it's bad for those women who go into STEM regardless, who have to put up with the sort of nonsense on display in the IFLS comments.
Those of you who are familiar with my blog (which is about 12 people, I'd guess) may have noticed that I've been including both men and women in my Science Shoeoff series, for example. In fact, as things stand, I've had more entries from men than women, which only serves to prove my point about there being more men than women in science. At least, that's what could be said if that trend continues as I get more entries; my "sample size" (the part of the population that is being studied) is still quite small. (Hint, hint.)
A few weeks ago, I also wrote about the apaprent gender stereotyping by the link-sharing website Stumbleupon, and the consequences the creation of such filter bubbles might have.
A still more notable example would be the reaction to a recent video published by the European Commission (no less), which sought to address the issue of motivating young girls to study science.
There was considerable backlash from many people who disagreed with the perceived message that women have to be stereotypically feminine in order to succeed in science. I'm told anecdotally that there is also tendency within science for even women who do fit that category not to be taken seriously by their male peers. It seems they just can't win!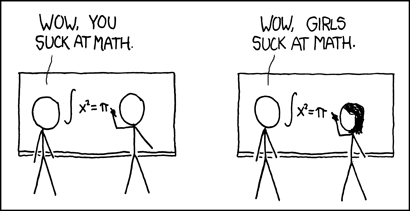 xkcd: annoyingly accurate again
There is some hope, however, in the form of projects such as "Science Grrl" in the UK, where a calendar is being created and will feature real women of science in research and similar situations. In the USA, there's Science Cheerleaders, highlighting the careers of women who work in STEM and are also professional cheerleaders.
These are just a couple amongst a number of projects. No doubt, there must be several more, but these are the only ones that comes to mind. Do you see the problem here? I'm engaged and a borderline activist, and I can only think of a couple such positive projects right now. Admittedly I've now been writing this post for multiple consecutive hours, so others might come back to mind once I publish this, and I will add them. Feel free to suggest any others you know of, too.Surely there should be some kind of database or list of these things somwhere, right?
Outside of, sexism against women also affects me****, not only through its impact on the women I know and love, but also all the other victims as well, who are part of the society to which I belong, and which is in part shaped by my own actions. I've recently become more aware of this problem through the "everyday sexism" project, which highlights innumerable accounts of verbal, psychological and physical abuse of women. I keep wanting to unfollow the account on Twitter because it's so depressing, but I that wouldn't sit well with my conscience. Pretending it isn't there is not going to make it go away.
Rant over. For now.
Hat-tip to Sai Pathmathan for traking this picture down on Twitter.
Appendix 1: More Sciencey Nails
As a prize for either reading all this way, or being at least curious enough to scroll down to see if there was a pay-off, here is a video about how to do "galaxy nails", which I think are stunning.
Nails Carl Sagan would be proud of:
This video, and a collection of pictures of other science-inspired nails, are featured here.
I've got a post or two in mind about science and art, too, so watch this space if that's your kind of thing.
Appendix 2: A note about swearing


I tend to avoid swearing on this website. Partly, this is because I consider it to be semi-professional, so it is not particularly appropriate. My own parents' advice was that "there is a time and a place", and that swearing too much diminishes its power when it is needed. Thus, I think the occasional f-bomb can serve to highlight just how strongly I feel about this.

Of course, it's not necessary for me to swear. I could just say "I really, really mean this". But I think that would be less elegant writing, and so does Stephen Fry:
Incidentally, there is also some fascinating research on the painkilling value of swearing, which confirms that swearing too much does diminish its usefulness, as illustrated by Brian Blessed and Stephen Fry (yes, him again).
Here's what IFLS has to say on the subject:
Here you go. You all win.

Well, not really. We love our name – we really do. We don't just love science, we FUCKING LOVE IT. Science is mindblowingly, head fuckingly amazing. People need to know this.

However, the constant wall posts are driving me mad. I understand that some of you have children, or grandparents, or you hold jobs where 'fucking' wouldn't look appropriate on your newsfeed. We won't change ourselves to suit you, but as I'm a lovely person I *will* do this for all of you.

This is our mirror page. Everything that is posted on here, will go on there. At the same time. So please don't like both and then complain that the content is the same! We won't share anything that isn't child friendly on there, but other than that – here you go. Show your kids. Show your grandparents. Whatever. But please, please just enjoy your very own page and stop asking us to change ours!
Notes:
*Yes, other genders, I know. But that's beyond the scope of this article. Don't get me started on sub-minortiy-phobia, ignorance and prejudice within minority groups, such as biphobia in the monosexual gay/lesbian community.
** Give-or-take the occasional pop at alternative medicine and getting annoyed at the way floorball is run in the UK (the latter especially is a case where reasonable internal discourse and considerable effort at remediation have proved fruitless, and public-facing campaigning is the only option remaining – the former being a seemingly lost cause already).
*** For academic science communication types: see what I did there?
**** This should all be so obvious it hurts to have to write it down.