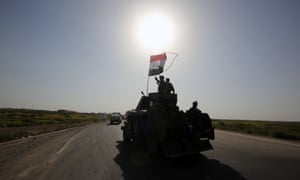 Members of Iraq's counter-terrorism service move towards Fallujah, as they take part in a major assault to retake the city from Islamic State.
Photograph: Ahmad Al-Rubaye/AFP/Getty Images
The Iraqi army has started an operation to storm Fallujah, the Islamic State group's stronghold near Baghdad.
A military unit is trying to advance in the city, one military officer said as explosions and gunfire could be heard in Fallujah's southern Naimiya district.
Related: Kurdish forces in big push against Islamic State in Iraq and Syria
A spokesman for Iraq's elite counter-terrorisn service said troops entered the city from three directions.
"Iraqi forces entered Fallujah under air cover from the international coalition, the Iraqi air force and army aviation and supported by artillery and tanks, said lieutenant general Abdelwahab al-Saadi, the commander in charge of the operation.
"Counter-terrorism service (CTS) forces, the Anbar police and the Iraqi army, at around 4 am (0100 GMT), started moving into Fallujah from three directions," he said.
"There is resistance from Daesh," he added, using an Arabic acronym for Isis.
CTS spokesman Sabah al-Norman said: "We started early this morning our operations to break into Fallujah."
The Iraqi army, supported by Iranian-backed Shia militia, began the operation to recapture Fallujah on 23 May, first by tightening its siege around the city, 50km (30 miles) west of Baghdad, and has now begun a direct assault.
Only a few hundred families managed to slip out of the Fallujah area ahead of the assault on the city, with an estimated 50,000 civilians still trapped inside, sparking fears the jihadists could try to use them as human shields.
In January 2014, Fallujah became the first Iraqi city to fall under the control of the militants, six months before they declared a caliphate over territory seized in Iraq and Syria.
Pressure was also increasing on Isis forces in Syria where the Turkish military said it killed at least 28 Islamic State fighters in shelling north of Aleppo on Sunday.
The attack hit 58 Islamic State targets with artillery and rocket launchers, CNN Turk said.
Reuters and Agence France-Presse contributed to this report.