Some things are better not to joke about. That's something Jacksonville Jaguars mascot Jaxson de Ville apparently needs to be taught.
During Jacksonville's game against Pittsburgh on Sunday, the mascot joked that the Steelers' iconic "Terrible Towels" carry Ebola—a deadly virus.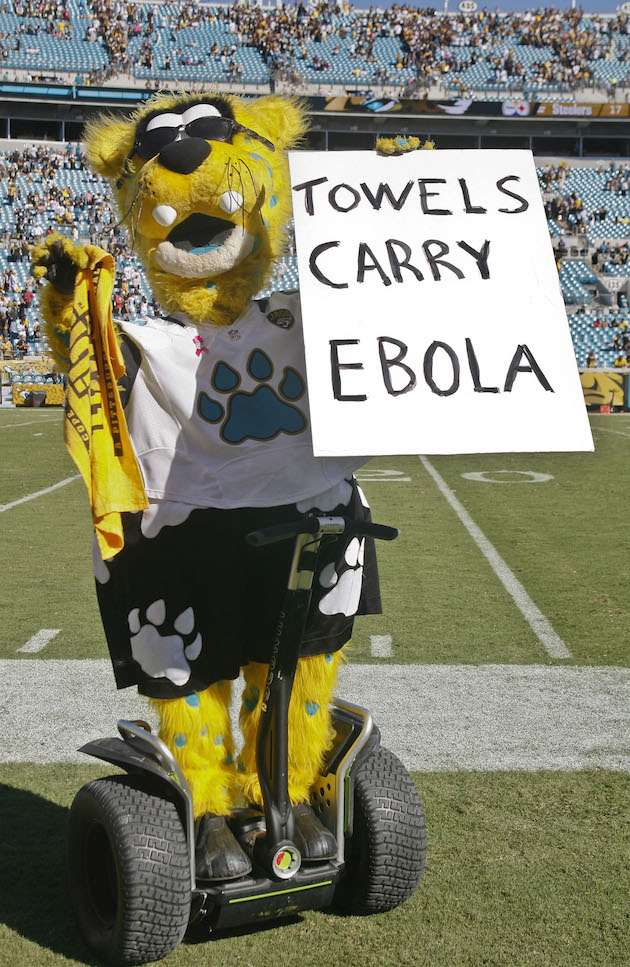 via USA Today Sports
Let's take a moment to talk about #Tasteless #Inappropriate Ebola "jokes" that aren't clever or funny. #Jaguars pic.twitter.com/zmgyZruivy

— Sunshine (@Sunshine______) October 5, 2014
According to Jaguars PR, via ESPN.com's Michael DiRocco, "Curtis Dvorak, who has worn the cat costume for 18 seasons, was in the suit Sunday."
News-Medical.net's Dr. Tomislav Mestrovic, MD notes:
Infections with Ebola virus are characterized by immune suppression and a severe inflammatory response that damages vascular, coagulation and immune systems, subsequently resulting in bleeding, multiorgan failure and shock.
The current outbreak, which began in Guinea, West Africa, in March, has been a huge, worldwide topic. The World Health Organization recorded on Oct. 3 that there are 7,470 confirmed, probable and suspected cases and 3,431 deaths from the current outbreak of Ebola in Guinea, Liberia and Sierra Leone.
[Twitter]