The NPR journalist David Gilkey and interpreter Zabihulla Tamanna were killed in Afghanistan while traveling with the Afghan army, NPR said on Sunday.
Gilkey and Tamanna were on assignment with an army unit when it came under attack, the radio news agency said in a statement.
According to an NPR reporter, Laura Sydell, who posted the text of an internal email to Facebook, NPR's chief executive, Jarl Mohn, and vice-president, Michael Oreskes, praised Gilkey's work, saying: "As a man and as a photojournalist, David brought out the humanity of all those around him."
"He let us see the world and each other through his eyes," they added.
According to the email from Mohn and Oreskes, Gilkey and Tamanna were killed by shellfire that struck their vehicle. Two other NPR staffers in another vehicle were unharmed.
Gilkey was a former White House photographer who was part of the NPR team that won a Polk award for an investigation into the US military's failure to treat brain injuries in veterans.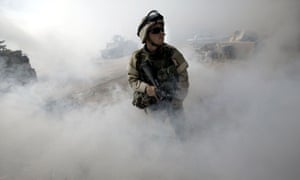 A photograph by Gilkey: SPC Jeffrey Ward, a medic with the US Army 1st Cavalry Division, stands guard in a haze of smoke outside a building during a cordon and search in a neighborhood outside of Sadr City Iraq in Baghdad Sunday August 15, 2004 Photograph: David P Gilkey/AP
He was one of the first photographers to go to Afghanistan when the US invaded in 2001, and embedded with US army units in Iraq. He also covered the 2009 Gaza war between Israel and Hamas, the 2010 earthquake in Haiti, the 2015 Ebola epidemic in Liberia, and conflicts in Rwanda, the Balkans and Somalia.
In its statement, NPR quoted Gilkey from a discussion of his work as a photojournalist.
"It's not like you put the camera to your face and therefore it makes what you're seeing OK, but certainly you can put yourself in a zone," he said in 2010 .
A US Army soldier jumps off a pile of medical supplies at the Tirana Airport in Albania Tuesday, May 4, 1999. Photograph: David P. Gilkey/AP
"It's hard, but you can't get caught up in it and become part of it. You still need to maintain your state of mind that you are helping tell this story."
"It's not just reporting. It's not just taking pictures. It's do those visuals, do the stories, do they change somebody's mind enough to take action?"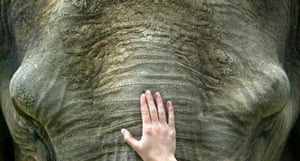 A photograph by Gilkey of a zookeeper putting a hand on a 51-year-old Asian elephant in Royal Oak, Michigan. Photograph: David P. Gilkey/AP