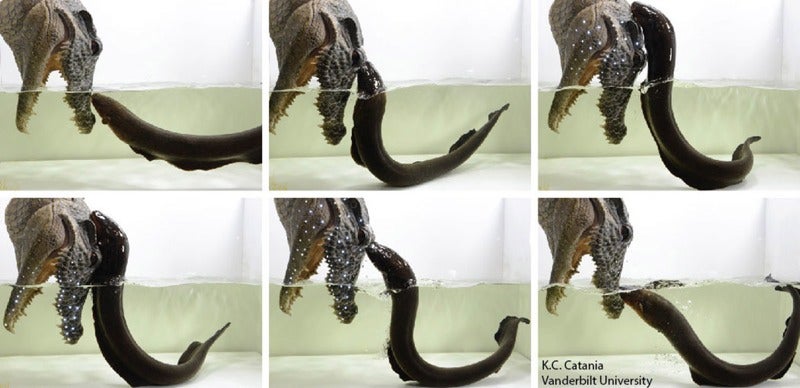 Electric eel attacking a simulated predator. Image: Kenneth Catania/Vanderbilt University
In his writings, naturalist and intrepid explorer Alexander von Humboldt recounted how natives in Venezuela used horses to lure and trap electric eels. Many scientists thought it was just a tall tale, but a new paper lends credence to Humboldt's account of eels aggressively leaping up and stunning the horses with a series of high-voltage discharges.
According to Kenneth Catania, a biologist and neuroscientist at Vanderbilt University, electric eels can be up to eight feet long, weigh as much as 44 pounds, and can deliver up to 600 volts of electricity to stun and kill their prey—five times the power of a standard electrical outlet. That's what has made them of such keen interest to scientists for centuries.
On March 19, 1800, Humboldt and his traveling companion, naturalist Aime Bonpland, decided they wanted to conduct experiments on these fascinating creatures. So they went to the South American village of Rastro de Abaso in Veneuela and enlisted the help of natives there in obtaining live specimens.
Electric eels like to burrow down deep into the slime of marshes and shallow waters, making them difficult to catch using typical fishing techniques. One option was to toss some Barbasco root into the water to stupefy them, but Humboldt wanted the eels feeling energetic for his experiments, so he nixed that idea. The natives suggested "horse fishing" as an alternative. They caught many wild horses and forced them into the water. All that stamping and snorting alarmed the eels so much, they attacked, pressing their long bodies to the horses' bellies and letting loose with volleys of electric shocks.
Humboldt and Aimé Bonpland at the foot of the Chimborazo volcano, painting by Friedrich Georg Weitsch (1810). Public domain.
Whenever the horses would try to escape, the natives forced them back into the water. Two horses drowned in the first five minutes, and Humboldt was convinced that all would perish. But then the eels got tired from all those electrical discharges, the horses calmed down, and the exhausted eels were easily caught with small harpoons on ropes as they slithered toward the shore.
It's a gripping account, but nobody had observed similar behavior in electric eels for over 200 years. That's why so many have voiced skepticism about Humboldt's story (one naturalist dismissed it as "tommyrot" in a 1947 article for Atlantic).
Catania himself thought it was just "tales" until he noticed how the eels in his lab behaved when being transferred from their home cage to a chamber used for experiments. The scientists used a net with a metallic rim and handle to do so, but whenever the net came close, the eels would swim toward it and leap up, pressing their chins against the metal rim while discharging a series of electric shocks.
Intrigued, Catania decided to investigate further. He placed electric eels in a small aquarium and submerged a conductive rod and metal plate. Sure enough, the eels leapt up as the plate entered the water, bending their necks to maintain contact with it as they released high-voltage pulses. Catania repeated the experiment with LED lights mounted on a fake alligator head, attached with strips of conductive tape, to better visualize those discharges. Once again, the eels attacked aggressively.

Image: Kenneth Catania.Vanderbilt University
Writing in the Proceedings of the National Academy of Sciences (PNAS), Catania argues that these results support von Humboldt's story. According to Catania, this kind of aggressive attack is well-suited for when the eels find themselves stranded in small bodies of water as water from heavy rainfall recedes dramatically once the dry season arrives. The aquarium conditions in Catania's lab mimic this environment. And under such circumstances, an aggressive attack may be the eels' best option.
In fact, Catania believes it's more effective than simply discharging electric shocks in the surrounding water, citing Michael Faraday's 1838 experiments with electric eels. Faraday found the water quickly dissipated the high-voltage discharges, such that he only felt mild shock. "A motivated terrestrial predator, harrying a trapped eel from above, may not be deterred before an eel is exhausted," Catania writes.
These new results build on Catania's prior work on how electric eels can vary the degree of voltage administered in their electrical discharges. Specifically, they use lower voltages to hunt for prey and higher voltages to stun and kill their prey. In a 2015 paper in Nature, Catania reported that the eels can also use those higher voltages to sense and track potential prey, much like how bats use echolocation to navigate and hunt.