Concordia Parish extends tall and narrow along the Mississippi River, where the ankle of Louisiana meets the instep. Almost one-third of its 20,000 residents live below the federal poverty line. Strip malls dominate Vidalia, the parish seat. Smaller satellite towns are home to Pentecostal mega-churches, defunct gas stations, and tin-sided shacks selling crawfish for $2 a pound. State highways run through low fields once flush with cotton that was picked by slaves and sold across the river to Natchez.
Near the river is the parish courthouse, a low-slung building made of concrete and set behind a grassy berm. The court opens at 9:30, but the halls fill before then. People sit on the floor outside the double-doors of the courtroom entrance, crowd together on benches, wander around to find the offices where they can get the documents or signatures that they need.
Concordia suffers from a drug problem and, though rural, "feels like an urban area in terms of case volume," Derrick Carson, the district's chief public defender, explained. His office handles about 3,300 cases per year. Divided among his staff of part-time support attorneys, this amounts to more than triple the state's recommended caseload.
This past July, William Tillman—gray-haired, worn—walked down the second-floor hallway of the courthouse and entered the Concordia Parish's indigent-defender office minutes after it opened. Though cramped and unreliably air-conditioned, this office is still an improvement over the previous space: a first-floor closet from which a vending machine was removed and placed in the hallway, a desk put in its place.
It was the day of Tillman's arraignment. "Do you know who my lawyer's going to be?" he asked a secretary. Tillman had been charged with two traffic violations and possession of diazepam. He was told that Carson would be his lawyer. "Will I be able to talk to him before court?" Possibly.
Carson would like to hire more lawyers, but he hardly has the money for those already on the payroll. When trying to solicit the help of local attorney Anna Ferguson, he initially offered her $1,000 for every 100 cases she accepted, or $10 per case. In January 2015, he cut wages by 10 percent and eliminated travel funds. All of the attorneys in his office hold second, even third, jobs. Carson, too, maintains a private practice, where he spends about 20 percent of his time. "You can't survive on this salary alone," said one of the support attorneys. "I do it for the love of Derrick," said another.
In La Salle, another parish under Carson's jurisdiction, the swell of cases grew so overwhelming that he enacted a "restriction of services" plan and, mid-summer last year, stopped representing some defendants accused of misdemeanors. While Carson is more desperate than most, "every jurisdiction is headed this way," he said. "It's just a matter of time." More than three-quarters of the state's 42 public defenders' offices are struggling to avoid insolvency. The Louisiana Public Defender Board, which oversees every district office, has predicted "systemic failure in the public-defense system" by this summer.
Statewide, public defenders represent more than 85 percent of those who pass through the criminal courts, many of them black and uneducated. Without public defenders available, pretrial detainees awaiting representation will clog the jails, judges will be unable to clear dockets, detention costs will rise, and the state will sink, eventually, into a constitutional crisis for failure to provide adequate counsel.
"I fully expect litigation around the state to ignite toward the end of this year or the beginning of 2016," said Derwyn Bunton, the chief public defender of New Orleans, last October. His office had $850,000 less than its forecasted need, a budget gap of 15 percent. In January, his prediction came true: The American Civil Liberties Union sued the city of New Orleans and the state of Louisiana for "indefinite denial of counsel" and "chronic underfunding of its public-defender system."
Concordia's first assistant district attorney, Ann Siddall, looked up from a file and called Dvonte Leonard, accused of possession of marijuana, possession of drug paraphernalia, and contributing to the delinquency of juveniles. The bailiff disappeared to a holding cell off the curving hallway behind the judge's bench. He returned, preceded by a young man who shuffled along, head down, shackles around his hands and legs connected to a chain that looped around his waist. The hanging metal rang dully.
Leonard lowered himself into a brown swivel chair at a bare wooden table. Judge Kathy Johnson sat high above him on a raised platform and ran through a set of questions to determine whether he was poor enough to qualify for a public defender. "Are you making any money?" she asked.
"No, ma'am," he said.
"Do you have anything in the bank?"
"No, ma'am."
"Do you hold any real estate?" Leonard was silent. The judge watched him. "Do you own any land, that is?"
"No ma'am."
The judge appointed Leonard an attorney through the district indigent-defender office. "Everybody needs a lawyer," she said as Leonard stood up and made his way back to the holding cell. "That's the American way."
Criminal-justice reform is having its moment. In mid-October, President Obama embarked on a national tour to discuss reentry after detention and alternatives to incarceration. In January, he announced a decision to ban solitary confinement for juveniles held in federal prison. A handful of judges and cities are pushing for bail reform. Both Republicans and Democrats have advanced legislation to reduce mandatory minimum sentences for nonviolent offenses. The troubling economics of incarceration, aggressive policing in poor communities, and the wide-ranging discretion of prosecutors are all coming under scrutiny. But strangely absent from this discussion is the role of public defenders. "That's a fatal omission," said Jonathan Rapping, president and founder of the advocacy organization Gideon's Promise. "If we believe in equal justice, then the single most important thing to do is make sure poor people have the kinds of lawyers richer people would have."
This right to counsel is tucked into the Sixth Amendment of the Constitution. For years, it was acknowledged almost exclusively at the federal level, but since the landmark Supreme Court decision Gideon v. Wainwright, it started to take root in state and district courts. In 1961, Clarence Gideon, a Florida man with an eighth-grade education, was tried and jailed without a lawyer. He petitioned the Supreme Court, arguing that the state had violated his constitutional rights to counsel under the Sixth Amendment. The Court agreed to hear his complaint and, two years after his arrest, ruled unanimously in his favor. "Lawyers in criminal courts are necessities, not luxuries," wrote Justice Hugo Black in the 1963 opinion. From then on, every state was ordered to provide a lawyer for accused felons. This requirement expanded over the years and now applies to anybody facing the possibility of detention, however remote.
Over the last several decades, as the criminal-justice system industrialized—sweeping people off the streets, processing them through courts, housing them in jails and prisons, and monitoring them with supervised release—this constitutional right has grown more important. "Public defenders are meant to be the friction in a system that's often focused on efficiency, on whisking people through," said Rapping. He contends that other reforms will bear little fruit without criminal-defense lawyers to uphold them. Implicit in Gideon is the idea that a client's lawyer, more than anyone else, is in the best position to uncover abuses of due process. "The right to counsel is the vehicle through which all other rights are realized," Rapping said.
But as public defenders' workloads climb, their ability to safeguard client rights suffers. A census of 22 states carried out by the Bureau of Justice Statistics found that, between 1999 and 2007, the number of public defenders increased by 4 percent while their caseload increased by 20 percent. Until recently in New Orleans, public defenders assigned to misdemeanor courts each had upward of 19,000 cases per year, affording them an average of seven minutes for every client. Unsurprisingly, some detainees end up staying in jail waiting for attorneys for longer than the potential sentences for the crimes they were accused of. "You can't dig into the details. There isn't time to uncover the facts, to marinate in them, to do the research necessary," Carson said about managing his caseload. "It becomes like herding cattle."
The day of Dvonte Leonard's arraignment, Carson's office handled the vast majority of cases called before Judge Johnson. Justice unfolded with humming efficiency: The district attorney and assistant district attorneys called names and case numbers, listed charges and charge numbers. The judge, compassionate but not long on patience, reviewed rap sheets and case histories through her reading glasses, perched low on the bridge of her nose, then looked over the rims at the defendants seated before her and conducted short interviews, informed them of their rights, set new court dates, issued fines and fees. The court recorders and clerks typed it down and filed it away.
Amid this churn was the sprinting bustle of the public defenders, sorting through stacks of manila folders, digging in thick briefcases. They dispersed to meet with their clients—a few minutes in the jury room, huddled in the back of the court, in the front hallway, or on the concrete benches outside in the stifling summer heat. They rushed up to the stand when their cases were called. "I think progress comes from chaos," Carson said later. "And we are very close to chaos."
Johnson turned to one defendant who sat alone at the table before her. "Where's your lawyer?" she asked.
"I never met my lawyer," he said. After a moment's delay, one of Carson's public defenders sitting behind the defendant raised his hand and haltingly notified the judge that he was representing the young man, that they hadn't yet had time to talk. The script repeated with another defendant who leaned back in his chair and, peering down the row of five public defenders to find his own, said, "I don't know her name."
Carson cut in: "We got him this morning at arraignment, your honor."
By 5:30 in the evening, the court had emptied and a single case remained for trial. As the arguments unfolded, Carson paced constantly. He ran his hands along banisters and table edges. Sometimes he leaned heavily over the table where his client sat and the two of them would whisper and Carson would take notes. At one point, as the assistant district attorney examined a witness, and as Carson walked his aimless circuit, he noticed a coin on the carpet. He bent to retrieve it, examined the small metal round, and slipped it into his pocket.
In the wake of its Gideon decision, the Supreme Court offered no guidance on how states should design or fund a system of indigent defense. The result was a predictably federalist patchwork: 51 flowers bloomed. David Carroll, executive director of the nonprofit Sixth Amendment Center, says that a public-defense program's quality depends more on two broad elements than on any specific structuring. First, public defenders must have independence from the judges in whose courtrooms they serve: In Alabama, for instance, judges assigned cases to specific public defenders until 2011. "Public defense doesn't work if the attorneys are trying to please the judge to get their next contract," Carroll said. Second, and more obviously, public defense must be adequately funded.
Louisiana, uniquely, funds the majority of indigent defense through court fees. Anyone who pleads guilty or is found guilty at trial for violating a law other than a parking ordinance is assessed a court fee, $45 of which is sent to the district public defender's office. These local revenues constitute almost 70 percent of the public-defense system's budget, with the bulk of them assessed on traffic tickets.
Because the number of tickets written in a given month bears no relationship to the ebb and flow of criminal activity or prosecution, this setup results in a dismal state of uncertainty and repeated budgetary shortfall. Districts with interstate highways—traffic-ticket jackpots—are at a distinct advantage. Inclement weather and sheriffs' elections depress revenues. "The funding structure is just not tied to the work at all," said John Burkhart, manager of the Louisiana Campaign for Equal Justice, a nonprofit working to reform indigent defense statewide. "It's fundamentally flawed."
This "user-pay" system also beckons as an open pot of money. Judge Johnson, who presides in Concordia and Catahoula Parishes, noted that if the state wants to fund something like a new crime lab, additional court costs are an expedient mechanism—no need to dig into budgetary negotiations or persuade constituents, just increase the fee on everybody found guilty of a crime.
The result is a swarm of state agencies lined up at courthouse doors, hands out. In Concordia, a misdemeanor non-drug offense like disturbing the peace carries a $100 fine. The attendant court fee is $250. This money gets distributed not just to the public defender, but also to the sheriff, clerk of court, district attorney, judicial expense fund, crime-victims reparation fund, court information-management system, Louisiana Commission on Law Enforcement, Central Louisiana Juvenile Detention Center Authority, a state crime lab, a jury fund, and a witness-fee fund. Defendants who can't pay are jailed for contempt of court.
For public defenders, reliance on these court fees places them in the questionable position of drawing a salary from the guilt of those they represent; defendants who are found innocent pay no court costs. A class-action lawsuit filed in September on behalf of six New Orleans residents alleges that these "financial conflicts of interest have derailed the pursuit of justice." But questionable ethics aside, this system has proved to be fiscally ineffective year after year. Despite a recent increase in the public defender's cut of the court fee from $35 to $45, nearly every office operates at a loss. The small chunk of funding that comes from state appropriations—about $16.5 million in 2014—is spread thinner every year to stanch mounting deficits. Districts across Louisiana are firing lawyers and support staff, creating client waiting lists, canceling contracts with basic legal-research services, and dumping more cases on fewer attorneys for less compensation. What's more, the 2017 annual budget, approved by the legislature, slashes public-defender funding by an additional 62 percent—a cut "that would require additional service restrictions on a scale unprecedented in the history of American public defense," wrote the president of the American Bar Association in a letter to Louisiana's governor.
In September, the New Orleans office ran a $50,000 online crowdfunding campaign. Recognizing a strain of dark humor in the situation, HBO's John Oliver called attention to the effort. Donations jumped. The office met its goal. In part, the campaign was needed to avoid immediate cuts in essential services. "But it was also to show that this is what it takes to secure the Sixth Amendment in Louisiana," said chief defender Bunton. "It's ridiculous and absurd that one of the original 10 Amendments of the Constitution relies on crowdfunding for its guarantee."
Seventy miles southeast of Carson's office, over the Mississippi River, through the unincorporated Town of Doloroso and past Poorhouse Road, is East Feliciana Parish, where Rhonda Covington is the chief public defender. Several years back, Covington had a case involving a police dog that trotted around cars and signaled the presence of drugs with the lift of its nose. In need of a witness who could credibly testify on the finer points of canine training, she called around for experts to take the stand. She reached one man by phone, explained that she was a public defender and, before she was able to describe the purpose of her call, was advised to rot in hell—a common sentiment, if memorable in its specific bluntness. People routinely ask how she can live with herself.
"Public defenders are often seen as the enemy, but that's an unfair characterization," she said. "We're not here to put murderers back on the street. We're here to make sure that everybody's constitutional rights are protected." While on a mission trip in Honduras four years ago, Covington was falsely accused of trying to foment communist revolution after the government intercepted a freight container of donated medical supplies and camouflage-print hunting clothes at port. For three weeks, Covington hid in the mountainous village of El Naranjal, mapping escape routes over the El Salvador border as the government made a public spectacle of her case and their pursuit of it. Though the situation was eventually resolved, this brush against an open-ended term of imprisonment without clear procedural rights fortified Covington's faith in her work, faith in the U.S. ideal of presumed innocence and an adversarial system through which a vigorous prosecution can be countered—when the money's there—by an equally vigorous defense. She believes firmly that America has the best justice system in the world. "But it only works if everyone is doing their part," she said. Indigent defendants deserve "an adequate, ethical, responsible defense," said Covington. "We don't live in a police state. I've had many innocent clients."
Louisiana, incidentally, has one of the country's highest rates of proven wrongful convictions. In Louisiana State Penitentiary, or Angola, about 20 men serving life sentences have been exonerated since 2001. Emily Maw, director of the Innocence Project New Orleans, noted that every Louisianan her office has freed from that prison was black; every one had a trial at which the presentation of evidence lasted for less than one day; and every one was sent to prison for the rest of his life without the possibility of parole, probation, or suspension of sentence. A well-resourced defense lawyer, she said, could have prevented most of those injustices before they began.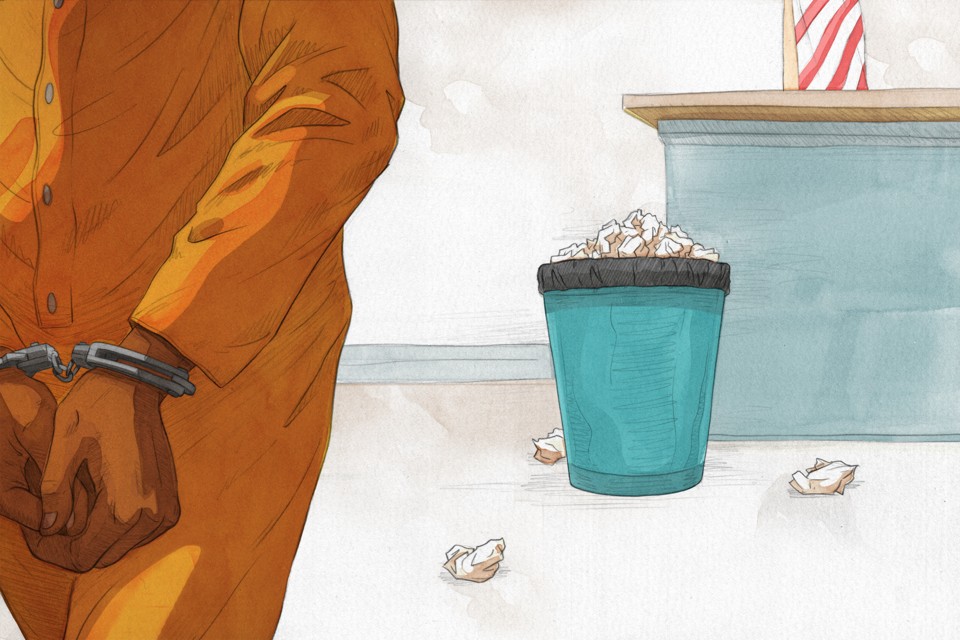 The 50th anniversary of Gideon v. Wainwright in 2013 was a muted occasion among those who noted it, more cynical than celebratory. A series of reports and opinion pieces lamented the country's neglect for the constitutional right to counsel among poor people. In a speech at the Justice Department, former Attorney General Eric Holder took the podium and described the "state of crisis" affecting public defense. Everybody agreed on the importance of Gideon, and everybody agreed on the extent to which the country has failed to realize its promise. Norman Lefstein, dean emeritus at Indiana University's McKinney School of Law and an expert in indigent defense, described the situation in Louisiana as acute but not unusual. "The constitutional right to adequate counsel is breached all over the United States every day that the courts are open," he said.
In 2015, a class-action lawsuit revealed that Georgia juveniles were regularly denied legal representation before and during court appearances. The Department of Justice filed a "statement of interest" in this case and has done the same on behalf of indigent defendants in three other states over the past two years. The ACLU sued Idaho in June of 2015, then California in July, for both states' systematic failure to provide "meaningful and effective counsel." They recently settled similar cases in New York, Washington, and Michigan. This year, they've brought suit against Louisiana.
Ezekiel Edwards, who directs the ACLU division in charge of monitoring indigent defense, describes the pervasive lack of funding as a "national emergency." He noted that in almost any courthouse outside of major cities, people consistently appear before a judge, accept plea deals, receive jail time, and even take advice from prosecutors without a lawyer present. A recent report on the right to counsel in Utah found that more than half of defendants facing misdemeanor charges in municipal court appeared without an attorney. On more than one occasion, no prosecutor was even present. Judges in these municipal courts took it upon themselves not only to judge, but also to advise defendants of their rights and negotiate plea deals.
Despite these ongoing violations of the Sixth Amendment, improvements to public defense have proved elusive. "The problem is that this comes down to poor people, often of color, who are accused of committing a crime," Edwards said. "This group isn't high on the list of political priorities." Many people with convictions on their records are not even eligible to vote. (In Florida, Kentucky, and Virginia, felony disenfranchisement affects more than one in five African Americans.) From a political perspective, using taxpayer money to pay lawyers to represent poor people accused of crimes is a tough sell.
Consider Missouri: In June 2014, the American Bar Association released the results of a comprehensive study of the Missouri State Public Defender System that concluded the state should expand its stable of public defenders by 75 percent to meet a basic level of quality.
Michael Barrett, the director of Missouri's public-defender system, handed the report to state legislators. He laid out the case for a budget increase. "I explained why this was meaningful to the public and to conservatives," Barrett said. Strengthening the system of public defense would prevent the prison population from artificially rising and help reduce the $725 million Department of Corrections budget. Improved public defense would also help to sort "those we're afraid of from those we're simply mad at," he said.
Persuaded by the case, Missouri's General Assembly approved a $3.47 million funding increase for Barrett's office. But Governor Jay Nixon vetoed the legislation when it arrived on his desk. When the legislature overrode his veto, Nixon used executive authority to simply withhold the money. The next fiscal year, he reduced the budget of the public defender's office by—exactly—$3.47 million. Then he signed off on $4 million in State Fairground improvements, $52 million for a new state park, and $998 million for a new football stadium.
In Concordia, Judge Kathy Johnson called Carson to the front of the courtroom but got no response. So she called again, and then a third time, which drew him briskly from the jury room. He assumed his position beside his client. "We need to clone you, Mr. Carson," she said.
"About five times," he said.
Carson arrived at court that morning thinking about Brian Robinson—21 years old, an eighth-grade education, a client he'd represented on drug charges twice before. In the early afternoon, they met to discuss his case. Carson did most of the talking while Robinson looked at the floor. Robinson, while on probation from his prior charges, had been caught in possession of marijuana. The plea deal offered by the district attorney gave three years in state prison followed by two years of parole, which Robinson would spend in-residence at a drug-treatment and vocational program outside of Baton Rouge. If Robinson fought the charge, which he stood very little chance of defeating, he faced 20 years. "You can't change in the same environment," Carson counseled him.
"I understand," Robinson said.
"We've pulled miracles with you twice before."
"I understand."
Throughout the day, Robinson's mother sat in the second row of the courtroom, a wiry woman with wide eyes. She spent most of her time bent over her knees, each hand cupping the opposite elbow. She remained nervously coiled this way until, periodically, she would shoot to her feet and exit the room to pace the courthouse hallway.
Robinson agreed to sign the plea deal. At the end of the day, he and three other young men who had also agreed to plea deals were brought before the judge. Managing the process for a group was more efficient. The four young men took their seats. The assistant district attorneys listed charges brought against each man, ending with Robinson: Police officers on the scene found what they suspected to be marijuana in the house, and then they sent that suspected marijuana to a crime lab, and then they found that it was, in fact, marijuana. During their recitation, Robinson swiveled around to look at his mom and he held her eyes for a long second, she his. Then he spun back and stared at his shackled ankles.
The judge ticked through the procedural requirements: Were you of a stable mind when making this plea? Did your attorney explain to you the constitutional rights that you are waiving? Nobody pressured you to take this deal? Nothing was promised by your lawyer or by anyone else? Occasionally, the judge lost track of her progress with each defendant. "Did I ask you about that already, Mr. Robinson?" She leafed through paper stacked on her desk. "This is what your sentence is going to be, if I can find it."
The plea deal was not unreasonable, Carson said, but he feels the situation could have been averted if his office had the money to hire a social worker, someone to make sure his clients do what the state demands of them: find an addiction clinic, enroll in a GED, apply for jobs, avoid contact with other felons. "A lot of the time, we're asking kids to make adult decisions and manage adult tasks when they simply don't have the tools," Carson said. Why is it surprising, then, when they violate their parole or probation, when they cycle back into court? If Carson could afford to hire one person, even part-time, to monitor them, he's convinced that lives like Robinson's might be redirected.
In court, the hope for a third miracle had evaporated. In a matter of minutes, Robinson's sentence would begin. He turned to say something to his mother but the bailiff walked between them and spun Robinson forward. The judge asked him to confirm that he was guilty of the charges read out by the district attorney. Robinson hesitated and then said yes. The bailiff lifted him from the chair by the crook of his arm and led him to the holding cell off the curved hallway behind the judge. Robinson walked the whole way with his head turned toward his mom, looking over one shoulder and then switching to look over the other. Inside the holding cell, he sat in a chair next to the open door, which afforded him a narrow view out. He leaned forward as his mom got up to leave, head shaking. He watched her push open the swinging door at the back of the courtroom, and he watched the door swing closed. He had the same wide eyes that she did, and he looked afraid.