On a Saturday morning in the mild days of early summer in the Rio Grande Valley, a green municipal bus pulled up to a quiet parking lot in downtown McAllen, Texas. Inside, a group of about 20 Central American refugees squeezed towards of the front, their belongings packed into border-patrol-issued clear plastic bags and their feet swimming in shoes that were missing laces.
A few days earlier, they had crossed the Rio Grande river and arrived in the United States. After being detained by the US border patrol, they had been released earlier that morning; by the evening, most would be headed north on another bus, carrying a court summons to appear before an immigration judge, who would determine whether they were allowed to stay in the US or face deportation to the countries they were fleeing. For the moment, the group, mostly mothers and children, were whispering to one another, or staring blankly around the vehicle. A little girl in a sleeveless jean jacket sat slumped against her father, her hair matted with dust. A pregnant woman wiped sweat off her forehead and closed her eyes against motion sickness, clutching a paper bag someone had given her, just in case. The group were only vaguely aware of their destination: they had only been told they were headed to a church.
In 2014, the number of people crossing the southern border into the US suddenly shot upwards: more than 130,000 refugees from Central America arrived; almost half were under 18, and travelling alone. They were fleeing persistent and growing violence - and continuing poverty - in Honduras, El Salvador and Guatemala. Most of them forded the Rio Grande - wading if it was shallow, or paddling across in inflatable boats - and arrived in Texas. Rather than sneaking through the underbrush, these border-crossers turned themselves in to the border patrol at the first opportunity - hoping they would be welcomed as refugees. They came in such great numbers that they overwhelmed the existing border patrol facilities - small lockups, not intended to hold people for more than a few days. Soon, new arrivals were being housed in offices, aeroplane hangars and anywhere else the agency could find beds, or even empty patches of floor. When there was simply no more space, the overflow were released into McAllen's Central Bus Station. And McAllen, in turn, ended up at the centre of a contentious national debate about immigration, security, and the role of the United States in the world.
McAllen is a low-slung city of 150,000 people, one of the fastest-growing in the US. It is not so much a border outpost as a lopsided chunk carved out of the suburban sprawl that has taken over this stretch of south Texas. The city is flat - plotted out in a grid of busy highways, strip malls and healthcare centres - and surprisingly lush. McAllen is a popular destination for retirees escaping northerly winters; a huge annual bird-watching festival is held nearby. During the summers, the city braces for hurricanes that twist up from the Gulf of Mexico.
Not long ago, the Rio Grande Valley was a centre of agriculture, trading in grapefruit and cotton. Today, it serves as a kind of crossroads between the US and Mexico: a transit point for people, more than three million of whom pass through the McAllen bus station each year, for auto parts coming north from Mexican factories and for computers heading south. It is a city accustomed to the occasional trickle of undocumented arrivals and scattered local news reports of border patrol raids - but last June, people began arriving in their hundreds.
It was a phone call from the bus station, one night in early June, that alerted McAllen's mayor, Jim Darling, to the situation that would thrust his city into the national spotlight. "The city manager called me and said, 'Hey, it's about 9.30 at night, and we're getting ready to close the station,'" Darling told me. "Around a hundred people were still there. 'We close at 10, that's the last bus.'" People had filled up the bus station bathrooms, trying to wash off the grime of river crossings and long walks; many had fallen asleep, half-propped up on metal seats.
The last thing Darling wanted to do was kick a bunch of migrants out onto the pavement. "We kept the station open all night," he said. "We brought in extra cleaning crews, I think we tried to feed them and get them on the bus the next morning." By then, Darling said, they realised that even more people were arriving.
It took a day or two before national media caught on to what was happening in McAllen. It took a few weeks more before politicians started flying in. The McAllen airport started to look more and more like the bus station. By 19 June, Texas senator Ted Cruz - now a Republican presidential candidate - had penned a letter to the Department of Homeland Security, blaming the crisis on his political opponents. "The Obama administration's outright refusal to enforce the law is causing chaos," he wrote. A few days later, the Republican governor of Texas, Rick Perry - another presidential candidate - warned that unless action was taken to seal the border, there would be "a trail of tears again from Central America to Texas." When the Pulitzer-prize-winning journalist Jose Antonio Vargas, an undocumented migrant who has become a vocal advocate for immigration reform, flew to McAllen to participate in a candlelight vigil in July, he was detained at a border patrol checkpoint in the McAllen airport.
As politicians squabbled about the causes of the sudden "crisis", it became clear that an unprecedented number of unaccompanied children and teenagers were attempting to cross the border; between 2013 and 2014, the number of children under 12 apprehended at the border doubled. Journalists began to tour some of the overcrowded facilities where undocumented minors were being held and processed and started calling the situation at the border a humanitarian crisis. "The only thing we can do is take care of those kids," the country music star Willie Nelson told Rolling Stone magazine. "Whatever it takes."
To politicians in Washington DC, the migrants quickly turned from a humanitarian issue into a security concern. "Let's remember, this administration went around for years saying the border has never been more secure than it is," the Florida senator Marco Rubio - another Republican presidential candidate - declared at a press conference in July 2014. "I think that's been exposed as a fallacy." The number of undocumented minors coming over the border from Honduras and El Salvador had been rising slowly since 2012. According to his critics, Barack Obama's efforts at immigration reform had created the impression that the US had gone soft on illegal immigration, encouraging tens of thousands to attempt to cross the border. Others pointed to the spread of unfounded rumours in places such as Honduras and El Salvador - perpetuated by human traffickers - which led people to believe, wrongly, that unaccompanied minors and families with young children would automatically be granted refugee status once inside the US.
Overnight, the city of McAllen had turned into a convenient symbol of whatever idea about the border someone was selling
In July, the Obama administration asked for $3.7m to help deal with the crisis. Republicans in Congress refused. With little money coming in from the federal government, Rick Perry announced he would send in 1,000 members of the Texas National Guard, calling it "Operation Strong Safety". ("A lot people do things for political reasons," one border sheriff told the Dallas Morning News. "I'm not sure that it helps.")
In McAllen, the border patrol continued dropping off undocumented families. Television crews staked out the bus stations for interviews and politicians continued holding press conferences. "They would come in for photo opportunities," Darling told me. "They would pose on military boats going down the river - it looked like Vietnam." (Darling, a slight, energetic man in his 60s, is a Vietnam veteran.) Some journalists had taken to calling McAllen a "dusty border town", he told me, exasperated. "They hadn't even visited." Overnight, his city had turned into a convenient symbol of whatever idea about the border someone was selling.
* * *
A few days after migrants started to fill up the McAllen bus station, Darling was doing all he could to keep his transit hub running. It became clear that a bus station - even a large, modern, efficient one - could not function with hundreds of dehydrated, exhausted migrants arriving on a daily basis and camping out there. The city decided to call in reinforcements: it reached out to a 62-year-old Catholic nun.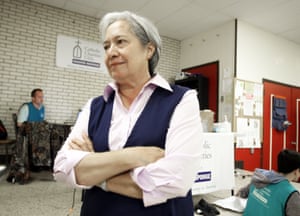 Sister Norma Pimentel is executive director of Catholic Charities of the Rio Grande Valley. Photograph: Joel Martinez
Norma Pimentel, who everyone knows simply as "Sister Norma," has spent the last 10 years as the head of the Catholic Charities of the Rio Grande, the local arm of a global charity organisation run by the Roman Catholic church. She is a solidly built woman whose air of calm is so well-maintained that it suggests steeliness. She brushes her chin-length grey hair back from her forehead and wears a uniform of button-down white shirts underneath plain blue shift dresses - practical, workhorse religious garb.
When the call came in, Pimentel was sitting in her office in San Juan, on the outskirts of McAllen, and she decided to drive to the bus station and see the situation for herself. "On the way there, I called a friend and asked her to meet me at the bus station. She said, 'What for, sister?'" Pimentel told me. "And I said, "I have no clue, but call all your friends and have them call all their friends.'" After she hung up, Pimentel made another call to the priest from Sacred Heart church. "I asked the priest, can I borrow your parish hall for a couple of days?" Neither of them, she admitted, knew what they were getting into.
More than a year later, over 18,000 people have passed through the parish hall at Sacred Heart. The pace of arrivals has slowed since last June, but the hall is still almost never empty. A Franciscan church founded in 1911, Sacred Heart sits two short blocks from the bus station; the parish hall, a free-standing building next door, could easily be mistaken for a middle-school gym. A large brown tent flaps in the breeze, covering a stretch of church parking spaces along with a portable shower facility the size of a shipping container. An oak tree springs out of the pavement near the hall's rear entrance.
Inside, the hall is filled with clothing in various and colourful stages of disarray and reorganisation. Trousers are laid on fold-out tables and dresses hung up on racks. There is a section for shoes, arranged by size, and one for socks and underwear. There are desks at the front of the room and folding lunch tables at the back, close to the kitchen. A makeshift medical centre has been set up in a large pantry, just across from the bathrooms. The space is lit with fluorescent lights and served by a robust air-conditioning system that can turn the room frigid.
The volunteers at Sacred Heart include a small group of old-timers - people who helped during the first days of the crisis and have kept coming back. (A well-dressed, whisper-thin 79-year-old named Sylvia Cardenas has been giving out baby supplies every day for more than a year.) Their ranks are bolstered by a rotating cast of retirees, church groups, and students volunteering on their school breaks. The rhythm of the hall follows the schedule of drop-offs from the border patrol and departures from the bus station. The hall can go, in a moment, from still and quiet to bustling and full of children, then back again.
Pimentel set up the Sacred Heart Center for Catholic Charities, or what she calls the "respite centre", on 10 June 2014. The first days at the hall were chaotic. Around 200 migrants were arriving every day and, as word got out, busloads of volunteers and media began to turn up too. Even as the border crisis became national news, it remained largely invisible to the public: most of the families who had crossed the border seeking asylum were being held by the border patrol and then transferred to larger (privately operated) detention centres, which were being rapidly expanded to meet rising demand. "The media could not go into those facilities and talk about what was happening," Pimentel told me. "We became a location where people could see what was happening" - both a ready symbol of the situation and an abundant source of interviews and background shots. With so many camera crews arriving from all over the world, Pimentel recalled, it quickly became a circus. She started putting Catholic Charities vests on her volunteers, so that the migrants could tell them apart from all the journalists.
This May, I watched one of the centre's volunteer coordinators, Mayra Garza, lead a group of new arrivals under the oak tree and through a set of heavy metal doors into the parish hall. As they blinked at the air conditioning, volunteers scattered throughout the room applauded loudly and shouted "¡Bienvenidos!" ("To show they are welcome," Pimentel explained. "They have been through a very harsh journey and walking through these doors really starts a transformation." )
Garza and another volunteer called the families over to check them in, one by one, taking down their names and ages, and noting where in the US they were headed and which family members were awaiting them there. Garza guided each family patiently through the routes of their bus journeys onward, sometimes aided by pulling out a map of the country. When she was done - before sending them off to collect new clothes and toiletries - she pulled out a piece of paper and stapled it onto a manila envelope. "PLEASE HELP ME," it said, in large printed letters. "I DON'T SPEAK ENGLISH. WHICH BUS DO I NEED TO TAKE?"
* * *
Jim Darling does not like the term crisis for what has been happening in Texas. "The crisis is over once they get across the border," he told me. "They've been through so much wherever they came from and on the journey." The real crisis, he means, is in Central America and along the human trafficking routes - it is not the border that is to blame for what is happening in the rest of the world.
Darling, like Sister Norma, remembers a time when the border was only loosely defined. "Nobody cared," he told me. "Our border was just a checkpoint in Falfurrias" - a little more than an hour's drive north of McAllen - "and a checkpoint in Mexico. We had a 70-mile-wide border." The checkpoints had been established in the 1940s, along the highways heading away from the border. Down in the Rio Grande Valley, many people worked on one side of the border and lived on the other; they crossed over for dinner, or to go shopping, or whenever petrol prices dipped lower on the other side. Pimentel grew up in this period - when the distinction between north and south was almost an abstraction. She was born in the United States and spent her childhood on the Mexican side of the border. "We crossed the border every day," she told me.
Hidalgo and Starr Counties, which form the centre of the southern Rio Grande Valley, are two of the poorest counties in the US, but also some of the fastest-growing. The Valley is a largely conservative place - business, land and employment are priorities - but people here largely favour immigration reform. Most of them know someone living in the US illegally, and seem to lean leftward as a result. (The Texas Tribune once called it "the Valley of Democrats".) An estimated 1.6 million undocumented people live in Texas, and it is thought that just under 10%, or about 150,000, live in the Rio Grande Valley.
Attitudes about the border started shifting dramatically in the early 2000s - from a flexible 70-mile-wide grey zone into a sharp and solid walled line. After the terrorist attacks of September 2001, the ranks of the US border patrol have more than doubled, from 10,000 to more than 20,000, while security spending along the border has skyrocketed, funding hundreds of miles of new border fencing. (The fence does not run directly along the border; in the Rio Grande Valley, it cuts through farms, backyards and nature preserves.) Federal and state money has also paid for new roads, boats, helicopters, radar installations, and other high-tech gadgets intended to protect Americans from a line on the map that has been recast as a place of great danger.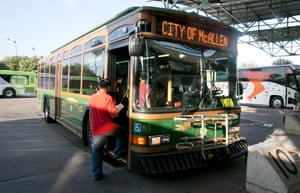 A shuttle bus that takes migrants to Sacred Heats parish hall. Photograph: Bob Daemmrich/Corbis
As the US border has become more militarised, detentions, arrests and deportations have risen, particularly in the last eight years. Few in the Valley, however, are convinced that the border can or should be sealed. "You can never really make the border impenetrable," David Hall, the lawyer who heads Texas Rio Grande Legal Aid, told me. "Not even with a moat. Which is basically what we have already."
The rules of US politics seem to dictate that any moves to liberalise immigration policies must be counterbalanced by stricter border security - which is what Obama had promised to deliver while pursuing immigration reform. So the sudden surge of new migrants, among them so many children and teenagers, came at a politically inconvenient time for the White House, creating an easy target for anti-immigration campaigners looking for someone to blame. While minors entering the US from Mexico are turned back by border patrol almost immediately, those coming from countries such as Honduras, which do not share a border with the US, are released to family members in the US, with an order to appear before a judge to hear their asylum petitions. That policy is not new: it has been in place since 1997.
The number of unaccompanied minors nearly doubled, from 40,000 to 70,000, between 2013 and 2014 - most of them coming from Honduras, El Salvador and Guatemala, which had become some of the most violent countries in the world. Rival gangs run entire neighbourhoods; in parts of Honduras, gang members control public schools and extort money from teachers. San Pedro Sula, the country's second-largest city, may be the most dangerous place in the world that is not in a war zone: last year, it had a murder rate of 171 per 100,000 people. (New York City, home to 8.4 million, had 348 murders in 2014.) More than 12 months after the "crisis" began, the number of undocumented migrants arriving in Texas has fallen - thanks in part to a more aggressive crackdown on travel routes northward inside Mexico - but there is no sign that the violence that encouraged so many people to leave places such as San Pedro Sula has slowed down at all.
* * *
Mayra Garza carries out her duties at Sacred Heart's parish hall with an occasional dose of sarcasm. She cracks jokes with a knowing smile, and she's developed an arsenal of different eye-rolls reserved for anyone who threatens to disrupt the smooth operations of the centre. Her patience runs especially short whenever someone disagrees with her considered vision for organising the interior of the parish hall. Garza is a strong advocate of hanging racks for clothing. She is a committed enemy of cardboard boxes, because they attract cockroaches. "It's her floor," one volunteer told me. "Before she came, most of the clothes were on tables."
Garza, like most people in the Valley, occupies a kind of halfway point between Mexican and American. She lived for years in Monterrey - about a three-hour drive across the border - and goes back whenever she can. She is 41 years old, with long brown hair that will start out down in the mornings and end up pulled tightly off her forehead by the end of the day. She seldom spoke English before she started volunteering at the centre, she told me, but made an effort to improve when she realised that some of the volunteers spoke no Spanish. She began volunteering at the centre last year - and when Pimentel offered her a job, she hesitated at first; she wanted to have time to visit her family in Mexico. But Sister Norma pointed out that she was already spending most of her time at the centre already. So she agreed.
There is a season for illegal border crossing in Texas: June and July are typically the busiest months for crossing the Rio Grande, and the numbers drop off in August, when summer heat is at its peak. Each morning in McAllen, a white border patrol bus pulls into a side parking lot at the bus station; a border patrol agent leads the newest group of arrivals down a hallway of ticket offices and lines them up in front of the Greyhound bus counter. Most days, a volunteer for Catholic Charities is already there to meet them and call the centre to announce their arrival. (The ticket vendors call him "Speedy", because he uses a wheelchair.)
The Greyhound employees have learned to accommodate the influx of migrants - they are, of course, good for business - and inform them about Sacred Heart. If all has gone well, family members already living in the US have called ahead to purchase tickets from Greyhound, which are filed, with detailed itineraries, in folders stacked in a blue basket on the ticket counter. (When buying tickets for their arriving relatives, family members can pay extra to leave them a small amount of spending money, in US dollars.)
When migrants arrive at the parish hall, they find a kind of assembly-line of charitable giving: each group skirts the colourful centre of the room, avoiding the clothes and moving from the check-in desks to the toiletries station, where they get a backpack, deodorant and toothpaste. ("We don't let them pick their own clothes," one of the volunteers explained. "We don't want this place to turn into a WalMart.") Babies and young children get diapers, bottles and formula packets. They lug their possessions and their children to the back of the room and sit down at folding tables.
The clothes are what help to break the ice. Volunteers move back and forth showing off their finds. They bring over shoes and hold up shirts for the women. People pick out shoes and reject the less fashionable options. When presented with a pair of Crocs, one boy from El Salvador raised his eyebrows and took a step back. They were the right size. "I just don't like them," he said. The people who come through the hall have the chance to shower. There is a play area for kids and people can opt to take naps in the air-conditioned tent outside. And then, eventually, they are given a bag of supplies - a blanket for the bus, some toys for children - and taken back to the bus station.
No one at the parish hall is sure what qualifies a person for release to McAllen's bus station, rather than detention by US border patrol. There are some recognisable patterns: pregnant women are regularly released, as are fathers with children. (The two large migrant detention centres in south Texas are set up primarily for mothers with children.) Some people just happen to arrive on an auspicious day when the border patrol lockups are full or the detention centres are not processing new arrivals. Almost everyone released has a family member living somewhere in the US and a bus ticket to get there.
At some point in the last year, Garza started giving individuals who pass through apodos, or nicknames. "That way I remember them," she told me. She gives out her phone number to those who need the most help, or simply those who ask for it, and tells them the nickname she's given them. (One woman was named "Complicada", because her story was so confusing.) When they call back, or text, to update her on their travels, the nickname helps Garza remember them.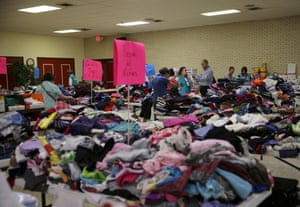 The Sacred Heart centre, where food and clothing is provided for migrants. Photograph: Reuters/Corbis
One of the men who earned a mental note from Garza was a teenager from Honduras named Carlos Pineda. He had arrived with another young Honduran at the bus station one afternoon at an irregular hour, and Garza went herself, in a Catholic Charities car, to pick him up. The pair were lanky and covered in dust, wearing jeans and filthy T-shirts: apparently they had been abandoned, without any money, along the route north in Mexico, after an argument with their coyotes - the human traffickers who command steep fees to guide people across the border. They had barely eaten for a week. "I had been wearing the same clothes for a week," Pineda told me later. "I hadn't bathed. I hadn't managed to wash once."
Pineda was 19 when he arrived in Texas. Whenever anyone asked his age, he explained that his birthday was fast approaching; it was important to sound adult. He had been working as a mechanic in his hometown of San Pedro Sula, the murder capital of Central America, and he was trying to get to Atlanta, where two uncles were waiting to take him in. It had taken Pineda 25 days, and $6,500, to travel from Honduras to McAllen. "I left for various reasons," he said. "The biggest one was economics and the situation of my family. And, also, I lived in one of the most dangerous cities in one of the most dangerous countries in the world." In a city such as San Pedro Sula, Pineda said, you have to choose your friends carefully. "But, sometimes you can't choose. I left because of that, over everything else. I didn't want to hurt my family."
By the time Pineda and his friend crossed the border, they were rail thin. "We were emaciated," Pineda remembered. He had been picked up by immigration, gave them a statement about his journey, and then been dropped off at the bus station. "They didn't give us any advice or help or anything," he said. "It was the people at Greyhound, when we bought tickets, who told us about the church." When Garza showed up to meet them, he said, it "was the best thing that could have happened to me. They gave us toothbrushes, sent us to take a shower, gave us food. I will be grateful for the rest of my life."
In the last 12 months, the Obama administration has taken steps to speedily deport as many of the new arrivals as possible. Controversial family detention centres were expanded and the US started an advertising blitz in Central America, emphasising the dangers of the journey to the US border and the high likelihood of deportation. The US has also organised programmes to help people apply for refugee status in Honduras or El Salvador, before making the journey north.
At the same time, the Obama administration has partnered with Mexico to increase deportations along the southern Mexican borders and raids on la bestia, a train route popular with migrants travelling north. This year, deportations of undocumented migrants who have come into Mexico are up more than 50%. Arrivals at the US border are down by almost half.
It's not as simple as 'just secure the border'. If your neighbour's house is burning, it's not OK to pretend it's not"

Sister Norma Pimentel
The number of people coming through Sacred Heart has fallen in the year since it opened its doors to those seeking refuge, but many are still coming. "We get about 50 people a day," Pimentel told me in May. "But that's still 50 pairs of shoes a day. That's a lot." Pimentel has stepped back from the day-to-day operation of the centre in favour of speaking engagements across the world. She tries to maintain a distinctly humanitarian position on the situation, but her sympathies lie with the people she has been helping over the past year. "It's not as simple as 'just secure the border'," she told me. "If your neighbour's house is burning, it's not going to be OK just to shut the door and pretend that it's not burning."
When Pineda arrived at his uncle's house in Atlanta, he called to tell Garza he was safe - he had arrived on a Friday and would start working at a local garage on a Monday. His uncles were doing him a favour, letting him stay there. Pineda was prepared to earn his keep and, as soon as possible, send money home to his family. "It's hard when people leave here," Garza told me. "Most of them, you don't know where they go."
* * *
As the political frenzy around last year's crisis has died down, the centre at Sacred Heart is struggling to stay filled with donations and staffed with volunteers. Church groups from around the nation still come through occasionally and help fill in the gaps, but, for the most part, it has fallen to the people in the Valley to help fund and staff McAllen's relief efforts. The centre is still, like the bus station, just a transit point on a much longer journey. Garza, however, has a hard time with the limited scope of her work. Once she gives someone a nickname, she starts to worry about their health, their families and whether they will be able to find a good lawyer. "Did you know an attorney?" Garza texted me recently, worried about a recent arrival, a Honduran woman who was headed to a destination near my home in New York. "I think she needs help."
On 10 May, Mother's Day, a skeleton crew of volunteers applauded the arrival of about 20 people to the parish hall, their shoes without laces, their faces dirty. An imposing man from Brazil complained that he had been detained in a room at a border patrol station with 50 other men for five days, with no air conditioning. Garza sat down at the desks where new arrivals are checked in, and spotted two larger men in the crowd. One of them ambled over to sit in the chair in front of her, his stomach spilling over his jeans. "Uh-oh," she said, adding just a bit of volume to her voice. She asked about his trouser size, and groaned when he gave her an answer. A few people tittered quietly. "Yesterday we were looking at some big jeans and we said, who is going to wear pants this big?" she joked. "Everyone that comes through here is skinny! Throw them out!" She arched her eyebrows in the direction of the two men, and the entire group burst out giggling. Garza shook her head theatrically and looked down at the bus schedule in front of her, smiling to herself. She had turned the crowd.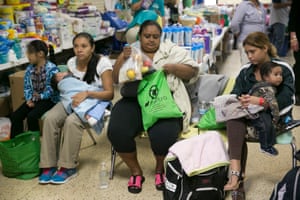 Migrants, mostly women and children, are given food, shelter and medical help at Sacred Heart. Photograph: Bob Daemmrich/Corbis
A small group of migrants worked their way through the stations, picking up toiletries and nappies on their way toward the tables of soup. One of the children bawled all the way to the lunch tables. The crew of volunteers descended, looking to estimate the sizes of the new arrivals, while the man from Brazil compared notes with another father from Honduras. The Brazilian was heading to meet his wife in Boston. "She must have come through here a couple days ago," he said. "She called me and said, 'Go to the church, they're really nice people, they're not out to cheat you."' He had spent five days in border patrol lockup with his 15-year-old daughter, who was kept in a separate cell. "One guy was nice and let me see her through the window," the man told me. "Another guy just yelled at me."
One of the fathers, seeing the slim staff of volunteers, asked if he could help. "I've got to work for my soup!" he announced. People started cracking their own jokes. Garza let some of the choosier visitors venture into the clothes racks themselves. "You can pick your clothes today," she told them. "But be practical - the buses are cold." They picked out clothes, showered, then changed their minds and went back to look some more. "Which shoes do you like?" one woman asked me, with a different shoe on each foot. Later, when the entire crowd pitched in to help pack boxes of supplies, two very pregnant Honduran women were still picking their way through the racks. "¡Las embarazadas!" Garza yelled in their direction, giving them an instant nickname: the pregnant ladies. "Come help fold some of these blankets!" The group guffawed.
A few weeks later, the adults who arrived at the centre began appearing with electronic tracking bracelets strapped to their ankles - part of an expanding US Homeland Security programme to keep tabs on undocumented migrants after their release by the border patrol. Garza later texted me a photograph of one such ankle bracelet, along with a yellow emoji shedding a single tear. But on this particular day, back in May, she was still beaming like a mother on graduation day. Garza had no idea how the crowd helping to pack blankets and laughing at her jokes would fare once they left Sacred Heart. All of them had hours of bus rides to negotiate to reach family members who may or may not be happy to take them in - not to mention court dates to attend in order to stave off deportation. But the showers, clean clothes and thin soup had made everyone momentarily boisterous. "I don't know how to explain working here," Garza told me. "I'm sad and I'm happy. I'm sad because they go. And I'm happy because they are happy."
• Follow the Long Read on Twitter at @gdnlongread, or sign up to the long read weekly email here