Some people dig for gold. For others, strange creatures that died millions of years ago but live on as funky rock-things are the buried treasure.
Cason Clagg is one such fossil fanatic. Nowadays the software developer is exploring the Haragan Formation in Southern Oklahoma, poking around in limestone for brachiopods and trilobites. It's a rewarding occupation, if you're into stuff like that—this is an example of the kind of alien critters he's unearthing: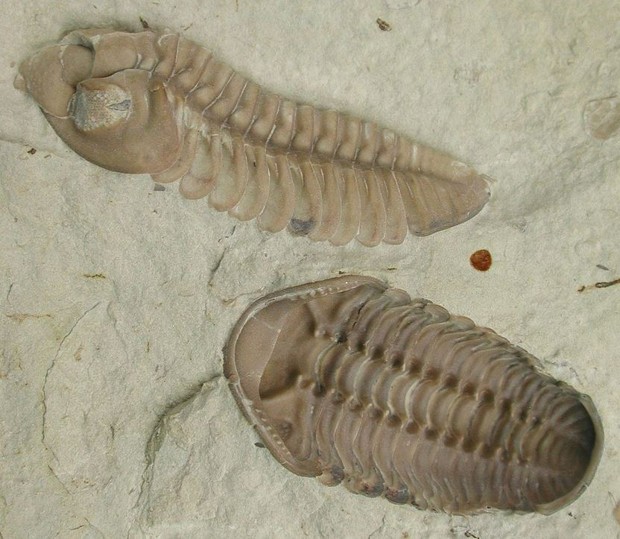 But the hobby also has its hurdles. "It's somewhat difficult to find a place that has fossils and is reasonably accessible," says Clagg, who lives in Norman, Oklahoma. "You have to deal with landowners and public land, where you usually can't take specimens."
So like any good treasure hunter, Clagg turned to cartography. "I wanted a map that showed exactly where all the fossils were, down to the exact latitude and longitude," he says. "That way, when we are driving down the road we know if it's worth our time to stop at a particular roadcut and comb through it."
And thus was born the "United States of Fossiliferousness," a map of all the places in the country where fossils have been discovered. (It exists in several versions.) Brighter dots or larger circles show places that are richer in fossils, maxing out at 927 occurrences per site.
A couple things are worth noting, one being the line stretching across New York. One Reddit user surmises these fossils were found during the digging of the Erie Canal. Another is the dense swath of fossils in the "Black Belt" region of Alabama, which was underwater during the Cretaceous Period.
Clagg's map is based on the Paleobiology Database, a nonprofit public record maintained by hundreds of scientists across the world. "It's the best source I've found for fossil records in an accessible format," he says. "All things considered, their API is pretty amazing and it was very easy to obtain the data I needed to visualize the questions I had."
He says he plans to extend this work into an iPhone app, so finding fossils will be as easy as turning on location services and seeing what's nearby.