Almost every day, Kenneth Scalir takes a trip to the library or a cafe near his home in Sherman Oaks, California, to spend about an hour on his favourite site: Myspace.
Scalir, 48, is one of a dwindling group of people still committed to what was once the most popular social networking platform in the world, with more than 100 million users at its peak. While most people have long abandoned Myspace in favour of Facebook, Twitter and Snapchat, Scalir roams the digital graveyard searching for signs of life.
"Myspace is such a huge part of my life. I've met new people I otherwise wouldn't have met and learned about new fashions and bands," said Scalir, who goes by KROQ Ken online because of his love for the alternative rock station.
Zip File: all you need to know about technology in the world this week, news, analysis and comment
"It has given me so much joy," he said. "When I didn't have a girlfriend or lovers, at least I had Myspace."
Scalir joined Myspace in early 2004, about six months after the site launched. "It was real addicting," he said.
He loved how the site allowed users to customise their profiles and discover new music. In the early days, he would regularly chat to other users and in a handful of cases met up with digital friends offline.
Today when Scalir logs in, it's a different story. Although he now has more than 700,000 connections, interactions with other humans are rare. Most profiles have been abandoned.
Users can no longer customise their profiles with cursor animations, script fonts and other basic coding. Scalir spends his time trawling through profiles - now homogenised into neat, uniform tiles - making dozens of friend requests and commenting on or liking photos.
The homepage automatically pulls in articles from other websites, giving the ghost town a veneer of vitality. However, a prominent invitation to "connect with" Avicii, the Swedish DJ who died in April, acts as a jarring reminder of the site's zombie status.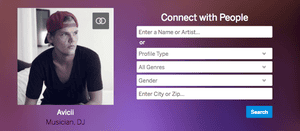 Myspace's homepage features the Swedish DJ Avicii. Photograph: Myspace.com
"It's almost like I've taken over a dead site," he said, noting that at least women did not block him or remove his comments any more. "I think it's funny. I'll leave comments and messages for girls who haven't been on there for years."
Scalir achieved minor celebrity status in the 1990s and 2000s through several appearances on TV dating shows including Blind Date, Love Connection and Singled Out. Myspace offered an alternative way to meet women.
"I always hoped I'd get a girlfriend out of it, but it never really happened," he added.
The 25-year-old Bronx resident Ray Maldonado, who describes himself as the "fresh sole survivor of Myspace", also remains loyal to the platform he joined in May 2007 to keep in touch with school friends.
"For the longest time I've favoured Myspace, even though it gets heavily satirised for being a website that no one uses anymore," Maldonado said. While he used to interact with friends and the occasional celebrity (such as Miley Cyrus) on the platform, these days he mostly posts status updates and reads the aggregated news articles on pop culture.
Despite the obvious deterioration of the platform, he takes jibes about it personally.
"Every criticism directed towards Myspace is technically also directed towards me, being that I am still as active on the website now as I was 11 years ago," he said. "But there are also times where the phrase 'Myspace is dead' motivates me to prove those people wrong."
The film producer and stunt performer Jennifer Baca, 49, first joined Myspace in 2010 and liked the way you could "personalise your own space". Initially she found it useful for promoting her movies. "The actors would use it to talk about the film and that generated a lot of fans."
In 2012, Baca injured her hand at work and spent the next couple of years focused on recovery. When she next logged on she found she had more than 70,000 connections and hopes that these might be useful for promoting her interactive, choose-your-own adventure-style experimental films.
"Myspace is forgotten a bit but I'd like it to be remembered. I feel safer here, more so than Facebook," she said.
Both Maldonado and Scalir echo Baca's preference for Myspace over Facebook.
"I've never been a big fan of [Facebook]. I understand that it's the norm to have that as your main platform for social media activity but it's never been preferable to me," Maldonado said.
Scalir feels more liberated on a less dominant platform. "There are people on Facebook I don't really want to deal with," he said.
For the last six years Maldonado has used his Twitter and YouTube accounts to make impassioned pleas for people to return to Myspace.
Maldonado implores people to come back to Myspace.
But luring users back would require a complete overhaul of the platform's "ghost town" reputation.
"I wholeheartedly believe we can live in a world where Myspace will become popular again, but it's gonna take a lot of effort from both sides," he said, referring to the site's users and owners.
Keeping track of its owners is almost as hard as finding active users. The co-founders, Tom Anderson and Chris DeWolfe, sold MySpace to Rupert Murdoch's News Corporation for $580m in 2005. That company in turn sold it to the online advertising company Specific Media, which counted Justin Timberlake among its investors, in 2011. Specific Media subsequently became the ad tech firm Viant, which was bought by Time in 2016, which in turn was acquired by Meredith at the end of 2017. Meredith is currently marketing some Time assets for sale, including Myspace.
It's clear from the number of glitches - including problems with the notification system, music player and video upload tool - that there's not much investment in software development for the site. However, pop-up messaging about Europe's recently introduced General Data Protection Regulation indicates it's not been entirely neglected - even if a bug meant you had to accept the new terms of service dozens of times to get rid of the pop-up.
Unlike other social networks, Myspace's value doesn't come from its paltry monthly or daily active user numbers. It comes from the first-party data it has about its registered users, particularly the email addresses and other profile information such as age, gender and connections that its users consented to giving to the company. This data can be linked to other online data sources to track individuals across the internet and target them with advertising elsewhere.
When Viant was sold to Time, it claimed to have a database with information on 1.2 billion users worldwide, most of which came from the various iterations of Myspace.
So even if you ditched Myspace years ago, the personal data trails you left on the site may haunt you.
It's not clear what will happen to the site when Meredith finds a buyer for Viant, but the survivors of the platform apocalypse fear for its future.
Maldonado said he'd be "absolutely heartbroken" if Myspace shuttered, but acknowledged that most people consider it to have died "years ago".
"I'd be very depressed if it closed down, but it would free up a lot of my time," said Scalir, before suggesting a more optimistic alternative: "Maybe it's a site that just won't die and will be around forever like Keith Richards."
Contact the author: [email protected]