Coalition forces celebrated better-that-expected territorial gains over the weekend and as artillery fire pummeled ISIS positions in the encircled town of Bashiqa early Monday morning, the push for Iraq's second-largest city continues relentlessly.
The determination to rout ISIS is evident throughout. On the outskirts of the town, which sits only a few miles from Mosul, a Kurdish commander told CNN: "They are bad men, they will die."
The Peshmerga, which are Kurdish forces, have captured the main highway connecting Bashiqa to Mosul, cutting off resupply lines — and an escape route — for the militants who remain within.
Shelling resumes in the town of Bashiqa on the outskirts of Mosul.
Turkey says it provided troops, weaponry to assist the Peshmerga.
ISIS executed about 40 people celebrating the "liberation" of their villages by Iraqi forces, a Mosul official said.
Dozens of ISIS militants were killed in the Peshmerga push to Mosul's outskirts
Two Christian towns — Hamdaniya and Bartella — were freed over the weekend, Iraqi military officials say
US Defense Secretary Ash Carter met with the Kurdistan Regional Government's Prime Minister Nechirvan Barzani in Irbil
United against ISIS
The advance, which is on schedule or ahead of schedule, according to Kurdish and Iraqi leaders, is remarkable for both its speed and also the level of cooperation that this disparate group is showing in the face of its common enemy — an extraordinary union of factions that have long stood on opposing sides in Iraq's history, with Kurdish forces, Christians and Shia Muslims fighting alongside the majority Sunni Arabs.
The coalition forces, which vastly exceeds ISIS' numbers, are closing in on the beleaguered city, still home to an estimated 200,00 to 300,000 civilians and has taken on significance as the cultural capital of ISIS' envisaged caliphate, or Islamic state.
But they are well aware that resistance — already tough in the open fields and small villages surrounding the main prize — is likely to ramp up significantly when the city's perimeter is breached.
ISIS has been in control of Mosul for two years, giving them plenty of time to fortify defenses, and the militants have time and time again proved themselves adept at bloody, attritional urban warfare.
It's being theorized that they'll move from the east of Mosul to the west where, narrow, old city streets will go some way to ameliorating the coalition's numerical advantage.
'Freed' and then forgotten
With this weekend's gains have come pockets of horrific losses. ISIS executed about 40 people who were celebrating the apparent liberation of their villages by Iraqi forces, a Mosul City Council official said Sunday, citing local sources.
The official said that although Iraqi troops passed through the village where the executions took place — near Nimrud, south of Mosul — they did not leave units behind to ensure that ISIS militants stayed out.
Church bells ring
Lt. Gen. Riyad Jalal, commander of the Iraqi ground forces, told state-run al-Iraqiya TV Sunday that the town of Hamdaniya, also known as Qaraqosh, had been freed and that authorities were now in the process of bringing back local officials to reopen main public buildings and plan the repair of infrastructure.
Lt. Gen. Qassim al-Maliki, commander of the Iraqi 9th armored division, said at least 50 ISIS militants were killed and much of their equipment destroyed in the assault. His forces now are cleansing the city from IEDs and sweeping buildings in case any ISIS militants might be hiding, he said.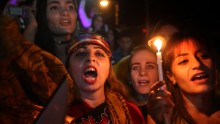 A few kilometers to the south, church bells rang out in town Saturday for the first time since ISIS seized it more than two years ago, local networks reported. Iraq officials claimed that some 200 ISIS fighters were killed in the assault.
US Defense secretary commends the Peshmerga
US Defense Secretary Ash Carter arrived in Irbil on Sunday to meet with Kurdistan Regional Government's Prime Minister Nechirvan Barzani.
"I'm here to commend you and your forces. I'm encouraged by what I see," he said.
A unit of what appeared to be US special forces' advisers entered ISIS territory with the very first armored convoy of Peshmerga last Monday, a CNN team observed, placing American forces at the front of the fight to retake Mosul.