Gabriel Gomez is angry.
"I don't talk about mafia people. I know none of those people you are talking about. … I don't talk about drug trafficking."
Gomez is the former Colombian midfielder better known as "Barrabas." At the 1994 World Cup, before Colombia's group-stage defeat to the United States, their players returned from a pre-match briefing to death threats, saying they'd all be killed if Gomez were to appear in the match.
Then-coach Francisco Maturana bowed to the threat, saying he "couldn't put another's life in danger," according to the Telegraph. Striker Tino Asprilla adds: "We didn't know where those threats were even coming from. Was it the drug cartels, or was it because of the war with the guerrillas? We were asking who was responsible and still are as we still have no idea how it came about."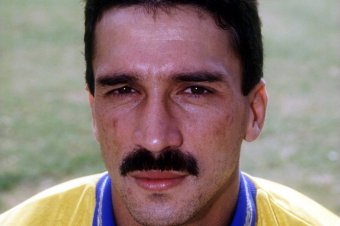 Getty
In the seasons leading up to that tournament, Gomez played for Atletico Nacional and Millonarios, two of the teams at the height of the domestic game during the so-called narco-football era. The former was bankrolled by Pablo Escobar, the latter by Gonzalo "El Mexicano" Gacha.
He really doesn't want to talk about it.
"No, I never met them, I never slept with them, I never had anything with them. … You are asking about Pablo Escobar, about drug lords, and I don't know anything. … I don't want to talk about drug trafficking. I want to talk about football."
His attitude is understandable. Gomez is far from alone in building a wall between the present and what went before.
---
Juan Jose Bellini, once head of Colombia's football association and formerly a director of America de Cali, answers the phone chirpily, but his tone changes when he realises why I've called.
A good friend of the Rodriguez Orejuela brothers who ran America de Cali and the Cali cartel, he spent six years in jail after a conviction for laundering money. He's not ready to talk about it.
"No, no, I'm too old to remember that era. I don't talk about that, I don't remember." The line goes dead.
The digging continues. Luis "Chonto" Herrera was a defender on that 1994 Colombian team. I asked him about Gomez's reluctance to talk.
"I guess it's because that was a hard moment. The environment was terrible for the team. They threatened the players, the backroom team, the coach. We all went there so proud to represent Colombia, to do our best for the country and to do our families proud as well, and it was a really difficult moment for everyone.
"With the unity of the team, we could only try to get through that situation together and move on. We all have our own ways of dealing with that time in our lives, of dealing with what happened to the team and country and ourselves and our families."
He sighs. "That's his. This is mine."
---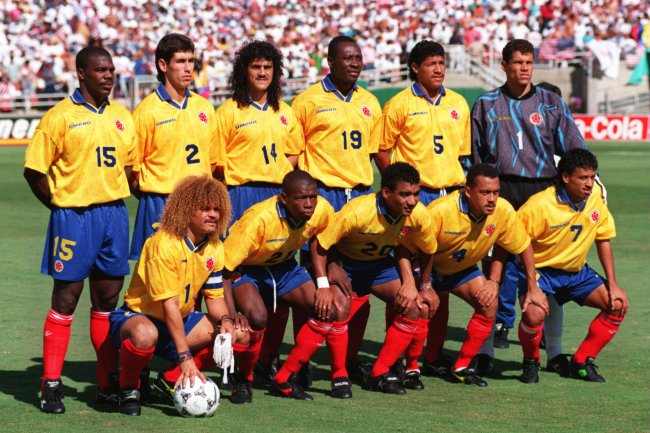 Getty
Three different years. Three different moments.
It's July 4, 2014, and the sun bounces off the mirrors that make up the facade of the new Estadio Castelao in the northern Brazilian city of Fortaleza.
Inside, it's hard to work out if the raucous noise or fervent hue rip at your attention more as a late James Rodriguez penalty is mere consolation as Colombia exit at the World Cup quarter-finals. But if there's victory in defeat, this is it—for not only is it a first appearance in the last eight, it's about a country climbing from its knees in terms of internal pride and external reputation.
In a tournament defined by colour and carnival, more than any other nation Colombia has stood out like a bottle rocket flashing across the evening sky.
It's December 9, 2015, and night has fallen over the Estadio El Campin in Colombia's capital city of Bogota. A bowl of a ground that comes into view as you make your way along the boulevard that is Calle 57, it's been renovated numerous times since it opened in 1938, and it pulls that great South American trick of being both concrete grey yet drenched in technicolor character all at once.
There's just been a dour game between local side Independiente Santa Fe and Argentinian club Huracan, but the place is soon rocking as a penalty shootout results in a Colombian club's winning the Copa Sudamericana (the CONMEBOL version of the Europa League) for the first time.
It's May 19, 2016, and the floodlights cut through the dark for a distance around the creaking behemoth that is El Estadio Atanasio Girardot.
Now part of an impressive and modern sports complex within Medellin that includes swimming, baseball, track and field and tennis facilities, the main stadium is bouncing as Atletico Nacional take their place in the last four of the Copa Libertadores (the Conmebol version of the Champions League).
One-nil down to Rosario Central from the first leg, they concede an early penalty but fight back to grab a winner five minutes into stoppage time amid punches, red cards, karate kicks, medics chasing officials and an opposition manager engaged in racism with a home player.
But if the finale was out of control, then their performance was fast, physically superior and technically controlled, befitting of a team that emerged from the groups with the best record and entered the knockout phase as the No. 1 seed.
True, a small flock of swallows never made a summer, but there have been enough little shoots in recent times to suggest Colombian football is emerging from its winter.
---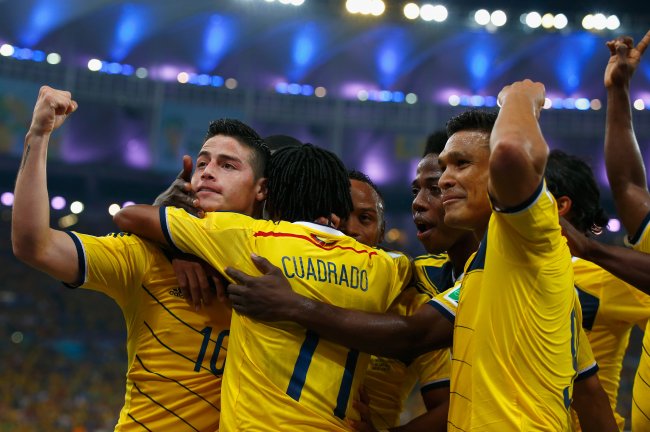 Getty
Too often we say that sport can transcend life. It can't. Sometimes it provides an escape, and other times it influences it in the tiniest way. However, it usually tends to mirror it—and as Colombia knows from its own past, not always positively.
But if the country's football in the 1980s and 1990s served as a sad microcosm of an era where it became known for drugs, violence and little else, now it's a welcome symbol of a nation that is slowly finding both its voice and its place.
Juan Pablo Angel witnessed that transformation better than most. Born in Medellin and raised there when it was the murder capital of the world, he won a national title in 1994 before moving to Argentina, Aston Villa and finally to the United States.
"Going home once a year at the end of seasons made it easier to see the changes that were happening in the city and country," he says. "Particularly when Alvaro Uribe was the president [between 2002 and 2010].
"That was probably when the changes sped up most dramatically, and that involved everything from security to construction to almost every other aspect of the country. It was easy to see it. I'd pop in and it was great to be hit with the changes that were taking place. It was massive, massive change. Really.
"It left you going back to playing elsewhere with a pride that wasn't always there. In Europe and the United States, I'm sure there were always stereotypes about Colombia and the kind of country we came from. I never listened to people stereotyping us, but you just had to look at the news—the stories were all about drugs and the political and social conflict we'd been living in for so many years."
Angel has experienced his country's moving on from its dark past, and the feeling has been "special."
Not long ago Colombia was considered to be a failed state that produced around 80 per cent of the world's cocaine. But where once police stopped motorcyclists wearing helmets as they were a common accessory for hit men, and where life was so cheap that you could contract a kill for as little as $75, today it's the third-largest economy in Latin America behind only Brazil and Mexico.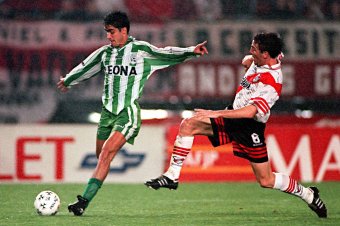 Getty
That change is evident in the transformation of the nation's three biggest cities, which, unsurprisingly, are home to the five most successful clubs in Colombian football history.
In Bogota, where Millonarios and Santa Fe have shared 22 titles, there has been huge money given over to transport, cultural infrastructure and environmental restoration, while traffic fatalities have been reduced by half and the murder rate has fallen by some 70 per cent.
In Medellin, where Nacional have been kingpins on 15 occasions, that murder rate has dropped by 80 per cent partially due to integration plans for the shantytowns that exist on the hillsides, which include a cable-car system to a metro below. Running alongside these physical improvements have been education and social programs.
Meanwhile, in Cali, where America and Deportivo have amassed 22 crowns, the demolition of the central El Calvario neighbourhood began last July.
Known locally as La Olla (meaning the pot or more precisely a place to buy drugs) or metedero (essentially a place to do drugs and engage in prostitution), it's part of a major regeneration project with the neighbouring districts of San Pascual (a lower-class residential area) and Sucre (an industrial area) set to be leveled over the next couple of years to make way for the future.
That's not to say Colombia couldn't be doing better, particularly in terms of infrastructure and social equality, but if ongoing peace talks with rebel guerrillas work out, then tourism can increase further, and less money can be spent on defence.
"Of course the narco-society is still there; it's just far more hidden," says Colombian journalist Carlos Alleman.
"Before, you knew who and where they were, but now they know better how to do it. And you can't pretend there isn't a big division in our society either. That's in our culture. It's been that way since the 1800s; it's always been the same.
"The poor people will always be poor, because the society and system works like that. It's safer to go around the cities now, and the government are spending a lot on security, and there are a lot of touristic walks, but the hidden poverty is huge. However, it is getting better, and the improvements mean international brands coming to Colombia, which is good for the society and for the economy. And it's good for football."
Gonzalo Medina-Perez, a professor at the University of Antioquia who has extensively studied the relationship between football and drug trafficking, agrees. "Transparency started to change that football," he says.
"They've been getting more shareholders, getting better coaching with the money that's coming into the country. It's all brought greater economic stability to teams. I guess the best explanation for the progress has been clearer financial organisation. Laws were brought in by government about this, forcing better control, and the results have been good.
Rory Martin for B/R
"It's seen clubs better organised in a business sense, getting sponsors on board, attracting fans and selling tickets. And Nacional are the best example of how that worked, as they are backed by the Ardila Lulle Group, which has huge resources thanks to stakes in everything from gas to media to the beverage industry."
As a contrast, I asked Angel about when he started playing for Nacional in 1993 and how life was around both team and city a quarter of a century ago.
"There are still problems today but not a drop of what they were before," he says. "We still have drug problems, but not like the '80s because the country has grown up and changed in a positive way from those old days. Football has followed too. But back then, it's like thinking of a different world, it was the peak of the cartels being in with football, and the sport wasn't estranged from the situation of the country.
"It was violence, it was drugs, it was a lot of political and economic problems. But what we are exposed to, it becomes part of our scenery. We learn how to live with it, and it was part of the normal, everyday routine and part of the things we had to do. That's not to say we didn't fear for family and friends, but we became used to the violence and these circumstances and the fact we were going to be exposed to a lot of danger regularly.
"But what choice had we other than to deal with that chaos?"
---
Blurred lines.
It's hard to know exactly when narco-football ended.
Late into the 1990s, the joke around Cali used to go that the streets were safest when America were playing as all the gangsters would be inside the stadium. Like all the best humour, it had a strong seam of truth.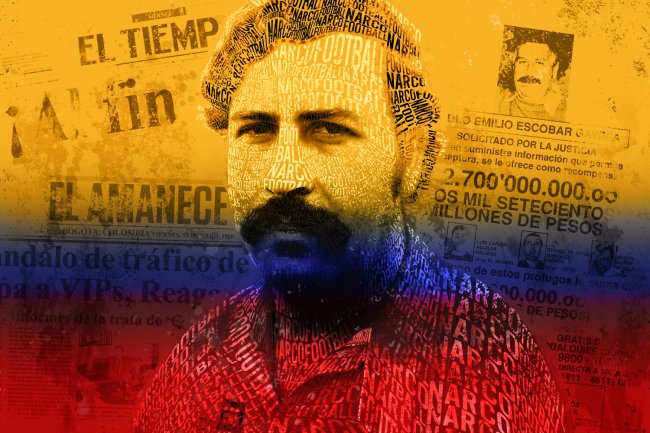 Shaun Campbell for B/R UK
As recently as 1997 the club's former winger, Antony De Avila, scored a goal to help Colombia qualify for the World Cup and celebrated by running to the TV cameras and dedicating his strike to the Rodriguez Orejuela brothers, the jailed dons of the city's infamous cartel and the men who owned the side behind the scenes.
Shortly after, the club held a minute's silence before a game to honour the brothers' recently deceased mother.
Only in 2013 was the team removed by the U.S. Department of the Treasury from what was nicknamed the "Clinton List." U.S. companies had been banned from doing business with the side as a punishment for their part in drug trafficking, which left them financially struggling.
Today, they are still trying to claw back that lost time and ground, as they languish in the second division.
But it's been far from just America or Cali. During that 1998 World Cup qualifying campaign, a game against Venezuela was being broadcast at the same time police in Bogota were waiting to free a kidnapped businessman. They waited for a goal to be scored so they could enter during the chaos of the celebrations.
Meanwhile, across the capital, in 2012, Millonarios considered giving back the two titles they'd won in an era when drug lord Rodriguez Gacha was behind their push, as per W Radio (via Colombia Reports).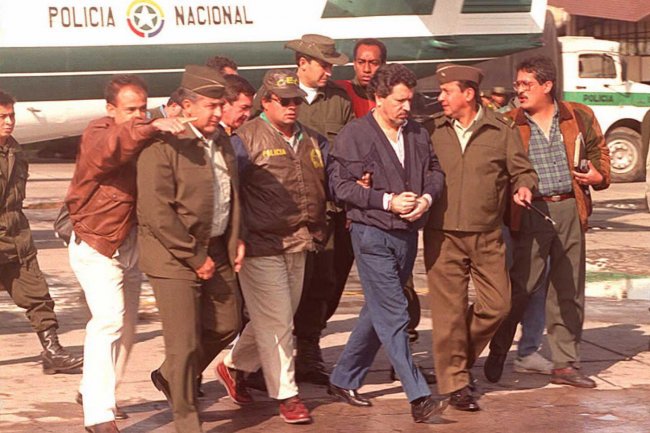 Getty
Where narco-football began is harder still to decipher. Like all things in Colombia, so many strands are intertwined that it can be impossible to untangle.
The country's professional league began in the upheaval of Colombia in 1948, and thrived in the '80s as a more modern anarchy brought about by narco-football.
"The first government of the 1980s was that of liberal Julio Cesar Turbay Ayala," says Professor Medina-Perez, who says "in its economic policy, [the government] imposed a mechanism by which they allowed a kind of legalisation of some illegal activities like drug smuggling.
"That was the gateway for drug traffickers who began to show their economic power and to apply it in different areas. That included industry, trade, finance and, of course, football. But when you talk about narco-football in Colombia, everyone mentions Pablo Escobar, but he's not the only one or even the most important one."
One version says the maiden instance of narco-football came about when a group of marijuana smugglers in Santa Marta invested in Union Magdalena, the first club of Carlos Valderrama. It was headed by Eduardo Enrique Davila, who as early as 1973 was identified by authorities as the man behind large shipments of marijuana to Italy, Puerto Rico and the United States. But if these investments were small, what followed across the '80s more than made up for it.
Ruling Independiente Medellin were gangsters Hector Mesa and Pablo Correa Ramos. Santa Fe had its debts paid off by Fernando Carrillo when he became chairman, but by May 1981, he and his Inverca Group were charged for involvement in cocaine shipments to Florida. Thereafter, the club was taken over by drug traffickers Silvio and Phanor Arizabaleta-Arzayus, whose brother died in 1983 following an explosion at a cocaine-processing laboratory.
And then there were the Big Three.
The Rodriguez Orejuela brothers in Cali quickly assembled one of the best teams the continent had ever known at America, losing the Libertadores final in 1985, 1986 and 1987.
Up to that point, it had been a limited club, but with its newfound wealth, it snapped up players of the calibre of Paraguay's Roberto Cabanas, Peruvian Julio Uribe and Ricardo Gareca of Argentina.
The story even goes that Miguel Rodriguez Orejuela once met with a young Diego Maradona in 1979 but had more to offer up than a free meal. He asked the Argentine to play the remaining six months of the season for his club in return for $3 million, and the deal only fell through as a contract had already been agreed with Barcelona, as per the book El Hijo del Ajedrecista, via El Mundo.
In Bogota, Gacha was the main suspect in the murder of the owner of Millonarios. Two years after taking over the side himself, they were champions, going back-to-back in 1987 and 1988.
But a year later, there were no champions in Colombia, as the league was abandoned following the murder of Alvaro Ortega, who had refereed a match in Medellin between Deportivo and America. According to the Chicago Tribune, afterwards an anonymous caller told a journalist "we and our patrons lost a lot of money because the result of the Deportivo Medellin-America game was not just," and thus the assassination had been ordered.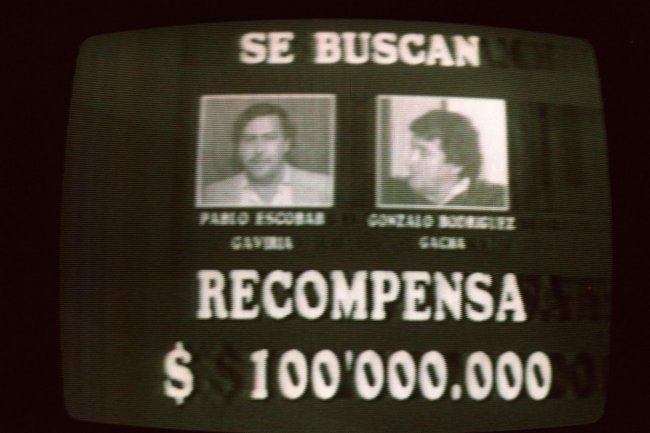 Getty
"Everyone remembers Nacional winning the Libertadores that year, but few talk about that," says Carlos Alleman. "That is the great shame of our nation."
So much so that before the 1989 World Club Cup, AC Milan owner Silvio Berlusconi declared that his team "would fight Nacional to defeat the dirty part of the world," as per Doentes por Futebol (link in Portuguese).
"Nacional were the team of Escobar, of course," says "Chonto" Herrera. "I played there for 10 years, and it's known that he invested behind the scenes. But Pablo, I never met him, no. But everyone knew he was a person who was passionate about football.
"It wasn't just those teams, he loved the game beyond that. He had games on his ranch, he built pitches in the poorer areas that gave kids a place to play, and many good players learned the game that way, on those pitches he funded."
With Escobar, there were always two sides. Murderer of many? A terrorist who blew up an Avianca jet? Hero to the poor, having built 1,000 homes for families forced to live on a garbage dump, among other acts? 
"What was happening in narco-trafficking was happening in other countries too," says Ivan Pereira, a Brazilian architect who has spent a lifetime researching and delving into the history of Colombian football and its societal links. "But in Colombia, it went to a different level. The difference with other countries, most wanted money; in Colombia, they wanted to be celebrities, rock stars.
"They started appearing on TV, one of the Cali cartel built a five-star hotel on the Caribbean island of San Andres. They craved attention, and football was a way to give them that. They used the football to be accepted, like Russia with the oligarchs. It buys acceptance and influence. And by acceptance, I mean high society. Of course, football was great to launder money as well."
In December 1989, having captured the son of Gacha, police released him and tailed him as he ran to his father. El Tiempo reported those nearby the incident believed, having heard grenade explosions, he'd held one to his head in an act of suicide, but police later announced that the Millonarios owner had actually been shot from one of their helicopters.
Six months later, four of the club's players were among a young and home-based squad that reached the World Cup's second round.
In December 1993, Colombian forces tracked Pablo Escobar to a middle-class district of Medellin. After a gun battle resulted in his scampering upon the roofs of nearby houses to get into a back street, he was shot in the body and ultimately killed when shot in the head.
He was buried with a Nacional flag over his coffin, and six months later, six of his club's players were among a squad that went to the World Cup as one of the favourites and had Pele tipping them to go all the way. One Nacional player was missing, though—goalkeeper Rene Higuita was dropped for breaking the country's anti-kidnapping laws when he was caught up in an incident involving Escobar and money launderer Carlos Molina that involved the capture of the latter's daughter and the delivery of ransom money.
The tone was set for what would follow.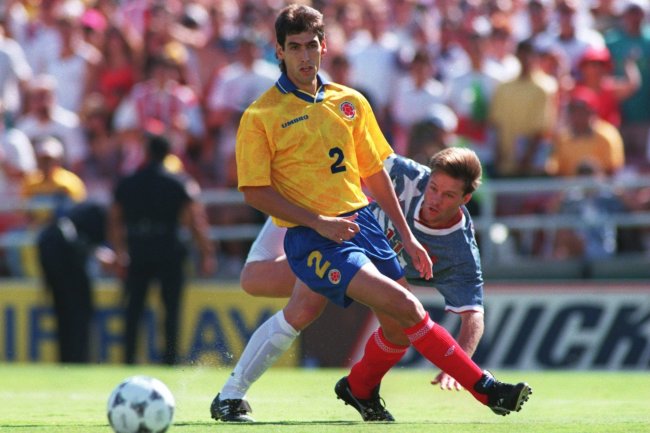 Shaun Botterill/Getty Images
"There was loads of gambling on us winning the World Cup, and we didn't get out of the group," remembers Herrera. "And after losing, everyone was so angry at us, the situation was messy, horrific. Andres [Escobar, the Nacional defender who scored the own goal against the U.S. that saw the team eliminated] decided to go for dinner with his friends in the midst of that. He met people who started saying things to him outside a club…."
After Escobar's friends left the scene, he confronted those people, but their bodyguard shot him six times while saying, "Gol, gol, gol, gol, gol, gol," as reported by Sports Illustrated.
A year on from that incident, Gilberto Rodriguez Orejuela was discovered by police hiding in a secret compartment in his home, while Miguel Rodriguez Orejuela was caught attempting to enter a hidden compartment in his apartment bathroom. Both are now serving 30 years in the United States.
"Even before they were caught, narco-football was at an end for me. That came with the death of Andres Escobar," concludes Professor Medina-Perez. "I interviewed many people and investigated a lot, and it's really hard to believe there was much narco-money in football after that.
"Andres was in a bar drinking. The guys that killed him didn't send someone to kill him; it just escalated. They were linked with drug money, they were in the mafia, but it was isolated, separated from what happened in world of drugs. For me, he sadly met with his destiny that night."
So too did Colombian football. After the madness of the 1980s, it had all caught up with them.
---
In the midst of the violence, the strangest thing happened one day in Colombia. Back in 1993, on the campus of the National University in Bogota, a group of students were protesting to a professor when suddenly he pulled down his trousers and started to moon them.
At the time, Antanas Mockus was a philosopher and mathematician who had played a role in the writing of a new national constitution in 1991 that gave cities more independence. "Innovative behavior can be useful when you run out of words," he said of the incident, although he was still forced to resign, as per the New York Times.
Yet by 1995, he'd become mayor of the capital city, winning what some claim to be a protest vote in a campaign where he refused to debate or go on television to promote himself.
"He took office, and for him, it didn't make any sense to build buildings until people realised how to live in society," says Pereira. "So he started loads of actions to teach them to live normally."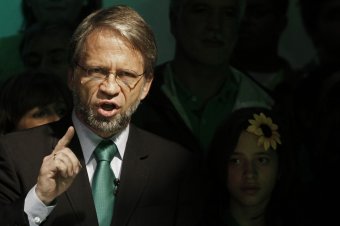 William Fernando Martinez/Associated Press
These included taking a shower in an ad to educate about water conservation, roaming around in spandex and a cape calling himself "Supercitizen," having feuding neighbours wave red cards rather than guns at one another and having the traffic police at lights replaced with mime artists.
Somehow, it made an impact on a Colombia that badly needed to have an impact made. So much so that amid a renewal of arts and culture, he got 63,000 residents to volunteer for a 10 per cent tax increase.
Soon after, cycling and a pedestrian culture was promoted, along with the building of wider streets and national parks.
It worked in Bogota to the point where Medellin did likewise under the guidance of Sergio Fajardo, who put into practice their social urbanism by opening parks and libraries in the middle of slums, building great museums and redesigning the entire city. By 2013, it won the top award of the NGO Urban Land Institute as the most innovative city in the world.
"That brought a better image of Colombia to the world," says Medina-Perez, "which in turn brought a long lost nationalism and pride."
When football tried to follow, it didn't initially work. Hosting the 2001 Copa America, Colombia were initially stripped of the honour due to security concerns, and when they were reinstated, Canada withdrew, followed by Argentina, who said they'd received death threats.
"A year later, Colombia didn't even qualify for the World Cup," notes Pereira. "They knew they had to change how they went about the game. One of the first things they did was change the calendar to be like football in Europe, starting in August and going from there.
"They got more investment. They reduced the number of clubs in the first division to condense talent and raise the standard. Loads of clubs started investing youth academies. So they weren't in World Cups in the 2000s, no, but were building themselves up for this future you are starting to see now."
"That's why football is strong, really competitive, we've players all around the world, and the standard is good again," says "Chonto" Herrera.
"Colombia has always had talent, and that will be the case forever," continues Angel. "We have this particular ability to create talented footballers, and this generation is learning from the mistakes that previous generations made. The clubs in terms of the ownership, a chunk of the clubs now are owned by private owners and companies, and that brings a lot more stability.
"So it's more about learning and understanding this is an entertainment industry, and it has to be treated as such."
Angel cites the most notable example as Nacional, who have grown their attendances and dramatically improved security at their stadium. "What's happening with this club is extraordinary," he says.
"But so has how we are producing players. The street football, it's still happening in the poor neighbourhoods. But also clubs are providing pitches for the kids, and they're playing in a controlled environment. Clubs are providing them with that and are taking care of them, trying to transform the young players and their lives and making them into good human beings for society.
"If by doing so they've the ability to produce a certain amount of players that can serve their team, then great. But the first purpose is transforming these kids' lives and making the country better."
None of this is to say either Colombian football or society are close to perfect. According to InSight Crime, "from 2009 to July 2013, an estimated 7,000 people were killed in the Medellin mafia wars," while peace in this area has only happened due to a truce between rival gangs. Coca production continues to grow; indeed, as recently as May, police found 8.8 tonnes of cocaine in the biggest seizure in their history.
All the while, Pablo Escobar has entered pop culture. As per Huffington Post, his son now makes money selling Escobar-branded clothing— including "T-shirts that have a picture of Escobar's arrest documents as well as his father's face." Granted, he's also met with the son of murdered presidential candidate Luis Carlos Galan in a pivotal moment when it comes to moving on from what went before.
Football has its problems too, with only three home-based players making the Colombian squad for the 2014 World Cup. However, while it shows how the domestic league has faltered in its ability to keep the nation's best, it's also a sign of the quality of their player production that many are bought up by the top clubs in Europe.
Once more, side by side, football is mirroring society—only now both are trying to build the right way.
---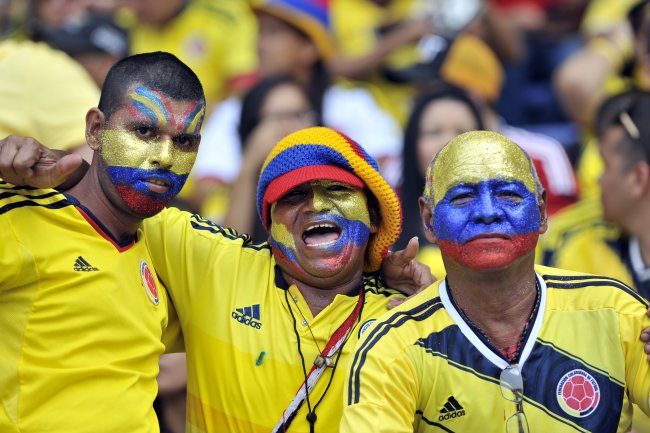 Getty
Gabriel Gomez picks up his phone, and this time he isn't angry. This time he laughs down the line.
"You again," he says.
"I just had a couple more questions," I tell him.
"The violence was too much back then," he explains. "But now everything is much better, the industry is much better, the country is more healthy, things are much more calm. There are a lot of tourists here now. They are getting to see the beauty of Colombia, which has amazing countryside, while the cities are gorgeous.
"Everything is working better; the economy is better. The guerrillas and narco-trafficking left everyone battered, and it took time to get over that, but now generally, it's more calm and we are moving on."
"So how do you feel today?" I ask him.
"After everything we've been through and to get to this point…pride. How could we not?"
Parts of this article originally appeared in the Irish Examiner