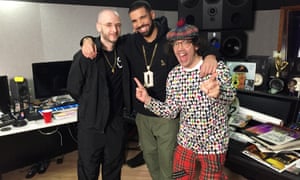 Nardwuar (right ) pictured with Drake (centre) and producer 40 (left) – 2016
Photograph: Publicity image
Related: How Drake became the all-pervading master of hyper-reality rap
Taken at face value, Nardwuar is probably the last person on Earth you'd expect to get an hour-long interview with Drake. The latter is a global superstar who hates interviews; the former is a funny looking middle-aged white bloke in a tartan hat - born John Ruskin - who calls himself "The Human Serviette". Yet the pair did meet just this month, when Drizzy talked about his shrine to Biggie Smalls and his uncle who worked with Al Green to promote his latest album, Views From The 6. In fact, an interview with this most un-hip-hop of journalists has become a rite of passage for young rappers, as essential as getting a pave set diamond grill.
Nardwuar has broadcast from CITR 101.9, the University Of British Columbia's student radio in Vancouver, every Friday afternoon since October 1987, delivering his proudly geeky take on good music. But since the rise of YouTube he's found a new audience for his gonzo brand of video interviews. In them, he grills performers of all stripes with a style that veers between goofy, charming, insightful and confusing, with varying degrees of success.
Related: Courtney Love: 'I'm out of movie star jail'
In particular, Nardwuar has a reputation for being persistent, like the Paxman of pop culture. Oddly, such tactics go back to an encounter with Courtney Love. After a cringe-inducing interview when Hole toured in Canada in the early 90s (she threatened to leave after the third question), Nardwuar was sent out again when she came back to town, this time with a cameraman. 
He waited for hours outside the venue and was eventually confronted by Love, who not only remembered him but called him a "fucking pig". He won her over by offering her some cigarettes in exchange for an interview. More often than not, most of his video interviews have come out of similarly on-the-fly doorstepping.
Such doggedness defines his interview preparation, too. Nardwuar spends around a week researching each guest and - here's his key sell - brings them gifts to jog their memories. His deep dives reveal anything from guilty pleasures and seminal records from their pasts to more intimate nuggets, like the fact DJ Khaled used to put his mixtapes in trainers when he worked at a sports shop, or that Hudson Mohawke's dad rapped on a song for the defunct Glasgow Diamonds American footie team.
Narduwar's style doesn't always chime with his guests: just look up his interview with Blur to see what happens when things go awry. But more often than not he has a disarming effect, leaving even the flightiest muso with the shocked face of someone who's just witnessed Drake bungee jump off the CN Tower. Maybe that's one for their next interview.