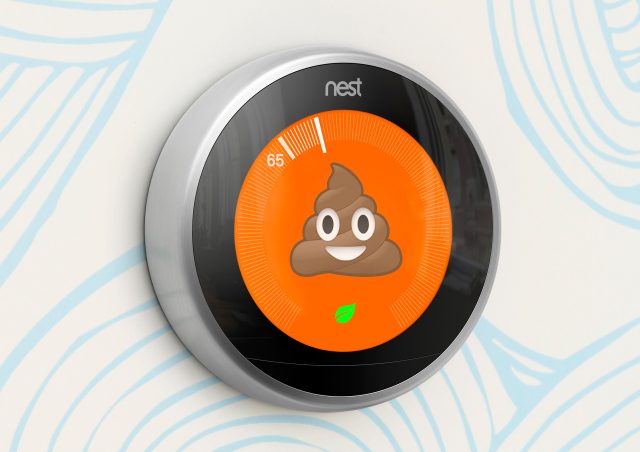 Nest CEO Tony Fadell wasn't officially "fired" from Nest, but it certainly feels like it. Nest and Alphabet announced Fadell would be "transitioning" to an advisory role at Alphabet, dropping both Nest and Fadell into a sea of negative press. In just the last few months, Nest has had to deal with reports of an "employee exodus," a string of public insults from Dropcam co-founder and departing Nest employee Greg Duffy, news that even Google supposedly didn't want to work with Nest on a joint project, and fallout from the company's decision to remotely disable Nest's deprecated Revolv devices. Alphabet and Nest both seem to know the announcement about Fadell's "transition" looks bad: the news dropped on a Friday afternoon, a popular time for companies to dump bad news they hope no one will notice.
It's hard to argue with the decision to "transition" Fadell away from Nest. When Google bought Nest in January 2014, the expectation was that a big infusion of Google's resources and money would supercharge Nest. Nest grew from 280 employees around the time of the Google acquisition to 1200 employees today. In Nest's first year as "a Google company," it used Google's resources to acquire webcam maker Dropcam for $555 million, and it paid an unknown amount for the smart home hub company Revolv. Duffy said Nest was given a "virtually unlimited budget" inside Alphabet. Nest eventually transitioned to an Alphabet company, just like Google.
In return for all this investment, Nest delivered very little. The Nest Learning Thermostat and Nest Protect smoke detector both existed before the Google acquisition, and both received minor upgrades under Google's (and later Alphabet's) wing. A year after buying Dropcam, Nest released the Nest Cam, which was basically a rebranded Dropcam. Two-and-a-half years under Google/Alphabet, a quadrupling of the employee headcount, and half-a-billion dollars in acquisitions yielded minor yearly updates and a rebranded device. That's all.
Too slow for Google
Actually delivering a product to market is Nest's biggest problem. Dive into reports about Nest and you'll see those 1200 employees were busy with countless products that never got out the door.
In 2015 Nest posted job listings for its "Nest Audio Team." The team would be responsible for "developing an audio roadmap for Nest products." Industry observers suspected the audio team was building a smart Bluetooth speaker, but Google beat Nest to the punch with Google Home, an Amazon Echo-style Bluetooth speaker and voice assistant appliance. According to a report from The Information, when Nest found out about Google Home, it asked to work on the project with Google. Nest's request was turned down. We can only guess why—maybe Nest's reputation inside Google had something to do with it?
That same report also unearthed a Nest home security system code-named "Flintstone." The device was supposed to use Nest's low-power "Thread" communication standard. It sounded like a standard smart home hub and would combine two other in-development Nest products: a door sensor called "Pinna" and a presence sensor called "Keshi." "Flintstone" was in development at Nest for three years, and the report said it "has been killed or changed so many times that one former employee jokingly called it 'Tombstone.'" The report cites current and former employees who blame Fadell for "Flintstone's" failure, saying "Mr. Fadell has changed his mind several times about whether to introduce a hub at all and how that hub should be designed."
Flintstone seems like another case of Nest being too slow for Google. The Information report says that Google's OnHub router "performs some of the functions that Nest's Flintstone was at one time meant to perform." Google even included a dormant Thread radio in the device. Rather than wait for Nest, it seems Google went out on its own.
Then there are all the Dropcam projects Nest inherited and never turned into anything. Dropcam had developed a sensor product called "Tabs" that could detect the movement of a person or the opening and closing of a door by using the Dropcam as a hub. This product was so far along that it was actually announced with a "Summer 2014" release date. Nest killed Tabs in favor of its own "Pinna" sensors. The Information's report says Nest thought "Pinna" was "further along" than Dropcam's effort. That was a year-and-a-half ago, and Nest's solution still isn't out. Dropcam also had plans to build an outdoor version of its popular camera, which the report says Nest also scrapped.
Even by Fadell's own standards, the Google acquisition doesn't seem to have led to huge wins for Nest. In an interview with Bloomberg shortly after the sale, Fadell was asked what the move would mean for Nest. "For us it was about getting out to the world faster" Fadell said. "[Our products are imported] in 96 countries where we don't even sell today. We can see these devices being connected but we can't get there fast enough. For us, going with Google, we can get access to resources to allow us to move these products around the world much more quickly." Before the Google acquisition, Nest was for sale in three countries. In two-and-a-half years under Google and Alphabet, Nest expanded to just four more countries.
Performance of the existing products is an issue too. That Information report noted that "sales in 2014 fell short of what Google and Nest expected." Recode reported that Nest missed its 2015 sales budget too.
The ugliest letter of Alphabet
In addition to trouble developing new products, Nest has been a constant source of bad PR for its parent company.
In April 2014, mere months after the Google acquisition, Nest halted sales of its Protect smoke detector. Turns out the "Nest Wave" feature—a way to silence the detector by waving your hand under it—could possibly be triggered by a fire. In May 2014 this grew into a full-blown "recall" with the US Consumer Product Safety Commission. Customers could either disable the Wave feature via an update or turn the $130 device in for a refund. Protect smoke detectors were later put back on the market with Wave disabled.
It's rare to see an employee of a company publicly dump on its products, but in February 2015, Google employee (and the creator of LiveJournal) Brad Fitzpatrick did just that. He shared a "horror video" of his Nest Protect experience on YouTube. For five minutes, Fitzpatrick's $650 worth of smoke detectors incessantly shrieked for no reason, unable to be silenced. "Do NOT buy a Nest smoke alarm," Fitzpatrick warned on social media. "They false alarm and are unhushable pieces of crap. You can stop or mute this video if it's annoying," he said, "but you cannot stop an actual Nest Protect." In the video, which got half-a-million views and was picked up by several news outlets, the Google employee ends up dumping the rowdy smoke detectors into an insulated cooler to muffle the noise.
The Information's March 2016 report on future Nest products included an ugly back-and-forth between Nest CEO Tony Fadell and former Dropcam CEO Greg Duffy. Before Duffy quit Nest, he reportedly told Fadell "I think you're running this company like a tyrant bureaucrat, and it's holding back all progress." In the report, Fadell publicly trashed Dropcam's employees, saying they "were not as good as we hoped" and that Dropcam was "a very small team, and unfortunately it wasn't a very experienced team." (For the record, Dropcam is a year older than Nest.)
In April 2016, Nest announced it was shutting down the servers for Revolv's smart home hub, the smart home company it purchased in 2014. The Revolv was a hub for Z-Wave, Wi-Fi, and Insteon. Nest never came up with a product that could touch that kind functionality. Furious customers were stuck with a $300 brick and no path to upgrade. A day later, Nest responded by saying that it was working with customers to "determine the best resolution, including compensation." Today, Nest's FAQ offers Revolv customers "a refund of the purchase price of your Revolv hub."
Also in April, a (since deleted) post on Reddit claiming to be from a Nest Engineer said the company was "on deathwatch." The engineer painted a bleak picture of conditions inside Nest. "People fall asleep in corners and cry in the bathrooms," the post said. "Skilled engineers can tell the environment is toxic, so we're filling vacancies with mostly sub-par talent." Regardless of whether the post was true or not, it went viral and triggered another round of bad press for Nest.
According to a report from Recode, Tony Fadell addressed all the negative press at an all-hands Google meeting in April. The meeting didn't seem to go well–afterward Googlers reportedly took to the company's internal message boards to diss Nest. They posted messages saying "0 days since Nest made us look terrible," and someone posted the torches-and-pitchforks scene from The Simpsons Movie with the caption "Sell Nest."
For sale: One condemned smart home company?
With confidence in the company at an all-time low, Google seems to have given up on waiting for Nest. Alphabet's main division is now marching into smart home territory on its own with products like Google OnHub and Google Home. So where does Nest go from here? Does Alphabet try to salvage Nest? Does Nest get sold?
With Fadell gone, the new CEO at Nest is Marwan Fawaz. Fawaz is currently on the technical advisory board at security company ADT, maybe it's his job to get Nest's "Flintstone" security product out the door. Reports say Alphabet had been putting pressure on Nest to release Flintstone this year.
Previously at Google, Fawaz was in charge of Motorola's "Home" Business—the set top box and cable modem division—in 2012. Under his watch, Motorola's Home division was sold off to Arris for $2.35 billion. On Fawaz's own LinkedIn page, he only describes his role at Motorola as "Manag[ing] the M&A transaction and divestiture of the business to Arris Communications, Inc." Fawaz's own words, combined with the short, six-month lifespan of the Home division at Google, suggests that selling the division was his primary focus.
Is Fawaz working on a similar plan for Nest? Is he pounding a "For Sale" sign into the lawn of Nest's smart home right now? Fadell himself said Alphabet was entering a "fiscal discipline era," and Alphabet does seem to be "spring cleaning" its companies lately. Robotics company Boston Dynamics is reportedly up for sale already, and the entire robotics division built up by Andy Rubin seems to be in jeopardy. Is Nest up on the chopping block?
No one ever said all of Alphabet's bets were going to be sure things. Alphabet is a company full of companies. Sometimes, companies fail.