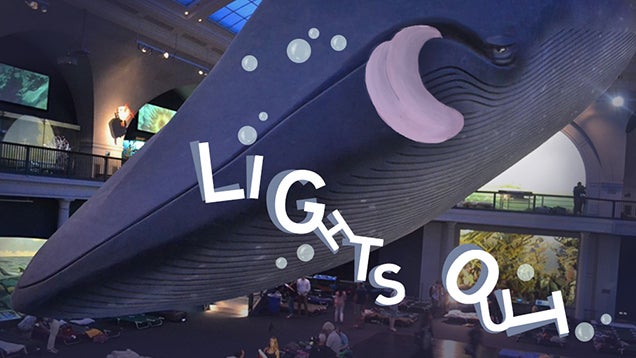 The least likely place to give a handjob in New York City is at a live alligator demonstration at the American Museum of Natural History.
And yet, last Friday, on stage in a drab carpeted auditorium at the museum, an animal handler clutched a mid-size alligator at its tail and its throat while a couple seated in front of me slyly shifted their bodies to the delicate rhythm of a little sex in the glove.
The couple, who had hours ago admitted to me—first with their words, then with their melting faces—that they were drunk, was working hard to conceal the act, but it's hard to fool me. I've been to middle school once or twice.
Meanwhile the alligator on stage, its mouth locked open, was pissing all over the place. In the auditorium seats, a crowd of 100 or so adults sat cackling their heads off, equally fearful (of the alligator's jerking spasms) and joyful (hey, look—pee!). They'd come to the American Museum of Natural History on a Friday night to participate in the institution's first ever "sleepover for grown-ups," and entertainment as rich as loose-bladdered live animals was a guaranteed hit, even if the crowd hadn't been mostly drunk. The handjob, on the other hand, was on a different, more illicit agenda.
A woman stood up after the alligator was done soaking everything and walked through the row of seats in front of me, putting the palm sex briefly on hold. During the presentation, one of several throughout the night, a lemur, an owl, an eagle, and a fat Burmese python were displayed (ha, ha, no: an actual fat Burmese python). Every time a new animal was introduced, the crowd gasped or giggled, letting out some primal noises of their own.
The wooden-backed chairs, the educational environment, and, yes, even the sexy couple's hand groove had combined to turn the evening into what it had aimed to be all along: a nostalgic throwback to innocent youth, when museums were cool; learning was fine, especially if it involved alligator piss; and handjobs were free for the taking.
The kind of nostalgic throwback to innocent youth that has an important required ingredient: booze.

The museum hosted its first-ever sleepover in 2006, gearing the event to kids after the release of Ben Stiller's wish-fulfillment smash hit Night at the Museum. The event was so successful that they continued doing them every month—$145 a kid, a price that includes snacks, a film viewing, and take-home activities. Girl Scout and Boy Scout troops are among the most regular participants.
Friday night's was the first "grown-up" sleepover, a natural progression for the museum. The agenda for both child and adult sleepovers were fairly similar: fossil tour by flashlight, Hayden Planetarium space show, evening snack. The event kicked off at 6:30 p.m. on Friday and was scheduled to end at 9 a.m. the next morning. Lights out was at 1:30 a.m. Guests were given free reign to wander around the entire museum unguided, and they could choose to attend the planned demonstrations, like the alligator pissing itself, or not. If you wanted to sit completely still in the center of the Margaret Mead Hall of Pacific Peoples for the entirety of the sleepover, you could.
Before spotting the benched girl, the evening began the with a check-in, an opening champagne reception that was supposed to feature some sort of "orientation," and then dinner in a hall adjacent to the Hayden Planetarium. At check-in when we arrive, I spoke with an older woman wearing a fitted cornflower blue blazer, a coif of white-blonde hair, and some jewels that I couldn't identify because I am a pauper. She, like many other guests, had come alone. I asked her what she was most excited about.
"The champagne reception," she said.
"Really?"I was surprised she was even here, out of her house for a long, late night.
"Oh, I'm not sleeping over, no no," she told me. "That's for young people like you."
True and not true. At $375 for non-members and $325 for members, the price of eating chocolate tarts with fresh berries, carousing through the stained carpeted halls of New York's most recognizable museum, and getting to sleep under its iconic blue whale after a night of learning (and companionship), was definitely not in my price range, nor that of any young person I know. (The museum graciously provided me with free admission.)
The 150 guests at the event were mostly wealthy-looking, handsome couples; women who'd come with their girlfriends; and the occasional loner with a flight-to-San-Diego amount of cash to spend on one night alone with their God. There was also a tattooed DJ couple—the fun highlight of the night—a group of Burners wearing furry animal hats, and me. Most of the guests I spoke to had never been locked in to any sort of institutional building for an evening of swapping hormones.
"It's thrilling, like Eloise at The Plaza," a middle-aged woman from New Jersey named Anne-Marie explained to me as we all set up our beds before dinner. She had come with two friends and their cots were pushed together to make a sleeping platform the size of a twin bed, maybe a full. They had cushy-looking sleeping bags and were taking selfies when I approached them.
"Everybody's jealous," her friend Ina jumped in. The tickets had sold out in 45 minutes, and a lot of the guests had called to buy a ticket, not trusting that they'd be able to get them online. At the champagne reception, the owner of a camping supply store in downtown Manhattan said she'd sold dozens of sleeping bags this week alone. Then she referred to astrophysicist and television host Neil deGrasse Tyson—director of the museum's Hayden Planetarium—as Dr. Tyson, to the delight of a few others in our circle.
"I call him that, too!" one woman squealed.

A few hours later I came across a petite woman laid on her back on a wooden bench in the Hall of Reptiles and Amphibians, her arms hoisted over her head.
"It's quiet time now," she whispered to her boyfriend, who was standing over her and watching as museum guests walked through the hall into the special exhibit on poison. He smiled apologetically to everyone, then bent down and put a hand on her knee.
"Okay, it's quiet time."

As it turned out, Melissa the Chilean rose tarantula was the best creature with a heartbeat that I hung out with all night. Kristie Collins, a young woman in glasses and crimson lipstick, gave a demonstration on the tarantula in the nearly empty "Spiders ALIVE" exhibition room of the museum, an area I popped into after coming from a Pterosaurs display. It was the first scheduled event I'd attended, with the Power of Poison and the live animal demonstration to follow.

I'd had about four or five glasses of wine at this point, so I was feeling brave, and looked as deeply into the Petri dish that held the furry spider as I could without getting admonished. I wanted to touch that spider so badly.
Melissa's fur had a rosy tinge, hence the spider's classification, and she contracted and shifted very, very slowly every time Collins came near her with a soft paintbrush. "We use the paintbrush because my fingers startle her," Collins explained to a group of five people. Everyone else was presumably wandering around the museum, looking for decent HJ spots in their post-dinner post-unlimited wine daze, but me, I liked the spider. This spider was a path to learning.
It looked like a fuzzy fist. Collins, a very patient educator, detailed the tarantula's silk-spinning process, and like some sort of serendipity that amazed me endlessly in my wine-drunk state, Melissa started to make silk. Collins stretched it out with her paintbrush around the wood pellets like she was stretching taffy. A camera had projected the image of Melissa onto a screen behind Collins and I looked back and forth between the real tarantula and the image of her, watching amazed as silk poured out of her butthole like a soft-serve machine.
I wrote in my notebook: Holy shit, spiders are not scary. Actually v cool. I love MELISSA!!!

"Did you all pick your poison downstairs?" Mark Siddall, the curator of the Power of Poison exhibit, asked a crowd, the largest gathering of drunk rich people I'd ever been in. I'd come into the exhibit after my time spent with Melissa the tarantula, while it seemed that most others had ended up there from their unguided wanderings around the museum.

"All they had was pinot noir!" a woman yelled in response. "Yes!!" others added.
A man dressed in a pale blue dress shirt and a woman in all black were canoodling visibly during Siddall's wonderful presentation. Man, does this guy know about poison or what? I thought while I watched the man rub his hand along the woman's lower back. Suspicious, I wrote in my notebook.
After a PowerPoint slideshow on the power of poison that was punctuated by rowdy yells and contributions from the crowd ("Why do we study poison?" "To kill people!!!"), Siddall mentioned that there was more information to be learned about poison on the specially made free iPhone app.
"Ooo, I love an app," a woman seated cross-legged in front of me murmured.
When we began to filter out to the next activity a museum volunteer passed out free copies of Mark Siddall's book, a Lemony Snicket-looking hardcover on—what else?—poison. (Suspicious.) "This is the best $375 I've ever spent," a woman told her friend, turning over the book in her hands.
I headed toward the live animal demonstration.

At one point late in the night, a rumor spread among a crew of wandering guests at the designated Lunar Lounge that there was sex happening near the mammoth, but I was upstairs browsing the African Peoples hall with a bottle of spiked Fuze lemon tea, so I missed it.
Not long after the guided events of the evening concluded (around 12:30 a.m.), I left for an hour to sit and drink espressos and vodka at the 81st Street Pizzeria Uno with a friend. I felt like I was breaking out of study hall, and I kept wondering if it was time to head back. I didn't say anything, though, because I was determined to not sound like a narc.

I've never slept in a Victorian orphanage, but my guess is that it's pretty similar to spending the night at the American Museum of Natural History. The cots that we were given—the same ones passed off to little rowdy Scout troops at their young person's version of this sleepover—were the kind you'd see on that episode of Downton Abbey where soldiers stay at the abbey to recover from the war and that guy with the gross face becomes Edith's friend. The cots were low to the ground and about five feet long.
Something no one tells you before you spend the night at a museum is that museums get really cold at night, especially when your designated sleeping area is meant to look and feel like an orphanage that is being guarded by a giant plastic whale suspended precariously over you. The whale emits no heat and wears that smirk that I used to think meant "I am a fucking whale and I have no idea why I am up here" but now know it means "You're going to freeze to death tonight, you stupid, stupid baby."
When I climbed onto my cot around 3 a.m., after a few more hours of wandering around, the allure of the whole event almost entirely disappeared, and I immediately entered a downwardspiral. I didn't sleep much. In fact, I hardly slept at all. I woke up three hours later to an omnipotent voice (the whale?) breathing "Good morning, grown-ups" over the hall like I'd somehow stumbled into the Ministry of Truth and had to begin my shift altering history books to appease Big Brother.
I'm not a morning person. I needed to get the fuck out of that museum.

At breakfast that morning, many of my bedmates appeared chatty and exuberant, going over the events of the prior evening, gossiping about the mammoth sex, packing their camping gear into tote bags and backpacks. But we all looked like shit. Seven a.m. rarely treats anyone kindly.
I asked one and only one person if they thought the night was worth it, and she eagerly said yes. I wrote in my notebook, fun night. everyone had fun. That seemed like enough scene reporting for the day.
But on the subway platform, staring at the mosaic sign that read <——MUSEUM, I was full of that familiar feeling I got when leaving a friend's sleepover in middle school—exhaustion, home-bed-sickness, and a little bit of sadness. The fun and handjobs were over. But the memories, like the stench of alligator piss, would last a lifetime.
[Image by Tara Jacoby, Photo by Dayna Evans]