It's 4:30 p.m., painfully dark outside, and it's going to take some doing to get the chocolate grease off my laptop. Only thing missing from this winter-is-coming misery is some thin, wet snow dropping outside.
Of course, that's around the corner, as the earnest folks at the National Oceanic and Atmospheric Administration remind us. They've mapped the first dates of snowfall for all 50 states.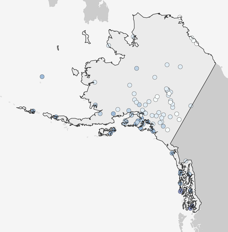 To clarify, this map isn't a forecast, or even the "average" first day of snow for each state. Rather, the map presents the date range by which there's a 50-50 chance of at least one-tenth of an inch of snow having accumulated, based on historical patterns from 1981 to 2010. According to NOAA Climate Monitoring Branch chief Deke Arndt, this is the same "normal" dataset that you often hear referred to on TV, in reference to normal lows and highs for a day.
There's still some interesting patterns in here. Latitude and altitude are the biggest predictors of an early snow date. But notice how there's also a northeastward trend stretching from Texas's tail to Chicago: earlier snow dates occur further south in the Plains than they do in the Midwest. Arndt writes:
This has a little bit to do with elevation, but more to do with the fact that the coldest air associated with many winter storms—including early winter storms—often barrel down the high plains, corralled by the Rockies to the west.
Will we begin to see later snowfall dates across the U.S. as a result of climate change? Perhaps, but it won't necessarily be obvious; observed changes in first snowfall dates are more consistent, and have much more to do with the local weather conditions, than changes in precipitation and heat extremes, writes Arndt.
Personally, I'd like to just get it over with. Snow, you're not cute. Just fall already.