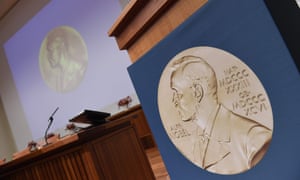 Alfred Nobel dominates the speaker's desk at the Nobel Forum in Stockholm
Photograph: Jonathan Nackstrand/AFP/Getty Images
Welcome to our live coverage of the Nobel prize in literature 2016
Welcome to the final flush of this year's Nobel season when the sixth and last medal of 2016 will be awarded to "the person who shall have produced in the field of literature the most outstanding work in an ideal direction …" Or that was the intention of the 19th-century industrialist Alfred Nobel, who endowed the award from a fortune made from weapons and explosives. This rubric goes some way to explaining its occasional eccentricity - who today would consider the first recipient, Sully Prudhomme, to be ideally directed?
Medals have already been awarded in chemistry, physics, medicine, and economics, with the centrepiece peace prize going to Colombia's president Juan Manuel Santos.
Each prize this year is worth 8m Swedish krona or £744,000, and we will be here to record who will be the 113th writer to receive this eye-watering sum, and the accompanying starburst of literary celebrity, at 12noon BST (1pm Central European Time).
Judging by the last couple of years the person who is least likely to have picked the winner is the winner him- or herself. The French writer Patrick Modiano was out to lunch with his wife when news of his win broke in 2014, while Svetlana Alexievich's surprise last year was written across her face when the Belarusian journalist answered an unexpected knock on her door ...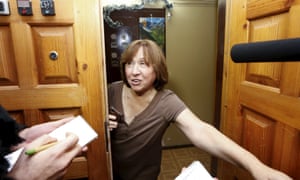 Knock, knock ... Svetlana Alexievich Photograph: Vasily Fedosenko/Reuters
Updated
at 6.08am EDT